Review of the Al Safwa First Class lounge at Hamad Airport, Doha – an architectural masterpiece
Links on Head for Points may pay us an affiliate commission. A list of partners is here.
This is my review of the new Al Safwa First Class Lounge at Hamad International Airport, Doha in Qatar.  I cannot think of a better way to end HFP for 2015.
This is a continuation of my recent Middle East trip report.  Regular readers will remember that I spent the night in The Airport Hotel inside Doha's Hamad International Airport.
My Qatar Airways flight to Paris departed at 7.55am.  I was up early in order to head over to the new Al Safwa Qatar Airways First Class lounge.  This lounge gained almost mythical status over its long-delayed construction period – a local rumour is that the project was abandoned and restarted half way through because it wasn't seen as impressive enough!
Despite opening in October, I very nearly missed out.  A rare Qatari thunder storm – just a few days before my visit – highlighted defects in the roof and the lounge was flooded!  Luckily it was open again on the day I arrived.
Writing about this lounge is relatively pointless.  It is far better to look at the photographs: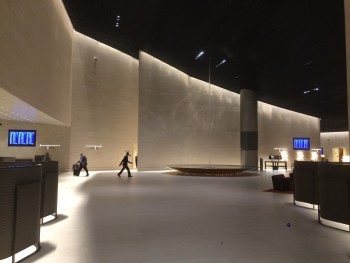 and (note the water flowing down from the ceiling):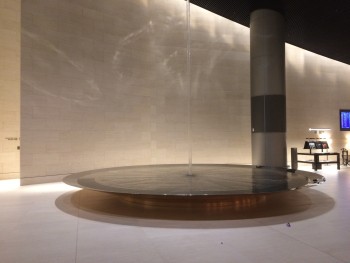 and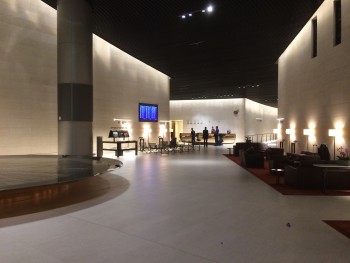 and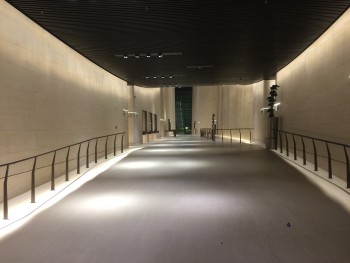 and
and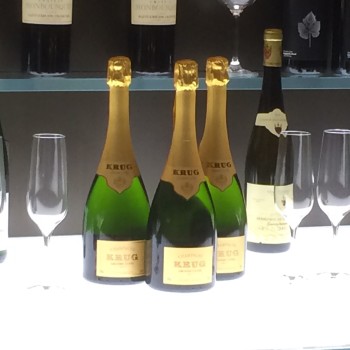 and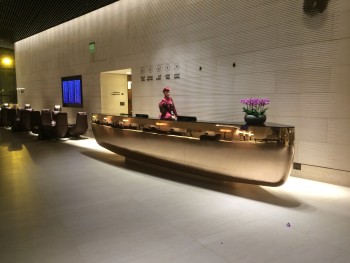 This is the main restaurant and bar.  I had breakfast there, meeting up – by coincidence – with the guy who moderates the Qatar Airways forum on Flyertalk.
My eggs benedict and waffle were perfectly OK although, to be honest, it could have been better.  The general view of people who have eaten there at other times of the day is that Qatar has not yet got the restaurant running as well as it could.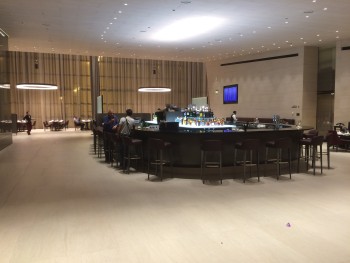 Those with families are encouraged to use a separate family buffet in another part of the lounge which is, laughably, better catered than 90% of airline lounges I've visited: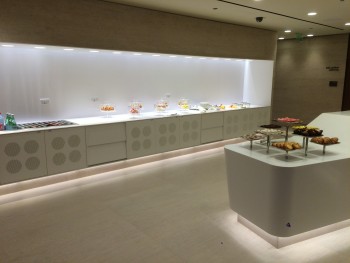 Little kids will be kept busy: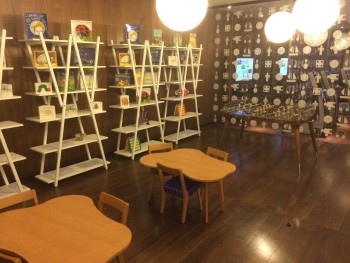 and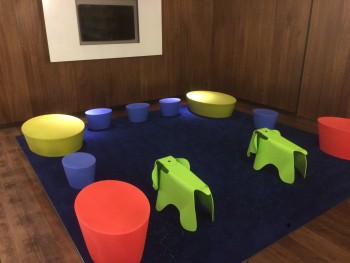 With a video game arcade for bigger kids: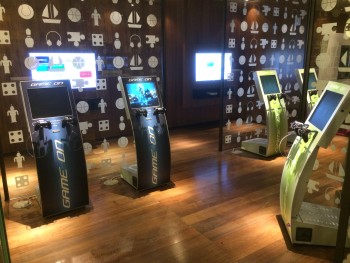 This made me laugh: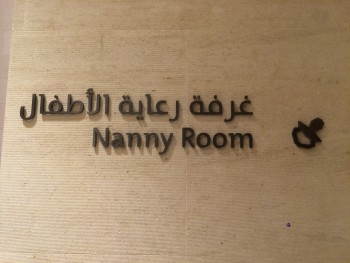 …. because the room inside is the only spartanly furnished place in the whole lounge!  It is like a hospital waiting room!
There is a lot more to it.  There is a luxury spa (not free).  There is an exclusive duty free shop.  There are a number of 'quiet rooms' which are effectively private hotel rooms with a shower – some people use these overnight if they are available (they cannot be reserved).  It goes on and on.
Listing the facilities is a bit beside the point though.  It isn't about the facilities.  It is about being inside one of the most architecturally significant interiors of recent years.  It is about the feeling of being pretty much alone (very few people qualify to use the lounge) in a space which is purposely huge.  It is about showing you that the axis of influence in the world is tilting away from the US and Western Europe.
The achitects have clearly used the cathedral as their model.  Most cathedrals are designed, in some way, to cower you into feeling the power of the spirit.  This is a secular, 21st century interpretation.  Take a look at the top photograph again.  Look at how small the man is compared to the ceiling.
Go in, get a glass of Krug and walk around.  It is a feeling you won't have had for a while.
How do I get in?
There are only two ways to gain access:
with a First Class boarding pass for a Qatar Airways or oneworld flight (this includes British Airways)
or
with a First Class boarding pass from your previous flight, as long as that flight was over five hours long – which essentially means incoming passengers from London, Paris or Bangkok only.  No other 5+ hour routes have an F cabin.
British Airways Gold card holders or equivalents may NOT access the lounge.
Oddly, you CAN get in if you are booked on a regional Qatar Airways flight in First Class (eg Doha to Abu Dhabi).  Booking one of these flights for 18,000 Avios one-way may be the cheapest way to gain access.
The lounge is, oddly, not yet featured on the Qatar website.  The page on the business class Al Mourjan lounge is here and I reviewed the Al Mourjan lounge here.
Conclusion
I did two things on this trip which are, indisputably, now on the 'top 10 airline things in the world you need to do'.  The first was the Etihad A380 First Class Apartment which I reviewed here.  The second was visiting the Al Safwa lounge in Doha.  If you can find a way of working either of these into your upcoming trips, you won't regret it.
In the next part of this report, I will look at the Qatar Airways A380 First Class service between Doha and Paris.