Review of My Lounge at London Gatwick's North Terminal – how I ended up in the hipster lounge
Links on Head for Points may pay us an affiliate commission. A list of partners is here.
This is my review of My Lounge at London Gatwick's North Terminal.
This is part of our series of reviews of airport lounges across the UK.  You see all of the reviews here.
Did I say I wanted to have a bite in the lounge?  Well that is literally all I could have had anyway …..
The lounge situation at Gatwick's North Terminal has been an issue ever since BA and easyJet started moving their flights around.  The BA lounge at the North Terminal is gone in preparation for the January 2017 move to the South Terminal, but this still means that there are another 10 months to go until the switch.
Rob asked me to have a look at the No 1 Traveller lounge (the designated replacement lounge for BA passengers) to check if the lounge is really overloaded.  And, even at 6am, I would say YES!
I didn't even get to go inside.  I was told at the desk that No 1 was already full and was strongly encouraged to use the adjacent My Lounge instead. As I'd never been to this lounge before and just wanted to sit down, I decided to give it a try. Rob has covered this lounge before and you can read about his thoughts here.
The lounge is owned by No 1 Traveller and can be booked online in advance for £20 per adult and £10 per child which also gives you access to the premium security channel at Gatwick. Priority Pass and Lounge Club cards are also accepted.
I must say if I had been at the airport with friends in the evening, My Lounge could have actually been fun. After all there is table football and a Playstation: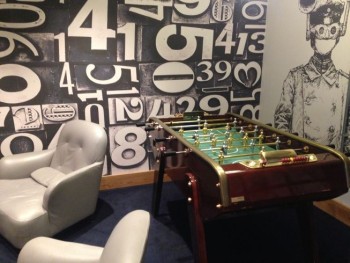 But as I was there in the morning, I was not really in the mood for either.  Let's ignore the fact that the coffee cups were take-away paper ones, the cereal bowls were made of cardboard, and the cutlery wooden.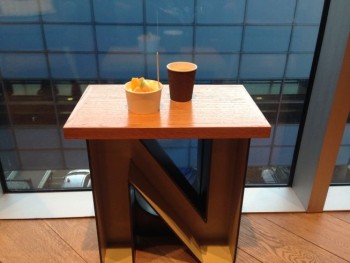 The breakfast buffet included porridge, cereals, yoghurt, some fruit and pastries – the latter tasting horrible, which didn't justify me eating a bunch of empty calories. On the bright side the cereal mix contained linseeds.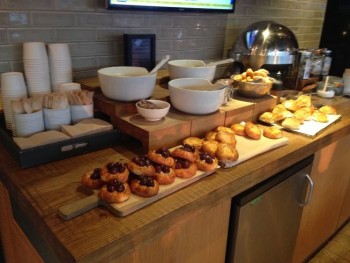 Not that I drink at 6:30 in the morning – unlike Rob, who is apparently happy to knock back Krug with his cornflakes – but the bar looked a bit sad and the wine was Yellow Tail…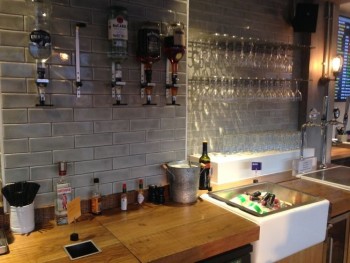 The wifi was super slow – and it got worse as the lounge got busier. Most people looked a bit out of place and many were wondering about the absence of proper crockery – aren't we all a bit spoilt?
Next time you are at Gatwick and are being asked which lounge you'd like to use, think about whether you need food or a seat and then choose No 1 Traveller or My Lounge respectively.  That isn't a great choice to have to make but that is effectively the one I was offered.
No 1 is currently converting the old Delta lounge, one floor below the current lounge, into a new version of its Clubrooms product.  (Rob reviewed the Gatwick South Clubrooms here and was impressed.)  This is due to open in early April and will hopefully free up some capacity.
However ….
All of this was before I saw the 'lounge' at Bordeaux Airport the next day on my way back to London and I wished for My Lounge to re-appear.
In order to get access to the Bordeaux lounge you need to go to one of the two cafes after security and exchange a paper ticket which you received at the BA desk for a door code. Once you've opened the door, you find yourself in this room: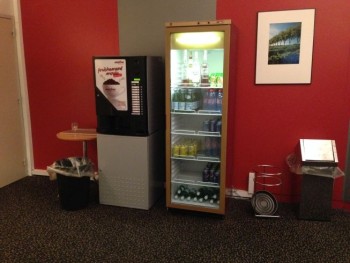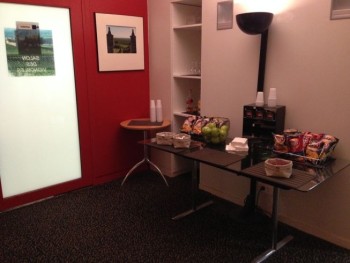 A bit disappointing, to put it mildly, and not just food and drink wise. In order to use the wifi you have to sign up via an e-mail – a bit pointless when you are not roaming!  At least there were enough seats and tables.
The airport itself is really small and has only got a small duty free shop and two cafes. However, don't let this put you off Bordeaux as the city and the new InterContinental are lovely – I will write more about this on Tuesday.