Review of the (gone downhill) No 1 Lounge airport lounge at London Gatwick's North terminal
Links on Head for Points may pay us an affiliate commission. A list of partners is here.
This is my review of the No 1 Lounge at Gatwick airport, in the North Terminal.
This is part of our series of reviews of airport lounges across the UK. You see all of the reviews here.
It turns out that we haven't reviewed the No 1 Lounge in Gatwick North since 2014, surprisingly. After my week in London for the Head for Points Summer Party and a raft of meetings, I headed over to Hamburg to spend a few days with my family. This ended up being substantially more time than I planned as my passport got damaged and I had to get a new one, but that's another story …..
As I booked at the last minute I had to take an (cough) easyJet flight from Gatwick North.
Worried that I'd have to spend a lot of time waiting in line at security and possibly being denied access to a lounge due to overcrowding, I paid £5 to pre-book Premium Security and guaranteed access to the No 1 Lounge.
I got access via one of the two free Lounge Club passes that come with my American Express Preferred Rewards Gold card. You can also get in using Priority Pass which comes with the American Express Platinum card (see our review). Of course, you could also pay – but dig out a discount code and pre-book as on the door its £40 ….
(The link to pre-book No 1 Lounge access at Gatwick is here. Whilst it is frustrating to pay £5 to guarantee access to a lounge which in theory you can access for 'free', the addition of fast track and my desire to have somewhere to sit meant it was £5 worth paying.)
The official website for the Gatwick North lounge is here. It has a better set of photographs than this review because they took them when it was empty!
All you need to know about the No 1 Lounge at Gatwick North
Here is the lounge in a nutshell:
The lounge is very big (oldies will remember it from when British Airways used this space as the lower level its North Terminal lounge, before halving the space and retrenching to the upper level)
There is a huge amount of light
There are lots of different seating areas
There is a spa (not free)
There is a small cinema showing childrens films
There is also a small kids playroom with beanbags
There is a full size bar. Not all drinks are free and, given that I'm pregnant, I didn't investigate too much.
I was in the lounge during the early afternoon. It was VERY busy in the lounge when I was there, which made it very difficult to take photographs. I have re-used a few from Rob's 2014 review where the furniture is unchanged. Only in your wildest dreams will you ever visit this lounge and find it as quiet as this PR picture: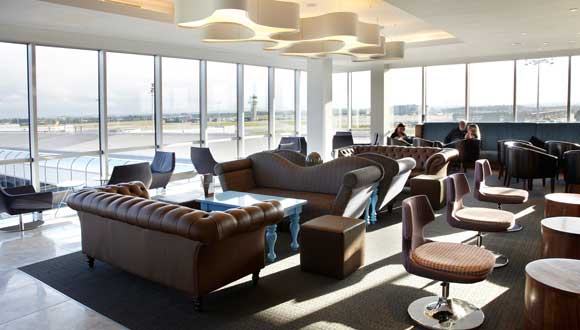 What confused me was that there was only a cold and hot buffet available. It didn't look like you were able to order a free 'cooked to order' item from a menu which is the normal policy in No 1 lounges.
The hot options on the buffet were a lentil stew, chicken stew, potatoes and mac 'n' cheese. Opposite the hot buffet and constantly surrounded by people (hence no picture) was a salad buffet.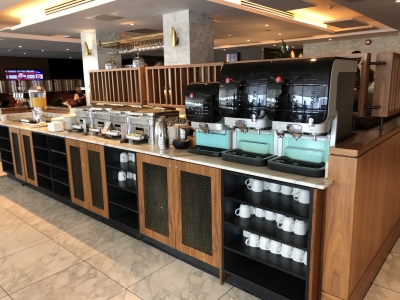 Here's my plate (I've made it my mission to find the best mac 'n' cheese and this one was pretty good):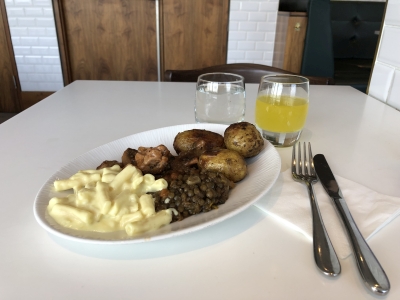 I am guessing that the reason there was only a buffet was the sheer volume of guests in the lounge. If everyone ordered their free 'cooked to order' plate of hot food, they would be struggling to cope.
Here's one of Rob's pictures with part of the breakfast buffet from his old review – I don't know if there are still 'cooked to order' items in the morning: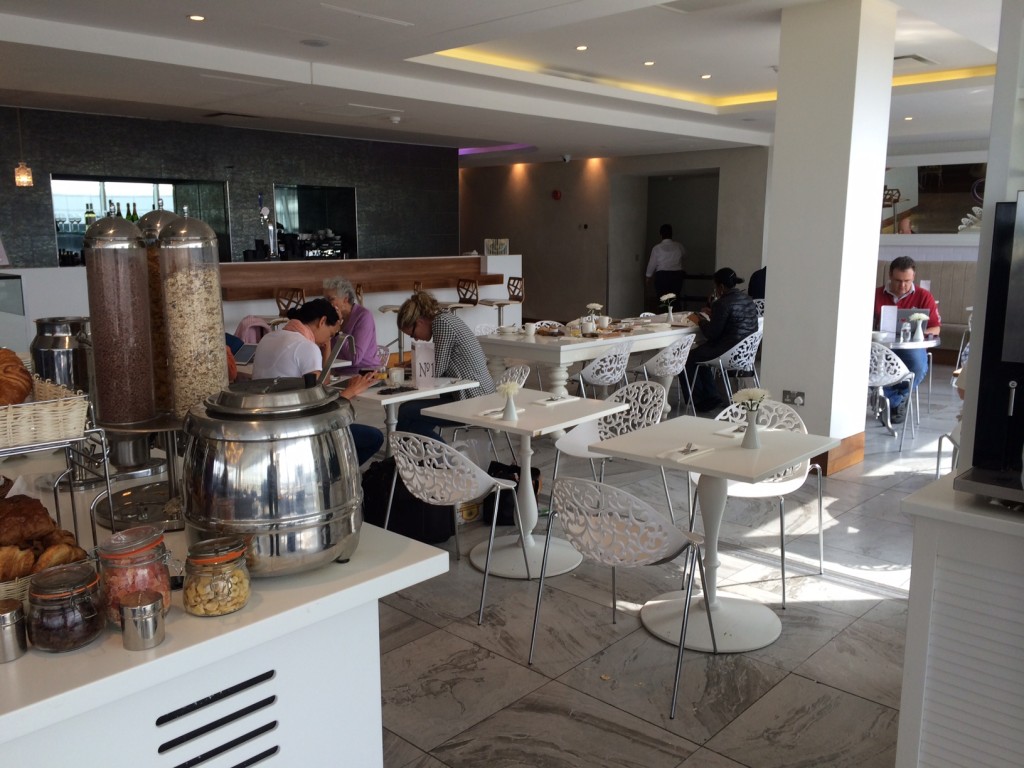 Here is more of the dining area: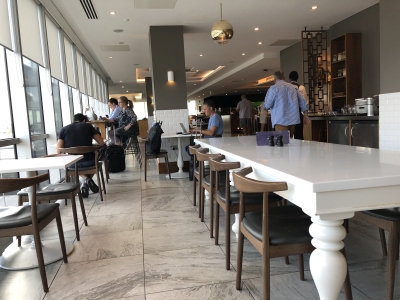 And here's a picture of the main sitting area: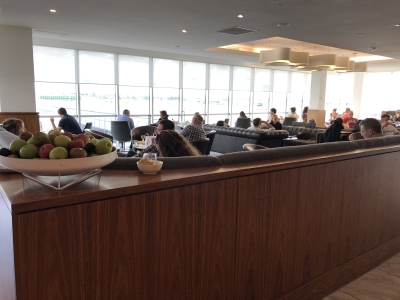 And a better one Rob took a few years ago,with fewer people: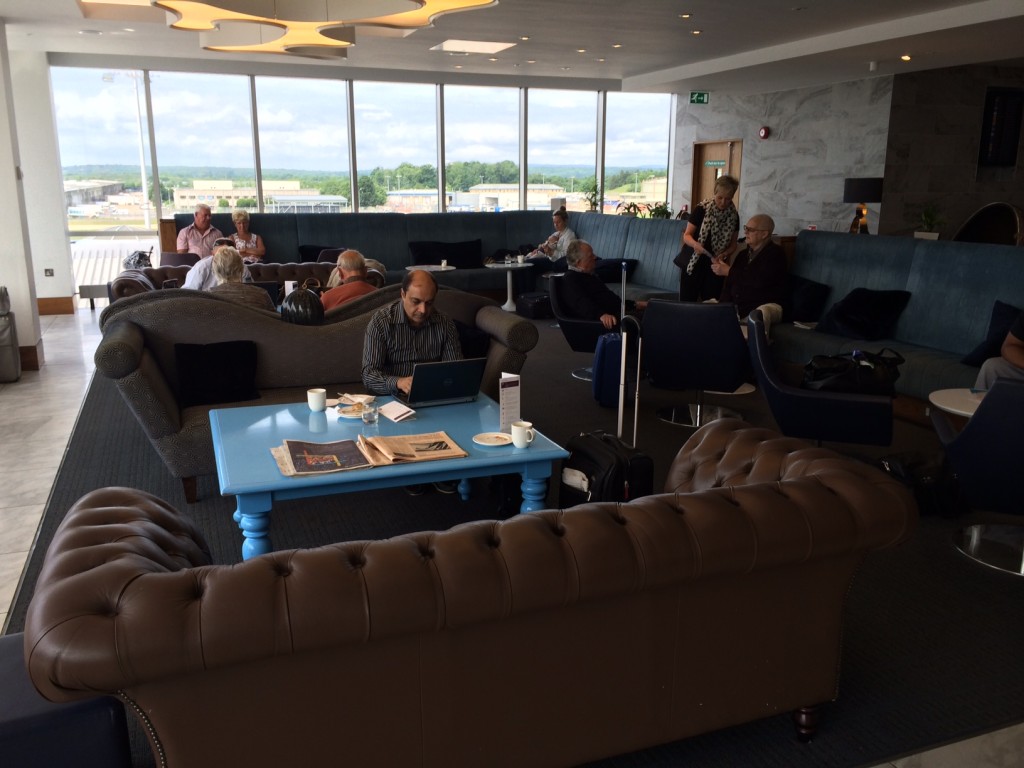 With the main areas being too crowded and my flight being delayed by an hour, I decided to spend the remaining time in one of the quieter corners away from the buffet.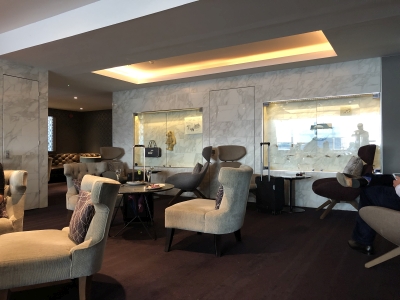 ….. and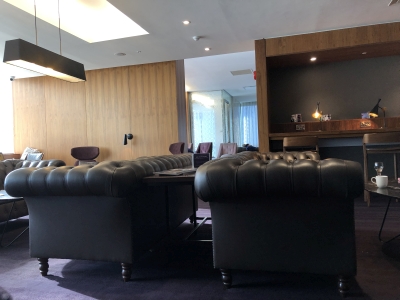 There was a long desk with sockets and lamps which used to be a further drink and food area in the past. To be honest this doesn't seem like a smart move as it is quite a walk from here in order to get a drink and some snacks and you may be unhappy leaving your belongings unattended.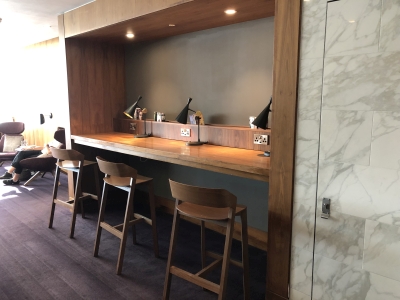 And here is an old picture from quieter times by Rob of some of the funkier furniture: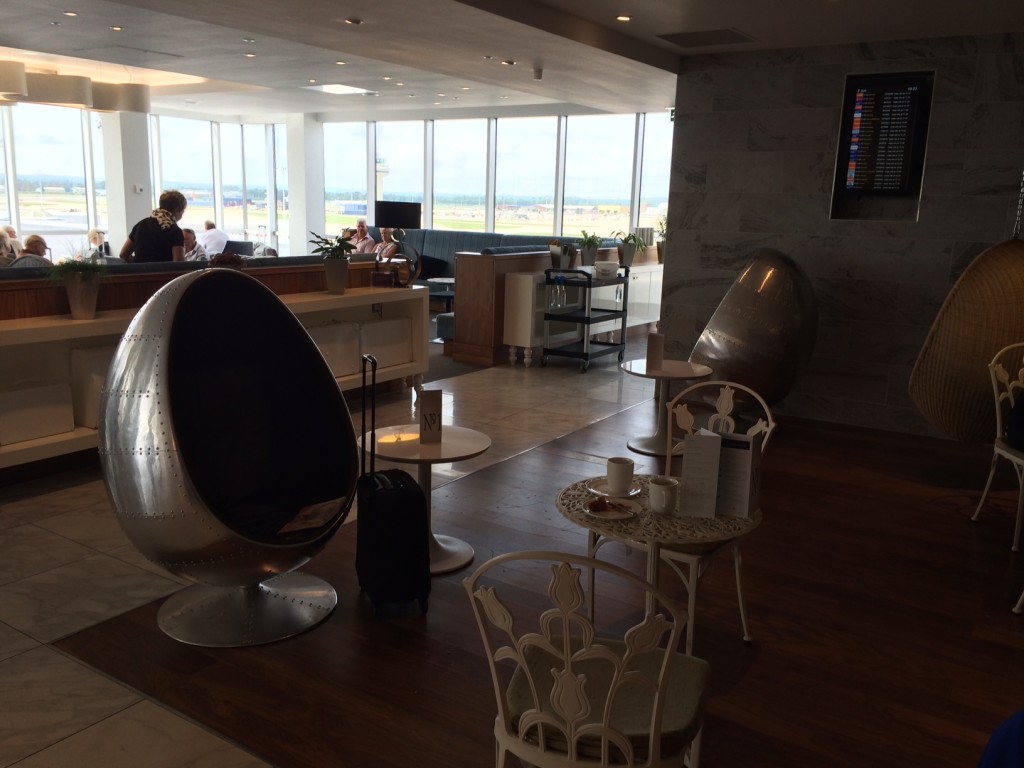 …. and the small cinema: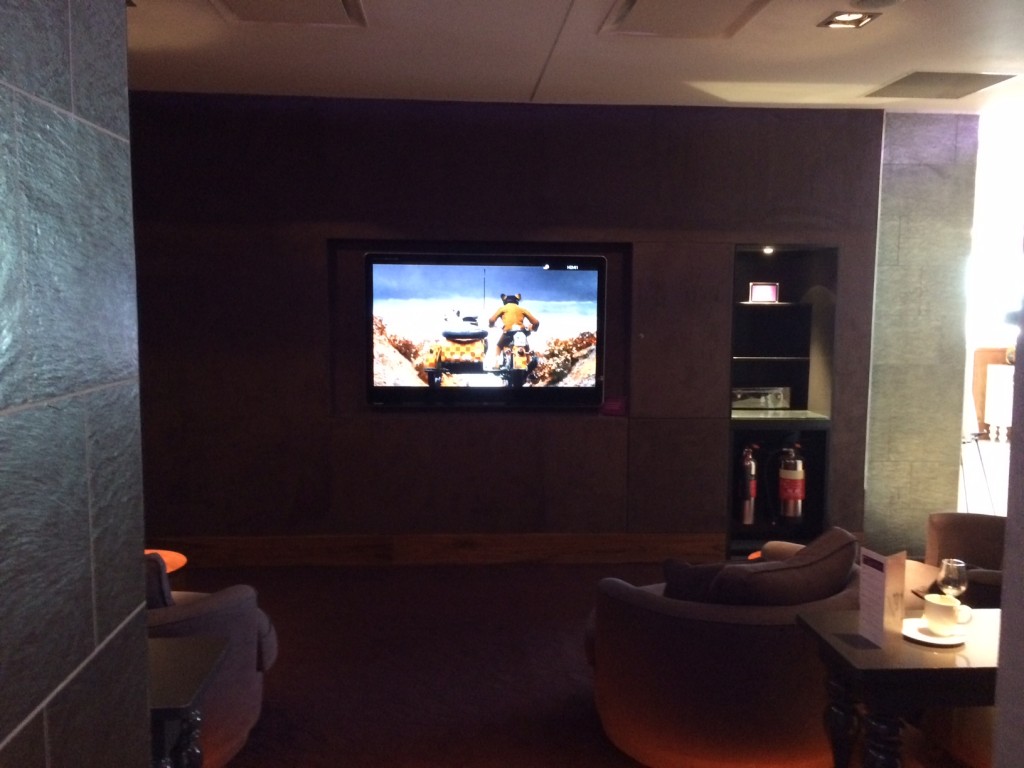 Rob was quite happy with the lounge a few years ago when we last wrote about it, but I found it too packed, dirty and more like the lobby of a three star all inclusive hotel. It wasn't a business lounge where you could get some work done, or indeed just relax.
I should also add – to give a full picture – that we have had many reports of HFP readers with a Priority Pass or Amex Gold Lounge Club card being refused access at busy times. We've also had reports of the '3 hour maximum visit' rule being enforced with staff asking passengers to leave.
(If your flight is delayed, you are allowed to stay beyond 3 hours but only on payment of an additional fee.)
To ensure that you will get in, we do recommend pre booking for £5 – plus you will be able to use the Premium Security lane.
No 1 Lounges is also in Gatwick South – and I must say two years ago when I reviewed it, it was much better than the North lounge. Rob was also impressed when he visited it.
You should also remember that there are two other lounges in Gatwick North which are accessible with a Priority Pass or similar card – My Lounge, which I reviewed here, and the new Club Aspire lounge. Both are likely to be quieter but have fewer facilities.
You can find out more about the No 1 Lounge at Gatwick North, and pre-book cash visits, on the official website here.
(Want to earn more miles and points from credit cards? Click here to visit our dedicated airline and hotel travel credit cards page or use the 'Credit Cards Update' link in the menu bar at the top of the page.)