My review of the brand new Club Aspire lounge at London Gatwick's North Terminal
Links on Head for Points may pay us an affiliate commission. A list of partners is here.
This is my review of the new Club Aspire lounge at London Gatwick's North Terminal.
This is part of our series of reviews of airport lounges across the UK. You see all of the reviews here.
The Club Aspire lounge re-opened last month after a refurbishment of the old Aspire lounge. I think that the only difference between Club Aspire and Aspire is that the former is now partially owned by Priority Pass-owner Collinson.
Gatwick North is, primarily, the easyJet terminal although there are other airlines that use it – WestJet, Emirates, Air Italy etc. All British Airways flights now depart from Gatwick South.
Club Aspire occupies the bottom level of the Gatwick lounge pavilion. This is unfortunate, as it means it is two floors below concourse level and has no views from the main area. There are windows but they are frosted and it isn't clear what, if anything, is on the other side.
Opposite Club Aspire is the No 1 Lounges Clubrooms, covered here. At concourse level you have the huge No 1 Lounge Gatwick North, reviewed here, and the smaller My Lounge, reviewed here.
Priority Pass (free with Amex Platinum) and Lounge Club (two passes free with the free Amex Gold) are accepted at Club Aspire, No 1 Lounge and My Lounge. You can buy Club Aspire access for cash via their website here.
Inside the lounge
I don't remember ever visiting the old Aspire lounge at Gatwick North.
In summary, I'd say that Club Aspire has done the best it can with a fairly dull shoe-box shaped space which has no views. In some ways, the best thing to say about it is that it is a lot quieter than the No 1 Lounge.
However, if you are a regular traveller then you probably aren't so bothered about the views, the library and the other novelties of No 1. If all you want is a smart space for a quiet sit down with a newspaper, a cup of coffee and some breakfast then this will do the trick.
There are four 'zones' to the lounge. This is the rather utilitarian area nearest the entrance and reception, which you can see to the top right: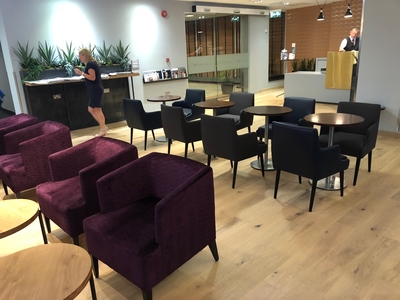 There is a decent selection of newspapers and, not shown, an eclectic magazine pile too – although too much appears to be there due to money changing hands rather than editorial quality: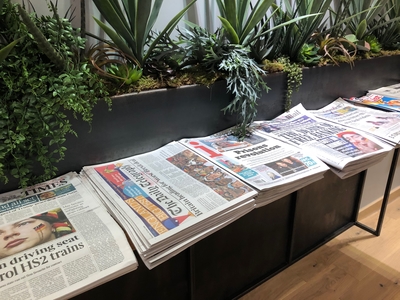 In the centre of the room is the buffet and, behind it, the bar: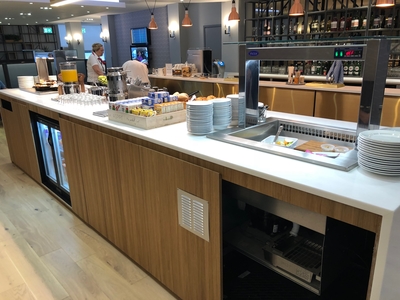 The breakfast offering was the traditional scrambled egg, sausage, bacon and beans.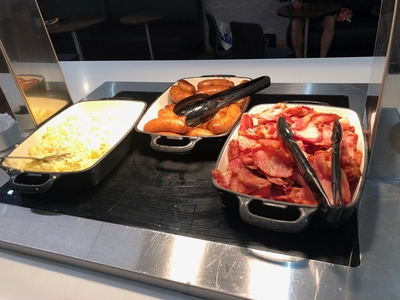 Yoghurt, fruit, pastries etc were also available: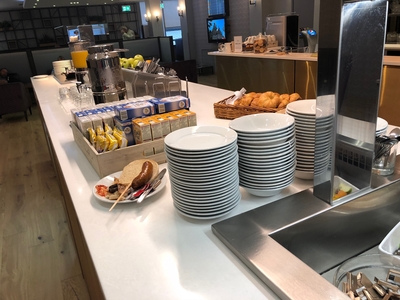 It wasn't a huge selection but it did the job. No 1 Lounge has a broader offering but the fundamentals are similar between the lounges. At 6.30am, the bar – unsurprisingly – was not busy. In theory the lounge is offering prosecco for free for the first two months but this was not mentioned to me, possibly due to the early hour.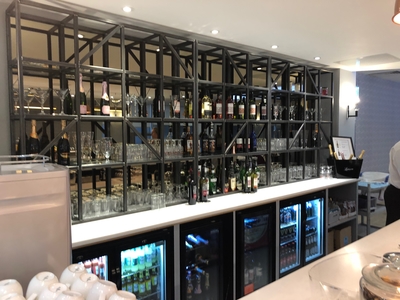 At the back of the room was a failed attempt to liven up the space with pot plants: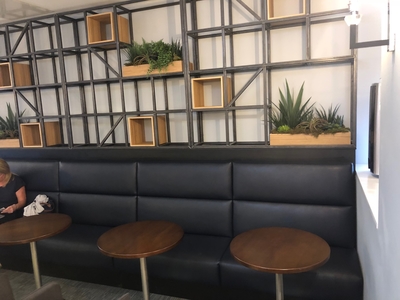 Tucked away around the corner, this small seating area offers the most privacy and does have an external view: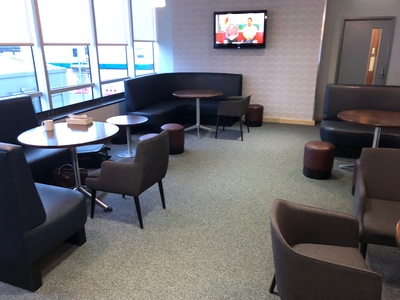 What you will see is that there is no dedicated working area. There are plenty of tables to pop down your laptop but nothing especially designed for working. The lounge is also a little light on sockets.
Overall, the Club Aspire Gatwick North lounge gets the basics right – plenty of seating, decent-enough food, smart bar, newspaper and magazines – but is desperately lacking in flair.
It needed an interior designer who wasn't afraid to inject a little bit extra. Perhaps some classic aviation posters, perhaps a few antiques to offset the modern furnishings, perhaps something as simple as the aircraft-shaped wine bottle holders they had in the Northern Lights Lounge in Aberdeen reviewed here. Just …. something. Something so that, when your friends ask you what the lounge was like, you say "it had a really cool [fill in the blank]".
Here's a video of the Club Aspire lounge in Gatwick North
I made a short video (just over a minute) which gives you an overview of the lounge and which you should be able to see below.
You can subscribe to our YouTube channel via this page – this is the same link to visit if the video does not automatically appear.
Conclusion
Aspire has done a decent job with the Club Aspire lounge given the limitations of the space. As long as it doesn't get too busy, you will find it a perfectly pleasant place to pass an hour or so.
The No 1 Lounge in Gatwick North is also very good – and far larger than Club Aspire. For a special treat No 1 is 'flashier' but there is a risk that the crowding takes away any feeling of exclusivity. My Lounge is usually quiet and has its own style of hipster flair.
You can buy passes for the Club Aspire lounge in Gatwick North here.