With new overseas payment products such as Curve and Supercard targetting the travelling public, is there any future for increasingly 'old school' products such as the Avios Multi-Currency Cash Passport?  I thought it was worth taking a look.
The Avios Multi-Currency Cash Passport card is a more complex version of a standard pre-loaded currency card.  This one, however, can carry simultaneous balances in ten different currencies – £, €, $, Australian Dollars, New Zealand Dollars, Canadian Dollars, South African Rand, Turkish Lira, Swiss Franc and Emirati Dirham.
You can use it to withdraw money from cash machines as well as buying goods anywhere that accepts MasterCard.
The fees on this card are bordering on reasonable but I still fail to see the attraction over using a credit card.  In particular, I strongly fail to see the attraction over a 'no FX fees' credit card such as the Post Office (no annual fee) or Lloyds Avios Rewards cards – especially when the latter also earns Avios, albeit with a £24 annual fee – or payments products like Curve or Supercard.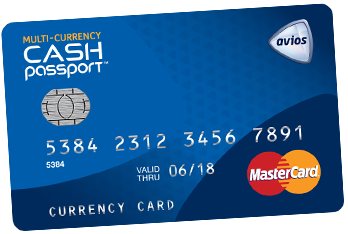 Here is the fee schedule for the Avios Multi-Currency Cash Passport card.
Loading the card is FREE, as long as you load in a currency other than £ and you earn 1 Avios point per £1 equivalent loaded.   What the fee schedule does not make clear is how generous (or not) their exchange rate is.  I did a 'dummy' transaction and the exchange rate was 3.55% away from the spot rate.
In itself, this does not make the card substantially worse – although it clearly is worse – than a standard credit card with its 2.99% foreign exchange fee.
The fees start to kick in later though:
Load your card in £ – 2% loading fee
Come back from holiday with a balance in one currency and want to convert to another?  3.55% (presumably) built into the margin.
Forget to convert your balance into a different currency before you travel again?  There is a 5.75% FX fee per transaction.
Don't use your card for a year?  £2 per month will be deducted from the balance.
There are other fees, such as cash machine fees, but these do seem to be 'industry standard'.
The real problem with the card is that it is fiddly.  Let's imagine that you are heading to Dubai and you load £500 in Dirham onto your card, paying the 3.55% fee.
You only spend £350.  This leaves £150 in Dirham.  If your next trip is to France, you need to go online and move the Dirham into Euro – incurring another FX fee.  If you don't spend the entire £150 of Euro in France and then head to the US, you will be paying another fee to convert the remaining funds in $.
You need to know the balance of the card at all times to avoid rejection.  You also cannot use it at a hotel or car hire company where an authorisation is taken at check-in, although you can use it to settle a final balance.
It is both time consuming and expensive.  And, to my mind, pointless.
My view
I'm not sure that there was ever a market for cards like this.  A lot of companies wished there was, but it never materialised.
The cheapest way to spend abroad is a 0% FX fee credit card – Post Office (free), Halifax Clarity (free), Lloyds Avios Rewards (£24 fee but earns Avios).
Alternatively, the Curve card has a 1% FX fee but recharges your purchases to any other card you own.  It can even recharge MasterCard and Visa purchases to an American Express.  The rewards generated should outweigh the 1% fee.
When it comes out of beta this year, Supercard will have no fees and will recharge any Visa or MasterCard (but not an Amex) with your overseas purchase.  This turns any Visa or MasterCard into an 'FX fee free' Visa or MasterCard.
With the Multi-Currency Cash Passport, whilst you earn 1 Avios per £1, this is entirely offset by the poorer foreign exchange rate you will be getting compared to using a standard 3% FX fee credit card.
To be honest, I thought that this card and its ilk would have been withdrawn by now due to lack of interest.  In some ways, it is a little worrying that they still exist.  There is no sensible reason for any HFP reader to take one out as far as I can tell.
(Want to earn more Avios?  Click here to visit our home page for the latest articles on earning and spending your Avios points and click here to see how to earn more Avios from current offers and promotions.)
Some links on Head for Points pay us an affiliate commission. A list of our partners is here.