My interview with Frantz Yvelin, CEO of low-cost transatlantic airline La Compagnie
Links on Head for Points may pay us an affiliate commission. A list of partners is here.
On Tuesday I spent 90 minutes with Frantz Yvelin, CEO of La Compagnie.  If the airline name is not familiar to you, La Compagnie is a low cost 'all business class' airline operating between Luton and New York (Newark).  It also operates from Paris CDG to Newark.
La Compagnie operates 74-seat Boeing 757 aircraft with 'lie flat but not horizontal' seating in a 2 x 2 formation.  Most importantly, it often sells its seats for as little as £450 each way based on two travelling.  If their Duo deal is not currently running, or you are travelling alone, fares start at just £500 each way.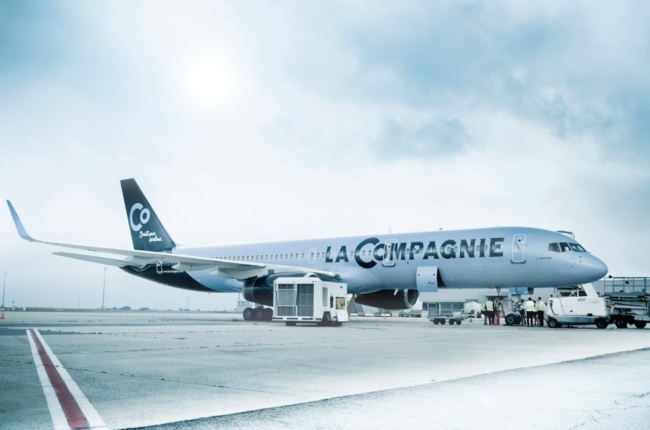 These are NOT headline grabbing fares which cannot be bought.  If you visit La Compagnie's website, you will see that £500 each-way fares are available for the majority of flights, except at very short notice.
If you are planning on redeeming Avios points to fly to New York, La Compagnie could make you think twice.  Is it worth paying over £500 in taxes per person plus 100,000 – 120,000 Avios points when you could buy a cash ticket outright for £1,000 return?
Yvelin is an experienced operator in this market.  He founded L'AVION, the first European 'all business class' airline, in 2006.  British Airways bought the business two years later and it became the foundation for the Open Skies airline which still flies between Paris and New York.
Five years later, Yvelin decided to do it again with La Compagnie.  Flights from Paris to New York started in July 2014 and Luton to New York was added in April 2015.  Our chat marked the first anniversary of the Luton route.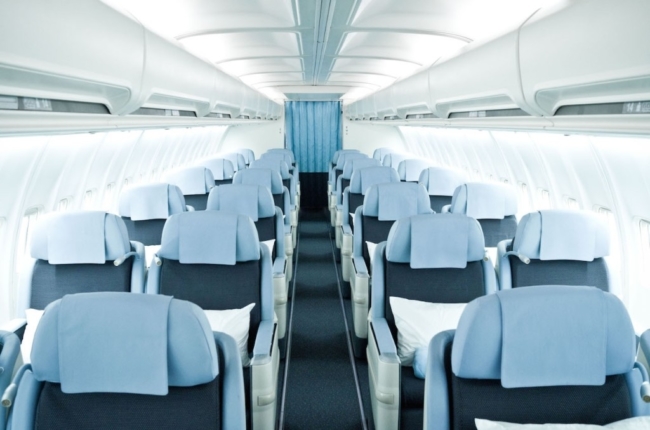 Yvelin is keen to highlight the fact that, frankly, many people were queuing up to predict the swift demise of the airline.  As it turns out, two years in, the Paris service is running at 70% – 90% load factors.  The London service is below that but is still in the 'ramping up' stage and will benefit from a frequency increase to six flights per week from May.
Frantz is the first to admit that the airline had initial teething problems, as well as an unlucky run of technical issues with its aircraft.  These seem to be behind it now, although you are always taking some risk booking an airline with one flight per day rather than 10 flights per day to your destination.
La Compagnie in-flight
The product is surprisingly accomplished given the price point.  Last year I ran a review of one of their first flights submitted by a reader, who was impressed.
There are no hidden charges for seat reservations, luggage or meals.  Piper-Heidsieck champagne is served, passengers get lounge access (the Aspire lounge at Luton which Anika reviewed positively here) and toiletries are from Caudalie.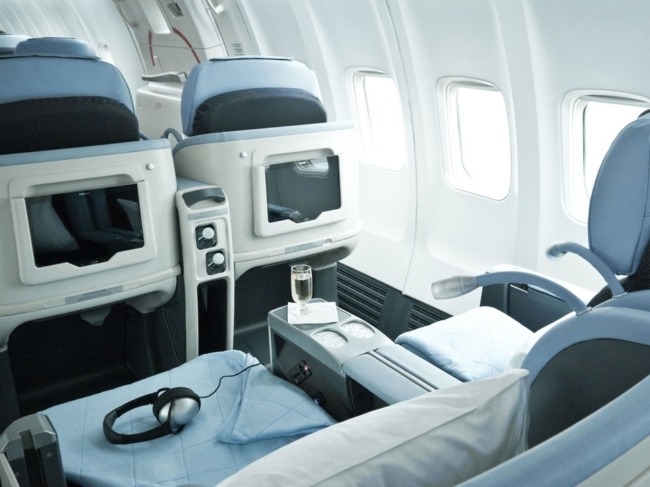 IFE is provided via 12 inch Samsung tablets which come pre-loaded with a wide selection of entertainment.  The airline is currently in discussions about adding wi-fi – the planes are already wired for it and a new satellite, currently settling into orbit, would allow a high speed connection that would be superior to existing products.  Of course, passengers already have a tablet they could use for browsing.
The main differentiator between La Compagnie and BA / Virgin is that your seat, whilst lie flat, slopes downwards at an angle.  For the day flight to New York, this is unlikely to make any difference whatsoever – I can't remember the last time I wanted to sleep on a day flight.
It is more of an issue on the overnight return, but I have done a number of flights over the years on similar seats and, frankly, you will survive perfectly happily.  The thought of the large sum of money you are saving over flying BA or Virgin would keep you going!
And a frequent flyer scheme
Whilst not a member of any airline alliances, La Compagnie does have its own loyalty programme – MyCompagnie.  You earn points for each flight taken, with the number depending on your ticket type.  Points can be redeemed for future flights with the airline.  If you have a family, it is worth noting that every passenger over the age of 2 is allowed to earn points.
Just two fully flexible return flights is enough for a free one way ticket – although that increases to 10 if you are travelling on their cheapest £1,000 return tickets.
Going forward, a third Boeing 757 is scheduled to join the fleet in early 2017.  Whether this will be used for increased frequencies or new routes still appears to be undecided – the economics of London to New York, in terms of the inflated prices charged by the incumbent players, are not easily matched elsewhere.
The airline has done well to negotiate its first two years, albeit helped by a favourable fuel price.  If you are looking for a low cost but not necessarily low service way to get to New York in comfort, it is worth serious consideration.  HfP will hopefully be trying out the service soon so we can give you first hand feedback.