Review of the newly refurbished Aspire lounge at Luton Airport
Links on Head for Points may pay us an affiliate commission. A list of partners is here.
This is my review of the Aspire lounge at Luton Airport.
This is part of our series of reviews of airport lounges across the UK. You see all of the reviews here.
Whilst Rob got to hang out in the Qatar Airways lounge at Heathrow this week (see the HFP Instagram feed), I found myself in Luton ….
To be honest, Luton is one of my least favourite airports. It looks chaotic with all the never-ending construction work going on, security seems to take forever and the selection of shops is pretty sad. The only reason I end up at Luton Airport quite a few times a year is the great flight connections to Berlin and Hamburg.
A few days ago I had another flight to Berlin and decided to check out the newly refurbished Aspire lounge, previously the Servisair lounge. And, I must say, it's really quite pleasant. Here is my review:
The Aspire lounge at Luton is located on the first floor of the departure area and the gates are about a 5-15 minute walk away.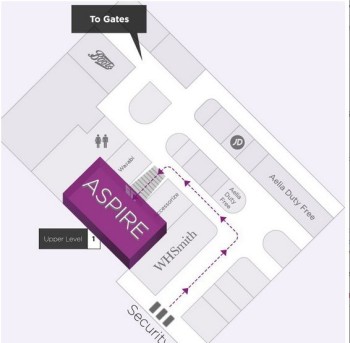 Next to the welcome desk you can find the Bliss Spa if you want to treat yourself to a 20 or 40 minute pamper before your flight. Treatments are not free but, on the upside, there was good availability. This seems a better system than the rarely available 5 minute mini-treatments that BA offers at Heathrow.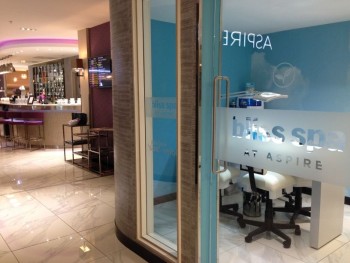 You can choose to relax on a sofa, sit at a table with view over the departure area or make your way to the quiet area at the back of the lounge.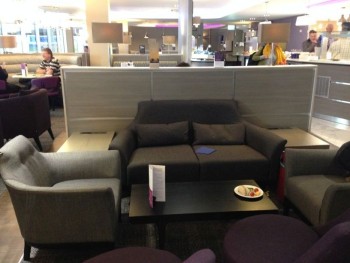 The food and drink selection in the Apire lounge is pretty good. At the bar (you can't pour your own drinks) the bar tender will make you any mixed drink you like or serve you wine or beer (draught Heineken) for free. If you want prosecco, champagne or a cocktail you need to pay extra.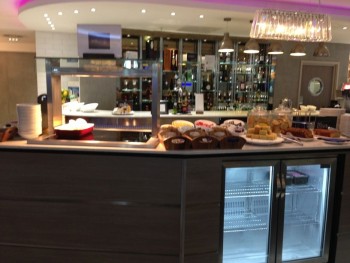 There are three coffee machines in the lounge with pretty decent coffee and fridges with soft drinks.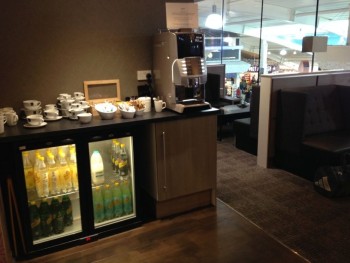 When I arrived there was a salad bar and filled bread rolls and towards lunchtime pasta and soup was added to the buffet. If you want something more ambitious, you can also order from a 'premium menu' with for example a cooked breakfast for £5 or a salmon dish for £10.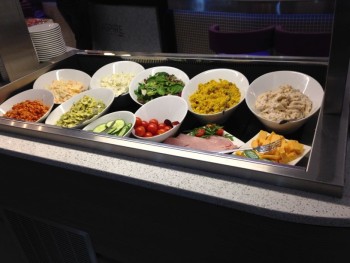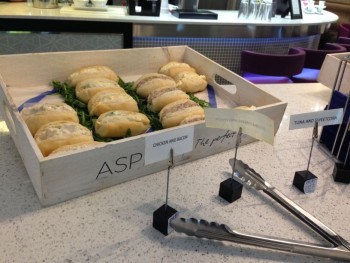 A Head for Points reader also sent us a picture of the hot food served by Aspire at breakfast, which I missed, and which seems pretty good: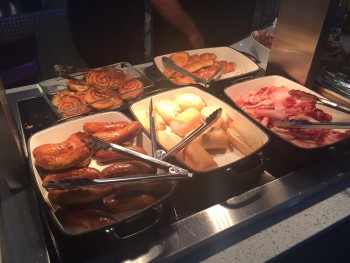 At the back of the lounge you find a quiet zone with TV where you can relax on comfortable sofas.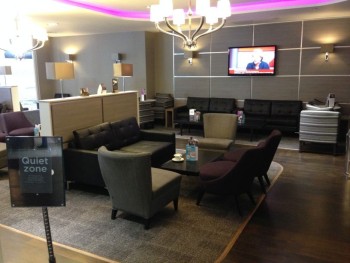 A highlight of the Aspire lounge are the Snoozepods that are located next to the quiet zone behind a glass wall. You can put your belongings in one of the complimentary lockers and then doze off for a while.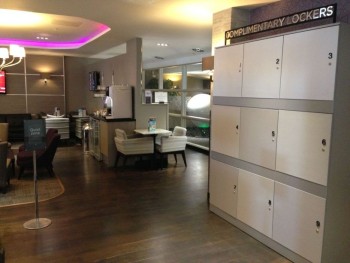 Just don't fall asleep and miss your flight ….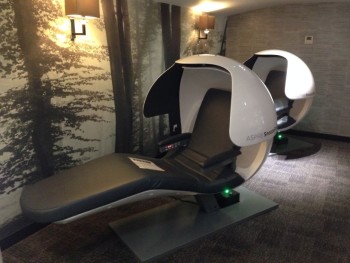 You can find lots of European and UK plugs throughout the lounge and also USB charging slots. If you need to use a different adapter the staff will provide you with one for the duration of your stay.
Setting up the wifi was a bit of a time consuming challenge as you first have to enter a password and then register your device. On the bright side you only need to register once so next time it will hopefully be up and running within seconds. Speaking of speed though, I must say that the internet could be faster…
How to get in to the Aspire airport lounge at Luton
I got access via the LoungeBuddy app on my phone, signing up via the Head for Points $10 sign up code. This took the £20 cost via the app down to roughly £12. It only took a few clicks to order my pass once I was at the airport (you need to enter the lounge within an hour of ordering) which I showed at the welcome desk.
If you book directly on the Aspire website, it will cost £22.99 for an adult and £14.99 for children under 12.
The lounge is also accessible with a Priority Pass (free with American Express Platinum) or a Lounge Club card (two free passes with the 'free for the first year' American Express Gold).
The Aspire lounge at Luton airport is a major improvement on the old Servisair lounge and makes the whole idea of flying from there (a little bit) more appealing …..