Yesterday, IHG Rewards Club (the Holiday Inn, HI Express, Crowne Plaza, InterContinental etc group) released a  new list of PointBreaks redemptions.
There is usually some pre-publicity for the list but, this time, IHG released it without any teasers.
These rooms are a fantastic deal.
All of the 140 hotels below are available NOW for just 5,000 IHG Rewards Club points per night, saving up to 25,000 points per night in some cases.
PointBreaks availability is very limited so book ASAP if you are interested. Bookings are refundable as with a standard reward reservation so there is nothing to lose.
You can book via the IHG PointBreaks page here or via the standard booking page here.
You can book these hotels for dates up to July 31st.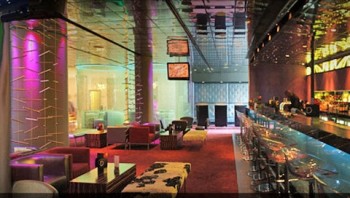 You allowed a maximum of two bookings per individual hotel. Each booking can be for as many nights as you want.
Remember that if you attempt to amend your booking later by dropping a night or two the whole booking will reprice at the full rate.
To be honest, it is difficult to get excited about the list this time.  The only hotel which comes with a reputation is The Rosebank in Johannesburg pictured above.  However, if you need to visit one of the places on the list anyway then you've got yourself a bargain.
The Paris hotel is near Disneyland Paris if you are heading there.  The Crowne Plaza in Antwerp appears to be on the outskirts but manageable.
The list:
United Kingdom:
HOLIDAY INN EXPRESS BIRMINGHAM – SOUTH A45
HOLIDAY INN EXPRESS CHESTER – RACECOURSE
HOLIDAY INN EXPRESS GLENROTHES
HOLIDAY INN MANCHESTER – CENTRAL PARK
HOLIDAY INN EXPRESS NUNEATON
HOLIDAY INN EXPRESS STRATHCLYDE PARK M74, JCT.5
HOLIDAY INN GARDEN COURT WOLVERHAMPTON
Europe:
BELGIUM
CROWNE PLAZA ANTWERP
FRANCE
HOLIDAY INN TOULOUSE AIRPORT
HOLIDAY INN EXPRESS STRASBOURG – SUD
HOLIDAY INN PARIS – MARNE LA VALLEE
HOLIDAY INN LYON – VAISE
GERMANY
HOLIDAY INN EXPRESS STUTTGART AIRPORT
ITALY
HOLIDAY INN MILAN – ASSAGO
NETHERLANDS
HOLIDAY INN EXPRESS ARNHEM
POLAND
HOLIDAY INN LODZ
RUSSIA
CROWNE PLAZA ST. PETERSBURG AIRPORT
SERBIA
HOLIDAY INN EXPRESS BELGRADE – CITY
SLOVAKIA
HOLIDAY INN ZILINA
SPAIN
HOLIDAY INN EXPRESS MADRID – GETAFE
SWITZERLAND
HOLIDAY INN EXPRESS LUZERN – NEUENKIRCH
Asia:
INDIA
HOLIDAY INN EXPRESS AHMEDABAD ASHRAM ROAD
HOLIDAY INN HOTEL & SUITES BENGALURU WHITEFIELD
INDONESIA
CROWNE PLAZA BANDUNG
HOLIDAY INN JAKARTA KEMAYORAN
CHINA
HOLIDAY INN EXPRESS NANTONG XINGHU
HOLIDAY INN ZHONGSHAN DOWNTOWN
Middle East & Africa:
SOUTH AFRICA
CROWNE PLAZA JOHANNESBURG – THE ROSEBANK
ZIMBABWE
HOLIDAY INN BULAWAYO
Central & South America:
ARGENTINA
HOLIDAY INN EXPRESS ROSARIO
BRAZIL
HOLIDAY INN CUIABA
HOLIDAY INN NATAL
CHILE
HOLIDAY INN EXPRESS PUERTO MONTT – PATAGONIA
ECUADOR
HOLIDAY INN GUAYAQUIL AIRPORT
EL SALVADOR
CROWNE PLAZA SAN SALVADOR
NICARAGUA
CROWNE PLAZA MANAGUA
Mexico:
COAHUILA
HOLIDAY INN EXPRESS PIEDRAS NEGRAS
MEXICO CITY
HOLIDAY INN EXPRESS MEXICO SANTA FE
GUANAJUATO
HOLIDAY INN IRAPUATO
JALISCO
STAYBRIDGE SUITES GUADALAJARA EXPO
SINALOA
HOLIDAY INN EXPRESS CULIACAN
SONORA
HOLIDAY INN HOTEL & SUITES HERMOSILLO AEROPUERTO
TAMAULIPAS
HOLIDAY INN TAMPICO ALTAMIRA
United States:
ALABAMA
HOLIDAY INN EXPRESS ATMORE
CANDLEWOOD SUITES BIRMINGHAM/HOMEWOOD
HOLIDAY INN EXPRESS & SUITES HUNTSVILLE WEST – RESEARCH PK
HOLIDAY INN EXPRESS & SUITES PHENIX CITY-FT.BENNING AREA
ARKANSAS
HOLIDAY INN EXPRESS HOPE
CANDLEWOOD SUITES WEST LITTLE ROCK
CALIFORNIA
STAYBRIDGE SUITES SACRAMENTO – FOLSOM
HOLIDAY INN EXPRESS & SUITES LAKE ELSINORE
COLORADO
CANDLEWOOD SUITES DENVER NORTHEAST – BRIGHTON
HOLIDAY INN EXPRESS LA JUNTA
CONNECTICUT
HOLIDAY INN BRIDGEPORT-TRUMBULL-FAIRFIELD
HOLIDAY INN EXPRESS VERNON – MANCHESTER
DELAWARE
HOLIDAY INN EXPRESS & SUITES HARRINGTON (DOVER AREA)
FLORIDA
HOLIDAY INN EXPRESS & SUITES PENSACOLA WEST-NAVY BASE
GEORGIA
HOLIDAY INN EXPRESS MADISON
CANDLEWOOD SUITES WARNER ROBINS/ROBINS AFB
IOWA
STAYBRIDGE SUITES DAVENPORT
HOLIDAY INN EXPRESS & SUITES NORTHWOOD
HOLIDAY INN SIOUX CITY
IDAHO
HOLIDAY INN EXPRESS & SUITES BOISE WEST – MERIDIAN
ILLINOIS
HOLIDAY INN EXPRESS & SUITES EDWARDSVILLE
HOLIDAY INN EXPRESS & SUITES LAKE ZURICH-BARRINGTON
CANDLEWOOD SUITES BLOOMINGTON-NORMAL
INDIANA
HOLIDAY INN EXPRESS AUBURN-TOURING DR
CANDLEWOOD SUITES ELKHART
HOLIDAY INN EXPRESS FREMONT (ANGOLA AREA)
KANSAS
HOLIDAY INN EXPRESS KANSAS CITY – BONNER SPRINGS
HOLIDAY INN MANHATTAN AT THE CAMPUS
KENTUCKY
HOLIDAY INN EXPRESS & SUITES ASHLAND
CANDLEWOOD SUITES RADCLIFF – FORT KNOX
LOUISIANA
CROWNE PLAZA EXECUTIVE CENTER BATON ROUGE
HOLIDAY INN EXPRESS EUNICE
MASSACHUSETTS
HOLIDAY INN EXPRESS LUDLOW – CHICOPEE AREA
HOLIDAY INN EXPRESS PLAINVILLE – FOXBORO AREA
MARYLAND
CANDLEWOOD SUITES ABERDEEN-EDGEWOOD-BEL AIR
HOLIDAY INN EXPRESS HUNT VALLEY
MICHIGAN
HOLIDAY INN EXPRESS & SUITES CHARLOTTE
MINNESOTA
HOLIDAY INN FAIRMONT
STAYBRIDGE SUITES MPLS-MAPLE GROVE/ARBOR LAKES
MISSOURI
HOLIDAY INN EXPRESS & SUITES HAZELWOOD – ST. LOUIS AIRPORT
HOLIDAY INN EXPRESS & SUITES MARYVILLE
CANDLEWOOD SUITES SPRINGFIELD
MISSISSIPPI
HOLIDAY INN EXPRESS & SUITES CANTON
HOLIDAY INN EXPRESS & SUITES FOREST
CANDLEWOOD SUITES HATTIESBURG
MONTANA
HOLIDAY INN EXPRESS & SUITES GLENDIVE
STAYBRIDGE SUITES GREAT FALLS
NORTH CAROLINA
HOLIDAY INN EXPRESS & SUITES ALBEMARLE
STAYBRIDGE SUITES DURHAM-CHAPEL HILL-RTP
HOLIDAY INN EXPRESS & SUITES MONROE
STAYBRIDGE SUITES RALEIGH-DURHAM APT-MORRISVILLE
NORTH DAKOTA
HOLIDAY INN BISMARCK
NEBRASKA
HOLIDAY INN EXPRESS & SUITES COLUMBUS
STAYBRIDGE SUITES LINCOLN I-80
NEW HAMPSHIRE
HOLIDAY INN EXPRESS KEENE
CROWNE PLAZA NASHUA
NEW JERSEY
CROWNE PLAZA FAIRFIELD
CANDLEWOOD SUITES PARSIPPANY-MORRIS PLAINS
HOLIDAY INN EXPRESS & SUITES PHILADELPHIA – MT. LAUREL
NEW YORK
HOLIDAY INN EXPRESS CANANDAIGUA – FINGER LAKES
HOLIDAY INN PLATTSBURGH (ADIRONDACK AREA)
HOLIDAY INN EXPRESS & SUITES BINGHAMTON UNIVERSITY-VESTAL
OHIO
STAYBRIDGE SUITES CANTON
HOLIDAY INN EXPRESS & SUITES DAYTON-CENTERVILLE
HOLIDAY INN EXPRESS & SUITES GREENVILLE
HOLIDAY INN HOTEL & SUITES LIMA
OKLAHOMA
CANDLEWOOD SUITES MIDWEST CITY
HOLIDAY INN EXPRESS & SUITES GLENPOOL-TULSA SOUTH
OREGON
HOLIDAY INN EUGENE – SPRINGFIELD
PENNSYLVANIA
HOLIDAY INN EXPRESS BENTLEYVILLE
HOLIDAY INN EXPRESS & SUITES BUTLER
STAYBRIDGE SUITES WILMINGTON – BRANDYWINE VALLEY
SOUTH CAROLINA
STAYBRIDGE SUITES GREENVILLE I-85 WOODRUFF ROAD
HOLIDAY INN EXPRESS & SUITES NEWBERRY
SOUTH DAKOTA
STAYBRIDGE SUITES SIOUX FALLS AT EMPIRE MALL
HOLIDAY INN SPEARFISH-CONVENTION CENTER
TENNESSEE
HOLIDAY INN EXPRESS & SUITES CARYVILLE
HOLIDAY INN EXPRESS & SUITES MEMPHIS/GERMANTOWN
TEXAS
CANDLEWOOD SUITES AUSTIN N-CEDAR PARK
CANDLEWOOD SUITES CORPUS CHRISTI-SPID
STAYBRIDGE SUITES HOUSTON WILLOWBROOK
CANDLEWOOD SUITES SAN ANTONIO DOWNTOWN
HOLIDAY INN TEMPLE-BELTON
UTAH
HOLIDAY INN EXPRESS & SUITES TOOELE
VIRGINIA
HOLIDAY INN EXPRESS & SUITES BLACKSBURG – UNIVERSITY AREA
CANDLEWOOD SUITES RICHMOND NORTH-GLEN ALLEN
VERMONT
HOLIDAY INN EXPRESS & SUITES BRATTLEBORO
WASHINGTON
CANDLEWOOD SUITES BURLINGTON
HOLIDAY INN EXPRESS & SUITES EVERETT
WISCONSIN
HOLIDAY INN EXPRESS & SUITES FORT ATKINSON
CROWNE PLAZA MADISON
WEST VIRGINIA
HOLIDAY INN EXPRESS & SUITES FAIRMONT
WYOMING
CANDLEWOOD SUITES CHEYENNE
Canada:
ALBERTA
STAYBRIDGE SUITES WEST EDMONTON
ONTARIO
HOLIDAY INN EXPRESS & SUITES CHATHAM SOUTH
HOLIDAY INN EXPRESS & SUITES OTTAWA EAST – ORLEANS
HOLIDAY INN EXPRESS & SUITES WOODSTOCK SOUTH
Oceania:
AUSTRALIA
HOLIDAY INN WARWICK FARM