Review: the InterContinental New York Barclay hotel
Links on Head for Points may pay us an affiliate commission. A list of partners is here.
This is my review of the newly reopened InterContinental New York Barclay hotel.
The re-opening of the InterContinental New York Barclay following a lengthy renovation means that the city now boasts two InterContinental hotels again. I had stayed at the InterContinental Barclay once before but my four most recent New York trips involved the Conrad New York (review of my first stay of two) and the InterContinental Times Square (review).
The InterContinental New York Barclay reopened three weeks before I was due back in town, so I booked myself in. This is what I found.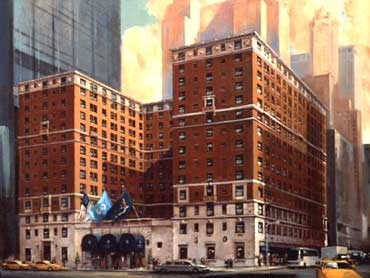 Nestled just south of the Waldorf Astoria and a couple of blocks north of Grand Central Station, the Barclay is one of the grande dame New York hotels dating from 1926. It even has a memorabilia cabinet: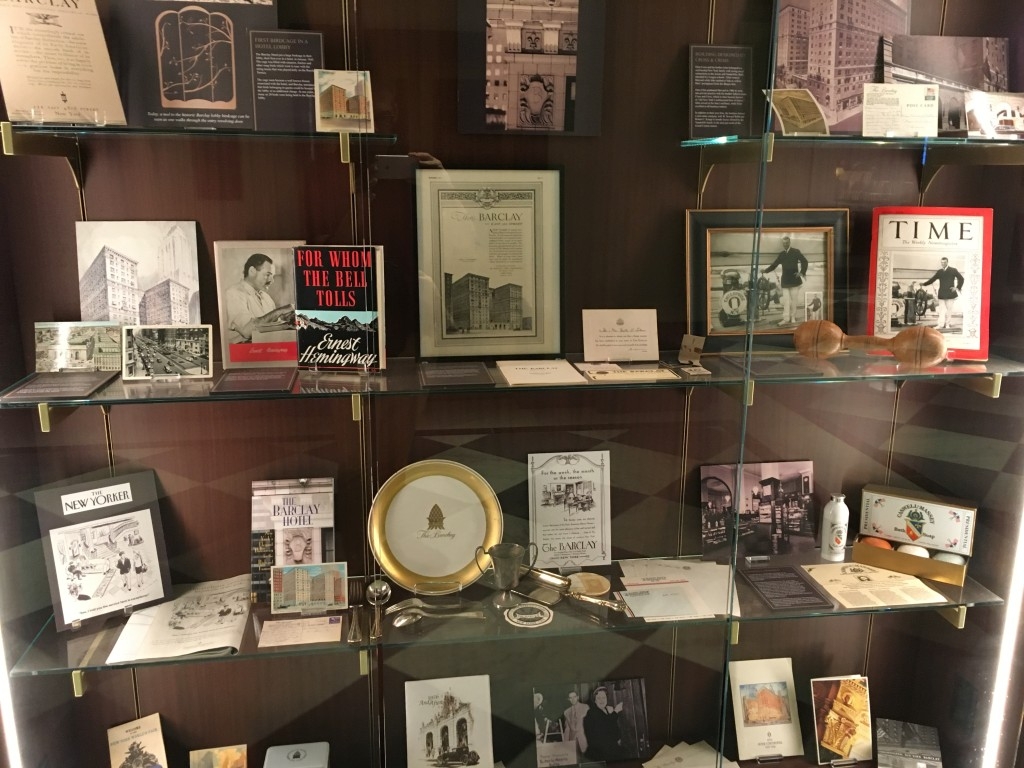 Unlike its Times Square sister, the InterContinental New York Barclay has a large open plan lobby as you enter. To the left is check in (this photo is taken from the bar):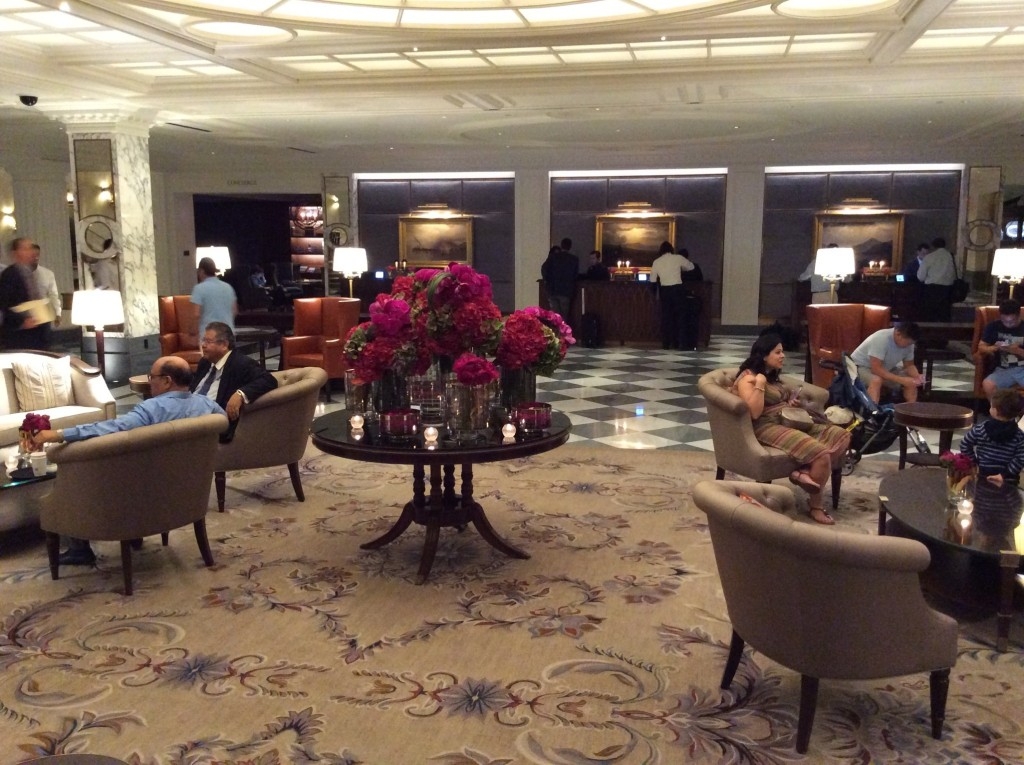 …. and to the right is the bar.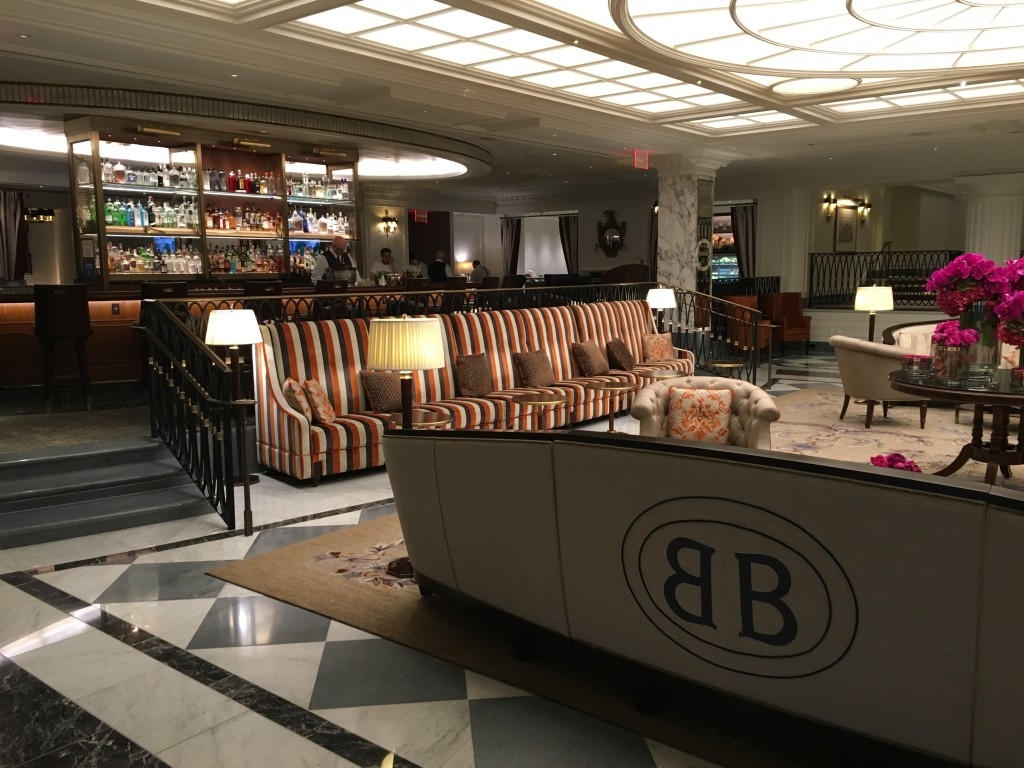 Oddly, the Barclay hotel does not have a proper restaurant. Food is served at tables at the back of the bar, and this is also where you would have breakfast, but it is minimal. It is basically a gastro-pub. If more than 20% of guests decided to have breakfast in the hotel then I think they would be in trouble.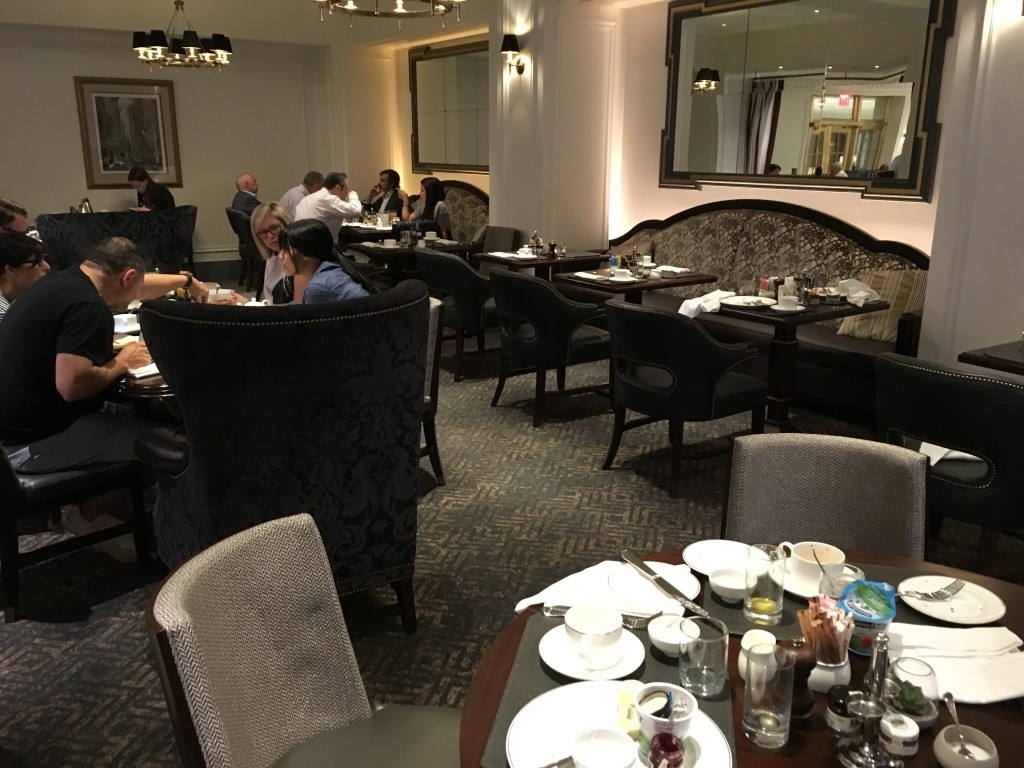 This is the modest breakfast buffet spread: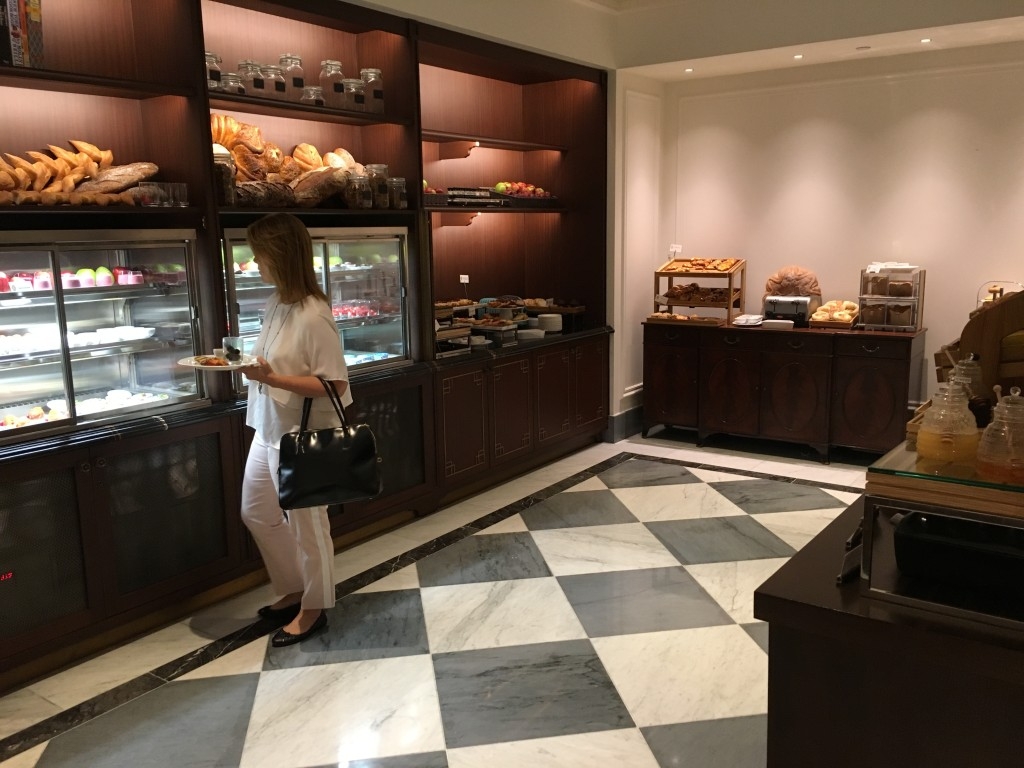 The Barclay has club lounge on the ground floor, behind the bar. It wasn't yet open when I visited but I had a look around: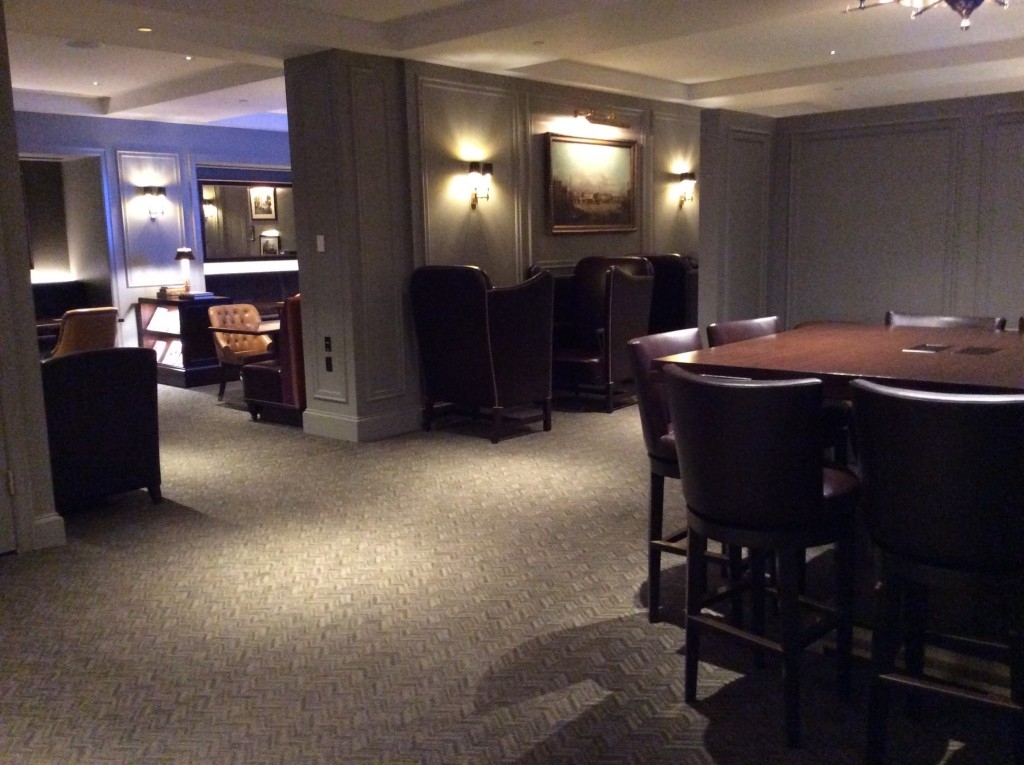 and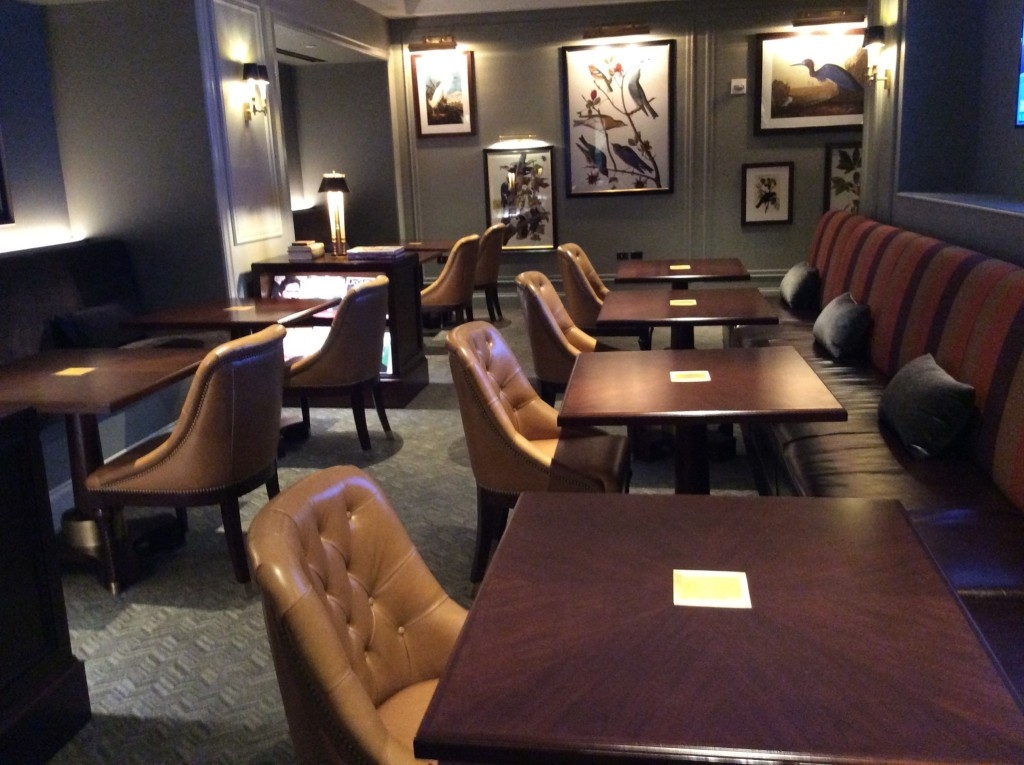 It is an impressive space and surprisingly large given the modest scale of the main bar and restaurant.
I was told that access to the lounge would be $150 + tax per day if you hadn't booked a club room. As I obviously haven't seen the food and drink on offer I can't judge whether that is good value or not. Being in the centre of New York there is obviously no shortage of other places to eat and drink nearby so it really depends on what you are looking for from a lounge.
I never ate in the hotel so I can't pass judgement on what they offer.
One interesting side effect of the new ownership by the Qatar Investment Authority is that Qatari newspapers are freely available in the hotel, alongside free copies of the New York Times.
Check in at InterContinental New York Barclay
This all started a little oddly. The InterContinental New York Barclay is currently offering Superior, Deluxe, Premium and Executive Rooms for redemption at the same 60,000 points per night.
As the Executive Rooms are the largest, I booked one of those. With my automatic Ambassador upgrade, I expected a Barclay King with special artwork and "custom toiletries delicately scented with The Barclay's own signature fragrance by Caswell-Massey".
Except this isn't what I got. The artwork looked the same as in the standard rooms, as were the toiletries. I arrived so late that I left it, but next day I went back to the desk and casually asked what room category my room was. "Barclay King" I was told. Judging by the description, it wasn't.
Let's go back to my Ambassador benefits. (I wrote about the InterContinental Ambassador benefits scheme here if you are not familiar with it.)
When I checked in I was told I was getting 1,500 IHG Rewards Club points as an amenity. No discussion. I then went online and found that I was meant to have been given a choice of amenities. I raised this at the desk the next day and suddenly 2 x $20 drinks vouchers were given to me. This is a substantial improvement on 1,500 points. You can get a cocktail for $20 and I managed to have a pleasant hour in the bar.
There is apparently no Pay TV here so the Ambassador 'free pay TV film' benefit is moot. The Barclay is also claiming that the amenity replaces your guaranteed free fruit benefit. This is nonsense but I wasn't prepared to fight them for a free fruit bowl.
There is still substantial work to be done here to sort out Ambassador benefits. I am not alone in having problems. The good news is that the 4pm check-out was granted without any trouble. This is a guaranteed benefit but I still expected some grief from them by that point!
There is no pool. The fitness centre was still closed on my visit but passes were available for the gym directly opposite the hotel.
My room at InterContinental New York Barclay
Here are a few images of my Barclay King.
These are corner rooms overlooking the street. This had huge benefits in terms of light. The Barclay hotel is surrounded on two sides by taller buildings so there is a real risk in some rooms that you are looking directly into a wall or a window.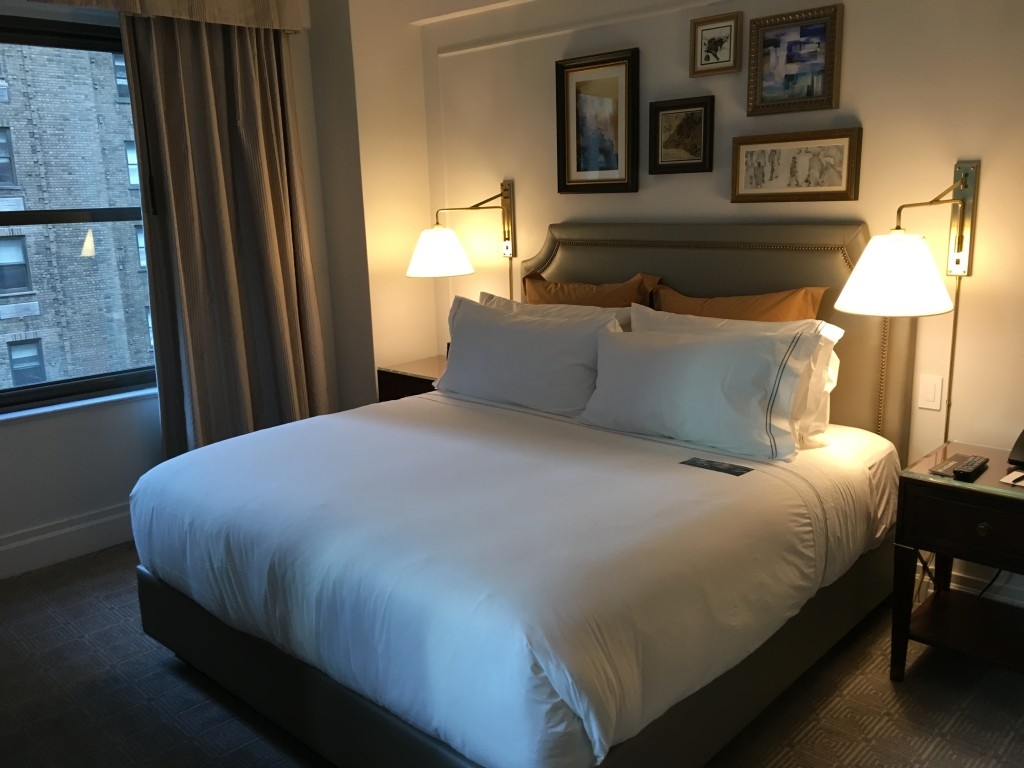 Even for a room FIVE categories up the price list, it still wasn't huge. It is worth nothing that Times Square has bigger standard rooms than the InterContinental New York Barclay and, as Time Square is a skyscraper, you will have far better views as well in most cases.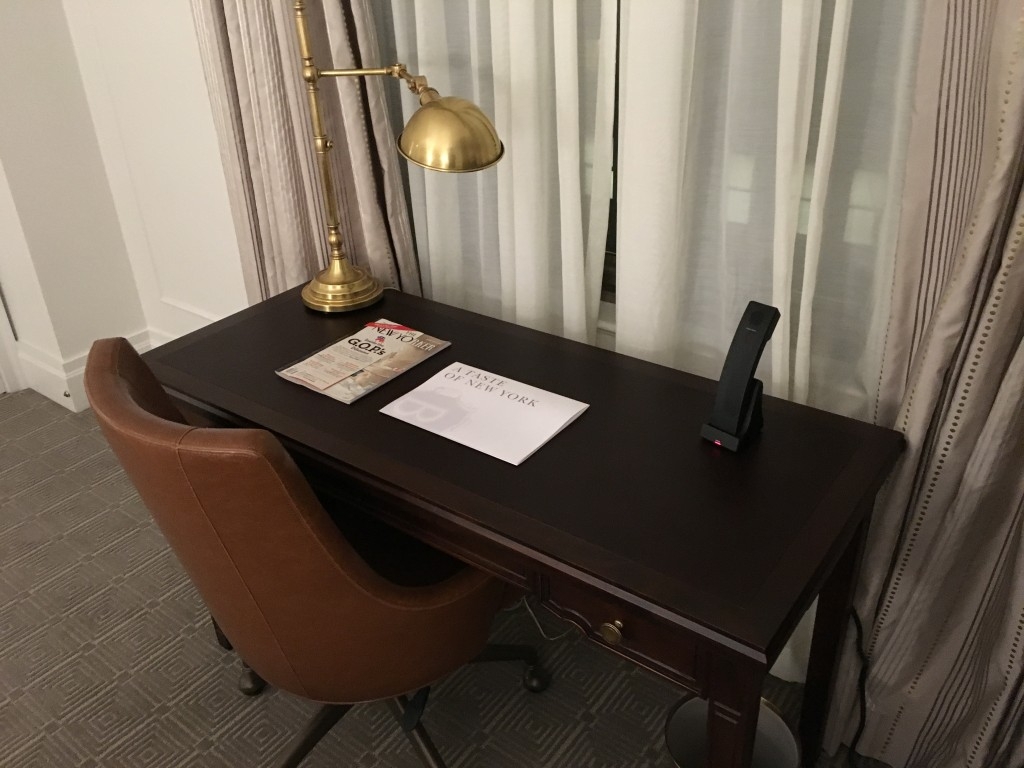 See the desk above? Do you see the plug sockets? No. There aren't any. Someone decided to spend $175m rebuilding a hotel and forgot to put in plug sockets. Under the desk are two sockets but one is used for the desk light and the other is used for the telephone. I ended up unplugging the telephone in order to plug in my laptop.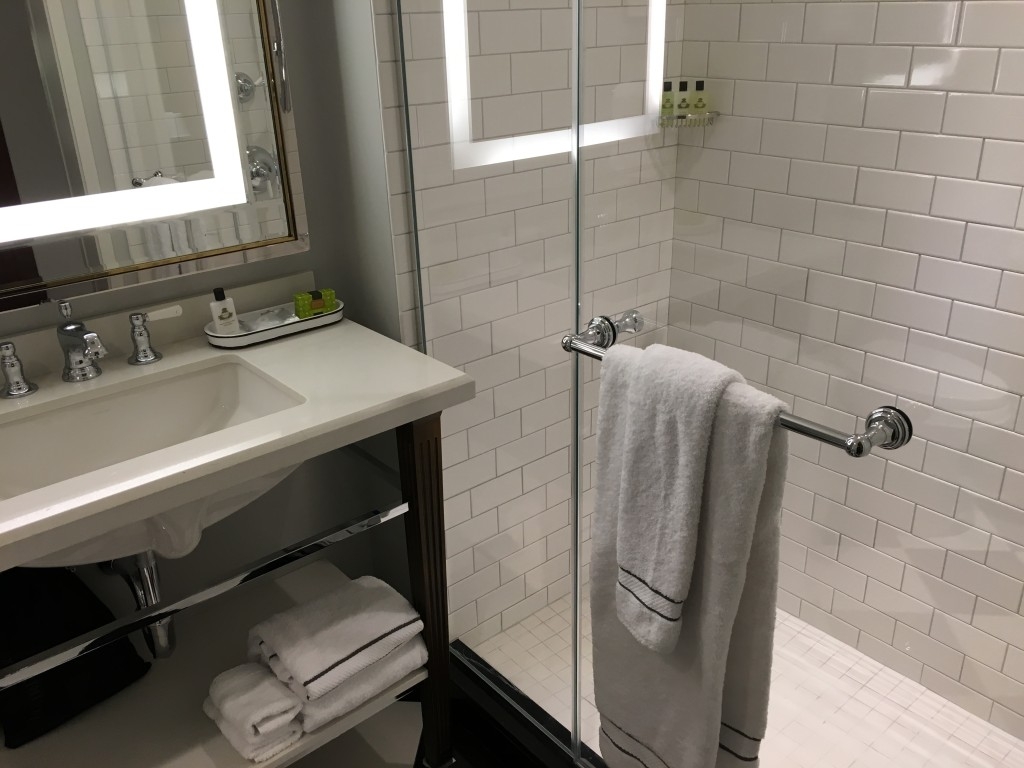 The bathroom is also not huge. Despite being five room categories up the list you still only get a single sink. Toiletries were the usual IC Agraria ones and not the special 'Barclay Room' ones promised.
What I didn't photo is the cheap coffee machine in the room. Or the paper cups they provide with it. Or the lack of real milk.
Conclusion
At the end of this review of the InterContinental New York Barclay, how do I feel about it?
As with the Times Square hote, the Barclay is basically an upmarket bed factory. There are few places to sit and watch the world go by (Times Square, to be fair, is far worse than the Barclay where the lobby is like an apartment block foyer). The bar is small and you don't even get a proper restaurant! There is no pool.
Now I know some readers will say 'well, it's New York, you aren't meant to sit around the hotel'. For a lot of visitors, though, that simply isn't the case (and if it is the case, why pay a premium for a luxury five star?). You may want to meet friends, relax between bouts of shopping or simply prefer the warmth and security of your hotel compared to wandering around outside trying to find somewhere decent. You don't get that here.
Don't get me wrong. A huge amount of money has been spent on the rooms and the public areas. On points, the InterContinental New York Barclay is arguably better value at 60,000 points than a Holiday Inn at 40,000 points. This is especially true if they continue to offer larger Executive Rooms on points.
I may go back, because the 4pm guaranteed check-out for Ambassador members is important in New York where your flight home will be an evening one. I know I'll get a modern room, if nothing else. Unless the club lounge turns out to be something special, I just won't be going back with a huge amount of enthusiasm.
The InterContinental New York Barclay website is here if you want to find out more.
---
IHG One Rewards update – April 2023:
Get bonus points: Click here for our article on IHG's '2k Every 2 Nights' promotion, which runs from 9th February 2023 to 14th April 2023. You can register here.
New to IHG One Rewards? Read our overview of IHG One Rewards here and our article on points expiry rules here. Our article on 'What are IHG One Rewards points worth?' is here.
Buy points: If you need additional IHG One Rewards points, you can buy them here.
Want to earn more hotel points? Click here to see our complete list of promotions from IHG and the other major hotel chains or use the 'Hotel Offers' link in the menu bar at the top of the page.