Review: the Park Hyatt Hamburg hotel
Links on Head for Points may pay us an affiliate commission. A list of partners is here.
This is my review of the Park Hyatt Hamburg hotel.
There are only two hotels in the world that I book by default whenever I have to go to that city. One is the InterContinental Le Grand in Paris which as I wrote here is, perhaps surprisingly, my favourite city hotel in the world. The second is the Park Hyatt in Hamburg.
(I did, I know, stay at the Hotel Reichshof in Hamburg last year. That was purely so that I could review it for Head for Points and get a look at the first European 'Curio by Hilton' property.)
The Park Hyatt in Hamburg has a reputation which belies its position above a small shopping arcade on the main retail street. Part of the reason I stay here, admittedly, is practical. It is two minutes walk from the main railway station (not that you would know it – imagine if Kings Cross was at the top of Regent Street and you have Hamburg) which is where the S-Bahn from the airport drops you.
My daughter was off to her grandparents for a week and the agreed handover spot was Hamburg railway station. I could have dashed back to London immediately but the chance to spend a couple of hours in the shops and the redeveloped harbour area meant I stayed over. There is still an outside chance that they may finish the new Herzog & De Meuron concert hall before I retire …..
This was a good opportunity to close a long chapter. Over three years, I have managed to earn 10 nights of stay credit in Hotels.com Rewards. If you stay with lots of different hotels chains and struggle to focus on any one in particular, Hotels.com Rewards may work out better for you than a chain-based loyalty scheme. I will explain why in a separate article tomorrow.
My ten nights credit qualified me for a free night to the average value of my 10 stays. Three of these nights were complimentary for doing a series of surveys for the company ($200 nominal value each), three came from my suite at the Four Seasons Las Vegas in 2014 and the others were random non-chain bookings. The net result of this was £185 of free room credit.
Luckily, this was almost exactly enough, excluding taxes and charges which must be paid in cash, to book a Deluxe Club room at the Park Hyatt Hamburg.
What is good about Hyatt is that they DO tend to respect your status and stay history however you book. Most chains don't do this. Despite booking via hotels.com, half a bottle of red wine was left in my room along with a note thanking me for my repeat custom: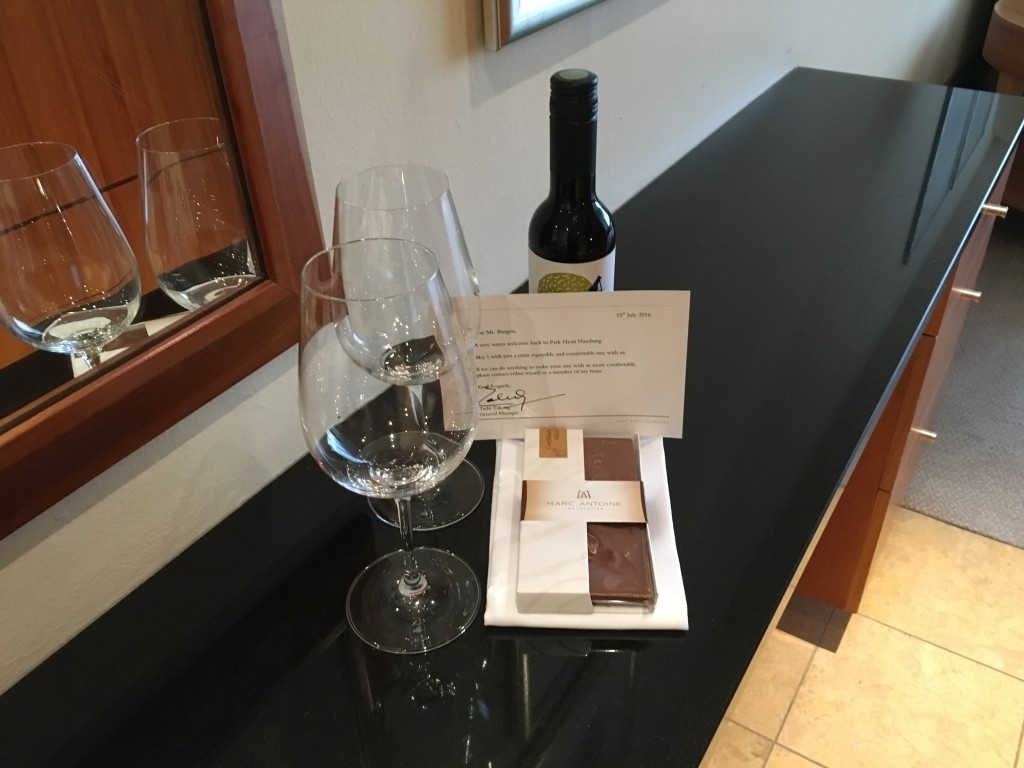 US points writer Gary Leff likes to use the phrase "I am not my rate". What this means is that a hotel should respect a regular visitor irrespective of how they book, and the Park Hyatt Hamburg did. I would not have usually booked via hotels.com because I like to pick up my Gold Passport points but in this case it was obviously necessary.
It is hard to explain why Park Hyatt Hamburg 'works' but it does. The hotels is very well run and the upmarket shopping arcade on the ground floor, plus the fact you exit directly onto the main shopping street, means the location is very handy. At the same time, because reception is on the 2nd floor, there are very few members of the public randomly wandering in for a look around.
You clearly can't complain about my Club Deluxe room which was huge for a city centre hotel: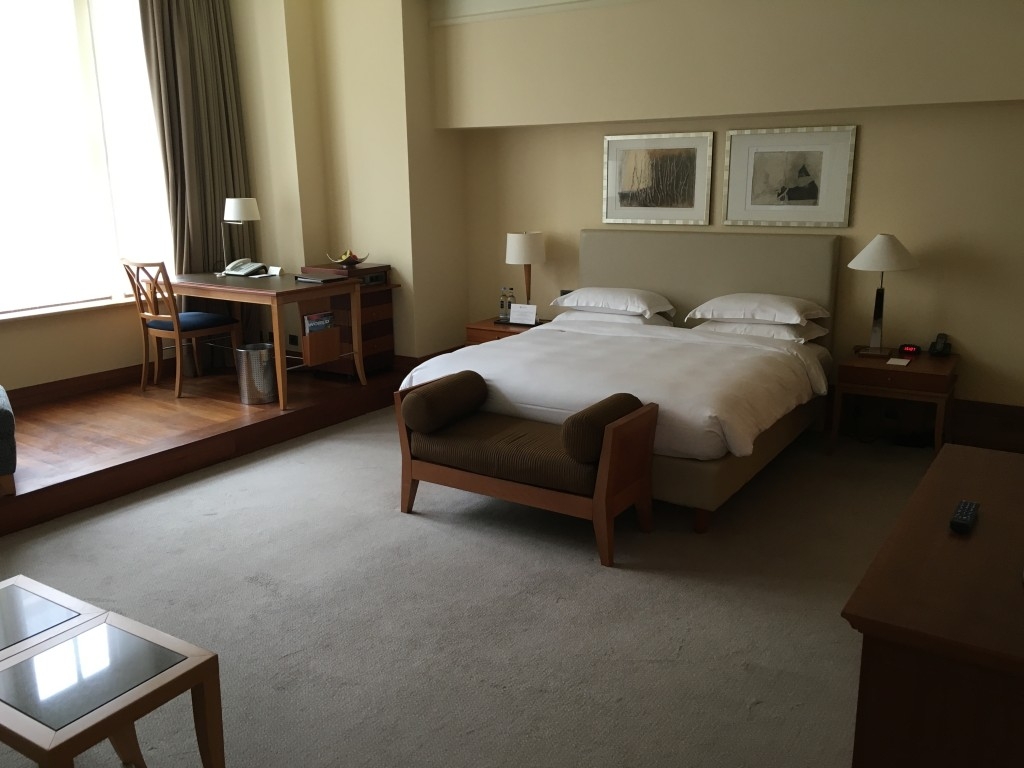 …. as was the bathroom: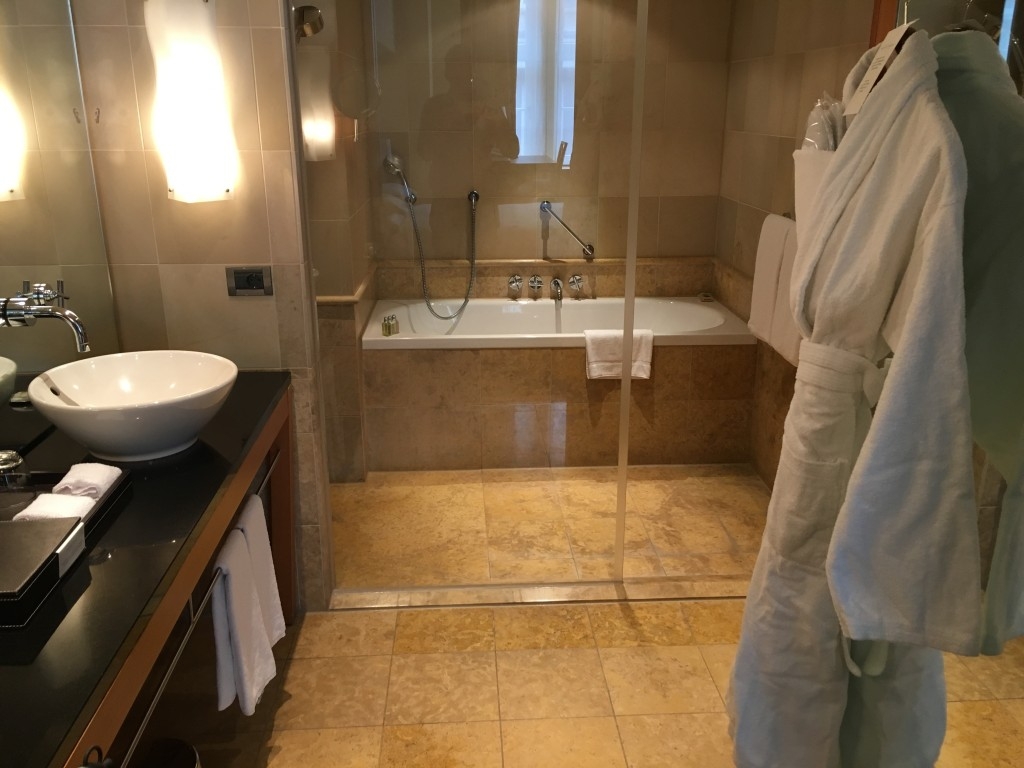 ,,,, which is open plan and runs into the entrance hall as you can see here: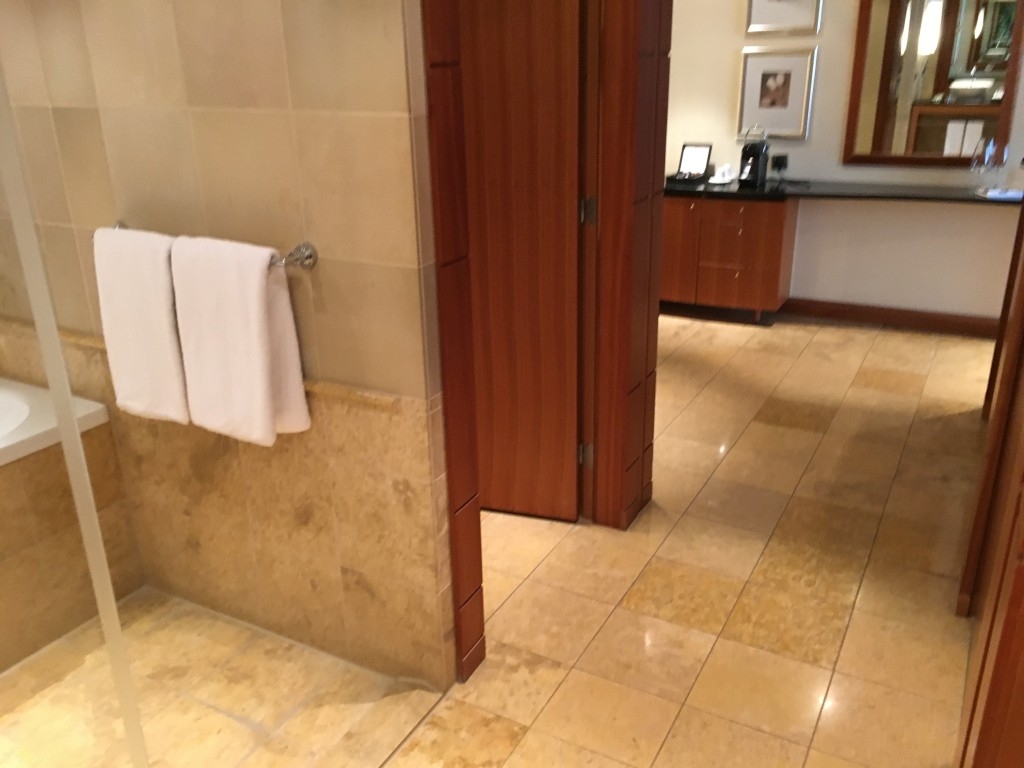 It came with L'Occitane toiletries. There was also a good desk, LOADS of lights (often a problem in continental hotels), decent wi-fi and a Nespresso machine. I could happily have lived here for a week.
This is the club lounge on the seventh floor: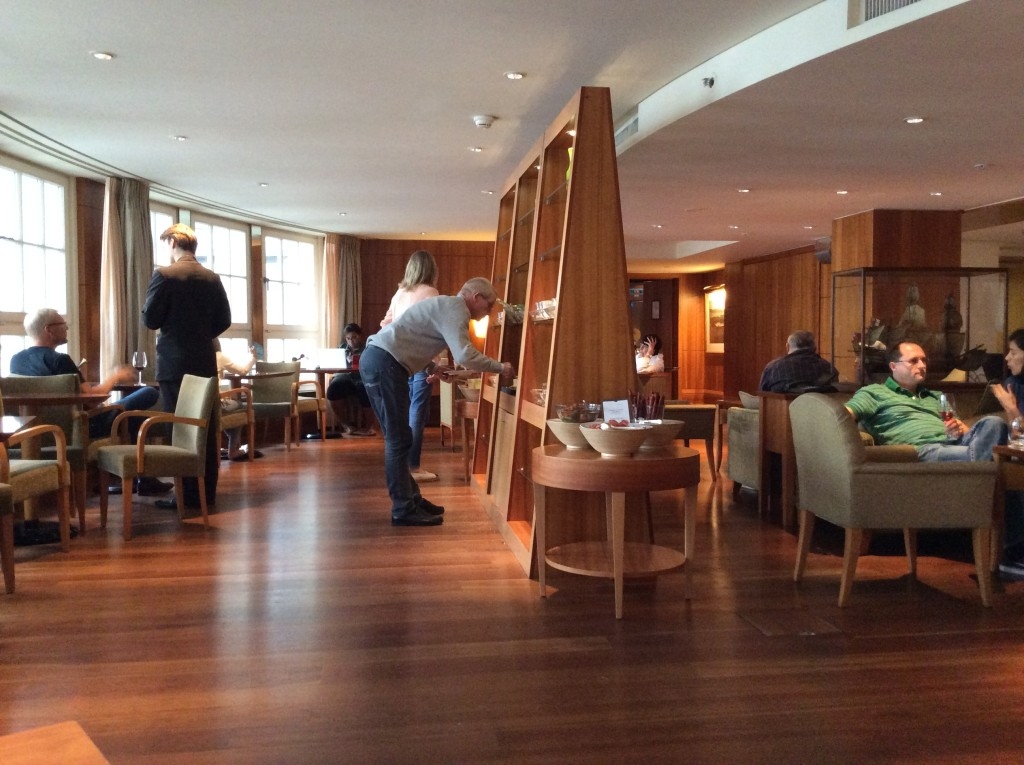 It is a pleasant space, open for coffee all day and cake in the afternoon. I'm not sure if they offer lunch as I wasn't there. In the evening they serve food from 6pm – everything comes in these little jars: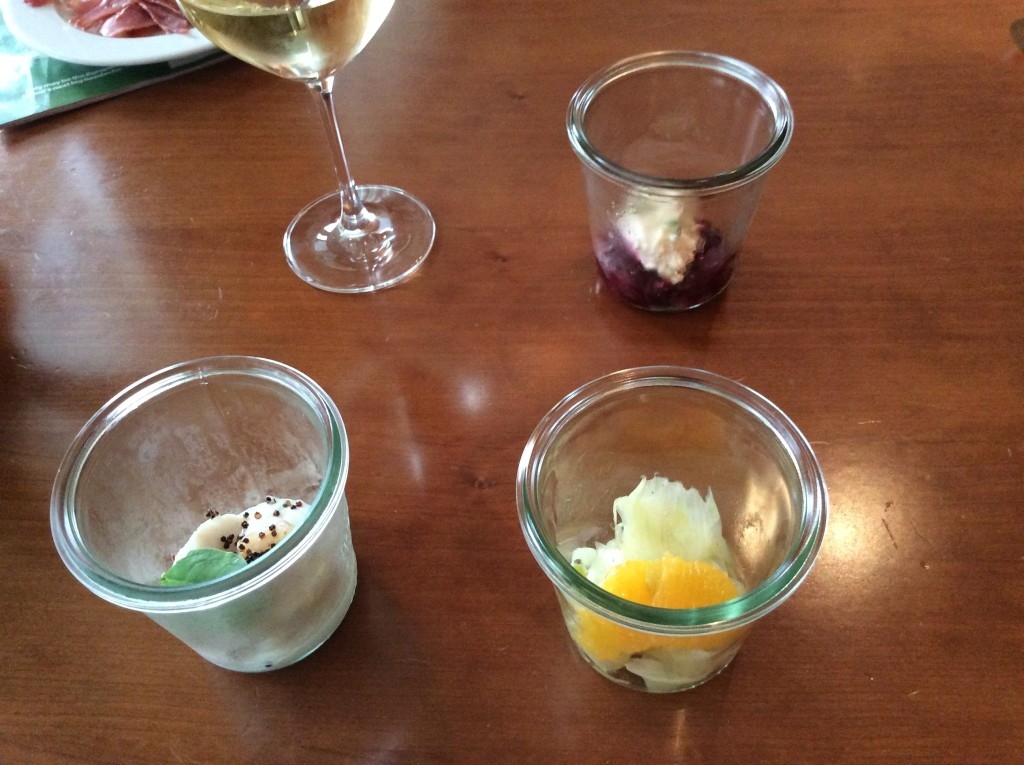 Seven jars (four mains and three desserts), some bread and pate, some ham, some wine and a coffee later and I was done.
The only odd thing about the Park Hyatt Hamburg lounge is that the lounge is not in a dedicated room. Anyone can go up to the 7th floor and walk into the lounge area. I was never asked for my room number, even during meal service in the evening. There isn't even a reception desk – and there wouldn't be any point, as the whole lounge is 'open' anyway.
There is a basement pool here which, in six stays, I have never used. I did once put on a dressing gown and sit on a lounger to read the newspaper but that is as close as I got. I never remember it has a pool – and so never pack my trunks – until I arrive! This is a library picture: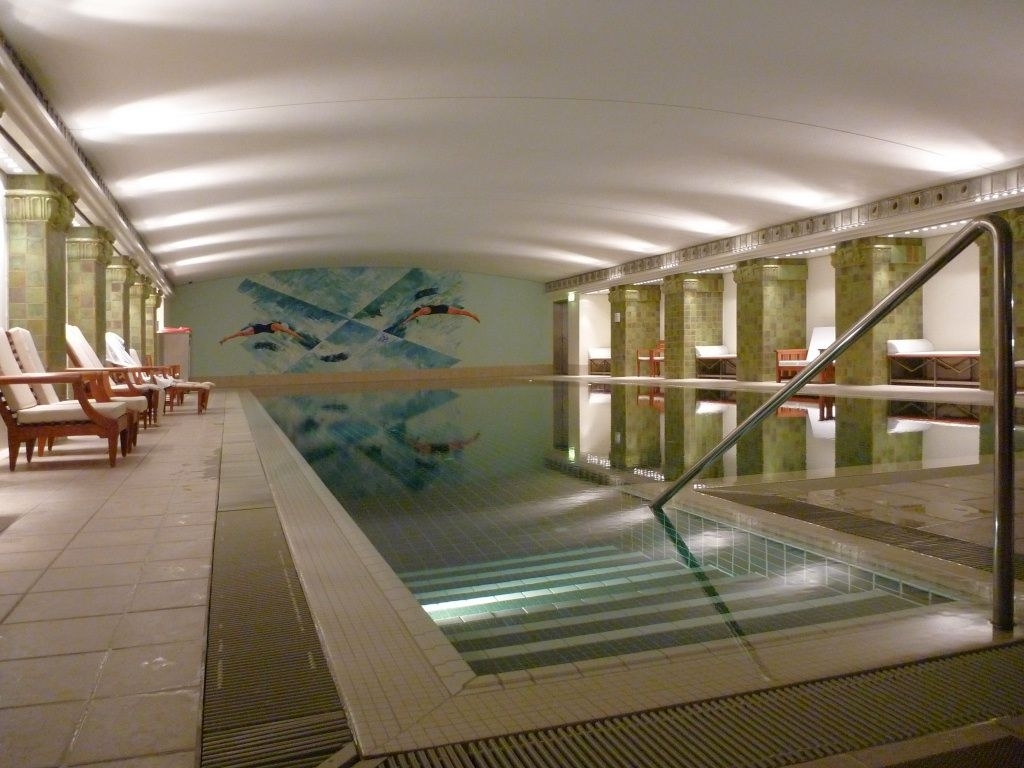 I was offered the choice of taking breakfast in the restaurant. I'm not sure if this is a general club level perk or something I got because I am a semi-regular visitor or because I have Hyatt Gold Passport Platinum status. As this is one of the best breakfast buffets you will see outside of a resort, I jumped at the chance.
Here is part of the Park Hyatt Hamburg breakfast spread: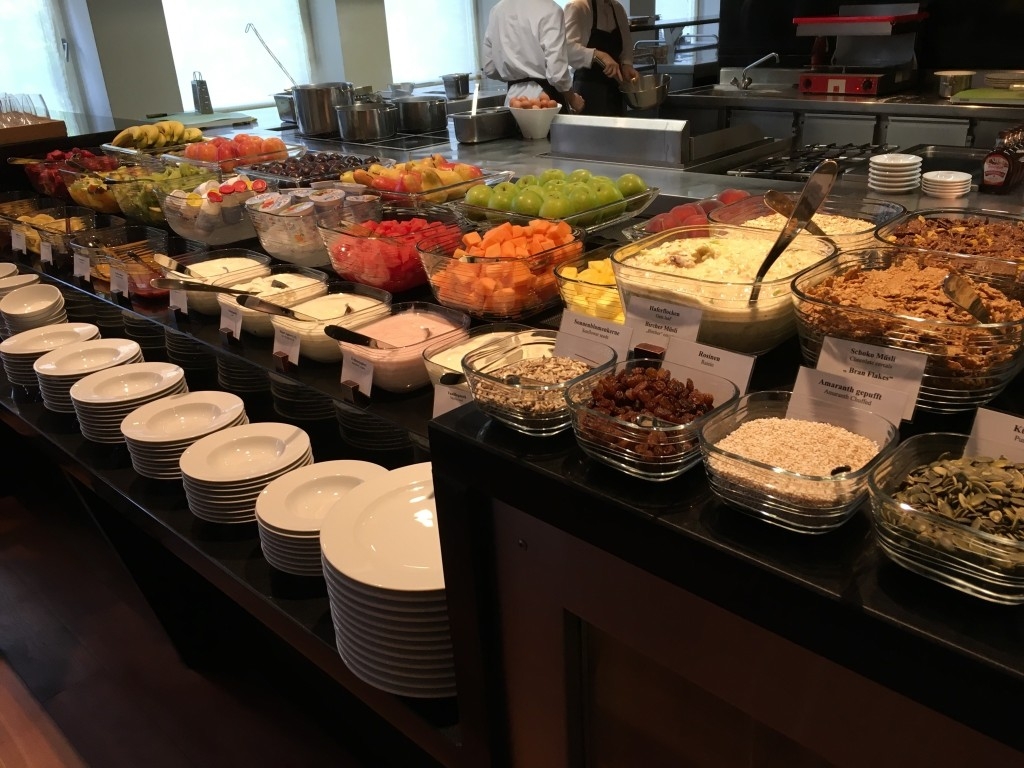 …. and some more: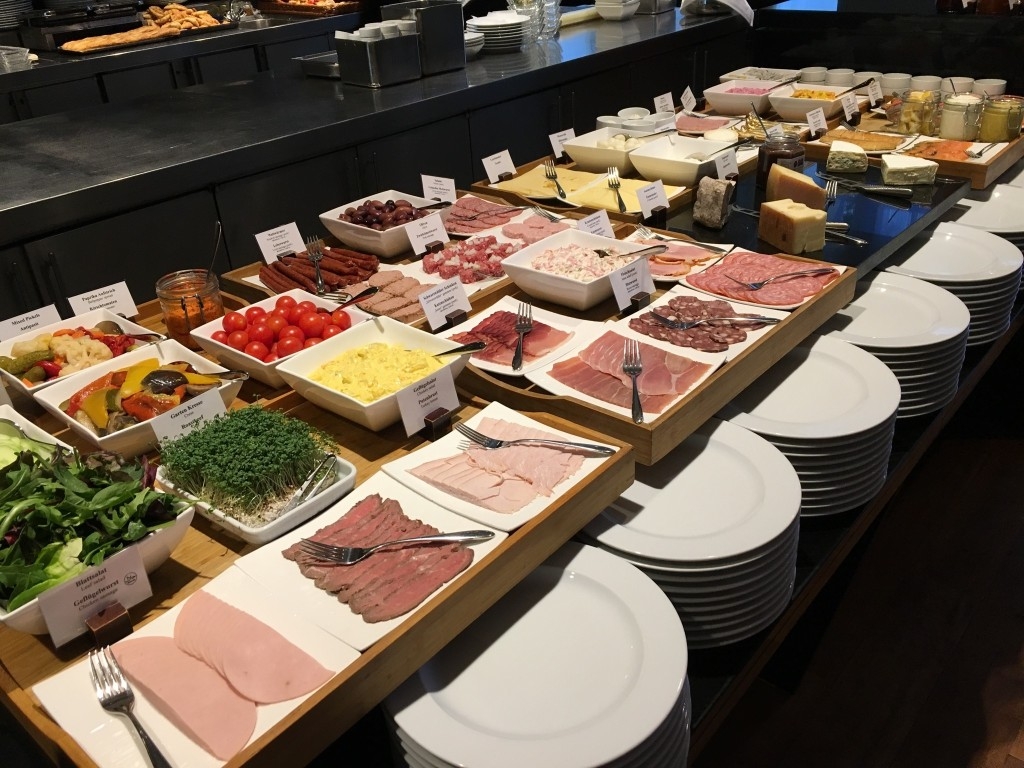 …. and my cooked to order eggs benedict: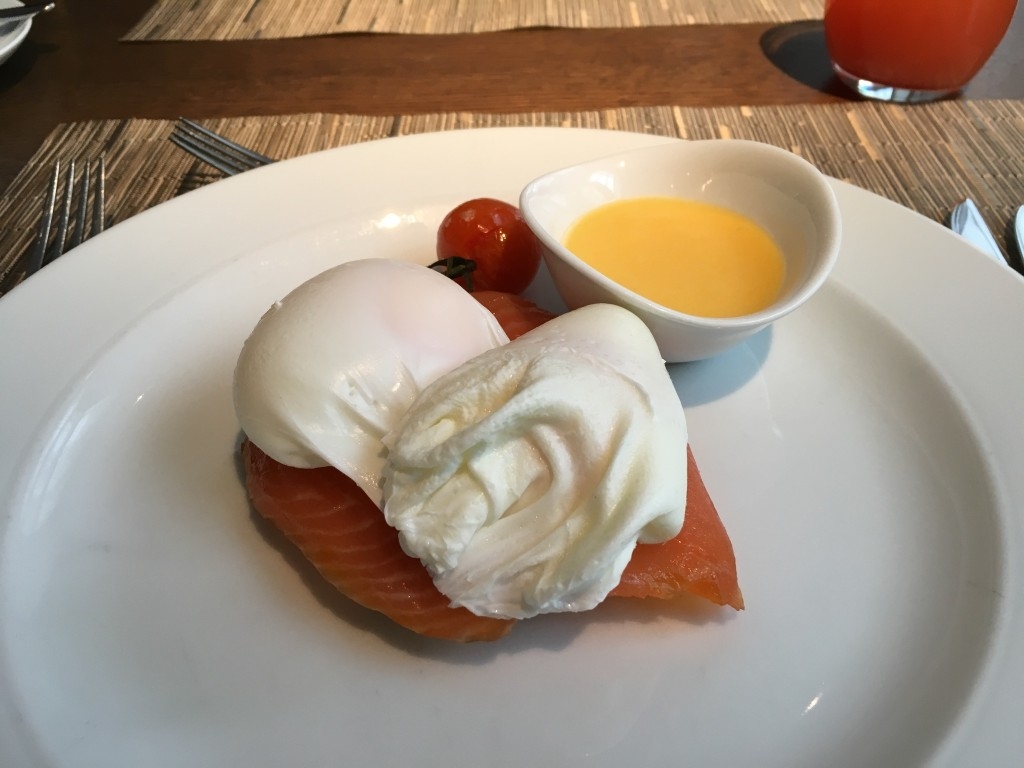 …. and the dining room / restaurant itself: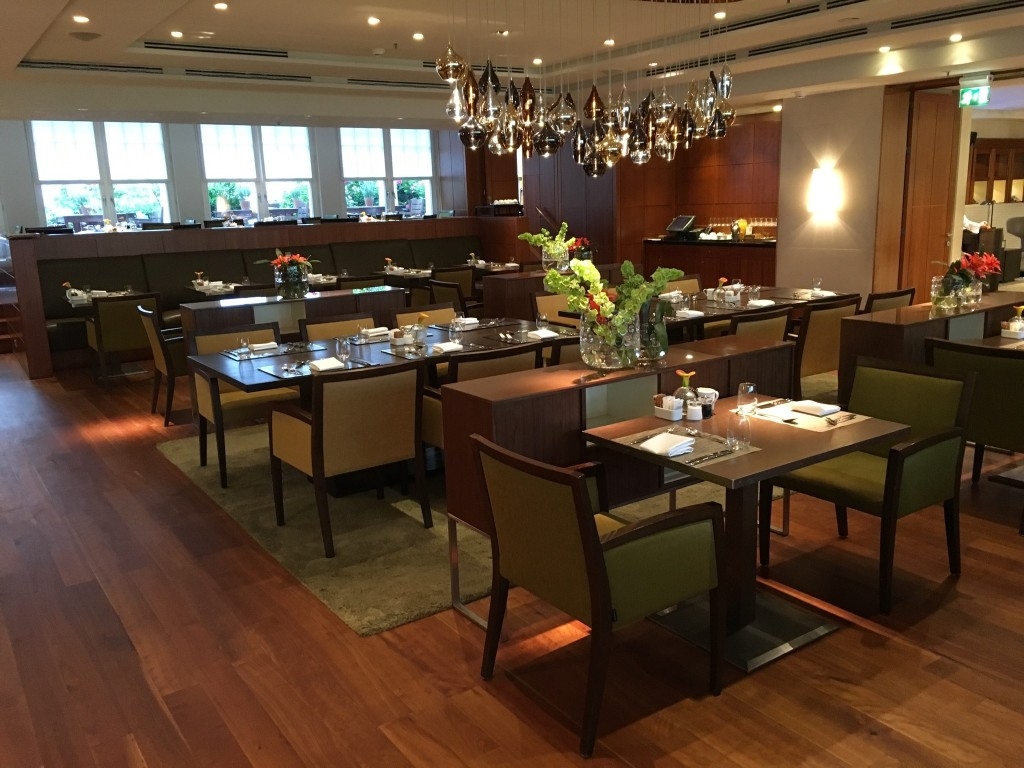 I thoroughly recommend the Park Hyatt Hamburg. If nothing else, there is free flow champagne for breakfast, at least at weekends, and any hotel which does that can't be bad!
As a way of using the Hotels.com Rewards free night which had been niggling away at me for the three years it took to pick up the 10 stay credits, I really can't complain. Splurging for a club room, and a deluxe sized one at that, is the best way to get the most of such freebies in my view!
The hotel website is here if you want to find out more.
PS. If you are planning to book, you should contact Emyr Thomas, our luxury hotel booking agent. Via the Hyatt Prive scheme, he can get you free breakfast, a financial credit towards food and drink and an upgrade (confirmed before arrival) for the same price as the room only Best Flexible Rate. You can contact him here.
---
World of Hyatt update – May 2023:
Get bonus points: World of Hyatt is not currently running a global promotion.
New to World of Hyatt? Read our overview of World of Hyatt here and our article on points expiry rules here. Our article on what we think World of Hyatt points are worth is here.
Buy points: If you need additional World of Hyatt points, you can buy them here.
World of Hyatt is offering a 25% discount, equivalent to a 33% bonus, when you buy points by 2nd June. Click here to buy.
Want to earn more hotel points? Click here to see our complete list of promotions from Hyatt and the other major hotel chains or use the 'Hotel Offers' link in the menu bar at the top of the page.