All you need to know about earning Avios in Aer Lingus AerClub
Links on Head for Points may pay us an affiliate commission. A list of partners is here.
Aer Lingus AerClub finally launched last week.  This is important news for Head for Points readers because Avios is the currency of AerClub.
Any Avios points you earn in AerClub will (eventually) be transferrable across to British Airways Executive Club or avios.com via 'Combine My Avios'.  The functionality is not yet available but it has been promised.
What this means is that any interesting promotions which become available to AerClub members should be of interest to UK readers, because of the ability to move the points across.
The key point – from my view – is that United Airlines is an AerClub partner.  I wrote a separate article about this today.  You can now earn Avios in AerClub when you fly United Airlines.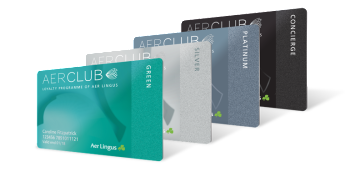 Earning Avios in AerClub
The home page for earning Avios is here.
Earning from flying Aer Lingus:
Aer Lingus flights earn Avios at the rate of 3 per € spent.  This is based on the cash price of your flight, excluding "Government taxes".   In the small print of AerClub, however, it says "excluding taxes, fees and charges imposed other than by Aer Lingus".  This means that they may also deduct landing charges etc which will leave very little behind!
For flights not paid for in €, you will earn 4 Avios per £1 or 3 Avios per US or Canadian $1.  Flights booked in other currencies will be converted to €.
You do not earn Avios on ancillary charges such as baggage or seat selection fees.
Earning from flying partners:
Because Aer Lingus is not in the oneworld alliance, you cannot credit all oneworld partner flights to AerClub.  The only participating airlines are British Airways, Cathay Pacific, Qantas and United.
In most cases, the earning rates are the same as crediting flights to British Airways Executive Club so there is no advantage to crediting to AerClub.  The differences are – and frankly this is a pretty odd list:
Qantas Premium Economy is 110% in AerClub vs 100% in BAEC
Qantas Economy (K, L, M, V, S) is 50% in Aer Club vs 25% in BAEC
Cathay Pacific Premium Economy (W only) is 110% in BAEC vs 100% in AerClub
Cathay Pacific Economy (H only) is 100% in BAEC vs 50% in AerClub
Cathay Pacific Economy (L, K, M, V) is 50% in AerClub vs 25% in BAEC
Cathay Pacific Economy (M, N, Q, S) is 25% in BAEC but nothing in AerClub
Earning from non-flying partners:
I was disappointed by this list, to be honest.  Given that AerClub has launched six months late I would have expected a better selection of deals to have been negotiated.  At present, the only partners active are:
Kildare Village and its sister facilities including Bicester Village  (earn 1.25 Avios per €1)
Aer Lingus Holidays (1 Avios per €1)
Appleby Jewellers, Dublin (1-5 Avios per €1)
The Avios eStore
Hotel bookings via Agoda, Kaligo.com or Rocketmiles
There is one upside I spotted.  As long as you use a different email address, you will be able to claim a new 'first time booker' bonus on a Kaligo or Rocketmiles booking because you can give your AerClub number instead of your BAEC number.
Spending Avios in AerClub:
The Aer Lingus website page for spending Avios is here.
I wrote my own take about spending Avios from AerClub here.
Because redemptions are handled via avios.com, there is nothing new to know here.  There is nothing you can do with Avios in AerClub that you cannot also do with Avios in avios.com.
Conclusion
The key thing to know about AerClub is that it lets you earn Avios when flying with United Airlines.
It will also let you earn a 2nd 'first time hotel booker' bonus from Agoda, Kaligo.com or Rocketmiles because you can now credit a booking to AerClub.
There are no exclusive redemptions which would require you to transfer your points to AerClub and no interesting partnerships (yet?).  The failure to have 'Combine My Avios' operating from Day 1 is also frustrating.
We will keep you updated with AerClub as new opportunities to earn and spend Avios emerge.
PS.  Dear AerClub, there is a bug on your website.  When you join AerClub, it asks you for your avios.com log-in details so it can link your accounts.  However, it refuses to accept any avios.com password which does not contain an upper case letter and a number.  Unfortunately, many avios.com members including myself have non-qualifying passwords because the original scheme rules back in 2011 did not require it.  Please fix this!  Love, Rob