Here is part two of my review of the Gran Meliá Palacio de los Duques in Madrid.  You can read Part 1, which includes a video we shot, here.
Restaurants
Breakfast was served in the Corora Gallery. During the sunnier months guests can also enjoy their breakfast in the historical garden.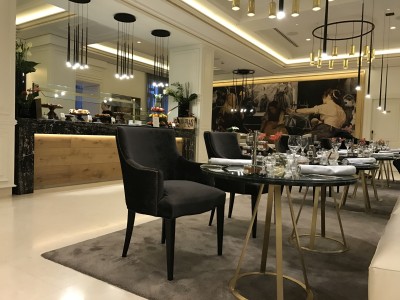 The buffet had everything from fresh fruits and vegetables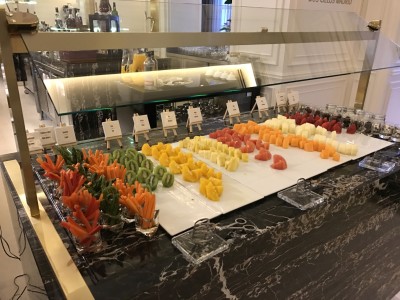 …. over warm snacks like mini burgers and waffles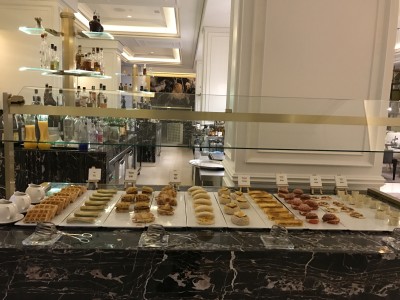 …. to cakes and pastries.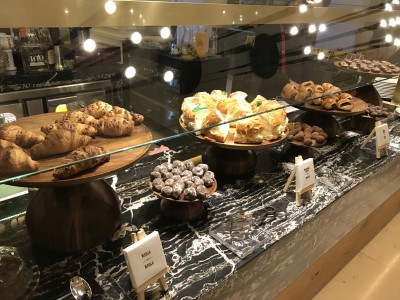 There was also a large selection of bread, cheese and cold cuts.
In addition guests can order from an a la carte menu. I chose a Spanish omelette with bacon. Despite the fact that bacon never looks good in pictures the dish was delicious.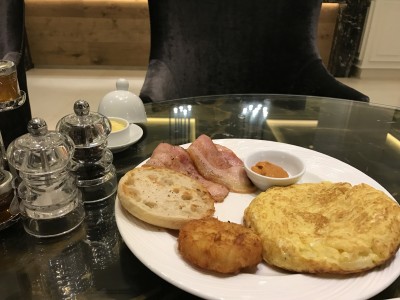 The center piece of the Tea Room is the chandelier, an original from the 19th century that had to be handled with extra care to survive the renovation works.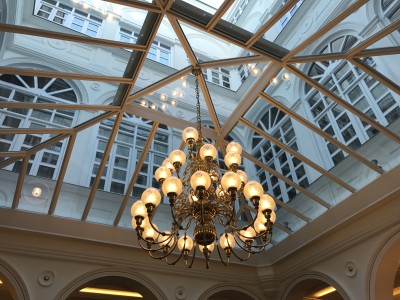 This is the sitting area underneath the chandelier. I love those blue armchairs!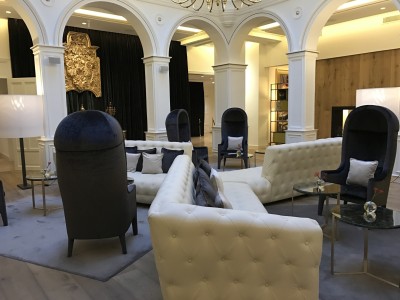 The Restaurant Montmartre is a wine bar inspired by the artists' quarter in Paris.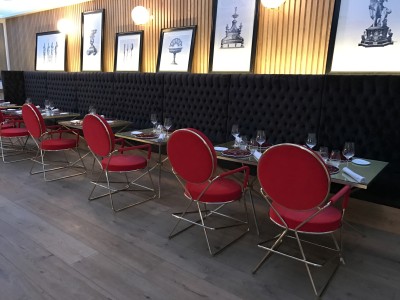 There is a showcase with bottles of wines in various colours representing the different colours Diego Velázquez used in his paintings.
And fun fact: The table in this picture used to be an aircraft wing: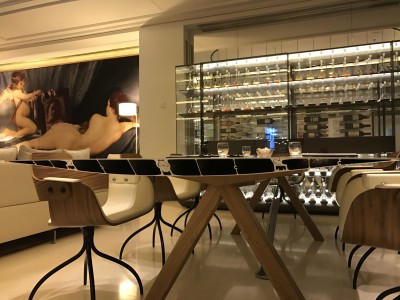 This is the private dining room of the Restaurante dos cielos Madrid by Hermanos Torres. It's inside the former stables of the palace and only accessible from the historical garden.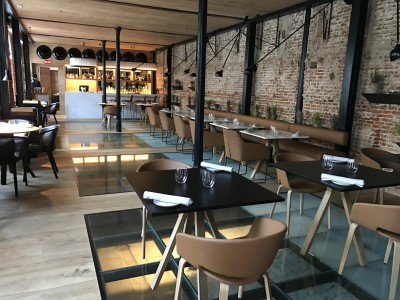 The hotel also has a gorgeous rooftop terrace with swimming pool and jacuzzi and beautiful views over the city of Madrid. Unfortunately it was too cold to swim in the pool…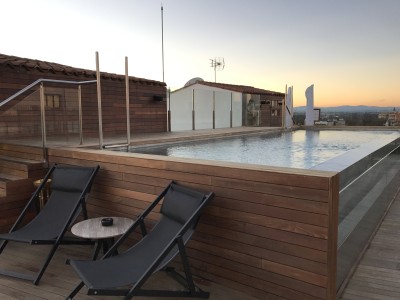 Thai Room Wellness
To overcome my cold I booked a steam room session at the Thai Room. I paid £16 for 30 minutes (and ended up getting 40 minutes).
The photo below shows one of the massage areas at the Thai Room: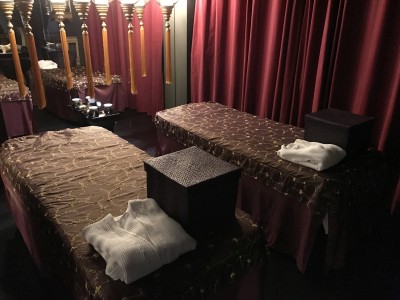 This is the gym with all the important machines. It looks a little bit cramped…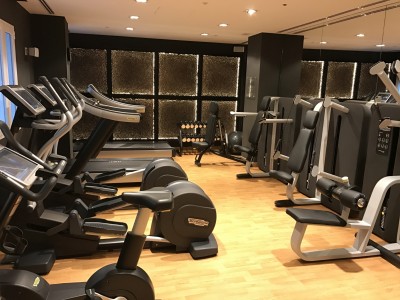 Conclusion
The Gran Meliá Palacio de los Duques in Madrid is an impressive 5 * hotel in the heart of Madrid's old city with many tourist attractions in walking distance.
It has been renovated to an excellent standard with, in my view, the right balance of contemporary luxury and original style.
There really isn't anything negative to say about the hotel except for the size of the gym and the confusing layout – I got lost twice. However, all in all, the Gran Meliá Palacio de los Duques is a lovely city centre resort property which should really come into its own in Summer when the rooftop and courtyard spring into life.
The hotel website is here if you want to learn more.
(Want to earn more hotel points?  Click here to see our complete list of promotions from the major hotel chains or use the 'Hotel Promos' link in the menu bar at the top of the page.)