There is a generally accepted view that, over time, all reward schemes get worse.  People say that you should spend your points as your earn, rather than holding them for retirement or some unspecified time in the future.
I don't necessarily agree with this.
It is very easy to pick out examples of how loyalty programmes have got worse.  If we take Avios, for example, there are many areas you can grumble about.  In truth, on a five year horizon, the Avios / BA Miles scheme has actually got a lot better in many ways:
Reward Flight Saver cut the tax on European redemptions from £100+ to £35.  No other European frequent flyer programme has copied this move, shamefully.
Qatar Airways, airberlin and Sri Lankan joined oneworld, giving you new earning and spending options.  Emirates is also now an Avios earning partner when you fly them on a Qantas codeshare.
The Lloyds Avios credit card gives you an easy route to an upgrade voucher
Amex Gold and Amex Platinum have introduced high sign-up bonuses which convert 1:1 into Avios, with very generous rules on how many times you can earn them
Guaranteed '2 business, 4 economy' availability even on the busiest routes at the most expensive periods
The truth is that a couple can earn 100,000 Avios per year without breaking sweat, and combined with a 2-4-1 voucher from a BA Premium Plus American Express card they can easily get one decent premium redemption per year.  
I have been in this game long enough to remember the days before 2-4-1 vouchers and before generous Amex bonuses.  You may need more miles for a reward flight these days but the miles are easier to earn.  If you don't believe me, take a look at the generous new Nutmeg deal which launches tomorrow.
But back to the Maldives ….
It is true, though, that there are times when various deals coincide to create what, in retrospect, was a great opportunity.  This was one of them.
The Conrad Maldives is probably the most luxurious hotel in the Hilton family.   The cheapest villa sells for around £1,000 per day including taxes during high season.
For anyone thinking of a Maldives holiday there has always been a way of using Tesco Clubcard points to book this.  It involves converting Tesco points into Virgin Flying Club and then converting Virgin Flying Club points into Hilton Honors points.
Whilst we didn't know it then, January 2013 was an amazing sweet spot to book the holiday of a lifetime in the Maldives via Tesco.
In January 2013:
Conrad Maldives was 50,000 Hilton points per night (now up to 95,000 Hilton points per night)
The Virgin to Hilton conversion rate was 1:2 (now 2:3)
Virgin was running a 50% conversion bonus from Tesco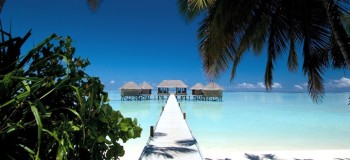 What did that mean in practice?
January 2013
10 nights at Conrad Maldives (worth £10,000) cost 500,000 Hilton Honors points
Hilton elite members save 20% (Silver is free with their credit card) so that fell to 400,000 Hilton Honors points
400,000 Hilton points required 200,000 Virgin Flying Club points at 1:2
With the 50% conversion bonus running that January, that meant you needed to convert £533 of Clubcard vouchers
Yes, £533 of Tesco Clubcard vouchers would have got you £10,000-worth of Maldives villa for 10 nights!
It is also fair to say that Clubcard bonus promotions were a LOT thicker on the ground back in 2013.
Let's compare that to March 2017:
10 nights at Conrad Maldives (worth £10,000) costs 950,000 Hilton Honors points on most dates
Hilton elite members save 20% (Silver is free with their credit card) so that falls to 760,000 Hilton points
760,000 Hilton points requires 506,000 Virgin Flying Club points at 2:3
With no recent 'open to all' Virgin to Tesco bonus, you would need to convert £2,024 of Clubcard vouchers
The net effect of all of these changes means that the cost of redeeming for this dream Maldives break is now 3.8 x what is was if you use the Tesco to Virgin to Hilton route.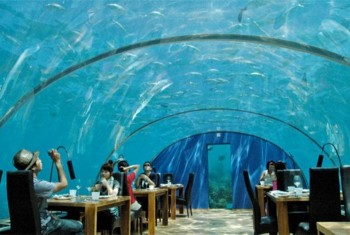 Here is the thing though – it is still a decent deal.  Whilst very few people will have £2,024 of Clubcard vouchers sitting around, those who do would still be very happy to get a Maldives villa for 10 nights which would cost you £10,000 in cash.
Conrad Maldives is still the best value Hilton redemption, I think.  Remember that you can even redeem the free nights from the Hilton credit card sign-up bonus here!  Even buying Hilton Honors points in the current '100% buy points bonus' is good value if you want to book here.  Any hotel with an underwater restaurant – see photo above – must have something going for it.
(Want to earn more hotel points?  Click here to see our complete list of promotions from the major hotel chains or use the 'Hotel Promos' link in the menu bar at the top of the page.)