Review of the Aspire and Aspire Plus Lounges at Newcastle Airport
Links on Head for Points may pay us an affiliate commission. A list of partners is here.
This is our review of the Aspire and Aspire Plus Lounges at Newcastle Airport.
Last week we asked for your help in completing our collection of UK lounge reviews.  Thanks to everyone who volunteered – there should be a steady flow of articles over the next couple of months.
This is part of our series of reviews of airport lounges across the UK. You see all of the reviews here.
First up is reader Jason who kindly sent in some photographs and a brief review of the Aspire and Aspire Plus Lounges at Newcastle Airport.  He also visited the British Airways lounge for us and we will cover that tomorrow.  This is what he had to say:
"I like Newcastle airport as it has a very straight forward flow, starting from security, leading you past all the standard shops and facilities you would expect and then on to the gates – all in a linear route.
Security was quite busy, which ended up being a bit of a theme, but then I snaked quickly through the Duty Free "Ikea" style meandering path into the main shopping drag.  It ended at The Beer House with a cheery sign saying "A House with Beer – what more do you want?" – plain speaking in keeping with the City itself.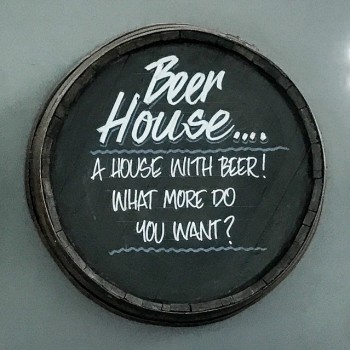 I then fell at the first hurdle though. On reaching the Aspire Lounge reception, I was told they were full and I should come back in 10 minutes. Unprompted, they went on to explain they did not want to take my money and leave me unhappy with the service, so that was a good sign.  As it was a busy Saturday morning it meant that within 10 minutes a couple of flights were called and I was allowed into the lounge without further fuss.
My initial impressions were good. The lounge is a couple of years old but has fared well. It was a bright sunny day in the north east of England but little of that strayed into the main area.
Some people have complained about this since the refurbishment and reconfiguration of the site from the previous Servisair facility but I thought it made for a classier atmosphere compared to the British Airways Terraces Lounge.  The BA lounge is larger and a lot brighter, but I feel it would be easier to have a private conversation and "me time" in the Aspire lounges.
There was plenty of the promised "standard" drinks and bacon rolls. Not as good quality as those in the Heathrow BA lounge (cheap baps compared to my preferred rolls) but at least there was a good supply and they were hot.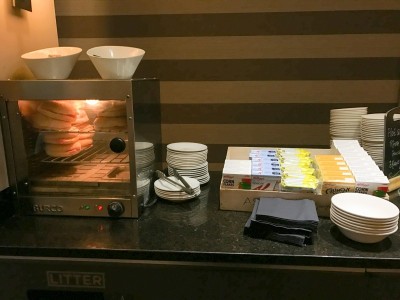 The bar is staffed and they were very friendly and efficient, with little waiting time as they served the crowds.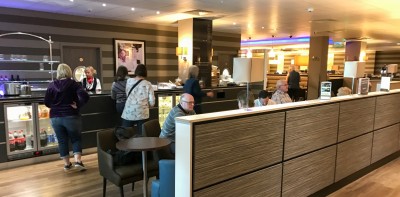 The place was still quite busy, though seats were available. There is a nice mix of bar stools, armchairs and booth offerings, with a very good number of TVs well placed so you can enjoy your choice of entertainment without impacting others.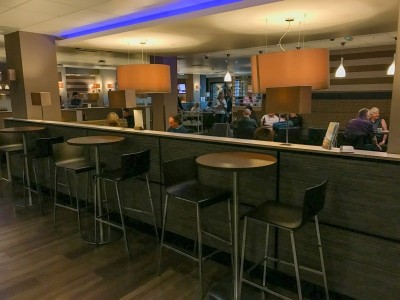 There were also a couple of quiet rooms with power points if you needed to concentrate on some work.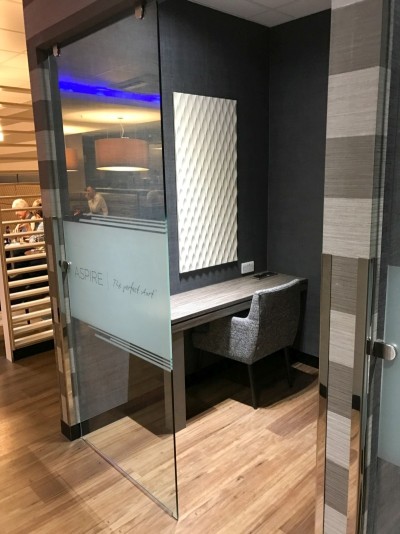 In the competition for opportunities to power your devices I think the BA Terraces Lounge slightly wins out.  Power sockets are not quite as common nor as well placed in the Aspire room.
On the Aspire and airport websites, they mentioned the "Airside Andy's Play Pod" children's area. Although not travelling with my three offspring this time, all of whom are school age, I was keen to check it out for future reference. I had envisaged at least a small room or sectioned off corner, if only to deter noise.  I was disappointed by the reality. It was literally a plastic moulded round with a couple of Android tablets stuck on it!
Don't get me wrong, any parent who does not already have a tablet with which to sedate their children may welcome it.  I am less sure about the couple trying to have a quiet drink next to it!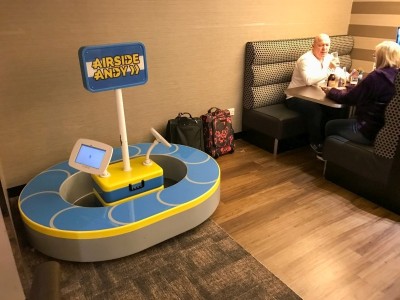 This was the magazine and newspaper selection.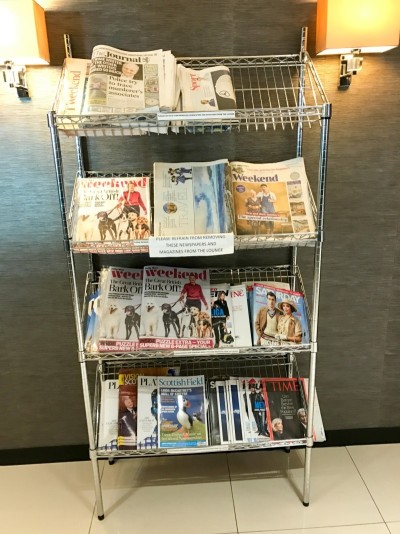 My entrance was free via my HSBC World Elite credit card Loungekey entitlement.
This does not cover the Aspire Plus area, which you need to pay £34.49 (compared to £20.99 for the main area) to gain entrance if you do not have free access.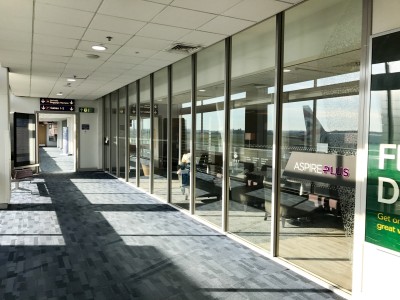 I politely asked if I could just have a look round and they were more than happy to let me in without paying. If I had not been about to go on to the BA Terraces lounge next door, I might have considered paying the extra fee to stay in the Aspire Plus area.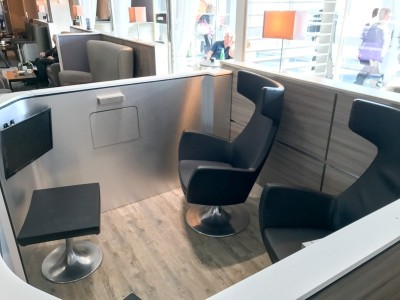 There were only a couple of people in this lounge and the drinks were of a higher standard.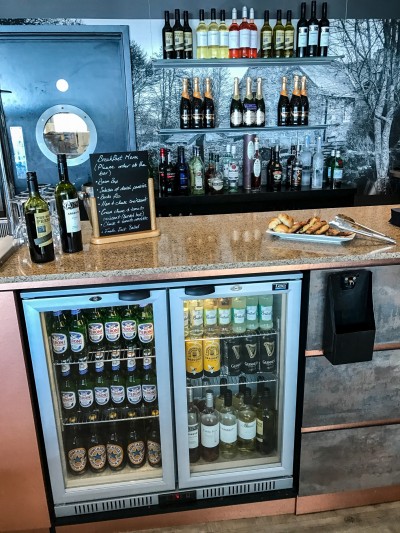 Although there was no hot food out to self-serve, the staff were happy to get you something from a small selection.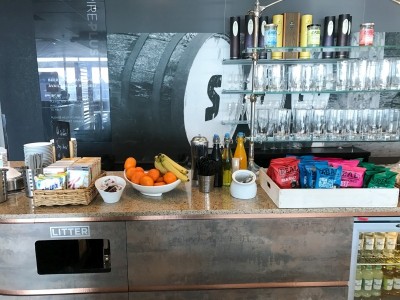 Again, there was a variety of seating types and creative attempts at giving some seclusion in small space.  Some previous visitors have criticised the toilets but I found them to be well serviced.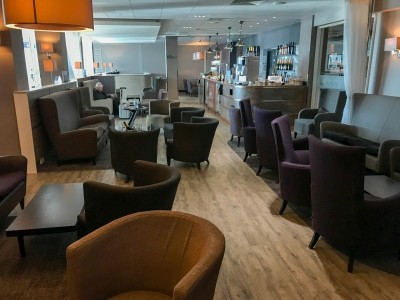 Conclusion
In summary, the Aspire Lounge at Newcastle Airport is a fine example of the basics you would expect from a standard lounge, well delivered.
The Aspire Plus lounge would have been worth the extra money if you were craving some peace and quiet, or wanted posher spirits and Prosecco instead of plonk.
The British Airways Terraces Lounge (review tomorrow) was also a typical high standard example of their offerings, though a little less intimate, but a lot more bright and airy."
Thanks Jason.  There are various of accessing the Aspire lounge at Newcastle Airport.  You can use:
Priority Pass (free with Amex Platinum or you can buy one)
Lounge Club (2 free visits with Amex Gold)
or, as Jason did, use LoungeKey (for HSBC Premier credit card holders)
or you can book for cash via the Aspire website here.