My review of Jumeirah Zabeel Saray, The Palm, Dubai (Part 2)
Links on Head for Points may pay us an affiliate commission. A list of partners is here.
This is Part 2 of my review of the Jumeirah Zabeel Saray beach resort on The Palm in Dubai.
Part 1 of my Zabeel Saray review can be found here. In this concluding part, I run through the kids club, the food and drink offerings, the beach and the pool, before deciding whether it really is better than its high-profile big sister Madinat Jumeirah.
Kids Club at Jumeirah Zabeel Saray
There have been two major changes at the hotel in the last five years, and the biggest is the new kids club. When it opened, the kids club was run from a villa adjacent to the hotel, part of a complex of 20 built by Jumeirah. As this was a residential villa, it was a bit odd to put it mildly.
That has now gone and there is now a purpose built Sinbad's Kids Club. They obviously weren't keen for a single guy to wander in and start taking pictures, but it looked decent with its own pool – although not as good as the pool at the Madinat equivalent. The Kids Club is free to all guests.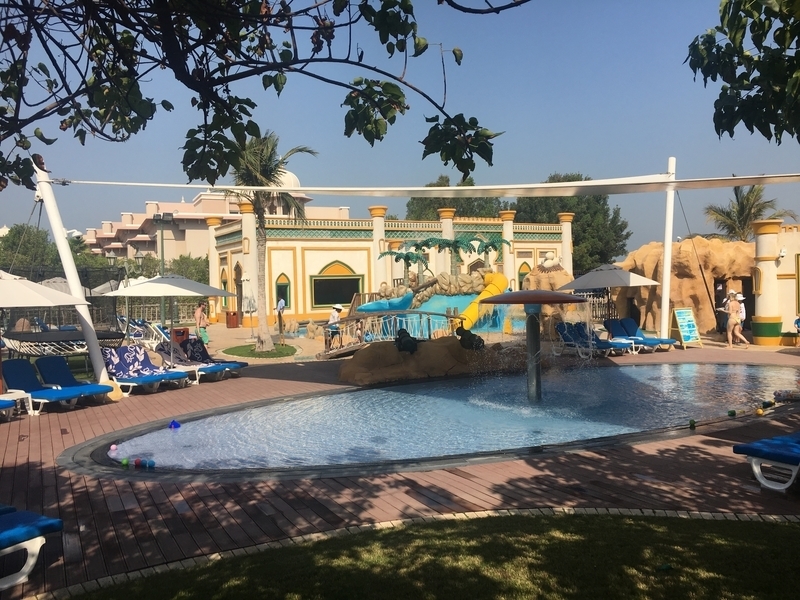 You also get free access to the Wild Wadi Water Park whilst staying at Zabeel or any other Jumeirah property in Dubai. As it would cost around £200 for a family of four to get in, this is an excellent extra benefit. Again, though, this benefit makes Madinat or Jumeirah Beach Hotel look even more attractive as Wild Wadi is built in the middle of these two resorts and you can get a free golf buggy back and forth. From Zabeel it is a bit of trot.
Food and drink
Jumeirah takes food incredibly seriously. The breakfast buffet at Zabeel was exceptionally good – the only place I've ever had a better one is, ahem, their sister resort …..
Once you've seen the list of restaurants available, the idea of not leaving the hotel during your stay suddenly becomes more appealing! Options include Imperium (themed buffets every evening), The Rib Room (an offshoot of the London restaurant of the same name), Plaj (Italian), Lalezar (Turkish), Muscihall (a theatre-cum-restaurant with live shows whilst you eat), Amala (Indian), Al Nafoorah (Lebanese), Sultan's Lounge (international cuisine in the main lobby) and the Voda Bar (tapas).
Here, for example, is part of the very impressive cake offering in the lobby lounge: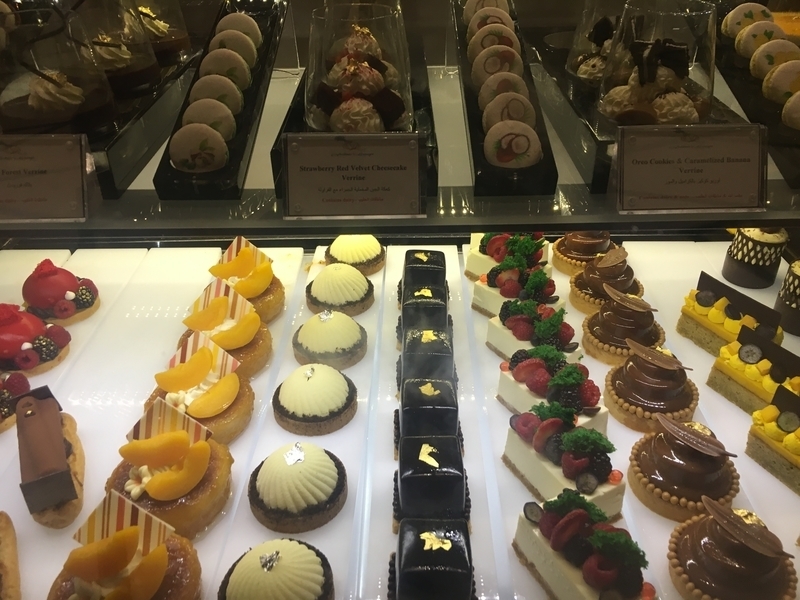 My schedule, which involved trying to stay on UK time, and the fact that I try to avoid restaurants when travelling on my own meant that I didn't get to try even a fraction of what was available. My vast experience of Jumeirah in Dubai allows me to say, unhesitatingly, that they will do an excellent job whatever you choose.
As usual with Dubai, food and drink is not cheap. Jumeirah tends to offer good 'meal inclusive' package deals and these are usually good value.
The evening buffet at Imperium, for example, is Dhs 250 (£53) + 20% tax and service per person, or a whopping Dhs 375 (£80) + 20% with house drinks. Friday Brunch – which admittedly is more aimed at local expats – is a whopping Dhs 575 (£120) + 20% per person if you want champagne included. Those sort of costs add up after a few days.
The indoor breakfast room – with some terrace seating – offers by far the best selection. The choice of food is genuinely exceptional. If you want to eat down by the beach, there is a smaller buffet in the beach restaurant: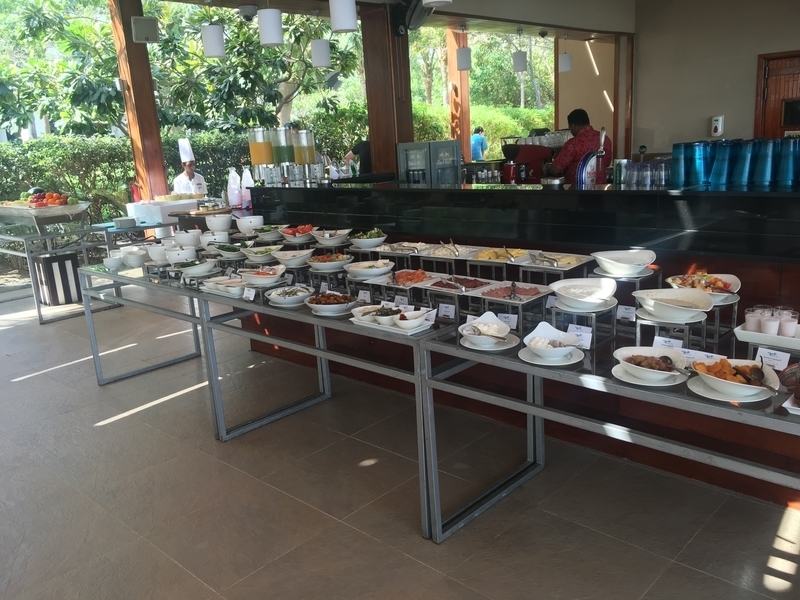 I had this on one of my three mornings but I found I preferred the wider choice in the main restaurant. Breakfast is Dhs 160 (£34) + 20% tax and service per person, so factor this in when comparing 'room only' and 'meal inclusive' options.
Cinema and shops
Yes, Zabeel Saray has its own cinema. As you do. Kids films are shown at 11am and 2pm with a family movie at 8pm.
As with most Jumeirah hotels, there is also a substantial luxury shopping offering of 15 stores with a focus on clothes and jewellery.
Keeping active
Should you be more active than I am whilst travelling, you will be well suited here. All guests can book a tennis court for free for 1 hour per day and lessons are also available. Swimming classes are also available. The gym has personal trainers if required who can be hired.
There are also a range of sea events, including kayaks and hobie cats as well as fishing trips. These all carry a fee.
Boat transfers to Dubai Marina
Since my last visit, the hotel has introduced a boat service to and from Dubai Marina Yacht Club. This allows you to get on and off The Palm with ease and avoid the chronic traffic problems at peak times.
The snag is that it only runs four times per day and is also expensive. A family of four would pay Dhs 540 return (£115) + 20% tax and service.
There is also a free shuttle bus running between the hotel, Wild Wadi and Mall of the Emirates. This runs seven times a day.
This underscores a common theme of this hotel and indeed the other Jumeirah properties. A lot of stuff is free which you may not expect, eg unlimited Kids Club access, the shuttle bus, free access to Wild Wadi. When they do charge, as with the shuttle boat, it isn't cheap.
The beach
Back in 2012 I wrote "Excellent beach service, perhaps the best I've ever experienced." I wouldn't say that now.
The first problem, as I mentioned above, was the noise during the day from preparation for major evening functions. The second problem was that, because of the position of the sun, everyone had set up their sun loungers to face the hotel and not the water. I am used to seeing this on the Baltic coast in Germany but I still found it odd. You can see it in action in this picture:
And, thirdly, I simply didn't find the staff as slick as before. Compared to other resorts, it is still a great set up. You can order food from your lounger and free fruit, water and lollies are handed out at regular intervals throughout the day. If you're lucky someone may come along to clean your sunglasses. When we were at Zabeel in 2012 a camel turned up one afternoon and gave rides up and down the beach for free.
The beach is relatively narrow compared to the huge expanse of sand at Madinat Jumeirah. The sea there is also more 'lively' with quite large waves at times which are good for splashing in. The water at Zabeel is very calm as you would expect, given the geography of The Palm.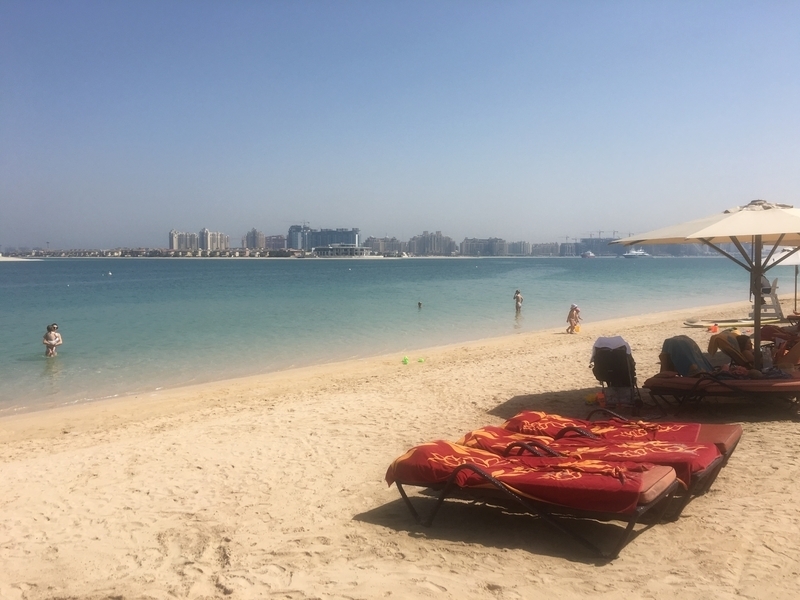 The wi-fi signal on the beach was also patchy. (Don't groan, it's the nature of my job.)
Private cabanas are available for Dhs 500 per day, although you don't get much extra except a free fruit platter and unlimited bottled water – which is given out for free to everyone on the beach anyway.
The pool at Zabeel Saray
The most successful part of Zabeel is probably the main pool. Without wishing to sound like a broken record, it still isn't anywhere near as big or as good as the one at Madinat Jumeirah. It is too shallow and, being smaller, doesn't give kids any space to really mess around.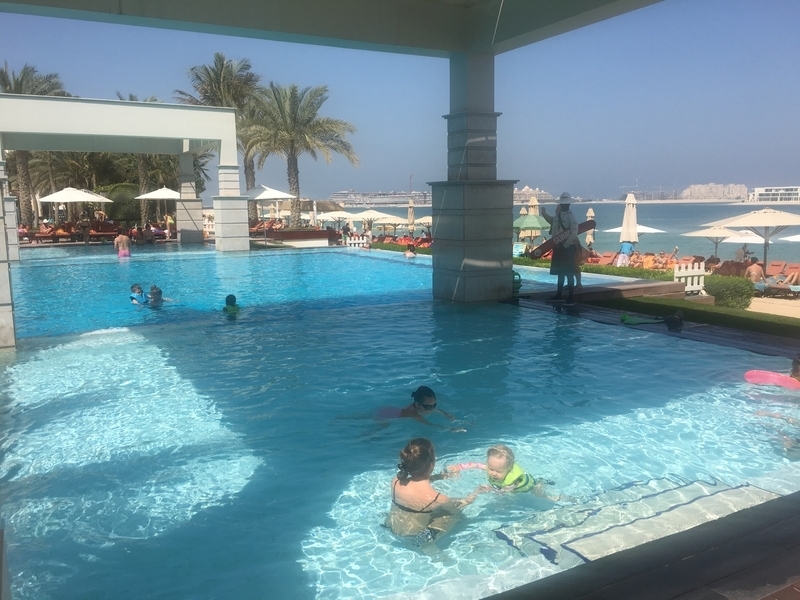 One upside is that some of it is covered (the Madinat pool is not covered) which allows you to bathe out of the sun. You can see the shaded area in the image above.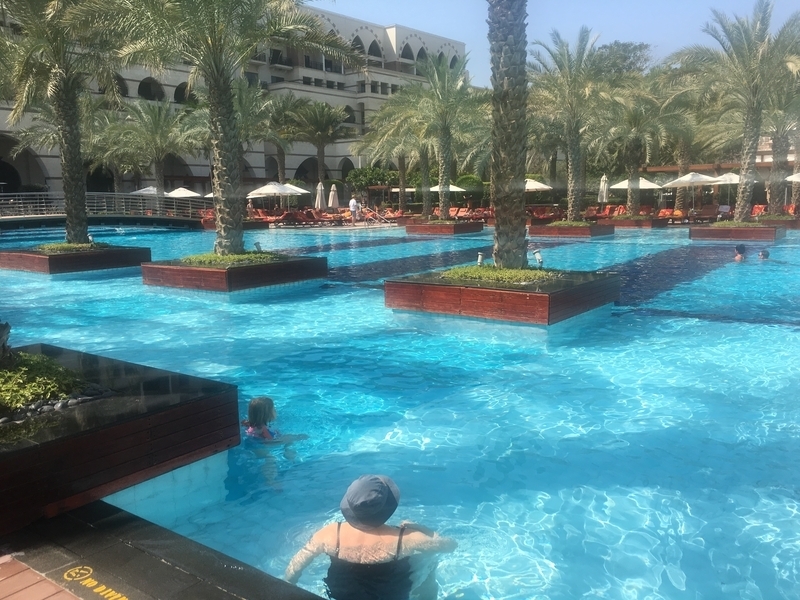 Conclusion
Jumeirah Zabeel Saray is, in many ways, an astonishing hotel. The amount of money spent on its construction must have been mindblowing. The quality of the food, drink, room interiors and service is very high. The Deluxe Family rooms are a unique accommodation option for a family of four.
And yet, and yet …..
You can't get around the fact that the location is not ideal, that the hotel holds too many intrusive functions (this was also an issue for us back in 2012) and that the beach is narrow and requires you to face away from the water.
Madinat Jumeirah is, by far, the superior resort. There is nothing better about Jumeirah Zabeel Saray. Madinat has (slightly) better pools, a far better beach, substantially more places to eat, better views, is better located and of course has the abra's to cruise around in! Back in 2013, only the small childrens playground was a unique Zabeel Saray selling point. My view has not changed.
Since both resorts are equally opulent, let price be your guide. If Zabeel Saray works out 40% cheaper than Madinat (a Zabeel Saray Family Room vs 2 connecting rooms at Madinat, for example) then the downsides I mentioned would be worth the trade off. Certainly do not choose Zabeel Saray if Madinat is the same price, or indeed if you plan to be leaving the hotel every day – those drives on and off The Palm will drive you crazy!
For clarity, though, Jumeirah Zabeel Saray is a stunning place to visit. If its big sister did not exist, it would be among the most opulent hotels in Dubai. If I had never visited Madinat, I would have raved more about Zabeel. As Jumeirah owns both properties, I hope they don't mind too much that I prefer the other one. If you can get a good deal at Zabeel that beats anything on offer elsewhere, I still strongly recommend you go.
---
Hotel offers update – August 2022:
Want to earn more hotel points? Click here to see our complete list of promotions from the major hotel chains or use the 'Hotel Offers' link in the menu bar at the top of the page.
Want to buy hotel points?
Hilton Honors is offering an 80% to 100% bonus when you buy points by 18th September 2022. The annual limit is doubled to 160,000 points plus your bonus. You can buy here.
Marriott Bonvoy is offering a 25% bonus when you buy points by 15th September 2022. You can buy here.