Review: Jumeirah Zabeel Saray hotel, The Palm, Dubai
Links on Head for Points may pay us an affiliate commission. A list of partners is here.
This is my review of the Jumeirah Zabeel Saray hotel on The Palm, Dubai.
Regular readers may remember that I was in the Middle East in April, taking a look at the Emirates and Etihad A380 First Class products (reviews here and here).  When I was there, I spent three nights at Jumeirah's luxurious Zabeel Saray beach resort on The Palm.
I explained the background to the trip in this article.  Jumeirah had offered me a free stay at Zabeel Saray when I met up with them in Dubai last year so it was a useful way of keeping down my costs whilst reviewing the flights.
I've sat on the review for a couple of months because it made more sense to run it now when your thoughts may be turning to Autumn holidays.  Whilst Dubai is getting more and more popular in summer, the 40 degree July / August heat really isn't for most people.  That said, it does offer excellent value for money compared to, say, prime Spanish or Portuguese resorts if you're prepared to stay inside during the middle of the day.
As it happens, I was one of the first people to stay at Zabeel Saray back in 2012.  Whilst I was grateful for the free room, my conclusions are roughly the same as those I drew when we stayed four years ago and paid cash.
About Jumeirah Zabeel Saray
Zabeel Saray opened in 2011 and is the sister property to the Burj Al Arab, Madinat Jumeirah, Jumeirah Beach Hotel etc.
Not all Jumeirah properties are 'ultra-luxe' but Zabeel Saray, the Burj and Madinat most certainly are.  To put my cards on the table, I genuinely think that the Madinat Jumeirah complex in Dubai is the most impressive achievement in the large-scale luxury family resort market this century.
My wife's sister and her family live in Dubai so we are down there quite a bit, although we always stay in hotels.  We have probably done about 100 nights at Madinat Jumeirah since it opened, as a couple, on a 'lads trip' and with latterly with my children.  It works for all of these segments.  The quality of everything is outstanding – Madinat even has a full size theatre that is more impressive than 90% of British regional theatres.  Despite having done over 100 nights at peak season in a resort with 1,300 rooms across four hotels, we have never failed to get enough sun loungers.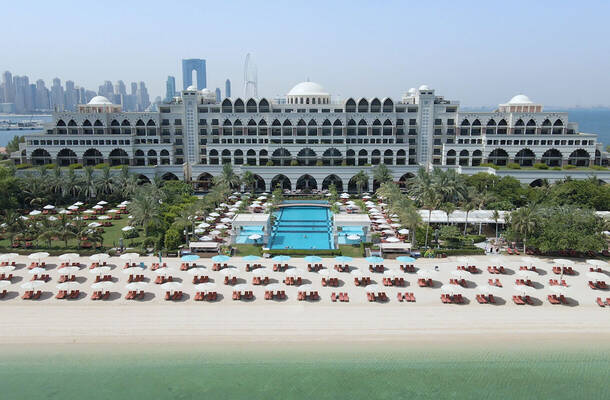 Madinat's reputation meant that Zabeel inherited an impressive brand reputation when it opened.  The downside is that it will always be on a hiding to nothing when compared to its 'big sister'.
Zabeel Saray is out on The Palm development. If you look at the image below and work out where would be the longest drive from the entrance, bearing left – that's where it is!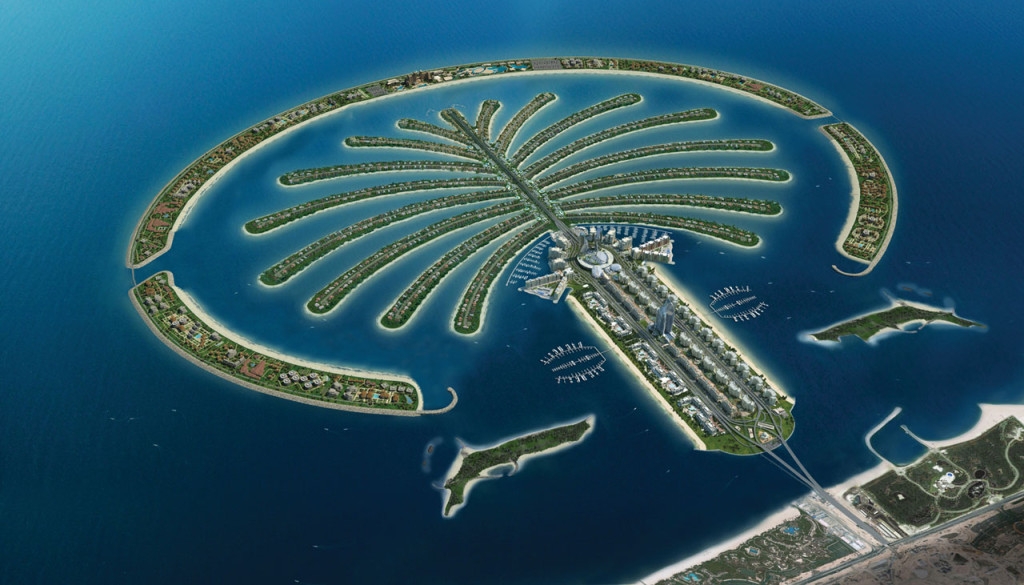 This is a hotel of great opulence.  You can't deny it.  It is very likely to be the plushest hotel you have ever visited. The guest corridors really are lined with gold leaf. The public areas – Turkish themed – are awe-inspiring. The spa, based on a Turkish hamman – is the largest in Dubai and one of the most opulent. The bedrooms are very well furnished.
This is a library photo of the main lobby: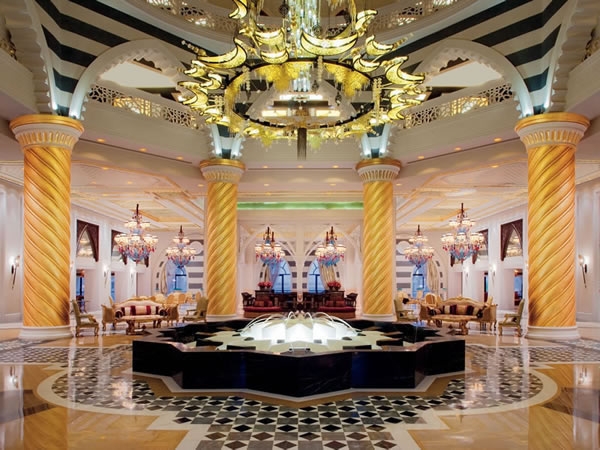 The snag is that, whilst the hotel may be opulent, the surroundings are not.   Things have certainly improved since I was there in 2012, with far fewer empty plots.  You are still surrounded by empty lots, however, and sitting on the beach you look across to the 'centre' of The Palm with its various on-going building projects.
Once you're at Zabeel, you are trapped.  There is literally nowhere else to go without jumping in a taxi, although a 10-15 minute walk would get you to the Kempinski and One & Only hotels which are on either side of the hotel, after the building plots.  It takes 13 MINUTES in a taxi to get off The Palm from Zabeel. That means every trip into Dubai takes 26 minutes longer than it would if you stayed on the mainland.  If you choose to stay here, you won't be leaving the hotel often.
My room
If you have a family, Zabeel Saray has something you won't be used to seeing at upmarket hotels – Family Deluxe rooms.  These have a small second bedroom and allow a family of four to save money over the cost of two connecting rooms.  I reviewed a Zabeel Saray Deluxe Family room four years ago.
This time I had a standard room, upgraded to a Junior Suite.  Despite arriving very late in the evening, I had a slightly OTT welcome as a number of senior staff appeared to greet me.  The irony was that the person who arranged my visit six months earlier had left the hotel by the time I stayed, and I'm not entirely sure if the hotel staff knew why I had been invited!
Both sides of the hotel overlook water.  One side overlooks the beach, facing inwards into the Palm.  The other side, where I was, directly overlooks the gulf with a view of Dubai Marina in the distance.
Here are a few shots of the room.  The design theme is similar throughout the hotel, so whilst a standard room will be smaller it will fundamentally look similar.  The sense of opulence starts in the corridor which is lined with gold leaf: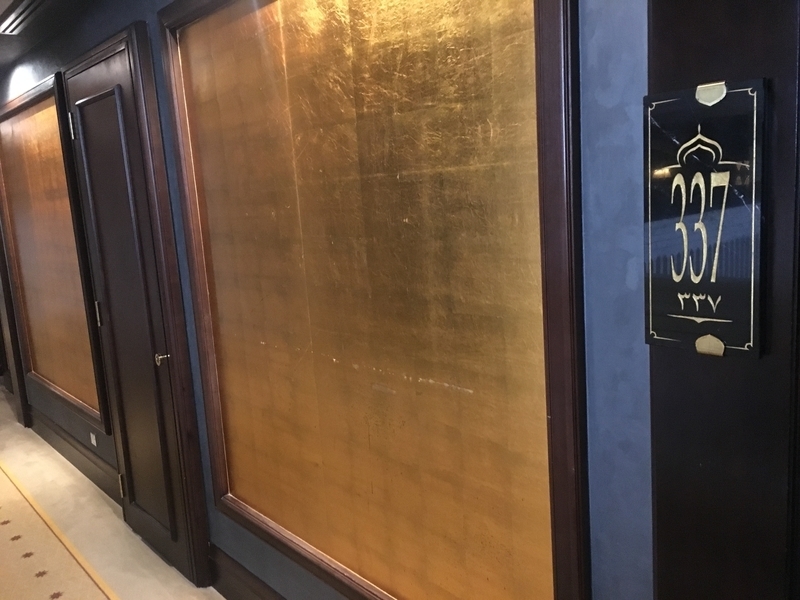 Your bed is modestly surrounded by more gold leaf – this is actually pretty tasteful when you are in the room itself, there is nothing exceptionally brash about the furnishings: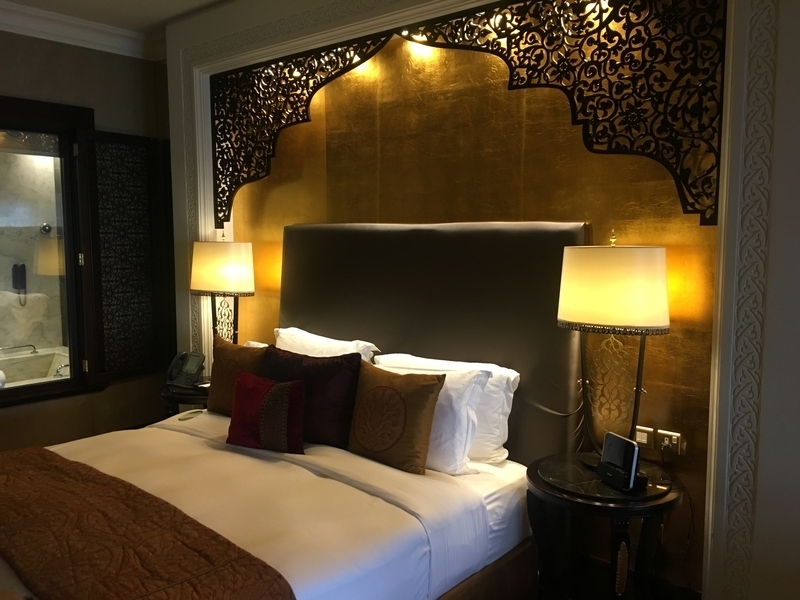 As a junior suite, the room was one large open space with a balcony overlooking the gulf: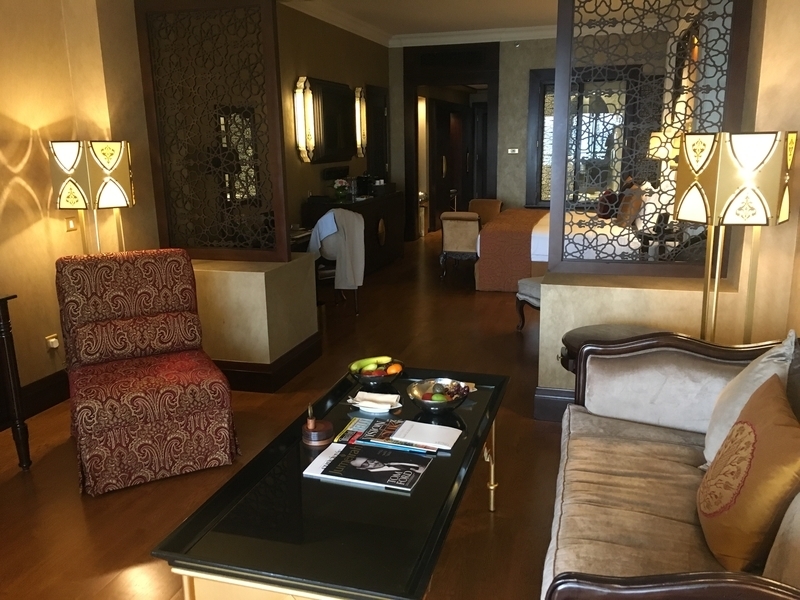 Here was the balcony view, out towards Dubai Marina: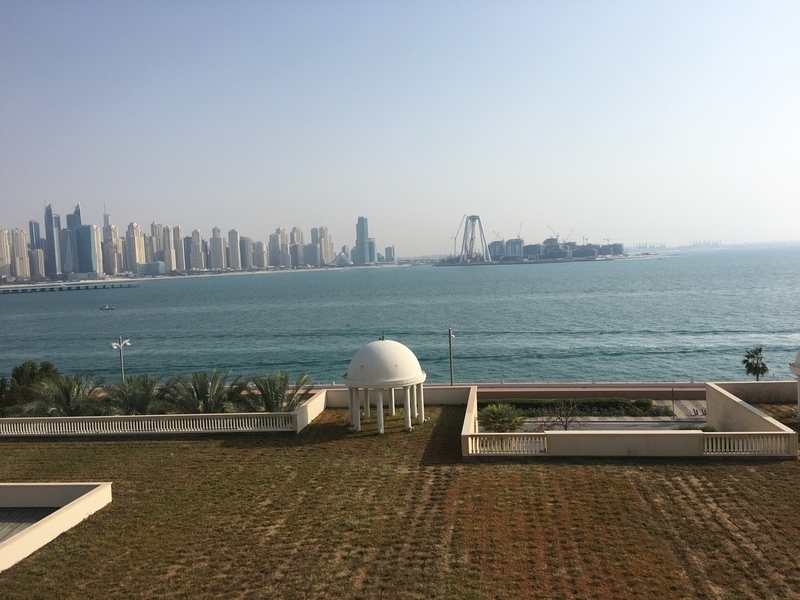 The bathroom was very impressive, although two standard sinks may have been more useful than one gold one.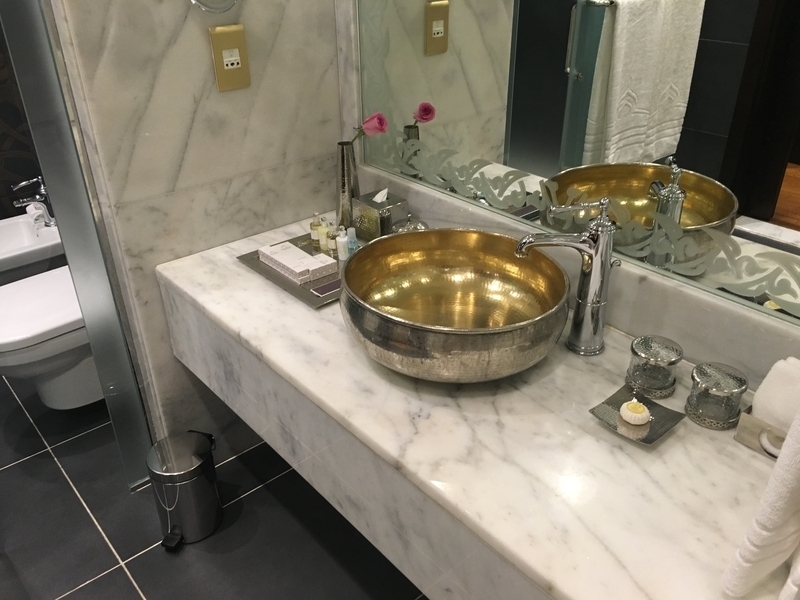 ….. and it had this ludicrously huge sunken bath which I never got to try: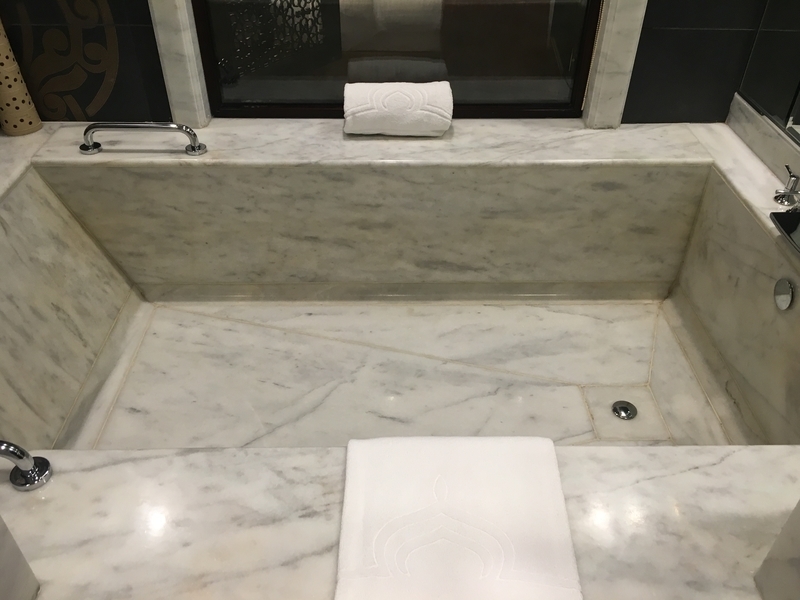 Apart from being a little dark, it was very impressive.  The room included a decent sized desk and the usual Nespresso machine which is now common in high end hotels.  When I stayed here five years ago it was still a bit of a novelty.
Room location
I was hoping, for no logical reason, to have a beach view and for the first night was disappointed that I hadn't.  It quickly became clear that I would have made a mistake.  For two of the three nights I was there, the hotel was hosting huge events on the lawn directly underneath the rooms, in front of the beach.
These events were always noisy and intrusive.  Even worse, the amount of preparation required during the day was off-putting if you were planning a quiet day by the pool or on the beach.  A sound system would suddenly burst into life for a sound check, or a group of workers carrying furniture would suddenly walk past.
The executive lounge at Zabeel Saray
The old club lounge on the first floor has become a restaurant, with a new executive lounge opening on the ground floor.  It has been built in a style best described as 'old empire French'.   This is a bit odd although I did like the outdoor sitting area.  You can see what I mean here: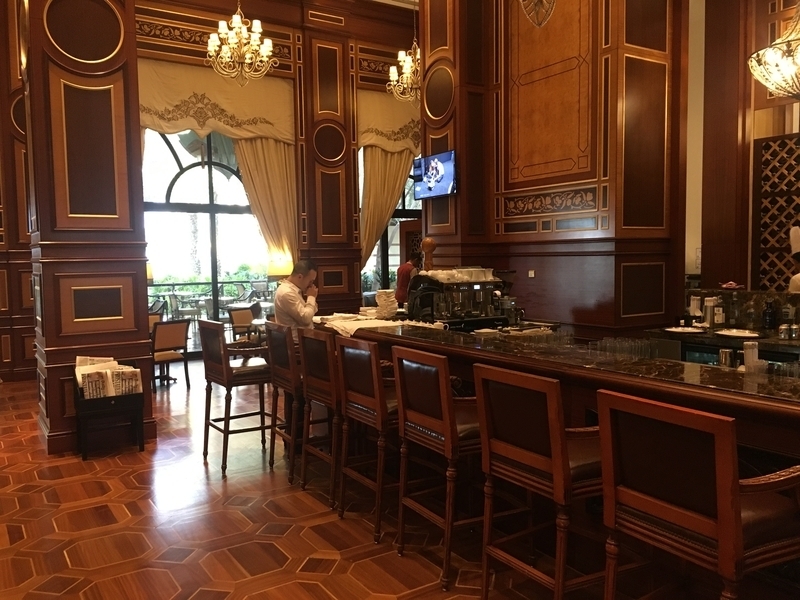 Club lounge access is included for Junior Suite guests.  It turned out, however, that it is not included for guests who are upgraded to a Junior Suite!  By the time they had realised I had been upgraded, I already had some food so they said I could stay.
In any event, I was underwhelmed by the lounge.  The hotel is so large it is never hugely busy so you don't need to use the lounge as a quiet place to retreat.  There are no business facilities, although it was good to have access to newspapers.  I didn't go in for breakfast (you'd be crazy, given the amazing hotel buffet on offer) and there is little served during the day.  There is no way that the few evening canapes available would allow you to skip dinner.  Evening drinks are only served between 6pm and 8pm.
This is the waiter-service afternoon tea I had, which was impressive: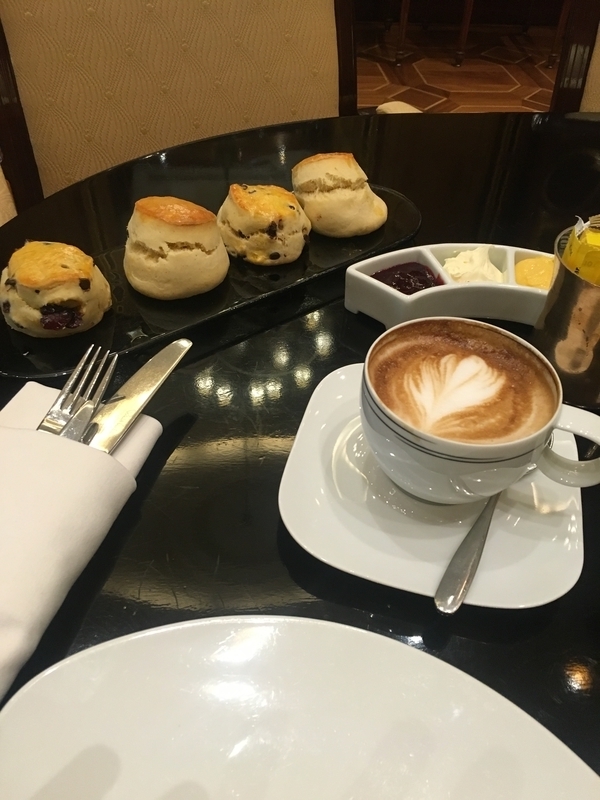 There is also a new leisure lounge, based in what I think was the villa previously used as the kids club.  This is available to guests in premium and club rooms as well as Jumeirah Sirius Gold members.  It only serves tea and coffee and 'light snacks', plus drinks during the 7pm to 9pm happy hour.
Whilst the leisure lounge is set around the private pool for the villas, it does not appear to allow you to actually use the pool.  This is a shame as it would be a welcome change to the fairly shallow and busy main pool.
I'm not entirely sure why the hotel thinks it needs two different lounges.  Madinat Jumeirah has two, but that hotel has a mix of leisure and corporate guests due to its location and its wide range of meeting and conference facilities.  I struggle to see how Zebeel can run a separate 'executive' and 'premium leisure' lounge.
In Part 2 of this review of Jumeirah Zabeel Saray, click here, I take a look at the food and drink offering, the beach and the pool. I also decide whether or not you should choose it over Madinat Jumeirah.
---
Hotel offers update – December 2023:
Want to earn more hotel points? Click here to see our complete list of promotions from the major hotel chains or use the 'Hotel Offers' link in the menu bar at the top of the page.
Want to buy hotel points?
IHG One Rewards is offering a 100% bonus (some members may see less) when you buy points by 30th December. Click here.
Marriott Bonvoy is offering a 30% bonus when you buy points by 20th December. Click here.
World of Hyatt is offering a 20% bonus when you buy points by 4th December. Click here.