Review: the Jumeirah Zabeel Saray hotel, Dubai
Links on Head for Points may pay us an affiliate commission. A list of partners is here.
This is my review of the Jumeirah Zabeel Saray hotel and resort in Dubai.
I promised to do a quick write-up about our Dubai holiday hotel. You should also read this post which talks about our Grand Deluxe Family room, which was an excellent choice for a family of four.
Zabeel Saray opened in 2011 and is the sister property to the Burj Al Arab, Madinat Jumeirah, Jumeirah Beach Hotel etc.  The image below is CGI'd – there is NO PIER in front of the hotel, and no greenery next door!  The rest is accurate, though.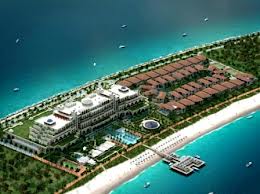 It is out on The Palm development. If you look at the image below (like all photos here, they are stock images and not taken by me) and work out where would be the longest drive from the entrance – that's where it is!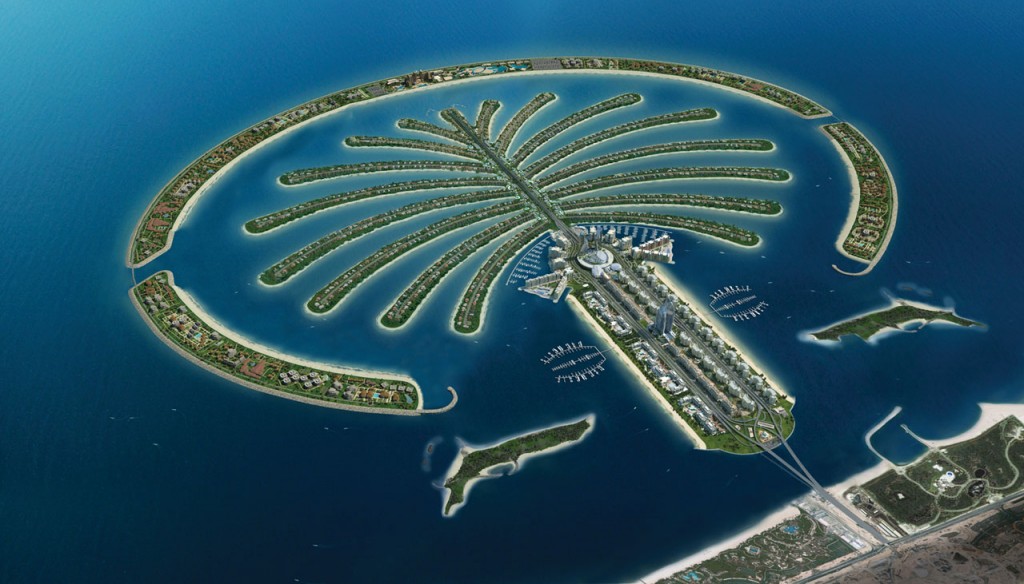 We booked this back in June 2012, when the hotel had not been open long and was still offering 'soft' rates. We paid about £400 a night which included breakfast and £200 of spa treatments during the stay. Over Easter, I see that our room is a crazy £1,300 per night including tax, half-board.
This is a hotel of great opulence, but let down by its location and by some of its staff. That is a pretty fair summary! Here are the positive points:
Very little expense was spared in building this place. The guest corridors really are lined with gold leaf. The public areas – Turkish themed – are awe-inspiring. The spa, based on a Turkish hamman – is the largest in Dubai and one of the most opulent. The bedrooms are very well furnished.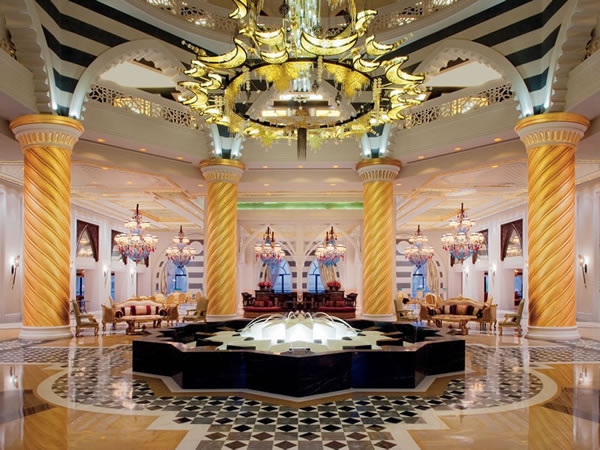 There is an impressive range of restaurants, covering various cuisines, plus an informal beach restaurant and a funky bar. As we had little children with us, I can't comment on the quality of the formal restaurants!
There is a decent (but no more than decent – it is short on toys) kids club which operates all year. This is based in an unsold villa next to the hotel, directly connected to it. (There are 20 villas built by Jumeirah next door, you can see them in the first photograph.)
Excellent beach service, perhaps the best I've ever experienced. The 'food to beach lounger' set-up is perfectly executed and free ice cream is distributed throughout the day. The beach is also not bad given that it (and of course the whole Palm) is man-made. There is a decent childrens pool, although a bit basic for kids over 4 years.
All rooms have water views, either over the beach or across the Gulf towards Jebel Ali port. The Maldives it isn't, of course, since Jebel Ali is full of chemical plants etc! You also get a great view of the skyscrapers of the Marina, very NYC style!
Excellent in-room facilities. Free Nespresso machine, amazing tea selection, Asprey toiletries (randomly replaced, we had SEVENTEEN bottles in our room at one point, and these were big 75ml ones!), good beds etc. Free wi-fi for everyone, and at a decent speed.
Here are the problems
The hotel may be opulent, but the surroundings are not. On one side is an empty block of unfinished, unsold apartments, then an empty plot. On the other side is a derelict plot. Worse, sitting on the beach you look across to the 'centre' of The Palm and are faced with a HUGE (200m high?) pile of rubble on the opposite frond. (See picture below – there is actually a massive rubble pile on the bit of sand in the centre!)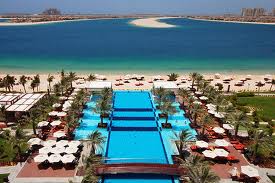 You are, therefore, 'trapped'. Don't like paying £80 for breakfast (the cost for 2 adults and 2 kids)? If you're on a room only rate, you're stuffed, as there is literally nowhere else to go without jumping in a taxi. A 10-15 minute walk would get you to the Kempinski and One & Only hotels which are on either side of the hotel, after the building plots.
It takes 13 MINUTES in a taxi to get off The Palm. That means every trip into Dubai takes 26 minutes longer than it would if you stayed on the mainland. To be fair, as we have been to Dubai before and our kids just wanted to be on the beach and in the pool, we only left the hotel once anyway. It is not a great spot if you want to be out and about every day, though.
There is a sense in the rooms of things not being thought through. Only one sink in our main bathroom. A tiny bedside table with a huge lamp and an office-style telephone system taking all the space. A system for turning on and off the lights that we never figured out in eight nights.
Some of the staff have no grasp of English whatsoever. FOUR TIMES, in 8 days, we had the wrong food delivered to us. At one point we even double-checked a waiters order slip and the wrong food STILL arrived. And when you've got young kids, you can't wait another 20 minutes for something else …. you are basically forced to eat whatever turns up!
We had more issues with two babysitters we hired for 4-hour stints. One was just about acceptable. The other, hired to work 2pm to 6pm, sat in our room with our 2 kids for the entire 4 hours – despite our insistence that we were happy for them to go to the pool, beach, kids club etc.
Zabeel Saray vs Madinat Jumeirah
The default place to stay in Dubai with kids (or even not with kids, its still great) is one of the Madinat Jumeirah hotels. We have stayed there a few times and it is unlikely you would book Zabeel Saray without comparing the two.
Madinat is, by far, the superior resort. Apart from the benefit of the Grand Deluxe Family room, there is nothing better about Zabeel Saray. Madinat has (slightly) better pools, better beach, substantially more places to eat, better views, is better located and of course has the abra's to cruise around in! Zabeel Saray has a small childrens playground, which is the only obvious missing spot.
Since both resorts are equally opulent, let price be your guide. If Zabeel Saray works out 40% cheaper than Madinat (a ZS Family Room vs 2 connecting rooms at Madinat, for example) then the downsides I mentioned would be worth the trade off. Certainly do not choose ZS if Madinat is the same price, or indeed if you plan to be leaving the hotel every day to sightsee – those drives on and off The Palm will drive you crazy!
If you are looking to book Zabeel Saray, you should contact our booking partner Bon Vivant.  Bon Vivant is a Jumeirah Preferred Partner agent and can get you additional amenities, including free breakfast and a food and drink credit, with your booking.  You can contact Bon Vivant via the form on this page on Head for Points.
---
Hotel offers update – February 2023:
Want to earn more hotel points? Click here to see our complete list of promotions from the major hotel chains or use the 'Hotel Offers' link in the menu bar at the top of the page.
Want to buy hotel points?
Hilton Honors is offering a 100% bonus when you buy points by 7th March. Click here to buy.