News in brief:
New – earn Avios taking taxis in Italy!
If you are in Rome or Milan in the near future, you can now earn Avios with two local taxi groups.  Pronto Taxi operates in Rome and Auto Radio Taxi operates in Milan.
You earn:
2 Avios per €1 on trips to airports (Fiumicino and Ciampino in Rome, Linate, Malpensa and Bergamo in Milan)
1 Avios per €1 on other trips
It is a slightly odd earning system.  You tell the driver when you get into the taxi that you want to collect Avios points.  He will take down your membership number and, in theory, you receive the points within 48 hours.
The following membership numbers are accepted:
British Airways Executive Club
Iberia Plus
Meridiana (the Italian airline which uses Avios)
It is obviously impossible for the taxi driver to verify the name of the passenger, so this could be a way of crediting some Avios to a family member whose account may be at risk of expiry due to three years of inactivity.
PS.  My understanding is that Avios earning will soon be enabled for new users of Mytaxi in London, which recently bought Hailo.  Hailo was an existing Avios partner but at present only ex-Hailo customers who migrated their accounts can earn.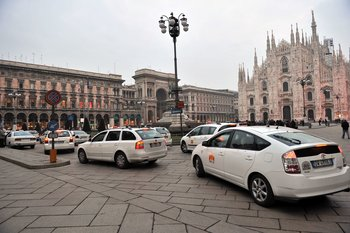 Earn Nectar points with Virgin East Coast via ticket machines
It seems that Virgin East Coast has added the ability to earn Nectar points when you buy tickets directly from their own ticket machines.  This will get you a small extra rebate to make up for the pain of not getting an Advanced Purchase discount …..
Virgin West Coast has had this feature for some time.
Note that, if you book tickets online, you have the option of taking Virgin Flying Club miles instead of Nectar points at the same rate (2 per £1).  The Flying Club miles are worth far more than the Nectar points, although if you are not already a Flying Club collector it makes far more sense to go with Nectar.

Avios wine offers extended
Both of the current Avios and British Airways Executive Club wine offers have been extended to 31st September, with some tweaks to the offering.  As a reminder, there are two distinct offers available:
The deals are slightly different depending on what freebies you want!
The new avios.com deal is here.   You receive:
A 12-bottle wine case, chosen from seven options all priced at £54.99
3 free bottles of Sauvignon Blanc worth £47 (this is a better deal that the previous offering of two free tumblers!)
1,000 Avios points (250 Avios points if you are an existing Laithwaite's customer)
Free delivery
The unchanged British Airways Executive Club deal is here.  You receive:
A 12-bottle wine case, chosen from seven options priced between £52 and £58
3 free bottles of rioja worth £36
1,000 Avios points (250 Avios points if you are an existing Laithwaite's customer)
Free delivery
The only major difference is whether you take the free rioja or the free sauvignon blanc.  Remember that you'll need to give a BAEC number if you take the rioja and an avios.com account number if you take the sauvignon.
Either way, there is one snag you need to deal with.
By ordering, you are signing yourself up to Laithwaite's Wine Plan.  Every 8-12 weeks they will automatically send you another 12-bottle wine case.  It is very easy to stop this happening – simply amend your account online or give Laithwaite's a call to cancel your Wine Plan membership, there is no penalty – but you must trust yourself to remember.
(Want to earn more Avios?  Click here to visit our home page for the latest articles on earning and spending your Avios points and click here to see how to earn more Avios from current offers and promotions.)
(Want to earn more Avios?  Click here to visit our home page for the latest articles on earning and spending your Avios points and click here to see how to earn more Avios from current offers and promotions.)