Review: Kimpton De Witt Amsterdam hotel
Links on Head for Points may pay us an affiliate commission. A list of partners is here.
This is my review of the Kimpton De Witt hotel in Amsterdam, which has just opened.
Back in 2014, IHG – owner of InterContinental, Holiday Inn, Crowne Plaza etc – agreed to purchase US hotel brand Kimpton for $430m.
Apart from Aman – and even that now appears to be on the decline following a change of ownership – Kimpton was the nearest thing that the hotel industry had to a 'cult' offering.  Positioning itself as an upscale boutique chain infused with a Californian lifestyle, it inspired feverish loyalty from those who found that its style and approach meshed with theirs.  The Kimpton Karma loyalty scheme was focused on benefits (free mini-bar, upgrades, dining credit etc) rather than free nights.
Once IHG had bought the company – and dealt with the defection of a large number of Kimpton hotels to other brands – it had to decide what to do with it.  To introduce the brand to Europe, it chose to convert the Crowne Plaza in Amsterdam into the Kimpton De Witt.  It opened a few weeks ago and I decided it was worth a review.
The Kimpton De Witt Amsterdam website is here if you want to find out more.
Introduction
It was clear that IHG was having problems with the integration of Kimpton.  Three years on, Kimpton Rewards has not been integrated into IHG Rewards Club.  It is almost as if IHG is scared of alienating the core US guests that underpin the chain.
IHG made a slightly bizarre decision for the Amsterdam hotel.  Despite being branded a Kimpton, it is NOT part of Karma Rewards.  Your Kimpton status means nothing here and won't get any benefits.  The good news for UK residents is that Kimpton De Witt DOES recognise IHG Rewards Club status.  You will earn points from your stay, you can redeem points here and you will receive status benefits.
At present, however, stays at Kimpton De Witt Amsterdam do not count for the IHG Accelerate promotions even though they earn IHG Reward Club points.
Location
The only person I knew who made it here before I did loves the location and was also a frequent guest in the Crowne Plaza days.  The good news is that Kimpton De Witt is literally five minutes walk from Amsterdam Central Station and literally five minutes walk from Dam Square in the other direction.  Not that you necessarily need to visit Dam Square, although the Dutch equivalent of Harrods, De Bijenkorf, is there.
I don't agree with my friend.  The bad news is that the hotel sits on a busy road junction.  This is always bad for a hotel, but picking a hotel in Amsterdam overlooking a major road is just silly.  With so many hotels, of all price levels, directly overlooking the canals or the river I struggle to see why you'd pay a premium price to look at a road.
Check in
My first niggle at Kimpton De Witt was the lack of exterior signage when walking from the station – the hotel is a long building but the entrance is at one end and you walk past the rest of the hotel without actually knowing it.  A couple of hotel logos in the windows of the bar would have been helpful.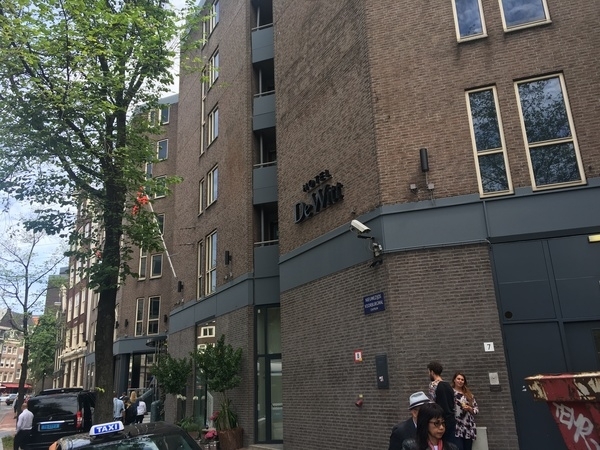 Only this outside: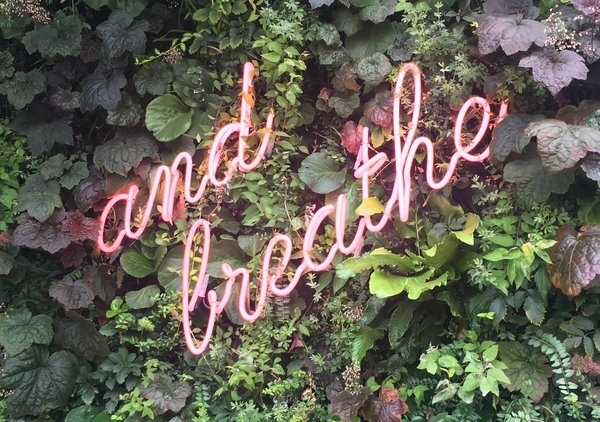 …. made me think that I was probably in the 'California lifestyle' zone.
The Kimpton Amsterdam reception desk is directly in front of the door – eg about 10 feet in front of it.  This was unfortunate because I entered to find a group of people sat on the chairs and floor in front of the desk.
It turned out that, at 2pm, the hotel did not have a single clean room.  Nothing.  This is totally inexcusable.  I suggested that they could just upgrade me into a better suite than the one I had booked but apparently they were not available either.
Luckily as I had booked a suite, for cash, and was a Spire Elite Ambassador member, I was not invited to sit on the floor with the other guests and was instead offered a free lunch in the Wyers Bar & Restaurant.  I wasn't hungry, having eaten two hours earlier, but I thought it was a good opportunity to try it out.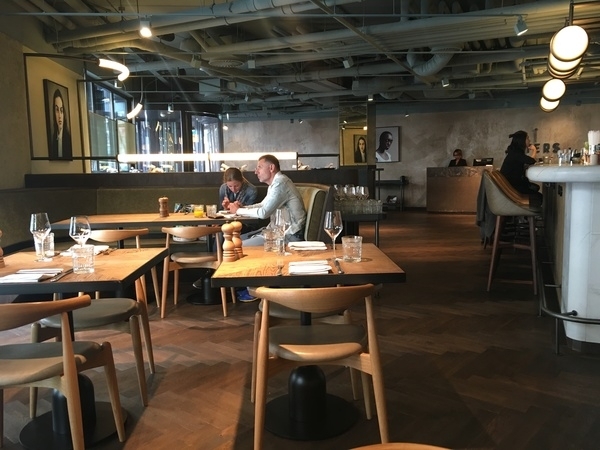 The Kimpton restaurant staff are excellent.  They were the friendliest, most helpful bunch – as a group – that I have experienced in a long time.  I had a couple of lobster rolls which were smaller than expected although, to be fair, at €21 cheaper than I expected as well: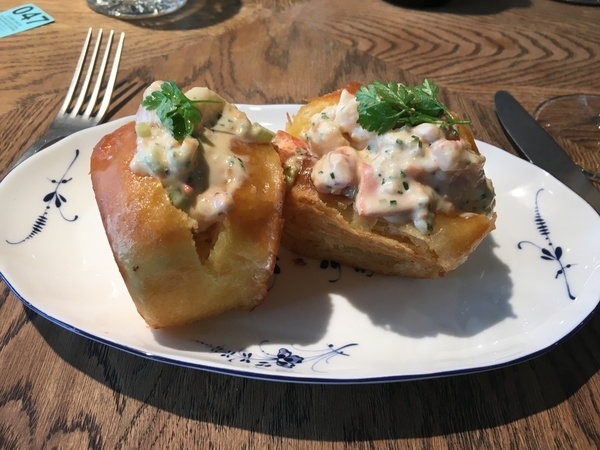 My (first) room
During my meal one of the staff sought me out and gave me my keys.  Unfortunately, she didn't tell me anything else.  This meant that I never knew:
what the wi-fi password was
that the hotel offers a free wine reception every evening (didn't know about it, so didn't go)
that IHG Rewards Club status members (it is not clear whether this goes as far down as Gold) get €15 of free credit for the minibar or hotel bar, although luckily I found a card later which told me this
This is the Junior Suite on the first floor I was allocated.  I'd booked a Junior Suite because it was only about 30% more expensive than a standard room and I thought it would give me extra space and a better location.  I was half right.  You enter to a flight of stairs going down, which gives a sense of grandure to the room: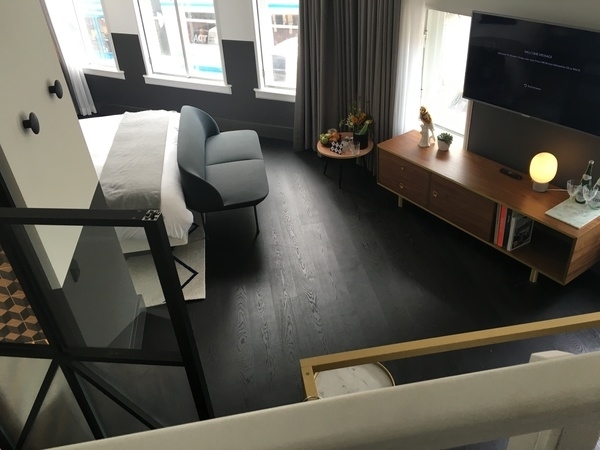 The furnishings were impressive.  There was a good size bed and smart wooden floor: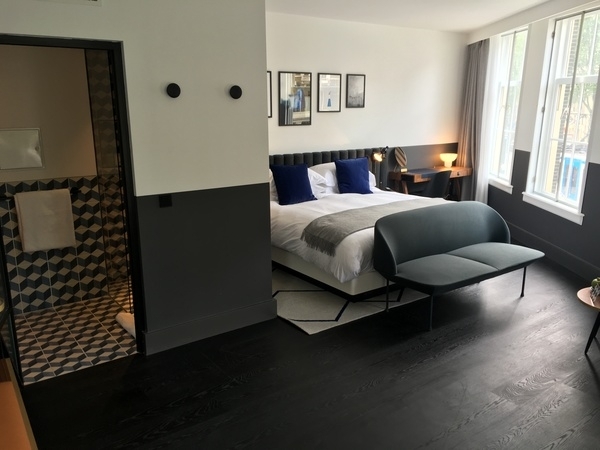 …. two robes (and not heavy white terry towelling ones, for once):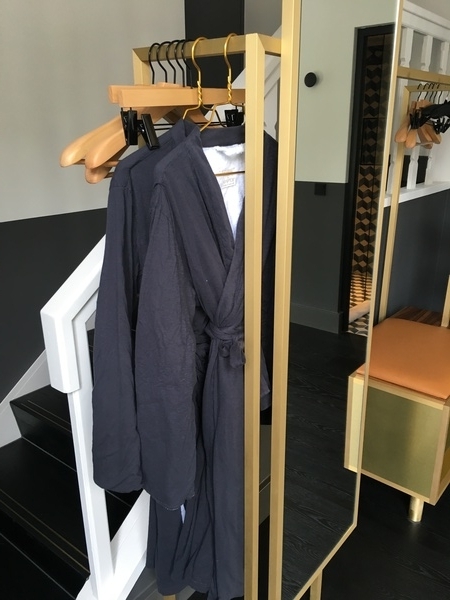 …. and a very effective design scheme in the bathroom, which must have taken a leap of faith to get signed off but works really well: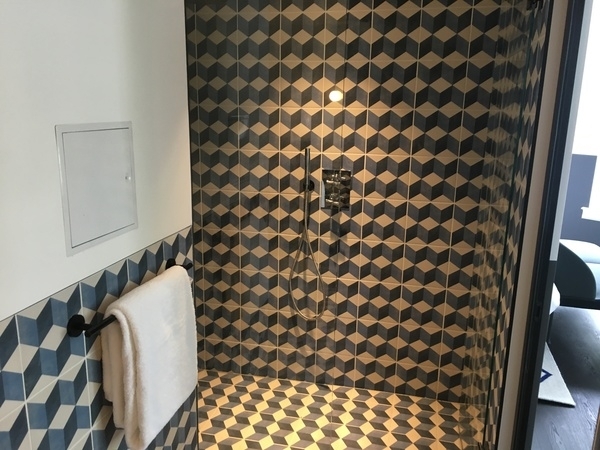 There was also a proper desk.  It shouldn't be necessary to say that a hotel room has a desk in it, but they are getting rarer in new build properties these days.  Marriott is leading the way in ripping them out during property refurbishments.
That was the good stuff.  Here was the problem.  My suite directly overlooked the road junction outside the hotel.  By 'directly', I mean:
The room may have been double glazed but you can't get away from that sort of bustle outside.  Anyone who had booked a suite for a special occasion or romantic break with their partner would certainly not be expecting that outside their window.
Not only had I not been upgraded, this was probably the worst Junior Suite in the entire building.   I went back to reception and suggested that this wasn't really Ambassador / Spire Elite material.  It turned out that they did have a better room available after all and I was given the Penthouse Suite.
(To avoid cluttering this review, I have popped the Kimpton De Witt Penthouse Suite pictures into a separate review which you can find here.  I should mention that reception did not know how to code a key card for the Penthouse Suite.  I was let in by a staff member with her master key and given my own key cards in my hand.  When I came back later, they didn't work.  They were recut twice, involving a trip from the 6th floor to reception each time.  They still didn't work.  In the end I was given a red key fob which I think was a master key which would have given me access to every room in the hotel, although I didn't test it.)
To cover a few of the main areas:
wi-fi was good (when I finally got the password)
the toiletries were impressive – a 'no parabens' Amsterdam-based brand, Marie-Stella-Maris, but supplied in extra-large bottles so you couldn't really take them home with you
I got a slightly bizarre welcome gift of a fruit plate (OK) and a bottle of kale, broccoli, cucumber, coriander, celery and spinach blended together into a juice.  It wasn't good.
the air conditioning in the Penthouse was not functioning properly, with freezing cold air being blown at force into the room via a vent next to the bed even when all the aircon was turned off.  I reduced the impact by closing the slats on the vent, but this led to condensation and there was a stream of water running down the wall in the morning.
there are some impressive small touches, such as the ornament on the work desk and the print above it.  There is also a very impressive set of prints above all of the beds which are distorted images of famous Dutch artworks – they work surprisingly well.  In general, whoever did the interior design here did a good job.
Except ….. where were all these Kimpton 'special touches' I had heard so much about?  Where was the yoga mat in my room, for example?  (The website even claims they are there.)  There was nothing to differentiate the rooms – or indeed the rest of the hotel – from any other design-driven property.
The bar
As I had my €15 of free bar credit, I tried out the bar when I came back in the evening.  The credit can be used against food from the bar menu, which is what I did, so non-drinkers are also OK.
The real problem in the bar is light.  There isn't any.  It is a bar which thinks it is cool to make patrons sit in the dark with the equivalent of a candle on each table.
There is a place for bars like this.  That place is not in a luxury hotel, where guests are more likely to want to sit in the bar and read or chat to their partner or a colleague without having to guess exactly where they are sitting.
My mini burgers were tasty though.  I had to sit directly at the bar to eat them as it was the only place with a modicum of light but it is still gloomy as you can see: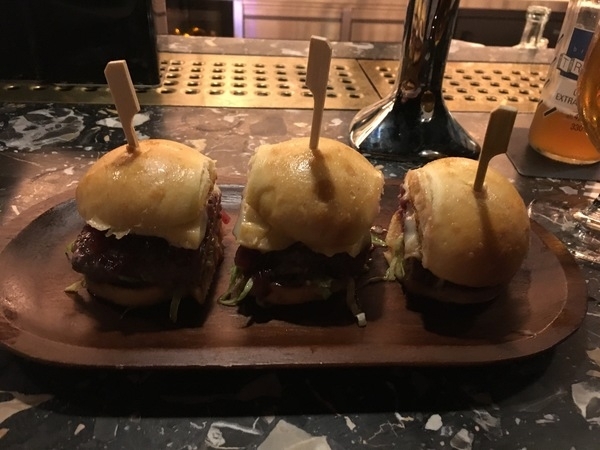 Breakfast at Kimpton De Witt Amsterdam
I liked this.  There is no buffet here.  Everything is a la carte, which some people won't like but, having eaten far too many hotel buffets in the last couple of months, it was good to sit in a civilised restaurant and order from a menu.
I had smoked salmon toast which was a good size and tasty.  Again, the staff were keen and enthusiastic.  I might even come here for breakfast if I lived or worked locally.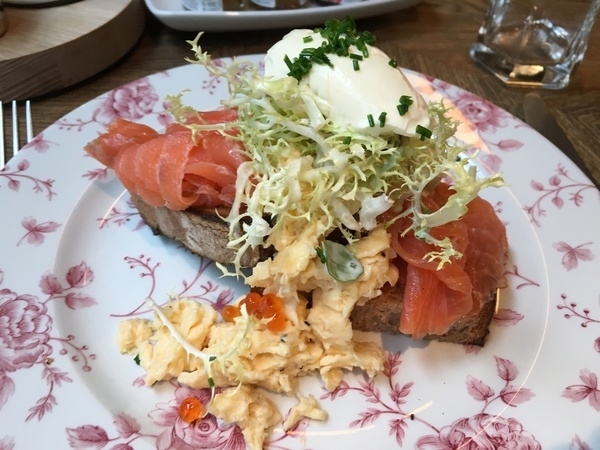 Conclusion
Kimpton De Witt Amsterdam is a good quality 'design' hotel with impressive restaurant staff and, whilst I didn't mention it earlier, a lot of public space where you can hang out.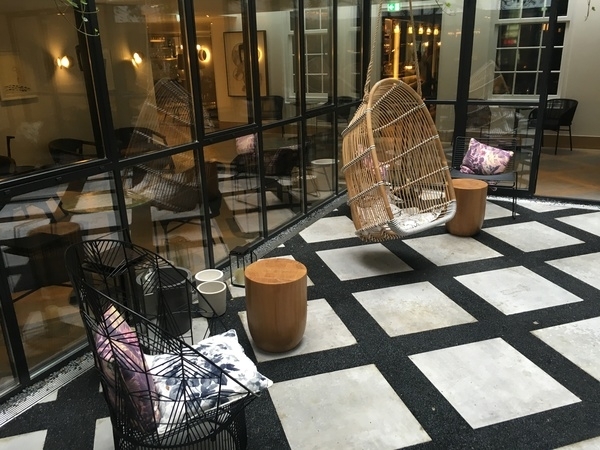 It's new, it's shiny and, in general, the hardware works.  The rooms look fresh and obviously show few signs of wear so far.  You can earn and redeem IHG Rewards Club points here and your status gets you €15 of bar or minibar credit.  It isn't yet clear how they will treat upgrades.
The main downside – and I am assuming that they fix the housekeeping problem – is an unfavourable location with no canal or river view.  The fact that so many rooms directly overlook a busy road is a major negative and this is the main reason that I am unlikely to return.
They also need to move the reception desk and buy some lights for the bar, but I'm sure that will come.
Ignoring that, there is a lot to like here.  I should add that pricing, at the moment, is relatively modest by Amsterdam standards and I think the 'value for money' factor at De Witt is pretty good.
As a redemption, it is less clear cut.  At 50,000 IHG Rewards Club points it is the same price as the InterContinental Amstel.  With rooms usually selling for €600+, the Amstel is in a totally different league – although I admit it is a 'grande dame' and an acquired taste and you couldn't find two more different luxury hotels.  You now have the choice when in Amsterdam, however.
The bottom line is that the Kimpton Hotels 'special sauce' seems to have been confiscated at customs.
That doesn't take anything away from the hotel, but if you come here looking to experience the fabled Kimpton magic then you will be disappointed.  It was worth noting that I didn't meet a single American staff member, whereas the logical thing to do would be to have imported a group of experienced Kimpton US employees.  I was told by the Kimpton duty manager that Anita Bos, the General Manager of the InterContinental Amstel, is also now overseeing the Kimpton (oddly, Amstel staff denied this) which also may also be a strategic error.
Kimpton Europe Number Two is on the way to Paris.  Let's see how that turns out.
You can find out more about the hotel on the Kimpton De Witt Amsterdam website here.
---
IHG One Rewards update – September 2023:
Get bonus points: IHG One Rewards is not currently running a global promotion.
New to IHG One Rewards?  Read our overview of IHG One Rewards here and our article on points expiry rules here. Our article on 'What are IHG One Rewards points worth?' is here.
Buy points: If you need additional IHG One Rewards points, you can buy them here..
Want to earn more hotel points? Click here to see our complete list of promotions from IHG and the other major hotel chains or use the 'Hotel Offers' link in the menu bar at the top of the page.