Review of Norwegian Premium – better than BA World Traveller Plus? (Part 2)
Links on Head for Points may pay us an affiliate commission. A list of partners is here.
This is part 2 of my review of Norwegian's Premium class seat and service on its long-haul Boeing 787 aircraft.
Part one (click here) of my review of Norwegian Premium described my experience on  the outbound flight from London Gatwick to JFK Terminal 2 in New York.  Norwegian provided my Premium ticket free of charge whilst HFP covered all of its other expenses.
Actually, I lied.  Part 2 is NOT about "Norwegian's Premium class seat and service on its long-haul Boeing 787 aircraft" as you will see …..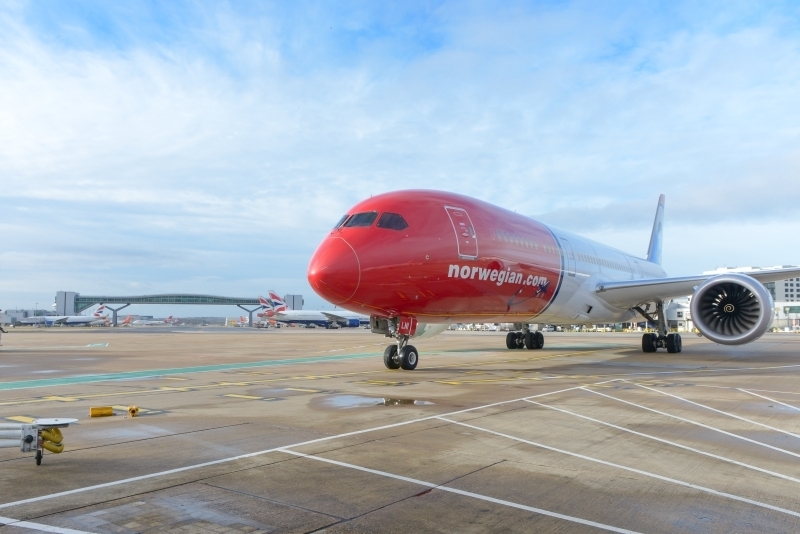 Return flight, New York JFK to London Gatwick
Unfortunately my flight back to London wasn't as smooth as the outbound.
My Norwegian flight from New York JFK was scheduled for 23:00.  However, during the day I got a text message informing me that my flight was going to be 2 1/2 hours delayed.
Knowing I could use the Alitalia lounge as a Norwegian Premium customer, I arrived at the airport three hours before the new departure time.  This was 22:30.
With my Premium ticket I could also use the Fast Track line at JFK Terminal 2 security.  This doesn't seem any better than the British Airways 'Fast Track' line in Terminal 7, however, and with a large number of overnight flights departing it still took me 30 minutes to get through security.
When I was finally at the lounge I was a bit disappointed.
The Alitalia lounge was basically a large room with a lot of sofas.   That's it.  However, as it was almost midnight when I arrived, I was just glad to be able to lay on a sofa and drink some wine.
Click on any of the pictures to enlarge: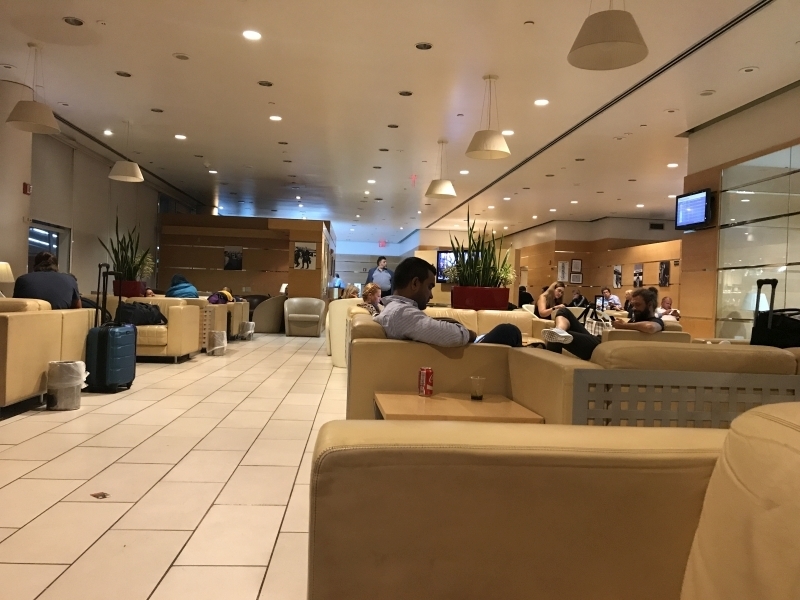 There were no proper glasses in the lounge and I had to drink my wine from a plastic cup – which is only ever acceptable on a plane or at a picnic. After about an hour in the lounge there was no more wine left.  I waited for it to be replaced but I'm not sure if it ever was as we were all thrown out of the lounge before I could go back to check.
I know that the lounge wasn't operated by Norwegian, but it would have been nice for it to stay open until boarding time. Instead we had to stand at the gate for another 20 minutes.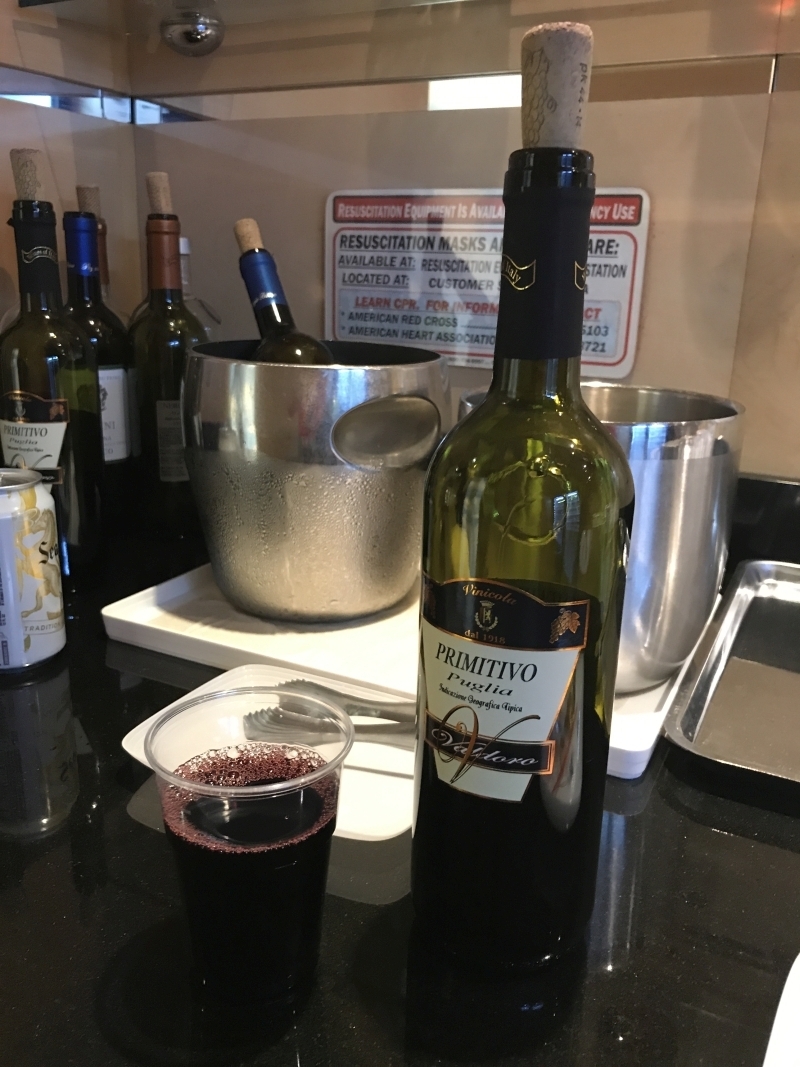 The plane
Arriving at the gate I realised that the aircraft was not a Norwegian 787.  When we boarded, it was clear that it did not have Norwegian crew either.
There was no explanation given for this switch, although Norwegian is known to run a very tight schedule with virtually no flexibility if any of its aircraft experience problems.  Whilst this could have been a mess, it turned out remarkably well for the Premium passengers.  It turned out that we were getting a chartered Boeing 777-200ER operated by EuroAtlantic Airways, and it had almost fully reclinable seats.  This was perfect for an overnight red eye flight when sleep is your only real concern.
It may have been less fun in Economy where sleep was always going to be less likely.  The aircraft did not seem to have an entertainment system and also did not have any power sockets or USB chargers.  Even in Premium, I wouldn't have wanted this aircraft for a day flight without any IFE or power sources.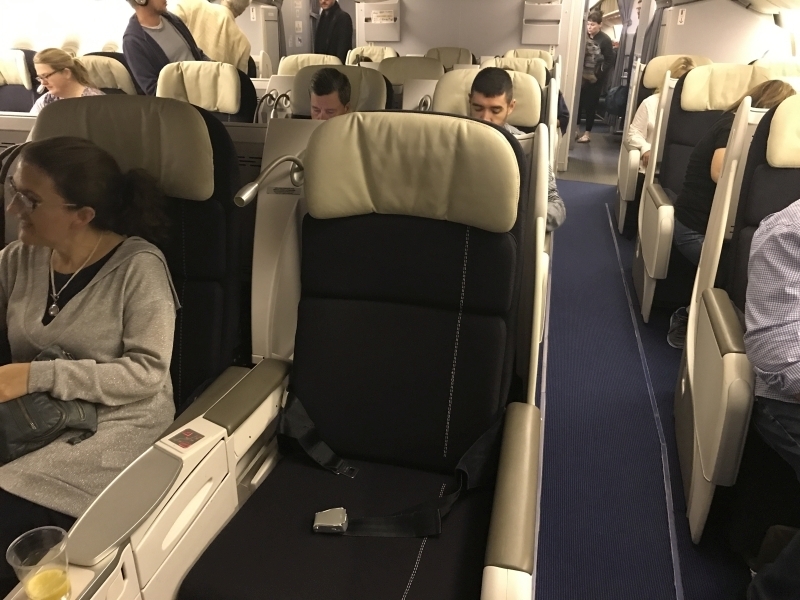 Given the delay to what was already a late departure time, literally the entire cabin chose to sleep immediately.  I have no idea if a meal would have been available or not.  Before landing in Gatwick South breakfast was served, in the standard Norwegian cardboard box, with a bagel, cream cheese, salad and salmon.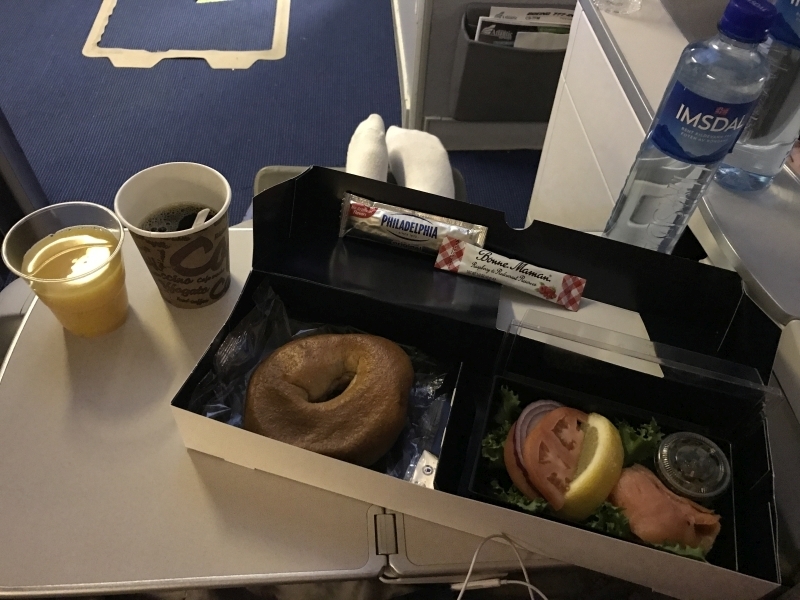 Is Norwegian Premium better than BA's World Traveller Plus or Virgin's Premium Economy?
Flying long-haul with a low-cost airline may sound like a bad idea if you picture your last easyJet or Ryanair shorthaul experience, but Norwegian is actually doing a great job.
Their Norwegian Premium product can definitely compete with BA's World Traveller Plus.  I've never flown Premium Economy on Virgin Atlantic, although Virgin's seat size statistics (less pitch than BA WTP, slightly wider seat) still favour Norwegian Premium.
With Norwegian Premium, you get Fast Track security (not on BA), lounge access at these airports (not on BA), two checked bags (20kg each, slightly worse than BA's 2 x 23kg), meal service (similar quality), complimentary drinks (as on BA) and – most importantly – legroom with a huge 1.16 m pitch!
The only area where British Airways might win is the food presentation. If you prefer china, menus, linen napkins and glasses, BA's World Traveller Plus could be more convincing.  That said, the taste and quality of the Norwegian food was pretty good.
(And, of course, you won't earn Avios or BA tier points with Norwegian.  You can learn about the Norwegian Reward loyalty scheme in my article here.)
Whether Gatwick vs Heathrow works best for you is a personal preference, driven by where you live or work.
I will ignore the fact that I didn't get to fly back on a Norwegian aircraft.  The switch to EuroAtlantic worked out well for Premium passengers who got something very close to a fully flat bed.  I did appreciate that despite having some technical issues Norwegian made sure we'd get back to London with what I would call a medium delay by long-haul standards.
Looking at flights towards the end of October, you can get Norwegian Premium return flights as well as BA World Traveller Plus return flights for £850.  As Premium includes food and luggage you can, unlike Economy, compare these prices like-for-like.  Basing my review purely on the outbound flight, I'm happy to recommend it to you.