My purse does not contain any credit or debit cards that charge no foreign exchange fees.  I know that I should have tackled this issue way sooner as I've wasted money on unnecessary FX fees in the past. Last month, with my New York trip coming up, I needed a quick solution.
Why did I try Revolut?  Well, the honest answer to this question is that a friend, who works as cabin crew for British Airways, told me over a bottle of wine that it was a payment card (a reloadable MasterCard debit card) without any foreign exchange fees and she had been using one very successfully.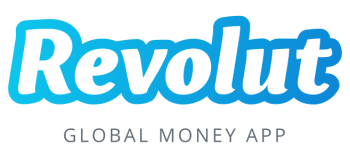 That said, Rob hates Revolut (and Monzo, and Starling, and WeSwap), which is why he's never covered it in the past.  As he wrote in the HFP comments section to a reader a few weeks ago:
"I dislike Revolut. It is ok for kids but as a grown adult I don't want to be fiddling around topping up a card and worrying about my balance every time I want to buy something.  Lloyds Avios gets you BETTER than spot if you factor in the value of 1.25 Avios per £1 on the Amex, plus you get up to 56 days credit and the bill for your foreign spend is settled with your normal card bill. Why make life hard for yourself?"
But what does he know?! Here is what I found:
What is Revolut?
Revolut is an app that works as a digital wallet for British Pounds, Euros and US Dollars (amongst other currencies) letting you transfer money for free to friends or businesses.
An app isn't any use in a shop, however.  To use it in the real world, you need to order a physical card – branded as a MasterCard – which will give you 0% FX fees on your spending and money withdrawals abroad.
Revolut quotes a number of different figures about the currencies it uses.  This is how I understand it:
You can physically hold a balance on the app in 16 currencies – USD, GBP, EUR, PLN, CHF, DKK, NOK, SEK, RON, SGD, HKD, AUD, NZD, TRY, ILS or ZAR.  These are the only currencies you can pre-purchase and lock in an exchange rate in advance of your trip.
You can transfer money electronically in 26 different currencies.  If the currency isn't on the list above, it will be exchanged at the spot rate from another balance.
You can spend money in 120 currencies.  If the currency isn't on the list above, eg Thai Baht, Revolut converts it at spot rate and deducts it from another balance.
The company was founded in 2015 and has just raised $66m in a Series B funding allowing for more features to be added, with the goal of turning it into a fully fledged bank.  If you were wondering how it makes money charging 0% FX fees, the answer is "it doesn't".  The company announced a pre-tax loss of £7.1 in 2016 on just £2m of revenue.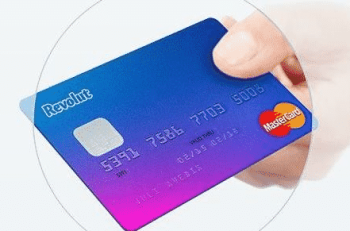 How do I get started?
You must be at least 18 years old to apply.
Firstly you need to open App Store or Google Play and download the Revolut app.
You need to verify the account with your phone number and can start adding money from your bank account or using a credit card (MasterCard or VISA).
If you want a physical card, and if you're planning to use Revolut for payments abroad you will need the card, you can order one for £5 via the app. There is an express delivery option for £12.
You will also need to verify your identity with your passport, driving licence or ID card if you want to spend more than a total of £500 with your Revolut card.
As well as the UK, you can also get a Revolut card if you live in:  Aland Islands, Austria, Azores, Belgium, Bulgaria, Canary Islands, Croatia, Cyprus, Czech Republic, Denmark, Estonia, Finland, France, French Guiana, Germany, Gibraltar, Greece, Guadeloupe, Hungary, Iceland, Ireland, Italy, Latvia, Liechtenstein, Lithuania, Luxembourg, Malta, Martinique, Mayotte, Netherlands, Norway, Poland, Portugal, Réunion, Romania, Saint Helena, Slovakia, Slovenia, Spain, St. Martin or Sweden.
How does it work?
You can top up your Revolut account by bank transfer, debit or credit card.  There is a 1% fee for credit card top ups.
My TSB credit card treats Revolut top-ups as a 'purchase'.  Comment online suggest that some credit cards treat Revolut as a cash advance (no points, cash fee) and others as a purchase (would earn points, no fee).  There could be potential here for 'purchasing' miles relatively cheaply if you had a very high earning Visa or MasterCard such as Virgin Black, although I haven't tested it with an MBNA card.
The  money will sit in your Revolut account in the currency you've topped up but you can move it in between your different currency accounts at the current spot exchange rate.  If you have a bank account in the UK, are travelling to the US in a couple of weeks and the current exchange rate feels exceptionally good, you could exchange your money in advance to avoid a possibly worse exchange rate later.  This works for the 16 currencies I listed above.
What does the app look like?
Below is a screenshot of the home screen.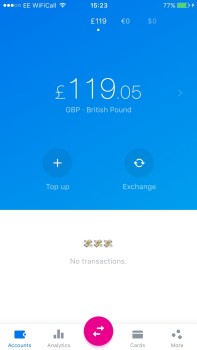 As well as showing your British Pounds, Euro and US Dollar balances, the home screen shows your last transactions.  Remember that Revolut can hold a balance in 16 currencies in total, not just these three.
At the bottom are further options: Accounts, Analytics, Transfer Options and Cards.
Spending money
The main reason I decided to try Revolut was to use it in stores and restaurants in New York without paying FX fees.
Let's get the annoying bit out of the way first:  you pretty much need to know how much you will be spending before leaving the house / hotel / wifi zone, in order to ensure your Revolut card has a high enough balance.  Outside Europe, you could be hit with a hefty mobile bill if you had to turn on data roaming just to top up your card.
Every store and restaurant accepted my card and I had no issues paying.  This is definitely a benefit compared to Supercard (which closes tomorrow anyway) and to a lesser extent Curve which are known to suffer from occasional declines.  Whenever I was connected to wi-fi I got immediate notifications of my spending.
Sending money
After my New York trip I had £119.05 left on my Revolut card.  As it's stupid to have money sitting on a card that doesn't pay you interest – and probably helps the company make money with your money – I wanted to transfer the money back into my bank account.
I had to set myself up as a beneficiary by entering my bank details manually and was then able to select the amount of money I wanted to transfer. I got a notification that I'd receive my money the same day and within less than an hour the money was in my current account.
As well as paying money back into your own account you can also pay another person or a business with your Revolut app. Simply add the bank details and your money will be transferred.
Your Revolut account can also double as a regular UK and/or Euro bank account.  Your card has its own sort code and account number.  This is how the company sees the product developing.  They hope that you will pay your salary into your Revolut account, use the card for all of your spending at home or abroad and also pay your bills with it.
The travel benefits being used to sell the card now are a loss leader to get you on board in order to offer you full banking later on, backed by the $66m they just raised.  Revolut already offers personal loans at an unhealthy 9.9% APR, with the money dropped instantly onto your card.
What else should you know?
Revolut isn't really free.  You find that out on the first day when you are asked for £5 to order your plastic card.
In theory all you need to do is top up your money and use Revolut as a normal payment card. It will exchange the currency automatically without adding fees.
That is unless you use the card at the weekend!  At the weekend Revolut uses the exchange rate from Friday and adds a 0.5% -1.5% mark up depending on the currency.
Free cash withdrawals are limited to £200 per month.  That won't get you far.  After that you pay 2%.
For very heavy users, even spending on the card is not free.  There is fee of 0.5% when you spend over £5,000 in any one month.
Here is an overview of the charges:
A spare Revolut card costs £5 + £5 delivery fee
Transfers to friends or businesses take two business days – you must pay £5 to get the money across in one business day
Transactions of up to £5,000 per month are free, thereafter the fee is 0.5%
At the weekend Revolut uses the exchange rate from Friday 23:59 and adds, for most currencies, a 0.5% mark up
Three currencies DO incur a fee when spending – Thai Baht (1.5%), Russian Ruble (1.5%), Ukrainian Hryvnia (1%)
You can withdrawal up to £200 per month from an ATM without paying a fee, but you pay 2% after that
To increase the ATM limit to £400 per month, you need to pay £6.99 fee each month to become a 'Premium' cardholder.  Premium cardholders also avoid the £5,000 per month cap on transactions.
Using a UK credit card to top up incurs a 1% fee.  For some reason, US debit or credit cards incur a 3%-4% fee.
Conclusion
The only alternative to Revolut on my New York trip would have been my American Express Preferred Rewards Gold charge card with a 3% FX fee.  Even though I would have earned 2 Membership Rewards points per £1 spent (foreign transactions earn double points) the Revolut option was still cheaper, assuming I value a Membership Rewards point at 1p.
Using Revolut instead of a credit card doesn't hurt your credit record.  Taking out a 0% card purely to use abroad may make it harder to get other credit cards unless you ask for a very low limit.
Obviously the FX rates are great and if you don't mind the hassle of having to top up your money via an app in order to use the card, Revolut is a good solution when travelling abroad.
However, as Rob keeps mentioning, there are other / better options as he discussed in this article which we published when the Travelex Supercard closure was announced.  Curve is a hybrid solution – you pay 1% on purchases but the transaction is recharged to any other Visa or MasterCard which could earn you up to 1% in rewards. (Curve is free and you will be paid £5 for trying it.)
Don't expect Revolut to be a long term solution.  It has recently introduced a whole bunch of charges and change that might not be obvious when signing up. For example, the fee-free ATM withdrawal limit has recently been lowered from £500 to £200 per month.  If you travel a lot, this can be an issue.  Another downside is the extra fee you have to pay for loading currency at the weekends.
I will definitely keep my Revolut card as it's very useful if I have to send money to Germany (I had to pay a fee of £10 last time I did this thanks to Lloyds) and for now I will suck up the hassle of topping up and transferring money back.
Long term I think I will look into the Lloyds Avios Rewards credit card, which has 0% FX fees on purchases (it does charge for cash withdrawals) and earns Avios on all transactions.
(Want to earn more miles and points from credit cards?  Click here to visit our dedicated airline and hotel travel credit cards page or use the 'Credit Cards Update' link in the menu bar at the top of the page.)