I get numerous emails from Head for Points readers asking for advice on which miles and points credit card they should get.  These often come with the caveat "but I don't want to pay a fee for a card".
I don't agree with this approach.  Let me explain why.
Most credit cards in the UK do not carry an annual fee.  It is very likely, before you became interested in miles and points, that you had never paid a fee for a credit card in your life.
I can see why you wouldn't want to.  You know that the card company gets a cut from the retailer every time you buy something.  You know that they add a substantial (3%) foreign exchange fee whenever you spend abroad, and whenever you end up withdrawing some cash on it (which, however much you try to avoid it, always happens once or twice a year).  You may accidentally miss a payment date occasionally and run up some interest.  Paying for the privilege of generating all this money for the credit card company seems wrong.
I think you need to look at it differently.  Forget that you are paying for a credit card.  Look at it as simply paying for the benefits offered.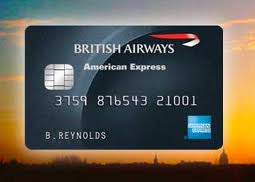 Taking the British Airways Premium Plus card as an example
Some people take one look at the £195 annual fee on the British Airways American Express Premium Plus credit card (representative APR 76.0% variable including £195 fee based on a notional £1200 credit limit) and are put off instantly.
Purely from the point of view of the sign-up bonus this is a mistake, of course.  The card is currently offering 25,000 Avios for signing up when you spend £3,000 within 90 days.  The majority of Head for Points readers would jump at the chance of buying 25,000 Avios for £195 which is basically what you are doing.
The fee becomes even more realistic when you look at the 2-4-1 voucher:
Would you pay £195 to buy a voucher which allowed you to get two Avios redemptions (BA planes only) for the miles of one?  This would save you 180,000 Avios on two Club World tickets to Tokyo for example.
This is clearly a 'no brainer' for anyone who understands the value of Avios.  180,000 Avios are worth at least £1,800 if used sensibly.  More importantly, if you wouldn't otherwise be able to earn enough Avios for two Club World tickets to Tokyo, it lets you undertake a trip that would otherwise be impossible.
You need to spend £10,000 to trigger the voucher each year, of course, but you need to channel your credit card spend somewhere anyway.  The £195 fee also lets you earn 50% more Avios on every purchase – 1.5 per £1 – compared to the free British Airways American Express card (representative APR 22.9% variable) and you get a 2-4-1 voucher valid for two years rather than one year.
If you think that spending £10,000 on an American Express card in a year is tricky, don't forget about Billhop.  We covered this new service a couple of weeks ago – it allows you to pay any household bill (not a mortgage or credit card) with an Amex card in return for a fee.  This is a good way of running up a few thousand pounds of Amex spend if you are short of £10,000.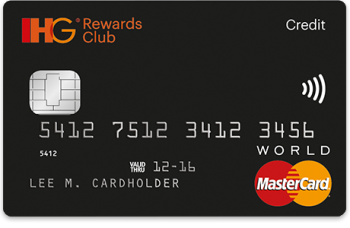 And some other examples
Here are some other examples where, if you treat the fee as paying for a benefits package, it makes sense:
Would you pay £99 per year for Platinum status (2nd tier) in IHG Rewards Club – which usually needs $4,000 of ex-VAT hotel spending – plus a free night in any of their hotels, potentially worth £250+? Especially if you got £100-worth of IHG Rewards Club points in the first year you signed up?
When you put it like that, the IHG Rewards Club Premium MasterCard sounds like a good deal.  You need to spend £10,000 per year to trigger the free night, but you need to put your credit card spend somewhere.
Would you pay £140 per year for the right to upgrade two Virgin Atlantic economy redemptions to premium economy?  Especially if you also got 18,500 Virgin miles in the first year?
When you put it like that, the Virgin Black credit card also looks good value (you need to spend £10,000 to trigger the two vouchers, or £5,000 for one).  That's before you factor in the '2 miles per £1' earning rate on the Amex.
Would you pay £450 per year to get full travel insurance for your family and five other nominated people under 70 years old, car hire insurance, Hilton Gold, Starwood Gold, Marriott Gold, Carlson Gold, Shangri-La Jade, Melia Gold, Eurostar lounge access, Delta lounge access, two Priority Pass cards each admitting two people for free to 1000 airport lounges, and exclusive benefits at luxury hotels including guaranteed 4pm check-out?  Especially if you got 30,000 Avios or other miles in your first year?
This is clearly more of a 'heavy hitters' package, but the American Express Platinum charge card will give you all of the above.
Not all credit cards justify their fee …..
I don't want to suggest that all fee-bearing miles and points cards justify the annual fee.  I struggle with the Tesco Premium MasterCard (unless you spend £5000 per year in Tesco and earn the 5,000 Clubcard points bonus), the new American Airlines card (unless you are a very heavy spender and maximise the 1.25 miles per £ on a Visa) and the Emirates Elite card (again, it only works if you spend a huge amount to maximise the MasterCard 1 mile per £1).  I did see someone in our office building last week using an Emirates Elite card in the cafe so they are out there!
However, if you can get your head around the concept of paying an annual fee, you will find that many miles and points card do offer value for money.
(Want to earn more miles and points from credit cards?  Click here to visit our dedicated airline and hotel travel credit cards page or use the 'Credit Cards Update' link in the menu bar at the top of the page.)