Book review: 'How To Land A Plane' by Mark Vanhoenacker
Links on Head for Points may pay us an affiliate commission. A list of partners is here.
If you are a long term HfP reader you might remember Rob's book review of Mark Vanhoenacker's 'Skyfaring – A Journey with a Pilot' about two years ago. Mark Vanhoenacker is a British Airways Boeing 747 pilot who regularly writes for several publications including The New York Times and Skyfaring was his first published book.
Now Mark's second book has been published as part of Quercus' 'Little Ways to Live a Big Life' series. The other titles are How To Play The Piano, How To Count To Infinity, How To Draw Anything and How To Understand E=mc2.
The publisher kindly sent us a copy of How To Land A Plane and here is my review. Although, to be honest, I'd also have liked How To Draw Anything as I can only draw clouds……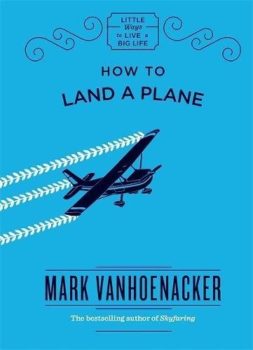 I'm not scared of flying. If I was I'd certainly have the wrong job and should not be jetting off to write hotel and flight reviews. I do, however, get nervous every time the captain announces 'cabin crew seats for landing' as this announces my least favourite part of every flight. For some reason my mind starts playing all kinds of scenarios that all lead to the plane bursting into flames …….
I obviously wasn't too keen on reading a whole book about a plane landing.
But I'm glad that I did.
How To Land A Plane allows the reader to take the captain's seat, which itself is kind of exciting. If you've ever looked properly at a picture of a cockpit you should have noticed a vast amount of switches, levers and screens and asked yourself how someone can memorise them all and use them at the right time.
Mark Vanhoenacker uses a lot of illustrations and takes the reader through the landing step by step. Whilst a plane landing is a very technical thing you don't need any technical knowledge to understand what's happening in the cockpit.
Of course this book doesn't replace professional flight training but it does help understand the skills it takes to bring a plane safely to the ground. You even learn what those runway markings are.
If you have an hour to spare, preferably whilst on a plane, How To Land A Plane is a great book choice. It has only 58 pages and is very easy to read.
The RRP of £9.99 for the hard copy version seems slightly overpriced, but Amazon is currently selling the book for £6.94.  It would make a decent stocking filler for any aviation enthusiasts or business traveller in your family.