I try Flybe from Heathrow to Edinburgh – a good Avios-earning BA alternative?
Links on Head for Points may pay us an affiliate commission. A list of partners is here.
Back in March, Flybe launched flights from London Heathrow (Terminal 2) to Edinburgh and Aberdeen.
As you can both earn and spend Avios on Flybe, I thought it was worth checking the service out.
Why did Flybe launch these routes?
To understand why Flybe is running what may be commercially suicidal services, we need to go back to the acquisition of bmi British Midland by British Airways in 2012.  As part of the competition remedies put in place at the time, BA had to make certain Heathrow landing and take-off slots available for competing services to Edinburgh and Aberdeen.
Virgin picked up these slots and launched its ill-fated Little Red services.  These were well-run flights (I reviewed one here) but hampered by the costs of wet-leasing aircraft and crew from Aer Lingus.  When Little Red closed, the Heathrow slots reverted to British Airways but had to be made available if a new competitor came forward who wanted to run flights from Edinburgh and/or Aberdeen.  And along came Flybe …..
If Flybe runs the services for three years, it can keep the slots.  They can then be used for any destination in Europe, Moscow, Cairo or Riyadh, so we may see Edinburgh and Aberdeen disappearing.
Earning Avios with Flybe
You can earn and redeem Avios on these services as Flybe uses Avios as its loyalty programme.  Because Flybe awards Avios based on £ spent after taxes, it is possible that non-status BA passengers may earn more Avios on pricey peak time flights on Flybe than they would on BA!
If you normally only receive 125 Avios each way on a BA domestic flight to Edinburgh or Aberdeen, Flybe may be more generous.  You won't receive any tier points however.
This HfP article outlines how to earn and spend Avios on Flybe.
The services
Flybe is running daily services to Edinburgh and Aberdeen.  I decided to try out the 11.20 Edinburgh service last week.
The flights use a Dash 8 400, which isn't something you see at Heathrow very often!: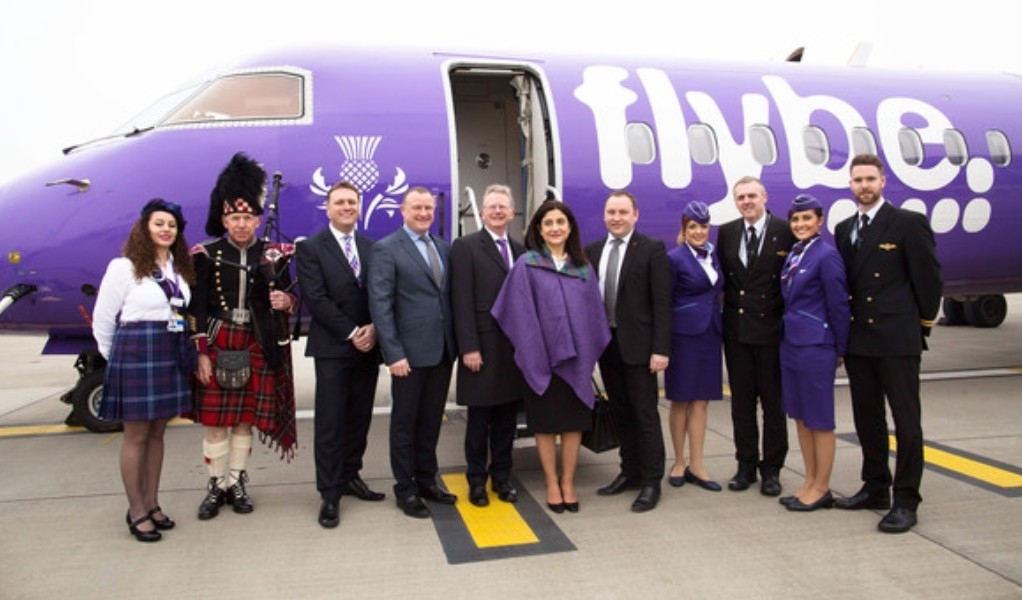 Services go from Terminal 2 at Heathrow, as only Termnal 2 and Terminal 5 are set up to cater for domestic passengers.
Booking and check-in
I booked my flight via avios.com.  The cost was 4,500 Avios plus £32.70 of tax for a one-way ticket.  Had I flown on British Airways, it would have cost between 4,000 and 4,500 Avios, depending on whether it was a peak day, plus £17.50 of tax.
You are immediately at a £15.20 cost disadvantage for choosing a Flybe redemption.
Because of the high taxes, Avios redemptions on Flybe are usually bad value.  However, I only booked this flight 48 hours in advance so it did work out.
Flybe's IT is antiquated, unfortunately.  Here are a few problems I ran into:
Bookings via avios.com come with a free suitcase, yet when I looked up my booking on the Flybe website via 'Manage My Booking' it said it was 'hand baggage only'.  As I wasn't checking a bag, I couldn't test this out.
You cannot pay for seat selection on an Avios ticket.  You get what you get when you check in, with no ability to change it.  This seems like a way of throwing money down the toilet for Flybe.  As it happens, the Dash 8 planes are 2×2 seating so there are no bad middle seats.  I was the 4th person to check in and got 15B!
Whilst you can check in via the Flybe app, you cannot save the boarding pass to 'Wallet' on your iPhone.  You need to reopen the Flybe app to see it.
None of this filled me with any enthusiasm before I arrived at Terminal 2.
At the airport
Security was virtually deserted when I arrived at 9.30am so the lack of any priority clearance made no difference.
I headed to the Plaza Premium lounge, getting in via my Priority Pass.  It is also part of the Amex Gold Lounge Club scheme.  This is an excellent lounge which I last reviewed here so I won't cover it again.  It is the only Priority Pass option in Terminal 2.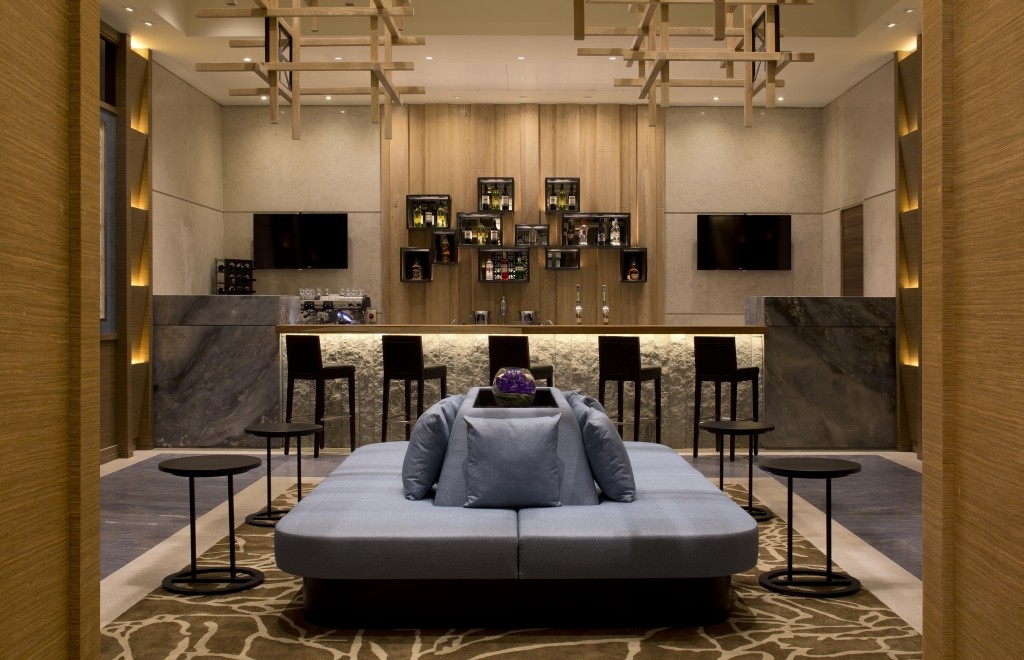 In terms of design, it might be the smartest lounge at Heathrow.  It also has excellent food, potentially the best of any of the third party lounges at the airport.  The only thing it lacks is natural light, but the designers chose to make that a feature, going for as near to 'cosy' as a busy lounge can get.  You can buy passes here if you want to try it out.
Boarding
Here was my first surprise.  Sent off to Gate A1, I didn't realise that I was going to be bussed: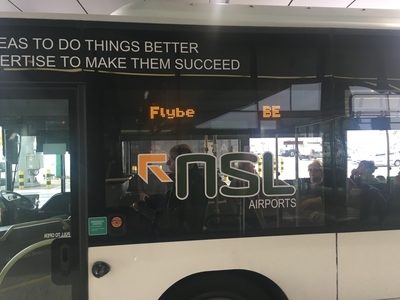 I should probably have guessed, given that Terminal 2 isn't designed to handle Dash 8 aircraft.
My aircraft for the day was painted in the old Flybe colour scheme rather than the new purple: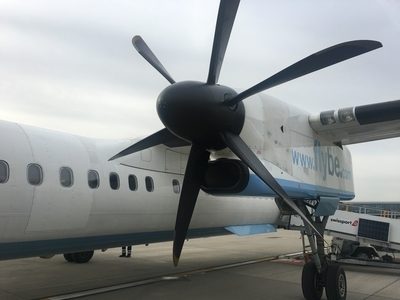 Leg room back in Row 15 was, as you can see, adequate: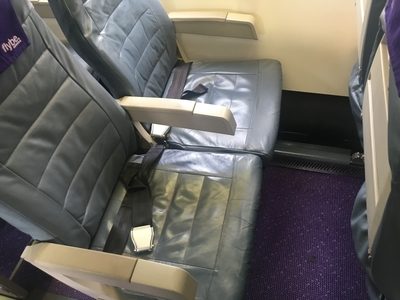 and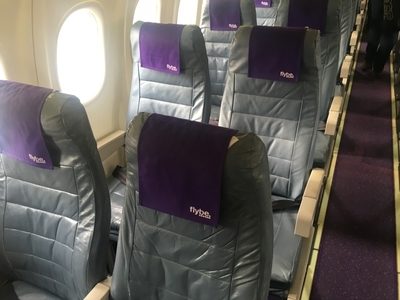 Someone came and took the seat next to me.  However, a flight attendant soon turned up and offered me the empty row in front.  It turned out the flight had fewer than 30 passengers for a 78 seat 'all economy' capacity.
In-flight
The first thing you notice is that, because the plane is short and the engines are long, most seats have an obstructed view from the window.  You would need to be at the very front or very back to get a decent view out of the window.
A Dash 8 is not the perkiest aircraft around.  Maximum speed is only 410 mph and it can only climbed to 25,000 feet.  Neither of these are a real problem on a short hop to Edinburgh.
Whilst the aircraft was clearly noisier and a little shakier than a jet, I forgot all about it after a minute or so.
Service
Flybe has buy on board.  The menus, frankly, were a disgrace.  Mine was literally falling apart and was badly crumpled.  There is no excuse for this, given the low cost of producing them.  How are you meant to excite people in your offering with a tatty menu?
Apart from three sandwiches and a tapas offering, everything was pre-packed processed food – crisps, pringles, peanuts, Itsu prawn crackers, and rice cakes, chocolate bars etc.  There was a decent selection of teas, but hardly a bargain at £2.50 per cup.  Coffee and hot chocolate was the same price.
Alcohol was more interesting, with a collection of niche gins (Caorunn, Opihr, Whitley Neill) alongside Bombay Sapphire, Gordon's and Tanqueray.  The other drinks were also more upmarket – Pip organic juices, Fever Tree, San Pellegrino canned juices etc.  Prosecco is £6 for a 200ml bottle.
As I'd had breakfast in the lounge, I decided to pass.
Landing
At Edinburgh, I again found myself without a gate.  It had started to rain by this point and I had to cross the tarmac without cover.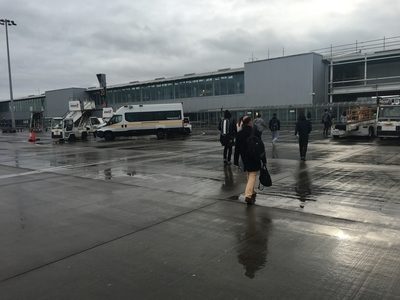 Conclusion
This is how I rate the various aspects of the flight vs British Airways for a flight FROM London Heathrow on Flybe:
Check-in / Manage My Booking – clearly a win for BA.  Flybe has a lot of work to do on its app although you can still do mobile check-in and get a boarding pass.
Terminal environment – Draw.  Terminal 2 is as pleasant as Terminal 5 and, because I don't use it very often, I always enjoy going there.  I am also a fan of Terminal 5 but a change now and then doesn't hurt.  Only Terminal 4 at Heathrow depresses me.
Lounge – Draw.  If you can access the Plaza Premium lounge in Terminal 2, you will find it as pleasant, with better food and drink, than the British Airways Galleries lounge in Terminal 5.  Whilst Plaza Premium is about to open a lounge in Terminal 5, it will be smaller than Terminal 2.  (If you have BA status but no Priority Pass, this is clearly a win for BA.  If you have a Priority Pass but no BA status, this is clearly a win for Flybe.)
Boarding – the use of Dash 8 aircraft means that you will always be bussed to your plane, which is not ideal.  If you land in bad weather you will also get wet walking across the tarmac on arrival in Scotland.  A win for BA here.
Plane comfort – with 2×2 seating, you will avoid a middle seat with Flybe.  The Dash 8 is a far smaller aircraft than an Airbus A319/320/321, however, and the ride is a little wilder, but fine.  If the Flybe flights are always under 50% full, as mine was, it will be more pleasant than BA.   (Coming back I had a full British Airway seven-across Boeing 767.)  Win for Flybe if your aircraft is fairly empty.
Food and drink – frankly, both BA and Flybe have uninspiring buy on board menus.  Draw.
Rewards – you will earn Avios on both British Airways and Flybe, although only flights on British Airways will earn you Executive Club tier points.  Draw, unless you need the tier points.
Overall, if you have a Priority Pass or Lounge Club card to get you into the Plaza Premium lounge in Terminal 2, I would recommend giving the Flybe service a try next time you head to Edinburgh or Aberdeen.  It is no worse than British Airways, apart from the bussing to the aircraft, and it is always good to check out the competition.
The Flybe website is here if you want more information or to book.