Bits: IHG 'buy points bonus' last day, Avios 'dynamic pricing' job, more Plaza Premium T5 photos
Links on Head for Points may pay us an affiliate commission. A list of partners is here.
News in brief:
IHG's extended '100% buy points bonus' ends today
IHG Rewards Club – the InterContinental, Holiday Inn, Crowne Plaza etc scheme – extended its recent '100% buy points bonus' promotion but IT DEFINITELY ENDS TODAY. It is as generous an offer as you will ever see for IHG points.
The page to buy points is here.
The offer is targetted but very widely targetted, so it is very likely you will see it on your account. Here are the standard purchase rates which do NOT include the bonus:
1,000 – 10,000 points for $13.50 per 1,000 points
11,000 – 25,000 points for $12.50 per 1,000 points
26,000 – 60,000 points for $11.50 per 1,000 points
I receive a 100% bonus with any order of 5,000 points or more. Some people seem to have a higher minimum, as high as 25,000. Some people also seem to have been offered a cash discount on top of double points for buying the full 60,000 points, although I did not receive that.
With a 100% bonus, you would be able to buy 120,000 IHG points for (at current exchange rates for $690) £525. This assumes your credit card has 0% FX fees.
At the top end of the IHG Rewards Club portfolio, you have InterContinental properties which top out at 50,000 – 60,000 points per night. That's what you would pay for InterContinental Le Grand in Paris or the InterContinental Amstel in Amsterdam.
With a 100% bonus, IHG is effectively selling you a night at a 50,000 point property for £219 all-in. A 60,000 point hotel would be £262. At the bottom end, the points for a 5,000 point PointBreaks night would cost just £22.
You should look at this if you have a 'buy points' target for your Accelerate promotion – although it makes more sense to buy 5,000 and get the bonus than buy 1,000 for no bonus. If you are topping off your account, it is also a good deal irrespective of the exact cents per point cost. The maximum number of points you can buy per year is 120,000 (ie 60,000 plus the 60,000 bonus).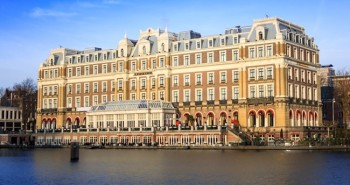 Some more clues about Avios 'dynamic pricing'
British Airways is planning a move to 'dynamic pricing' for Avios redemptions, it was disclosed at the Investor Day presentation last week (read more here).
If you want an idea of what that may involve, take a look at this job description that appeared on the Avios website last year. You can download the full job spec, which remains on the Avios website, as a PDF here. £55,000 – £60,000 was on offer.
Here is what someone, assuming they filled the vacancy, is now doing (hat-tip to Flyertalk):
"The role is responsible for the dynamic pricing of rewards for members of the loyalty programmes that use Avios as their reward currency, delivering the right product at the right price and at the right time, in order to best maximise margin and the satisfaction of members to drive engagement. The Senior Pricing Manager will work closely with the pricing team, product teams, marketing, and other members of the Avios and relevant travel partner commercial teams to manage inventory and drive ongoing pricing strategies, as well as providing critical input to the tactical promotion process. The Senior Pricing Manager will provide analysis, advice and recommendations to drive the pricing strategies, with support from the Avios management team in line with stated commercial objectives.
This is a dynamic cross-functional role that requires excellent organisational and analytical skills, commercial awareness and a passion for delivering results.
What we are looking for…
Deliver the budgeted margin on redemption for the Avios currency (cost per avios)
Deliver Avios redeemed and cash on redemption targets
Use price to drive volumes back to suppliers at optimal levels to drive value through the chain
Directly responsible for the "dynamic pricing portfolio" and strategies to deliver the above
Support the development and implementation of "Pay with Avios" with partners
Work closely with Customer Insight & Analytics to determine the impact of price or inventory changes on customer satisfaction and long term loyalty
The role will be key in managing the transition to new dynamic pricing system capability, ensuring processes are robust and accountabilities between internal stakeholders are clear
Ownership of the maintenance and development of dynamic pricing systems and rules engines
Support, manage or own (as appropriate) CAPEX / OPEX projects involving customer price
Work with the Head of Pricing to develop integrated pricing strategies across existing products
Support continuous improvement and consistency of the reward pricing propositions across products, markets and schemes"
Some reader pictures from inside Plaza Premium Terminal 5
Yesterday we ran some PR pictures of the new Plaza Premium lounge in Heathrow Terminal 5, which opened on Monday.
At present the only way to get in for free is via Dragonpass or by showing an American Express Platinum charge card.
It looks similar to the Aspire lounge in terms of scale (not surprising, as they are in identical spots in the terminal, but on opposite sides):
…. but with a better use of space:
and
and
You can find out more on the Plaza Premium website here.