Review: I review US pre-clearance in Dublin and the '51st and Green' lounge
Links on Head for Points may pay us an affiliate commission. A list of partners is here.
This is my review of the "51st and Green" preclearance lounge at Dublin Airport as well as the overall US preclearance experience.
It is the third part of my series on how you can redeem Avios on Aer Lingus for long haul flights to the US and Canada.  With far lower taxes and charges than redeeming for British Airways flights, and with a superior Business Class seat, it is something that all Head for Points readers should be considering.
The first two parts of the series are here and here.  As a reminder, Aer Lingus gave us our flight for nothing but Head for Points paid for all of its other expenses except for my hotel in Boston, which was donated by Hilton.
One clear advantage when flying to the US from Dublin on Aer Lingus is that you clear customs and immigration in Dublin and land at a domestic terminal in the US.  This is especially useful if you're flying into a very busy airport where this process can take hours on a bad day.
That said, as I live in London, I had to get to Dublin first …..
London to Dublin
Living in London, there are two options of travelling to Boston via Dublin with Aer Lingus. You can either fly out of Gatwick or Heathrow. My preferred choice was Heathrow.
Aer Lingus flies out of Terminal 2 which I use very rarely. The flight from London Heathrow was operated by an A320 with Economy class only.
I was able to use Priority Check-In due to my connecting business class flight.  I was not, however, able to use Fast Track security with my Economy ticket out of Heathrow. My BA Silver status didn't help either, even though it would have got me into the Aer Lingus lounge in Terminal 2 (reviewed here).
My onward business class ticket did give me Priority Boarding, which was helpful due to the plane being fully booked and everyone bringing a carry on suitcase on board.
The plane looked a bit dated and the space between me and the folded down table was slim to none.
The Aer Lingus buy on board menu looked ok.  I didn't order anything as the flight was only one hour, I had just left one airport lounge and was flying rapidly towards another.  Hot drinks were €3, porridge €3.50, various sandwiches including a vegetarian focaccia €5 and full Irish breakfast (which is served before 11am) €10.
How does U.S. Preclearance at Dublin work?
Once I got off the plane in Dublin I followed the signs to Connecting Flights and then the signs to US Preclearance. It was a bit of a walk which took me through the Duty Free store.
There is an Aer Lingus lounge on the way to US Preclearance.  However, as it is advised to go through Preclearance two hours before your flight, I decided to give the Aer Lingus lounge a miss and only check out the "51st and Green" lounge after immigration.
I did visit the Aer Lingus lounge on my way back home and that review will follow in a few days.
There are two lines at US Customs and Border Protection, one for Economy and one for Business Class passengers. Over all it wasn't too busy despite there being about six scheduled US flights at that time.
The first step was TSA security check.  I found this slightly confusing as every passenger should have been through security already at this stage, but is apparently due to the fact that you can purchase certain food at Dublin Airport which you're not allowed to bring to the US.
Next stop was the self-service kiosk to clear customs. As I was travelling on an ESTA I simply scanned my passport, had my picture taken, filled out a couple of questions on the screen and got my Preclearance receipt (without a big X) which I handed to one of the officers who asked me a couple of questions and that was it.
It was all very painless.  More importantly, it felt easier to go through the process at the beginning of my trip rather than on arrival.  It is never good to face a long immigration queue after a long flight when you are usually keen to get to bed as soon as possible.
The '51st and Green' Preclearance lounge at Dublin Airport
I had about 2 hours until departure of my flight to Boston so I went to the relatively new "51st and Green" lounge (Dublin seen as the green 51st state of America).
The Preclearance lounge is located at the far end of the departure lounge.  It is run by the airport, not Aer Lingus, and you can access it for cash if you are not flying in Business Class.  It is not part of Priority Pass.  The walk-up price is €39 and you can find out more here.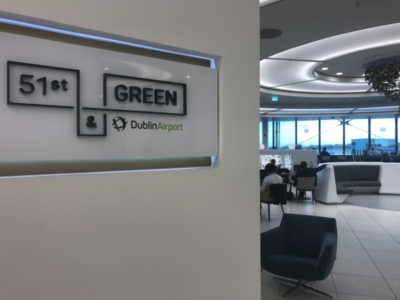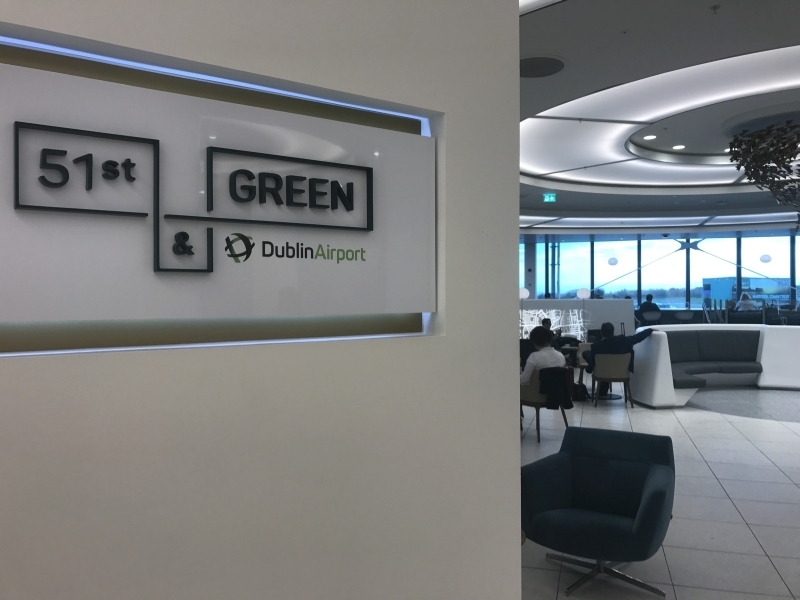 The lounge was very busy when I got there and I was lucky to get a table. It got better over time though and I even got one of the comfortable arm chairs.
It was rather difficult to find a quiet spot as the lounge is pretty much a round hall with several sitting areas.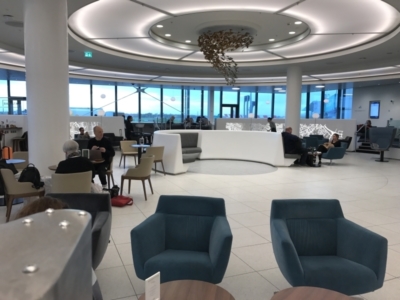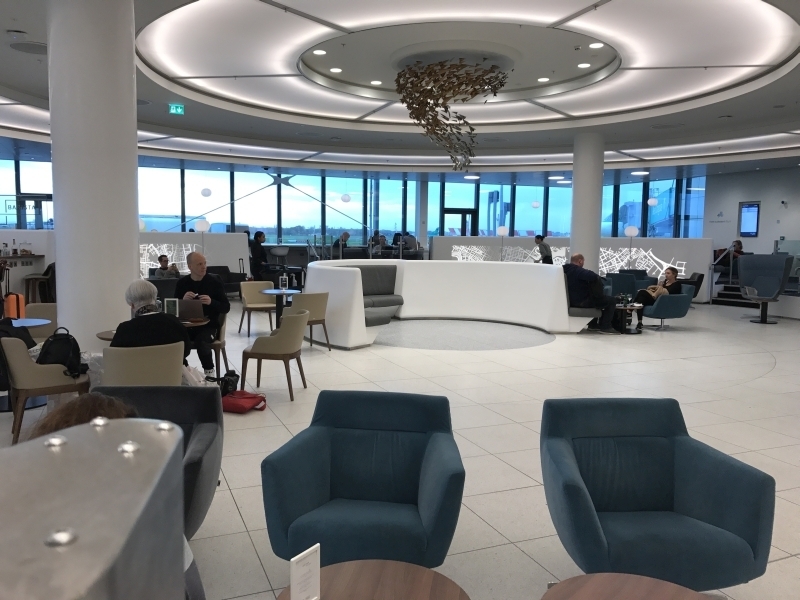 and….
There were further seats by the floor to ceiling windows.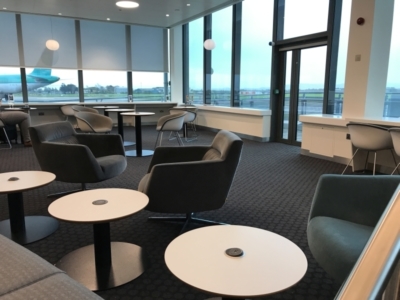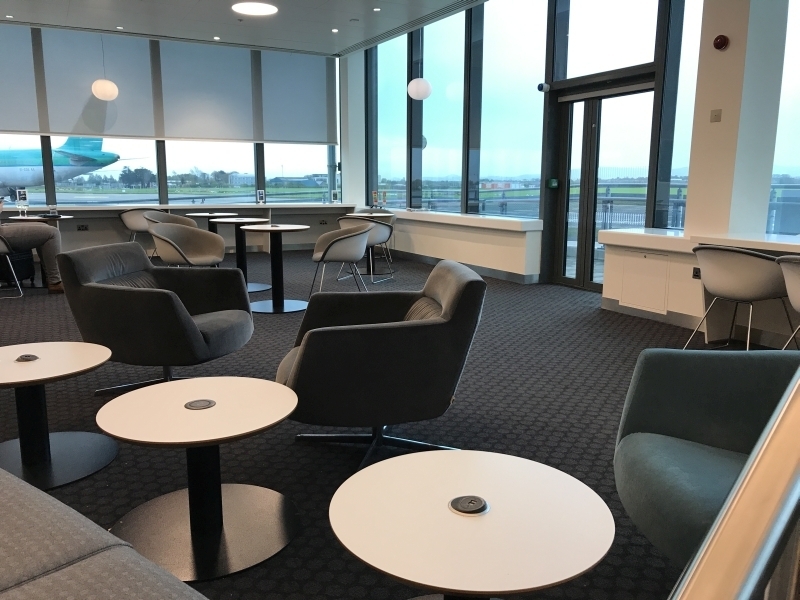 The food selection was great with various salads, bread, soup, cheese and fish as well as a pancake maker and a selection of muffins.
I asked for gluten free bread and was lucky as they still had some in the kitchen.
There was also a pay for menu:
Hot and spicy chicken wings with American blue cheese dressing – €7.95
Barbequed cajun chicken burger, carrot slaw, Dubliner cheddar, barbeque relish – €10.50
Irish coastline fish pie, topped with creamy mashed potato – €9.50
Mamma's style macaroni and cheese – €8.50
I didn't order anything but do regret that I didn't try the chicken wings as American blue cheese dressing is pretty awesome…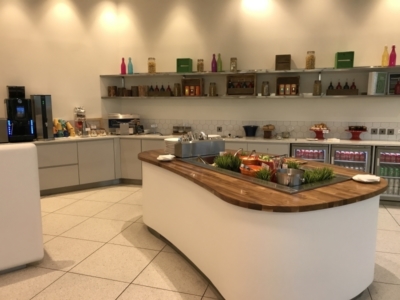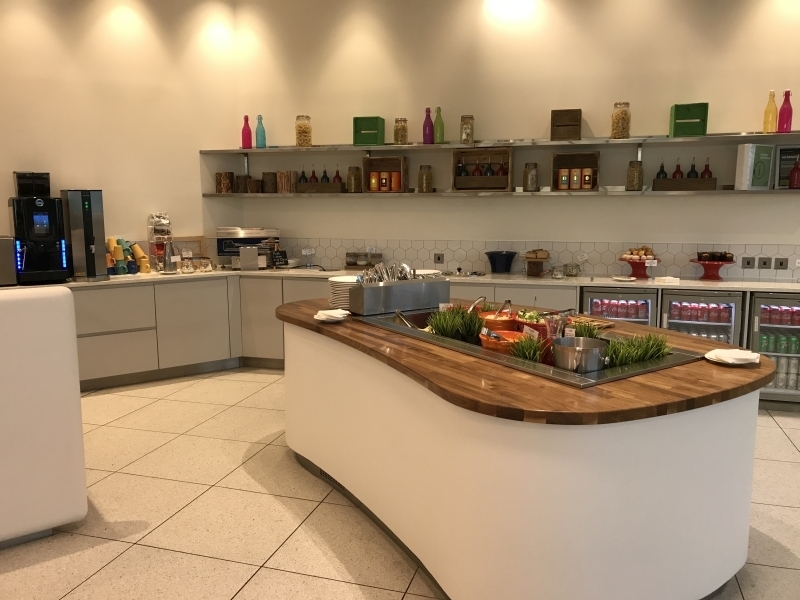 The staffed bar had two different red wines, two different white wines, beer and Guinness as well as a fancy coffee machine. There was no champagne available.
The newspaper selection was limited to The Irish Times. I couldn't see any magazines in the lounge.
Conclusion – how was Dublin's preclearance experience?
All in all the preclearance experience at Dublin Airport was fantastic.
I've never been through US customs that quick and the preclearance lounge served its purpose – although a glass of champagne or at least prosecco would have been nice as would have been a selection of glossy magazines.  Getting through the formalities at the start rather than the end of your flight makes a big difference to the experience.
Tomorrow we'll take a look at Aer Lingus Business Class itself – click here for my Aer Lingus Business Class review to Boston.
(Want to earn more Avios?  Click here to visit our home page for the latest articles on earning and spending your Avios points and click here to see how to earn more Avios from current offers and promotions.)