TODAY ONLY: Win one of five copies of "How To Land A Plane"
Links on Head for Points may pay us an affiliate commission. A list of partners is here.
Thanks to Quercus Books we have five copies of 'How To Land A Plane' by Mark Vanhoenacker to give away by midnight tonight.
Vanhoenacker is a British Airways Boeing 747 pilot and an established magazine and newspaper contributor. 'How To Land A Plane' is his second book after the highly successful 'Skyfaring', which Rob reviewed here.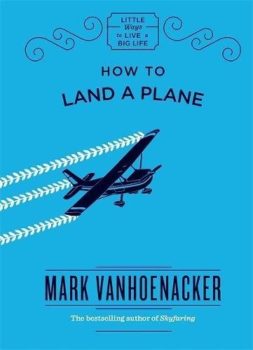 About 'How To Land A Plane'
I reviewed 'How To Land A Plane' a few weeks ago – you can find my review here.
Rather than repeating my own opinion, here is an extract from Mark's introduction:
'Like many pilots, cabin crew, and devoted fans of the window seat, I tend to think of my love of flight as simultaneously planet-sized and profoundly personal. We move like mere dots through the new immensity of the sky, we see our home so small and far below us on the unfamiliar enormity of the earth, and yet even as flying makes us feel so tiny, it uplifts us. What else does that? I'm never surprised when I hear people describe flying as an almost religious experience, nor when I encounter soaring language, wings, and elevated perspectives in sacred images and stories that far predate the Wright Brothers.'
Don't be fooled by the prose above though – the book is actually a genuine no-nonsense 'how to' guide on landing a plane, showing you exactly what the pilot has to do.
Competition
As always we are using Gleam to draw the winners.
All you need to do is fill out the widget below by midnight today, Monday. We will contact you for your postal address if you are one of the winners.
You must be a UK resident to enter.
If you are not lucky enough to win one of the five copies, Amazon is currently selling the book (which is hardback) for £3.99 which is even less than the Kindle version. The RRP is £9.99 for the hard copy version so you are getting a 60% discount.
It would make a decent stocking filler for any aviation enthusiast or business traveller in your family – or for yourself. Good luck.