When Lee won our Christmas Party raffle ….
Links on Head for Points may pay us an affiliate commission. A list of partners is here.
If you were at our Christmas Party in December, you will remember that the star raffle prize was a business class ticket to any destination of your choice on Qatar Airways who generously sponsored the event.
The winner was Lee – see photo below.  Lee is the one who hasn't got his arm around the (then) UK marketing head 🙂
He just dropped us a note to tell us about his prize flight:
"I thought I would send you both an email to say I took the Qatar Airways flights that I won at the HfP Christmas party to Tokyo and arrived back last week. Qatar Airways exceeded my expectations and the whole trip was excellent.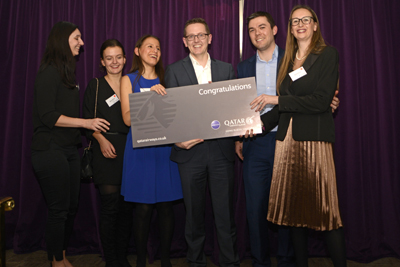 I exchanged a few emails with Qatar Airways to arrange the flights and gave a selection of dates that suited me in the hope they could arrange one of the flight combinations. I also asked them if it was possible to get on the A380 and the 777 Qsuite so I could experience all of the best cabins and to my surprise they managed to arrange exactly that for me! A week before I went they changed the 777 Qsuite flight for DOH-LHR to an A350-900.  This was a brand new A350-900 with Qsuite which was delivered a week before I flew on it!
The A380 daytime flight (10:50) from LHR-DOH was excellent; the seat was really spacious and very comfortable, Bric's amenity kit, Lanson champagne, and crew that couldn't be more helpful. The whole flight had just over 90 people on-board; 12 in business, 0 in first, 69 in economy. The business class cabin had almost 1:1 crew to passengers! I had some really good food and wine during the flight, and also visited the bar and stood chatting to the crew who were running the bar for the flight whilst sampling a couple more drinks and snacks.
I had a 6.5 hour connection in Doha on my way out, but that was fine as I got to experience the amazing lounge, showers, restaurant, and bar before taking the ~12 hour late overnight flight to NRT. There was plenty of food available in the restaurant and the staff were pleased to help wherever they could. It was also refreshing to get a shower before the next long flight to Tokyo.
The 777 to Tokyo was a 2x2x2 business class cabin and had loads of room at each seat. I didn't have anyone next to me so I had even more room and nobody to disturb when moving from the window seat. Although it wasn't quite as comfortable as the A380 I managed to sleep well for the first half of the flight which was great for an evening landing in Tokyo and fighting off the jet lag. Again, the crew, the food, the Giorgio Armani amenity kits, The White Company sleep suit, and lie flat bed, all very good! The flight was about 45 minutes late taking off due to a technical fault but this was quickly resolved and they kept us updated throughout. As it was a 2:20am flight, I was glad to finally sleep!
Coming back from NRT to DOH, I visited the JAL lounge and had some excellent Japanese food before the next overnight flight (22:20) on the same 777 with a 2x2x2 cabin. I had a middle aisle seat on this flight which was just as comfortable and as much room as the DOH-NRT flight. The service may have been slightly slower than outbound but it was completely full in comparison and an evening service to contend with, but still all the crew were very attentive throughout.
I had shorter connection on the way home in Doha of 3 hours which meant I could have another quick shower and get ready for the last flight in Qsuite, right at the front in 1K! I didn't know at the time that it was a brand new plane but I did notice a number of times how it had that 'new car/plane' smell! The crew showed me to my seat and explained where and what everything was and had the champagne and hot towels ready to go. My first thought was "this is amazing, it's an actual suite with a closing door!".
As it was a daytime flight (06:35) back to LHR I didn't have any reason to sleep which was good because I could experience the Qsuite, but not so good because I didn't get to see how well I slept! Just like the other 3 flights, the crew were excellent, the food was fantastic, more Bric's amenity kits, and an ultra-comfortable seat (which probably had less than a dozen people in it) with a large and really responsive touch screen entertainment system. The crew popped by every so often to see if I wanted anything and were always available otherwise. I didn't see much of the other suites, but the double and quad suites look fantastic for travelling with other people. 
We landed back in Heathrow on time and the staff waved us goodbye, and I realised how much I wanted to fly with Qatar Airways again! This is the first time I've flown with Qatar Airways after having many flights with BA and continued loyalty with them. Other than a few minor things with BA they've always been good and I've always been loyal. However, Qatar Airways are on a whole new level with their service and business class cabins.
To sum it up; Qsuite, the crew, the food and wine/champagne, the seating and cabin, the A380 bar, the whole A350-900, Giorgio Armani, Bric's, and The White Company, the lounges and staff – all fantastic."