We review the new Singapore Airlines A380 First Class suites on a private tour at Heathrow
Links on Head for Points may pay us an affiliate commission. A list of partners is here.
Back in November Singapore Airlines announced a new look to their A380s with impressive new First Class suites and Business Class seats.
Singapore – Sydney was the first route to get the new seats and the new configuration can now also be found on some flights out of Heathrow.  It is initially being installed on the five new A380 aircraft being delivered at the moment but it will be rolled out to the existing fleet later.  It is a lengthy process though, with each conversion set to take four months.
We were invited to Heathrow Terminal 2 to have a look around the aircraft during the few hours in between flights – obviously we wouldn't have said no to actually flying to Singapore in the new suite but …….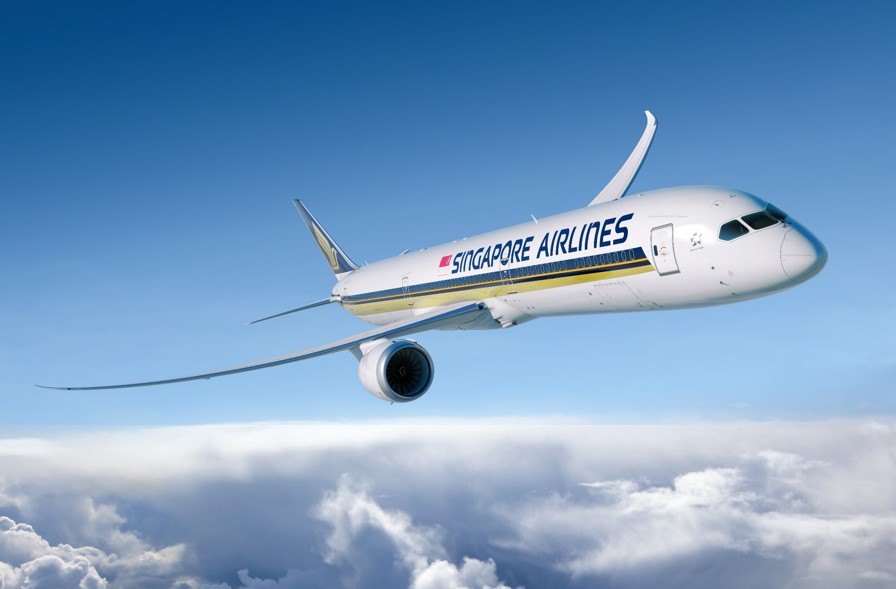 There is a special section of the Singapore Airlines website dedicated to the new A380 seats which you can find here.
New Singapore Airlines First Class Suites
The number of First Class suites has been cut from 12 to 6 with the new design.  (Click on any of the pictures to enlarge)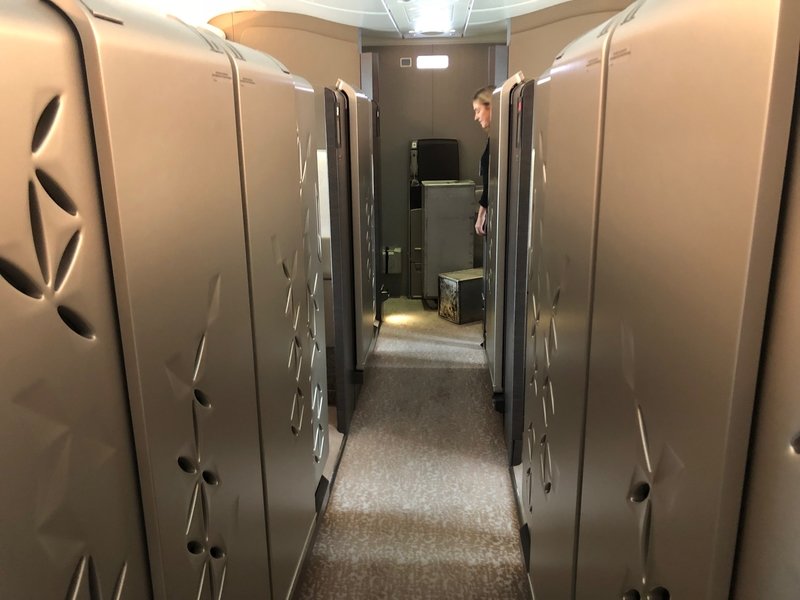 All six First Class suites are now on the upper deck with a dedicated staircase. The Business Class cabin is also on the upper deck but accessible via a different staircase.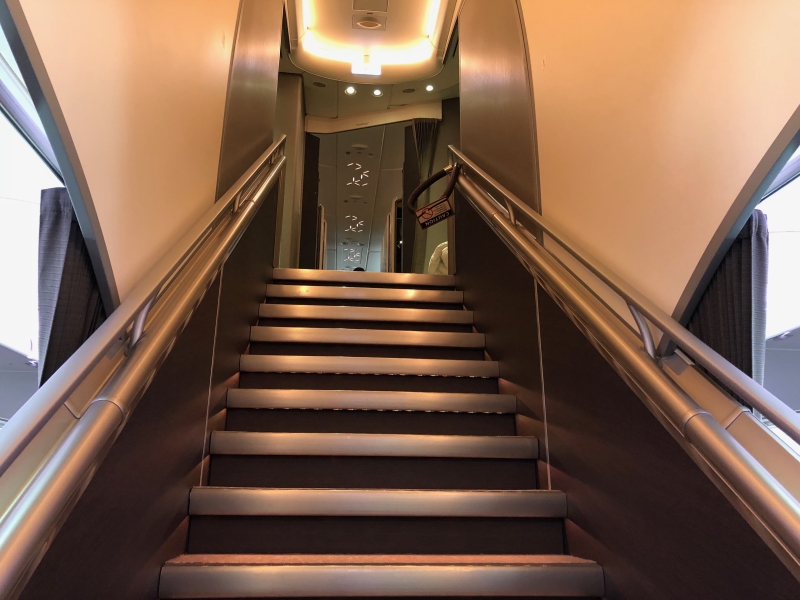 Even by the usual high standards of Singapore Airways, this new product is impressive.  Each suite contains a bed, a swivel chair and a work area which effectively serves as a desk.  It is an office in the sky.  There is also a fairly large dining table which can be folded up (in the picture below underneath the shelf with the flowers).
There is a large TV screen as well as a tablet in every suite too – just swivel your chair around to watch.  It is probably as near to being Captain Kirk as you are likely to get.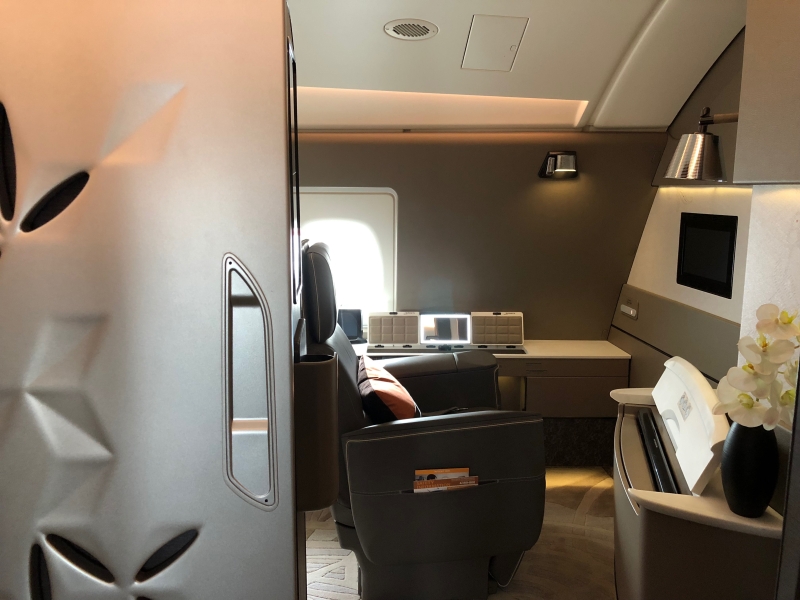 Luxurious carpets give the suite a very homely touch.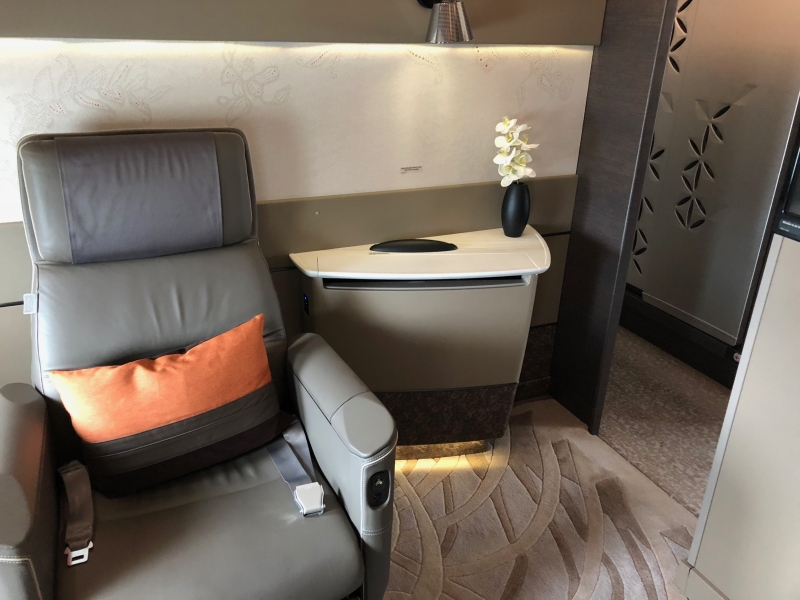 Alongside the window is a long shelf-like surface with various storage units and a mirror.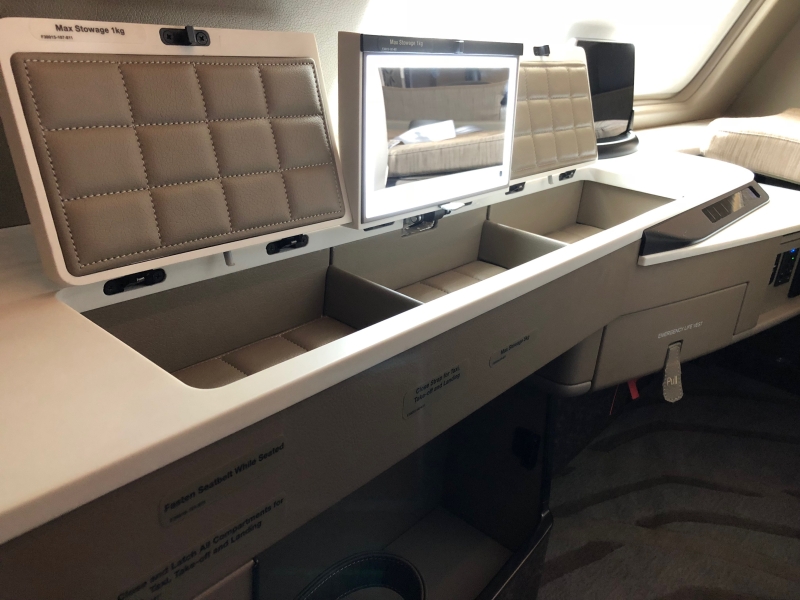 I can confirm that the seat is very comfortable.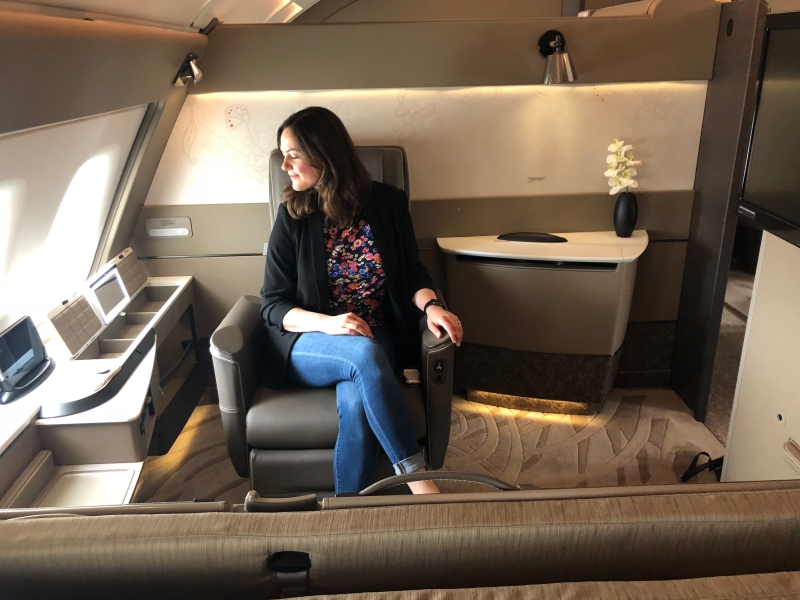 When travelling as a couple the divider can be pulled down which opens up the space and also makes it brighter.  If the suite next to you was not occupied I would ask the crew to do this for you.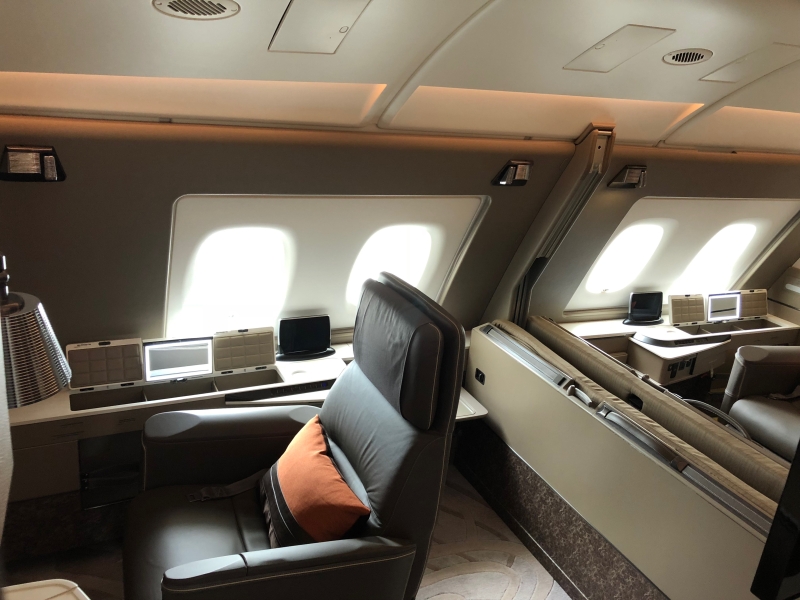 and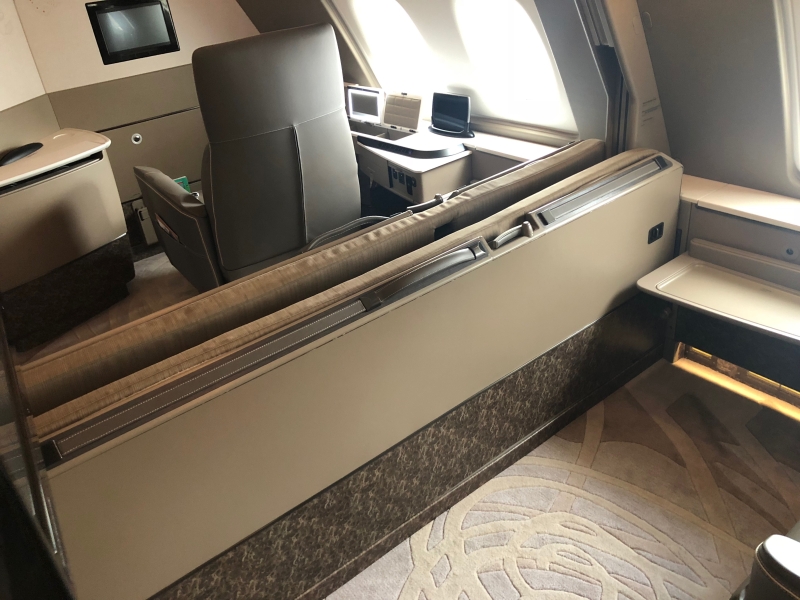 The beds are either side of the divider and can be flipped up to make a double bed (image below is a press picture).  You can see in the video how it works.  I have seen comments about it not feeling as sturdy as a real bed, or a chair that converts into a bed, but I didn't get the chance to try it out.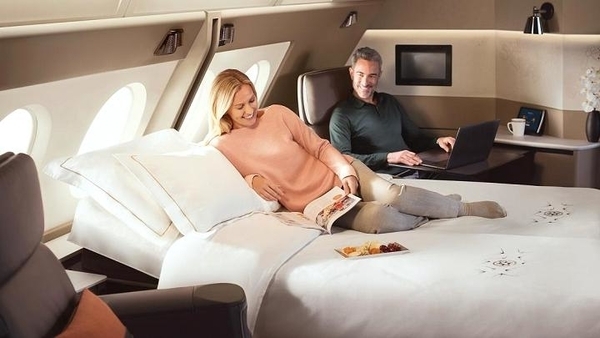 The bathroom was definitely hotel standard. The surfaces around the sink were luxurious marble, the mood lighting was purple and the dressing table had an amazingly large mirror plus a smaller make up mirror.  There are two bathrooms for the six First Class suites.  You don't get a shower on Singapore Airlines though.
It was a bit difficult to get a picture of the full bathroom, so I tried capturing it by using the mirror.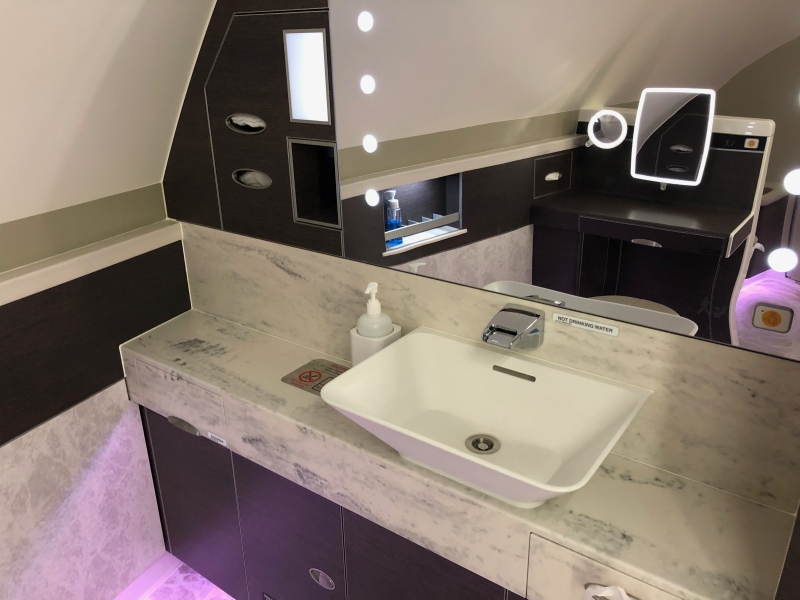 Rob has flown the Etihad First Class Apartment twice (click for review), which is a similar product to this.  His gut feeling was this is better – not as dark, more space to work, and not as 'lonely' to be in.  Without having flown it for 12 hours, though, it is difficult to get a feel for how you would use the space – would you sit on the bed when awake?  Would you always use the chair?
The other new competitor in the market is the new Emirates A380 First Class suite, now available out of Stansted.  We haven't seen or flown that yet.  Here is our news story on it.
New Singapore Airlines Business Class
Singapore Airlines business class has also received a makeover.   I flew the old A380 version a few years ago so it was interesting to see what had changed.
There is a total of 78 seats in a 1-2-1 configuration.  Thanks to a cocoon-like shell the new seats offer more privacy than the previous business class seats.
The two seats in the middle have a divider which spans the full length of the seat for extra privacy when travelling alone. It can also be brought down to mid level or completely.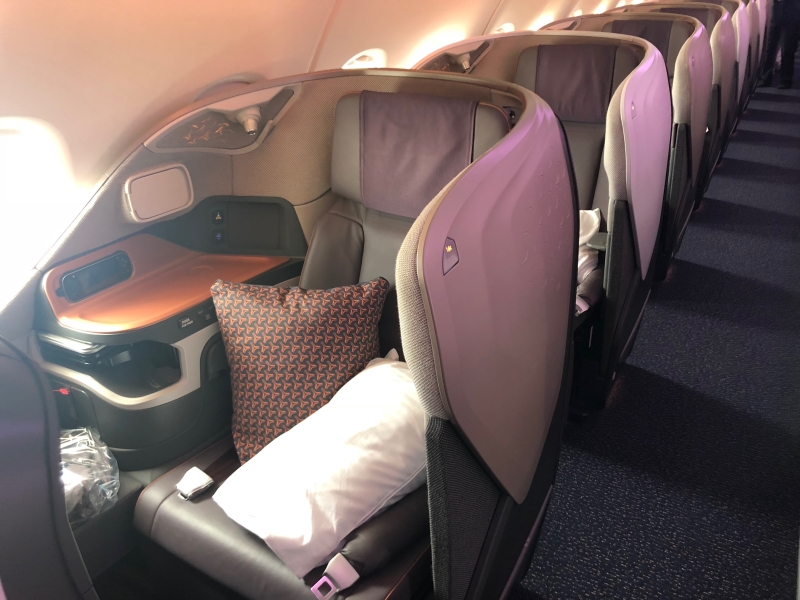 If you are travelling with a partner, the D and F seats in row 11, 91 and 96 can be turned into proper double beds without a 'leg-divider'.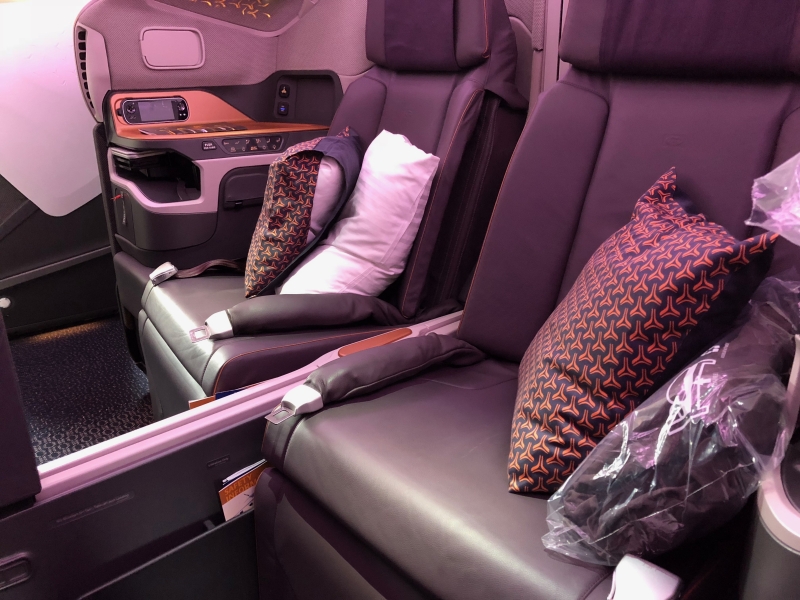 Here is a press image of the bed made up for a couple: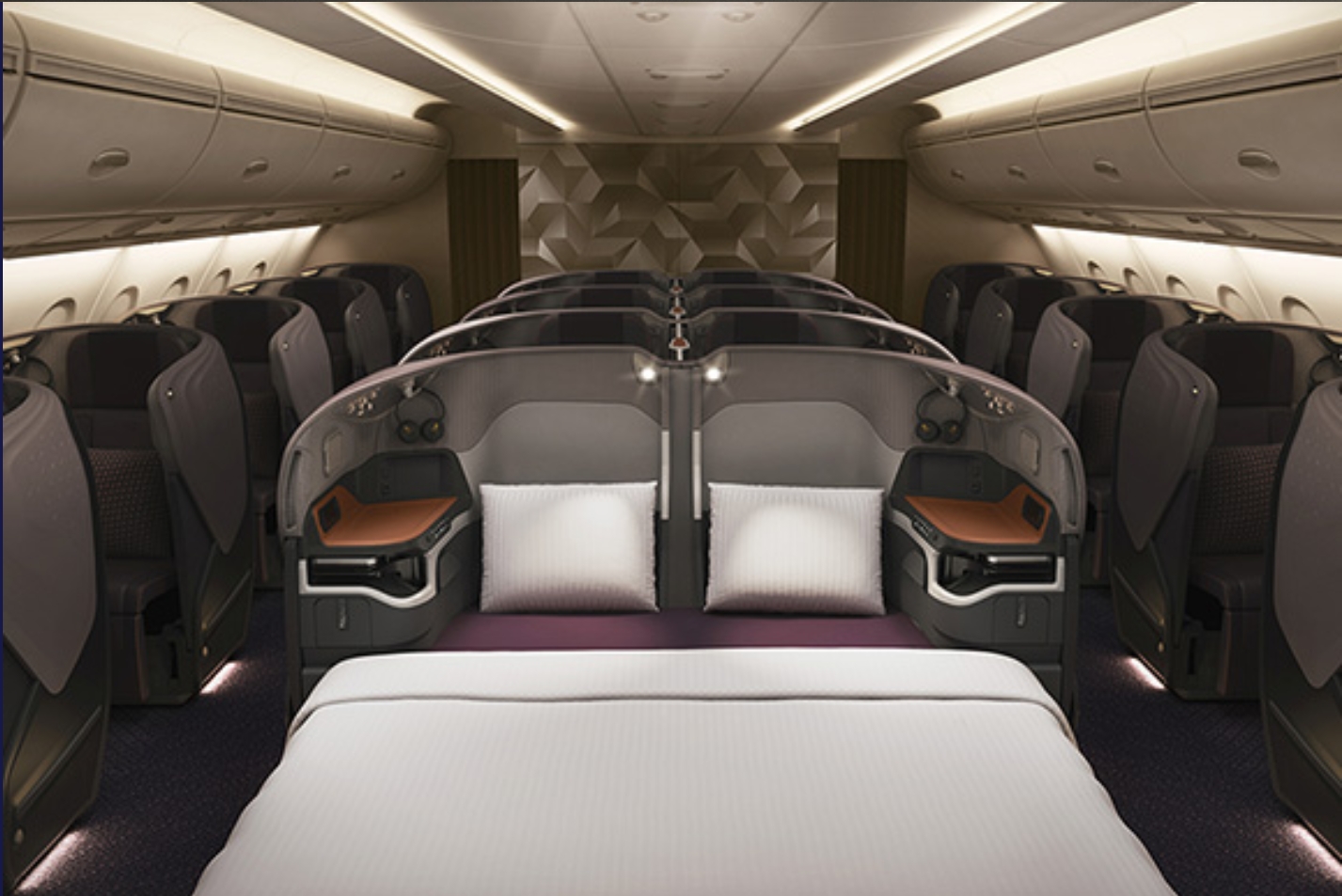 It is an impressive product.  It isn't as revolutionary as, say, the Qatar Airways Qsuite but it is clearly a massive step forward compared to British Airways Club World.
Here is a short video we made of Singapore Airlines new A380 First Class Suites and Business Class cabin:
You can subscribe to our YouTube channel
via this page
– this is the same link to visit if the video does not automatically appear above.
Currently the new First Class suites can be found on the SQ317 out of London seven days per week.  Coming back from Singapore it is on the SQ322.
The Singapore Airlines website has more on the new A380 if you go here.
Many thanks to the Singapore Airlines PR and ground staff team for making this happen.