My review of American Airlines 77W Business Class – better than British Airways Club World? (Part 1)
Links on Head for Points may pay us an affiliate commission. A list of partners is here.
This is my review of Business Class on American Airlines Boeing 77W (777-300) between London Heathrow and New York JFK.
This is the first of two sister articles. Today I want to consider the following question:
When redeeming Avios to the US, you often have the option to fly with BA's partner American Airlines. But is American Airlines business class as good as Club World?
Later this week Anika will look at this question:
When redeeming Virgin Flying Club miles to the US, you often have the option to fly with Virgin's partner (and 49% shareholder) Delta Air Lines. But is Delta One – the Delta business class seat – as good as Virgin Upper Class?
My flight was booked with Avios via ba.com.
This HfP article tell you everything you need to know about how to redeem Avios points on American Airlines including the best 'sweet spot' redemptions.
At the airport
I reviewed the American Airlines First Class lounge at London Heathrow Terminal 3 here. It isn't great and if you've got any sense (and a Gold card) you'll head for the Cathay Pacific First Class lounge instead. Business Class passengers without a Gold card are best to hit the Qantas or Cathay lounges rather than the AA or BA ones.
The key thing you need to know is that American Airlines operates a range of long-haul Business Class seats. Between London and New York, the best regarded option was meant to be what AA's booking system calls the 77W – the Boeing 777-300ER ('Extended Range'). Parked at the gate, it looks like this – click on any photo to enlarge slightly:
20 years ago, Business Class on US airlines was a laughing stock. British Airways had its swanky flat beds (BA was the first airline to fly one) whilst the US airlines carried on for years with seats on a par with what Norwegian now flies as Premium. Those days are long gone on Delta and American. We are still waiting for United's Polaris seat to arrive at Heathrow.
It takes you, oh, a whole 10 seconds after boarding to realise that the American Airlines Boeing 777-300ER business class cabin is a huge step up from British Airways Club World. It is a 1-2-1 herringbone layout with EXCELLENT privacy:
All the window seats are solo seats. In the middle block the seats point inwards so, whilst your feet are fairly close, your head is actually nearer to the person on the other side of the aisle:
and
Unlike Lufthansa, there is no chance of your feet touching the feet of your neighbour due to the divider:
I was sat in 7A, in my usual 'half way down the cabin, by the window' position. I REALLY liked this seat. There was no slam-dunk reason why – it just got a LOT of small things right:
the seat has lugs at the top, letting you lean your head sideways and giving privacy from the person to the side of you
the controls are idiot proof and easy to access
whilst your feet disappear into a footwell, it is a big one – you can move your feet around. I should note that the footwell appeared narrower on the seats in the middle section.
the TV, as you can see above, stows away and is not forcibly in your face for the whole flight as you get with Iberia etc
there is an easy to access and good-sized storage area
whilst you can't see it in my pictures, you can move the dining table when it is out so you can still leave your seat
None of these things seem like a big deal. Individually, they're not. However, when it all comes together, it makes you feel very calm. All of the little niggles you expect to find turn out not to exist.
I was a happy bunny at take-off with my (admittedly too small) glass of champagne served by the (ahem) long-serving cabin crew:
Nothing is perfect though ….
No seat is ever perfect, of course. I had a couple of niggles:
You cannot see out of the window easily. Your head is basically in the aisle whilst your feet are by the window. If you enjoy staring out of the window whilst flying then this may not be the seat for you.
There is no armrest to one side – in my case, on the aisle. This occasionally felt weird as I would lean sideways, expecting my arm to hit an arm rest, and there wasn't one. (EDIT: comments below suggest that this is a hidden armrest and there was a way of making it come up)
No-one explained the seat. I thought there was no washbag (not all airlines offer them on day flights) but I eventually found it, with a bottle of water, just before landing in a hidden compartment.
The washbag was interesting. The contents, branded Bigelow, were nothing special. What I did like was the way that, when unwrapped, it formed a small Cole Haan branded bag:
American Airlines Boeing 777-300 IFE
Let's start with wi-fi. This was the best in-flight wi-fi I have ever used. It was relatively cheap ($12 for two hours) and the connection was excellent. I wasn't doing any streaming so I can't comment on that, but it was perfectly acceptable for email and general browsing.
Sadly, the IFE system itself was a bit of a let down. American Airlines has live streaming of BBC World News and two US news channels, which was very impressive.
The film selection was weak – Sherlock Gnomes and Solo were what passed as 'new releases'. The back catalogue selection was well curated, I admit, but the TV selection was poor. The TV comedy selection, which I often go for because they are short programmes, was particularly woeful. Overall it doesn't come close to the literally thousands of pieces of content offered by the Middle East airlines.
It's worth noting that you can connect your own device to the IFE system but it requires one of those white / red / yellow 3-part cables.
There were three novel features:
seat to seat chat, letting you email a passenger elsewhere on the plane
a chat room, which no-one was in but which in theory lets you have a group chat with anyone who wants to join
an e-reader with some magazines on it – except that the choice was US-centric and very limited
I was a little frustrated. The live TV and chat functions show an airline which is trying to do things differently, but it then lets itself down with weak content.
To be continued ….
This is the end of Part 1 of my American Airlines 77W Business Class review from London Heathrow to New York JFK.
In Part 2 of my review of American Airlines 77W Business Class (click here), I take a look at the food on offer.
---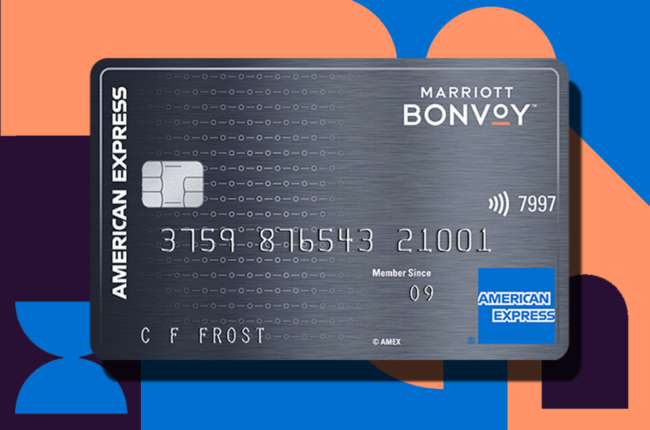 How to earn American Airlines miles from UK credit cards (May 2022)
American Airlines no longer has its own UK credit card.
There is, however, still a way to earn American Airlines miles from a UK credit card.
The route is via Marriott Bonvoy. Marriott Bonvoy hotel loyalty points convert to American Airlines miles at the rate of 3:1. You receive an additional 5,000 miles bonus if you convert 60,000 Marriott Bonvoy points at once.
The best way to earn Marriott Bonvoy points is via the official Marriott Bonvoy American Express card. It comes with 20,000 points for signing up and 2 points for every £1 you spend.
At 2 Bonvoy points per £1, you are earning (at 3:1) 0.66 American Airlines miles per £1 spent on the card. This will increase to 0.83 AA miles per £1 if you convert Bonvoy points in chunks of 60,000 points.
You can apply here.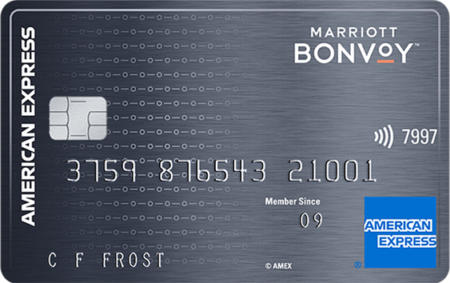 Marriott Bonvoy American Express
20,000 bonus points and 15 elite night credits Read our full review