Review: British Airways Galleries Club South business class lounge at Heathrow Terminal 5
Links on Head for Points may pay us an affiliate commission. A list of partners is here.
This is our review of the British Airways Galleries Club South lounge at London Heathrow Terminal 5.
This is part of our series of reviews of airport lounges across the UK. You see all of the reviews here.
Regular readers may remember that we called upon a friend of ours called Jamie earlier in the year when we needed someone to travel to New York for a Virgin Atlantic flight review. The feedback in our comments about his writing style was positive, so when he offered to write a series on a recent trip to Indonesia we were happy to accept.
His trip was exclusively in Business Class using airlines in the oneworld alliance, with all of the flights booked using Avios. We were especially keen to get some Malaysia Airlines coverage as we have always neglected it a little despite its oneworld status.
Over the next week Jamie will be looking at:
British Airways, Heathrow to Kuala Lumpur (Club World)
Malaysia Airlines Golden Lounge
Malaysia Airlines, Kuala Lumpur to Jakarta (Business)
Premier Lounge in Bali International airport
Qatar Airways, Bali to Doha (Business)
Qatar Airways business class lounge in Doha
Qatar Airways, Doha to London (Business)
The first review is the British Airways Galleries Club South lounge at Heathrow Terminal 5.
With the British Airways Galleries at Terminal 5 being the most visited lounges by HFP staff (and readers) you would think that there we'd have written a review of the South lounge already. But, for some reason, no one ever did – I think we thought all our readers had already seen it too.
That's obviously not the case, however, and we were happy to let Jamie take a look on your behalf. Over to you ….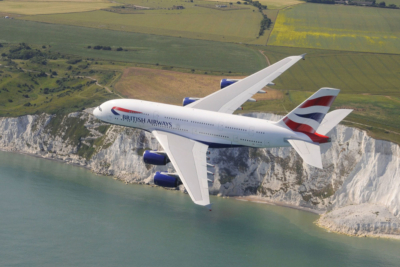 "I was embarking on a one month trip to Indonesia and, as it was a long haul journey, I decided to use some (most!) of my Avios to book my flights in business class.
It had been several years since I visited the Galleries Club South Lounge. I don't fly enough to earn British Airways status but I did make numerous visits whilst holding Cathay Pacific Gold Status a few years back.
(For a couple of years, Cathay Pacific Gold status – which is equivalent to a British Airways Silver card – was a free perk of American Express Platinum. Due to BA's relationship with American Express this benefit was never widely publicised in the UK and few people outside of the Head for Points readership knew it existed.)
I was curious to see if this lounge had changed at all in the intervening years. Once through security, it took no more than five minutes to get to the South Lounge, passing through the main shopping concourse on the ground floor and then heading back up several floors past the Concorde Room (First Class ticketed passengers only) and Galleries First (Gold card holders) to the entrance.
You will know you have arrived when you see the horse lamp – yours for $5,649.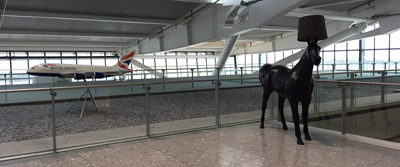 There are three Galleries Club lounges in Terminal 5 for Club World, Club Europe, BAEC Silver members and oneworld equivalents. Galleries Club North is the one you are more likely to visit if you arrive at Heathrow by tube or Heathrow Express. It is next to North Security opposite the lifts from the trains.
There is also a Galleries lounge in Terminal 5B, the first of the two satellite terminals. This is by far the quietest of the three and, if your gate is showing as B or C when you arrive at the airport, you are best to head there if you want to avoid the crowds.
Back at Galleries Club South, there was no queuing and I was ushered in with a smile. I was also told to allow 20 minutes to get to my departure gate. The pictures below are a little dark, unfortunately, but so is the lounge ….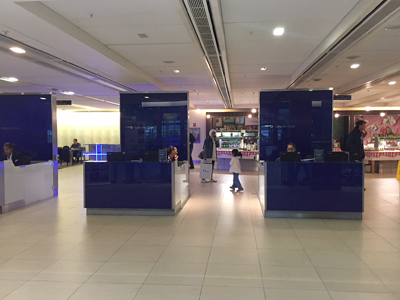 As lounges go, Galleries Club South feels quite large but in reality it's actually not that huge. There's something about the design when you walk in that can make you feel a little overwhelmed and disorientated. Rob told me that he prefers Galleries North for the same reason – there is something about the layout of Galleries South makes him feel uncomfortable.
The lounge is designed in a kind of a T shape. If you turn left after the entrance desks (into the head of the 'T'), you are faced with an open seating area to either sides with windows along the full length of the wall in front of you. These provide an outside view of the airport. The natural light here makes this side brighter during the daytime.
If you turn right you are faced with a long run of seating. This side has windows down at the end of the hall with charming views overlooking the security check point and departures area. As such it always feels darker and less open but more private. Without fail, I have always chosen to head this way and find a seat.
This area also has a private room with a large TV. Anyone can sit in there, but I guess its first come first served on which TV channel you watch. Most seating throughout the lounge has easily accessible power sockets. These are configured for UK, EU and US style power adapters. Glancing around it looked like about a third of the seating was taken. It was 6.30pm on a Sunday evening and I expected the lounge to be busier than it was. I chose to sit here: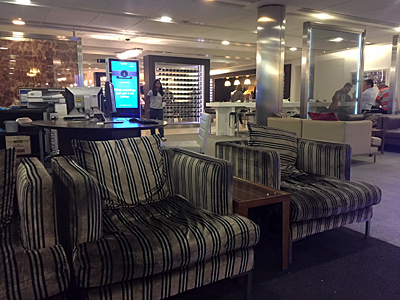 There are a few departure information screens scattered throughout the lounge but you are unlikely to have one close to where you are sat unless you actively make that choice.
There is a good size business centre on this side of the lounge with maybe seven or eight work stations and a photocopier/fax. Wifi is good quality and WhatsApp calls worked perfectly.
Both sides of the lounge have separate bars and tea/coffee stations which are self service.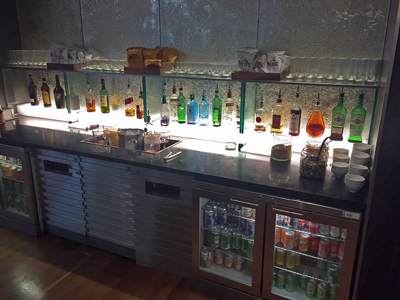 Beers included Heineken, Tiger, Amstel Light and Tribute Cornish Pale Ale.
There was a good range of spirits available so. All the wine selections are located centrally with the food offerings, which we will come to later.
Here is one of the hot drink stations, which will be instantly recognisable from any other current generation BA lounge you have used: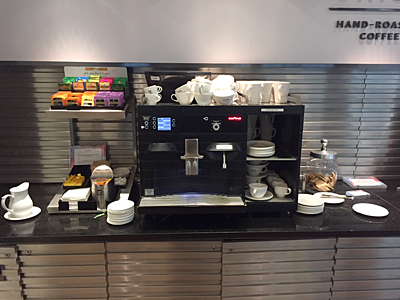 I can't vouch for the quality of the coffee as I don't drink it but there was a decent selection of Twinings teas on offer.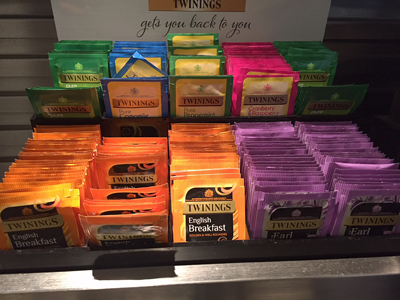 Two types of biscuits were available, too. I can vouch for these (from many occasions) and say they are very tasty, although it is slightly odd that they have never been changed in all these years!
Hot and cold self service buffet food is located in one central area close to the entrance desks (you can see it in the photo of the entrance desks, behind them).
There is a fairly uninspiring salad bar.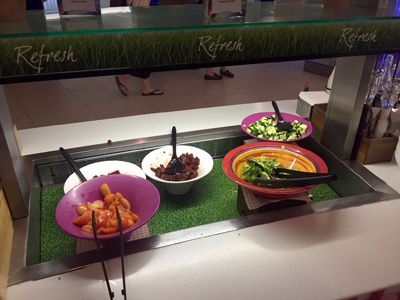 And a rather sad looking cheese selection with Carr's water biscuits and oatcakes.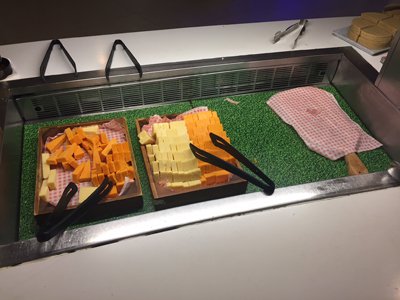 There were two varieties of soup on offer – organic tomato & basil and leek & potato. These were accompanied by a selection of mini bread rolls. I tend to have a bowl of soup whenever it's there and always find it to be tasty.
Next to the soups was a large dish of pork pie slices and a carrot cake…!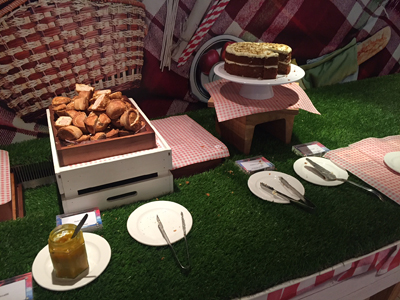 One of my overriding memories of food in this lounge from my days as a Cathay Pacific Gold cardholder is the small jacket potatoes and chilli con carne that seemed to be served every time I visited. On this occasion they were nowhere to be seen. Instead the hot food choices included chicken tagine, Cuban black bean cassoulet and BBQ beef meatballs, accompanied by rice or penne pasta.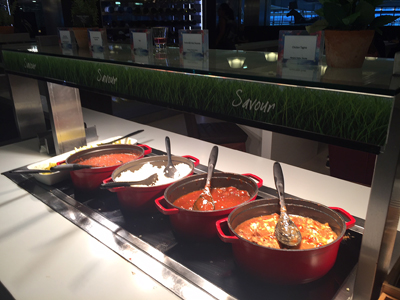 I had the meatballs and they were fine, but don't expect a gourmet experience here.
The carrot cake and a Twinings green tea afterwards were rather more enjoyable. Apples and oranges are also available. Hot food is only served between 12-3pm and 6-10.30pm. I've never been in here in the morning but breakfast is served from 5am.
There is a wide range of soft drinks to enjoy including the usual suspects of Coke, Fanta, lemonade, still and sparkling water. There is also ginger ale and two types of Fever Tree tonic water, all of which go well with gin.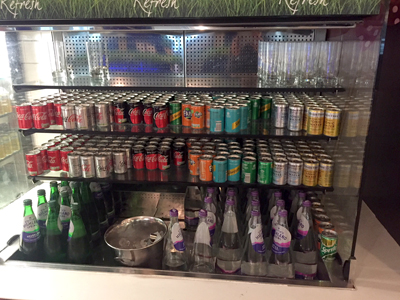 Four juices were available too. When I arrived I noticed that the apple juice was empty but was swiftly refilled.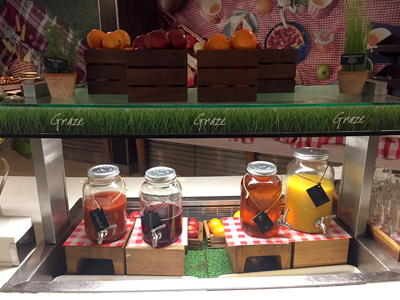 The wine selection is located in a simple modern designed display, close to the hot food.
There was a choice of four or five red and white wines. The red wine choices included 2010 Chateau Faugeres Saint-Emilion Grand Cru, Wakefield Jaraman Shiraz 2015 and a 2016 Bodegas Santalba Rioja. I admit I didn't take a look at the white wine as I got distracted by the two baskets of kettle chips above them.
I didn't see any champagne and always assumed it is not available. However, I recently read its available on request if you flag down a server. I have been missing out all these years!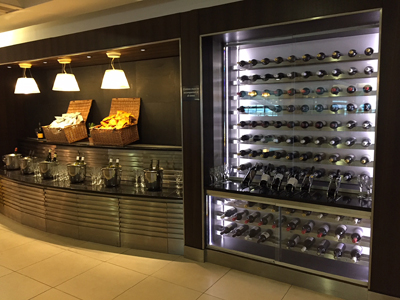 I don't remember the magazine rack looking quite so funky and bright so maybe some changes have been made since my last visit.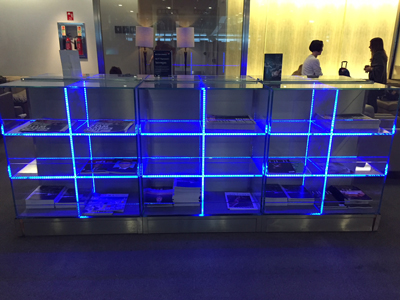 I also don't remember there being such a terrible selection of magazines. Global Franchise or Gallop anyone? The guide to the Edinburgh festival may have been useful, except that it had finished several weeks before. I picked up a copy of the latest Shortlist, good light filler reading but not exactly enough to keep me going to Kuala Lumpur.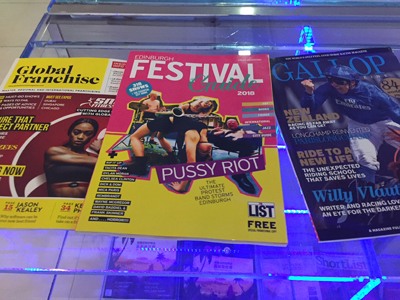 Conclusion
As I was sitting down, looking around the lounge, I realised nothing had improved in the last couple of years.
I thought the whole lounge felt a little tired. Perhaps I've used it too many times and the novelty has worn off. There was certainly none of the excitement I felt the first few times I visited. As on some previous visits, there was an underlying messiness to the place. The state of the food buffet areas wasn't great and there were plates and glasses scattered around on many tables.
There were several staff visible around, all working hard to keep the lounge clean it seemed. However it was obvious they were not staffed to cope with the high numbers of guests passing through. If you're hoping to get a good meal in here before jumping on a night flight then think again. But if you want somewhere to kill time relaxing, whilst enjoying a small bite and a good glass of wine then you won't be disappointed. Just don't expect VIP treatment.
---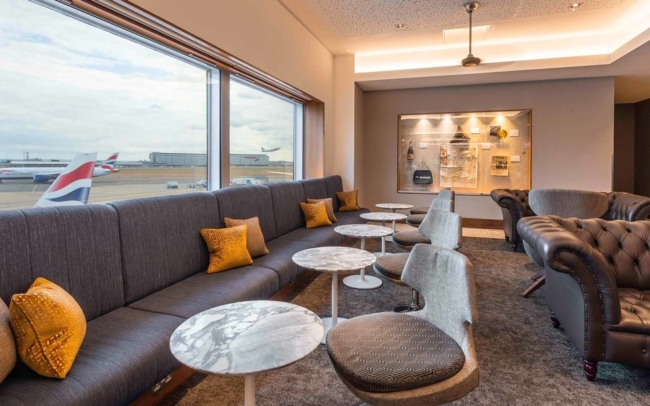 How to get FREE airport lounge access via UK credit cards (May 2023)
Here are the four options to get FREE airport lounge access via a UK credit card.
The Platinum Card from American Express comes with two free Priority Pass cards, one for you and one for a supplementary cardholder. Each card admits two so a family of four gets in free. You get access to all 1,300 lounges in the Priority Pass network – search it here.
You also get access to Plaza Premium, Delta Air Lines and Eurostar lounges. Our American Express Platinum review is here. You can apply here.
SPECIAL OFFER: Until 13th June, the sign-up bonus on The Platinum Card is doubled to 60,000 Membership Rewards points – and you get £200 to spend at Amex Travel too! Apply here.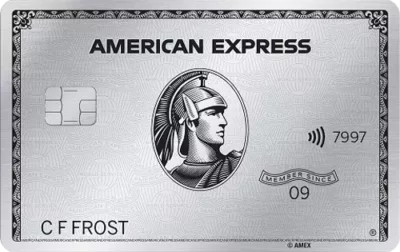 The Platinum Card from American Express
60,000 points AND a £200 Amex Travel voucher until 13th June! Read our full review
If you have a small business, consider American Express Business Platinum instead.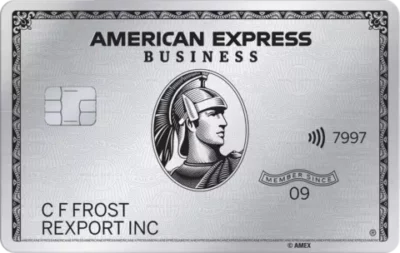 American Express Business Platinum
40,000 points bonus and a £200 Amex Travel credit every year Read our full review
American Express Preferred Rewards Gold is FREE for the first year. It comes with a Priority Pass card loaded with four free visits to any Priority Pass lounge – see the list here.
Additional lounge visits are charged at £20. You get four more free visits for every year you keep the card.
There is no annual fee for Amex Gold in Year 1 and you get a 20,000 points sign-up bonus. Full details are in our American Express Preferred Rewards Gold review here.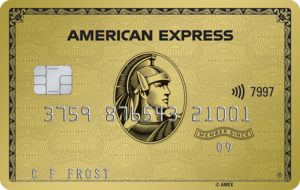 American Express Preferred Rewards Gold
Your best beginner's card – 20,000 points, FREE for a year & four airport lounge passes Read our full review
HSBC Premier World Elite Mastercard gets you get a free LoungeKey card, allowing you access to the LoungeKey network. Guests are charged at £20 although it may be cheaper to pay £60 for a supplementary credit card for your partner.
The card has a fee of £195 and there are strict financial requirements to become a HSBC Premier customer. Full details are in my HSBC Premier World Elite Mastercard review.
HSBC Premier World Elite Mastercard
A huge bonus, but only available to HSBC Premier clients Read our full review
PS. You can find all of HfP's UK airport lounge reviews – and we've been to most of them – indexed here.