Links on Head for Points may pay us an affiliate commission. A list of partners is here.
Council tax bills for the new tax year are dropping through letterboxes at the moment. For a lot of people these are chunky (£2,000 is not uncommon in London) and obviously it would be great to pick up some miles and points.
Following the law change in January 2018, many local authorities are now accepting Visa and Mastercard credit cards with no fee.
If you want to use a Visa or Mastercard credit card and they are not accepted by your local authority, the Curve Card is the obvious way to go. Curve is treated as a debit card but will recharge your bill as a purchase to any other Visa or Mastercard you have. You can find out more about Curve here – they are still paying you £5 to try it out if you use our referral code.
This doesn't help if you want to rack up some American Express spending, of course. There is a way around this, for a fee – using Billhop.
We have covered Billhop a couple of times. It is an easy way of running up credit and charge card spending by paying your day-to-day bills or at this time of year paying your council tax bill for the entire year upfront via your Amex card. This gives you a head start on triggering a sign-up bonus or your next British Airways American Express 241 voucher.
Registration with Billhop is free – see here – so you have nothing to lose by signing up and seeing how it works.

Too good to be true?
If this sounds too good to be true, there is a catch – the service is not free. There is a 2.95% charge on every payment you make, i.e. if you pay a bill of £100, you will pay £102.95 in total.
This means that, unless you also want the cash flow benefits of putting your council tax bill onto a credit or charge card, this is an expensive way of earning miles or points.
It IS something that you will find useful if you are struggling to hit the '£2000 spend in 90 days for 20000 bonus points' target on a new American Express Gold card for example, or need to pump up your spending towards your next 241 voucher.
About Billhop
Billhop was founded in Stockholm in 2012 – where it has proven very popular with the frequent flyer community – and launched in the UK last year with plans to extend further in Europe.
The company is fully regulated in Sweden (which, under EU passporting rules, means they are regulated here as well) and, in any event, your money is fully protected because all payments are handled by an established bank. Billhop never has access to your funds, apart from the fee.
How Billhop works
You need to create an online account on the Billhop website here.
Once you are signed up, you can pay your council tax bill using your American Express card. Simply give Billhop the bank account details for your council, and your payment reference, and they will make the payment on your behalf.
Note that you cannot use Billhop to pay private individuals unless you have an invoice from that person for a service provided, such as music lessons.  With an invoice, Billhop is happy to make the payment via Visa or Mastercard.
American Express cannot be used to pay private individuals under any scenario, even if you have an invoice. You are perfectly fine to use Amex for paying companies, HMRC, your local authority etc.
How to set up your account
Click 'Get Started' on the homepage and you will be taken to a page explaining how to use Billhop. Click the 'register your account now' button.
On the next page you can choose whether you'd like to register as a company (with company number) or as an individual (with your date of birth).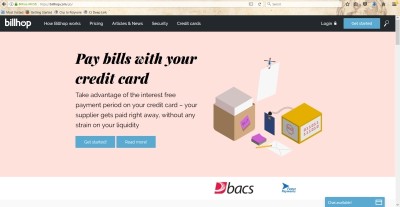 To create a personal account you need to fill out your details including email and postal address. You can transfer up to £250 without providing any verified ID, but for money laundering reasons Billhop will need a picture of your passport before you can make larger payments.
On the dashboard you can see your past bills and scheduled bills and pay new bills.
In theory, the recipient will receive the money within 6 days. When we tested the service last year, the money actually arrived after 5 days and that included a weekend. You receive an email when the money has been sent.
Conclusion
Based on the experiences of the many HFP readers who have tried the company so far, Billhop is working as promised. The only minor issue is the need to send a scan of your ID before you can make a transfer of over £250, which will be the case if you are paying your council tax bill for the year.
Billhop is not for everyone due to the 2.95% fee on every bill you pay. However a lot of Head for Points readers will instantly see the potential for hitting a sign-up target on a new credit card or for triggering a spending target on an existing one.
If you have been putting off getting the British Airways American Express Premium Plus card, for example, because you felt you couldn't spend £3,000 in 90 days to earn the 25,000 Avios sign-up bonus, Billhop can help. The same goes for the big sign-up bonus on American Express Preferred Rewards Gold or American Express Platinum, both of which need £2,000 of spending within 90 days. Your council tax bill could almost hit this target in one go.
It you were struggling to hit your £10,000 of spending for your BA Amex 2-4-1 voucher towards the end of your card year, it may be worth making your council tax payment via Billhop in order to push yourself over the line. Paying, say, a £59 fee on a £2,000 payment (and earning 3,000 Avios back via Amex) is a far better deal than losing out on your 2-4-1 voucher.
If you have your own business, note that Billhop also works with companies – in fact, they see this as their core market – who can use the service to help with their working capital requirements.
Even if you don't want to pay your council tax this month, it is worth signing up so that you don't forget about it and to receive news of special offers and other promotions.
The Billhop homepage is here if you want to sign up.
(Want to earn more miles and points from credit cards?  Click here to visit our dedicated airline and hotel travel credit cards page or use the 'Credit Cards Update' link in the menu bar at the top of the page.)
Click here to join the 14,500 people on our email list and receive the latest Avios, miles and points news by 6am.