Review of Cathay Pacific's 'The Wing' First Class Lounge in Hong Kong Airport
Links on Head for Points may pay us an affiliate commission. A list of partners is here.
This is our review of Cathay Pacific's 'The Wing' First Class Lounge at Hong Kong International Airport.
Two of the best regarded lounges across the oneworld airline alliance, which includes British Airways, are the two First Class lounges run by Cathay Pacific at Hong Kong's Terminal 1 – The Wing and The Pier.
We have never reviewed these lounges on HfP.  Whilst we rarely run reader reviews of lounges outside the UK, when long-term reader and regular HFP commentator Cat offered to cover them we thought it was a good opportunity to highlight these two excellent facilities.   She will look at The Wing's First Class lounge today, and tomorrow we will look at The Pier.  I edited the articles and any mistakes are probably mine.
You can find out more about both lounges on this page of the Cathay Pacific website.
Over to Cat:
"With The Wing and The Pier at diagonally opposite ends of the airport, your initial thought would be that, if travelling in First Class on a oneworld flight or holding oneworld Emerald / BA Gold status, you should choose the First Class lounge closest to your gate of departure.
The Pier's reputation overshadows that of The Wing, however, and most reviews would encourage you to head to the former, irrespective of your gate.  I don't necessarily agree.
There are situations when it makes sense to visit both lounges, despite the lengthy walk of around 15-20 minutes. You can also avoid the walk by using the automatic people mover which takes about 10 minutes, although this only goes one-way from The Wing to The Pier.
The Wing is conveniently located just after security near gates 1-4, just after the Plaza Premium lounge and Starbucks.
Click on any of the images to enlarge.  Some of these photos are official pictures used when it was not possible, due to the number of people around, to take our own.
First impressions
The Wing is an open ceiling lounge that overlooks the terminal concourse below.  You can see Norman Foster's creation in all its glory from a calm, quiet spot, far removed from the bedlam of the terminal down below.
It is very clear that Cathay Pacific wanted very different visions for its two First Class lounges.  The Wing has light and good views out, which is a positive.  A negative, for me, is the more industrial design style.
The effect of the red leather Chesterfield sofas, black polished marble and black glass was certainly striking.  To be honest, the décor did not appeal to my sense of aesthetic. I can see how it might seem attractive to many people, but to me, all the glass and hard shiny surfaces made it feel a bit impersonal and uninviting.
There were a variety of seating options, and plenty of each, from the wide, comfy Chesterfield sofas to the Solus workstation pods.  I love these – see the photo below – especially the thoughtful little details, like the coat hook and the table for a laptop or a glass of something.  They are idea for for those travelling alone or with work to do.
The facilities in The Wing include:
a self-service Champagne bar with three different Champagnes on offer 
a full-service white marble bar
The Haven (the dining room)
a separate self-service buffet area with a wide range of deli meats, cheese, pastry items, fruit, salads and sweets
shower rooms and cabanas
a library area with a wide range of magazines and newspapers (enough to keep even Rob happy, I suspect) and
a well-equipped IT zone, if you need to work
Eating in The Haven
I began in the champagne bar, as you do, which is close to the entrance to the lounge.  There were three different bottles available – Thiénot Brut Vintage 2008, Deutz Brut Rosé and Perrier-Jouët Grand Brut – and I tried them all in the interests of research.
The dining room in The Wing, which is called The Haven, features a reduced version of The Pier's menu which I will cover in the review tomorrow.  It has all of the same main courses and'signature noodles' but no starters, chef specials or sweets.  Given that both of the noodle dishes are also available in The Wing Business Lounge a few metres away, it would probably have been better to include the chef specials or the starters from The Pier's dining menu.
On the upside, The Haven also has a buffet which the restaurant in The Pier does not.  This may suit you better if you are short of time.
Here is a stock photo of The Haven:
If you have a hankering for something sweet, there's plenty to be had from the deli counter just outside the dining room.  I highly recommend the macarons, especially the chocolate and the pistachio ones.  If you want more choice than that offered by the menu below, head to The Pier instead.
The deli counter also includes a tea and coffee area with an impressive choice of speciality teas and an enormous coffee machine. The tea was delightful, but the espresso that I ordered had a very sad-looking crema and was not up to much.
The cabanas
The main reason I chose The Wing above The Pier on this visit was to use the gorgeous cabanas. I hadn't had a shower in over 24 hours at this stage, having gone straight from work to (binge) drinking Champagne and gin in the various Heathrow Terminal 3 lounges and then to a 12-hour flight to Hong Kong. I was desperate to freshen up, and there aren't many more beautiful places to do this than the cabanas in The Wing.
(Whoever designed the bathrooms and cabanas for the Concorde Room in Terminal 5 really should have used these oases of zen as their inspiration, rather than NHS hospital bathrooms.)
If you fancy a shower, you have a choice of three shower heads – the simple hand-held shower head, the rainfall shower from the ceiling, and a waterfall style one that will get the shampoo suds out of long, thick hair in no time. If you prefer a relaxing soak, there's an enormous bathtub to use.
Here is a PR picture from another angle:
You also have a daybed at your disposal, Jurlique facewash and body lotion, unbranded shampoo, conditioner and shower gel (they are good quality though, my hair felt lovely and soft afterwards), dental sets, cotton buds, make-up pads and shower caps, a sink, a toilet, a hairdryer and a two-way wardrobe to hang your crumpled clothes in.
If you press the magic button in the wardrobe, some kind soul removes your clothes and returns them 20 minutes later, pressed and looking almost good as new.  I was still wearing my work clothes from the day before – Balinese lace trousers and a ruched Vivienne Westwood top (my outfit was chosen as much to put the pressing service through the paces, to see how they coped with the challenge, as for comfort, suitability for work and durability while carrying far too much luggage on my back!).
I had worn PJs for most of my flight, with my clothes hanging in my wardrobe, but my work clothes had a distinctly rumpled, rather than ruched, look to them. When my clothes were returned I was impressed – they didn't do quite as good a job as my dry cleaners, but with such a tight turnaround, they did well.
I also put my wide-brimmed sunhat in the wardrobe hoping that they might work some magic with a starch spray (it had gone all floppy over time, and after four weeks in the Seychelles last summer, it was looking far more Blossom than Bardot), but they ignored it. It was worth a try though!
The cabanas are usually in high demand. It is worth heading straight over to the cabana area to book one as soon as you arrive at the lounge. You will get an electronic buzzer that goes off as soon as your cabana is available.  There is an upper time limit of an hour and a half in the cabanas, to keep the wait time down – I had to wait for just under an hour on my flight out, which wasn't a problem as I was happy occupying myself with consuming champagne and macarons in the meantime.
On my return flight, I arrived into Hong Kong at a nearby gate to The Wing, and immediately went to sign up for a cabana, only to discover that there were six people on the list ahead of me.  I settled for a shower suite instead. These were also very pleasant, but didn't have a bathtub, only two shower heads (rainfall and hand-held), and no magic wardrobe.
The Wing Business Lounge
I also had a quick look at The Wing Business lounge which can be accessed with oneworld Sapphire (BA Silver) and up or a same day Business Class ticket on a oneworld airline.
It was too crowded to take any good photographs, unfortunately.
The décor of the business lounge was similar to the First Class Lounge, but with less red, and more grey. It's still pretty stark and not terribly welcoming, in my opinion.
The facilities in the Business Class are the standard ones you can expect to find in almost any Cathay Pacific lounge.  There's the ubiquitous noodle bar (most people rave about the dan dan noodles, but I have a bit of an obsession with the wonton soup), the coffee loft (Hong Kong milk tea can be found here too), a smaller buffet area (no macarons here), a long white marble bar and some slightly less fancy (but still very nice) washrooms. There are a variety of seating areas here too – the solus pods (but grey, rather than red), as well as sofas and stools at the various bar areas.
On both visits, the business facilities at The Wing were absolutely swarming with people, so I found it difficult to get any photos.
Conclusion
The Wing Business and First Lounges are wonderfully relaxing places to kill time before or between flights in Hong Kong if you are flying in First Class or have a British Airways Executive Club Gold / oneworld Emerald card.
All lounges open at 05:30 and stay open until the final departure every day.
If your choice is between The Wing and The Pier First Class Lounges it depends on your needs and how much time you have.  If you want a bath, a snooze on a daybed, dramatic hard, shiny surfaces in red, black and grey or self-pour champagne, go to The Wing.  That said, The Pier has the reputation as the premier facility – in my next review we will see if that is true or not.
You can learn more about both lounges on the Cathay Pacific website here.
This Head for Points article shows you how to redeem Avios points for low-tax flight redemptions on Cathay Pacific to Hong Kong and beyond.
---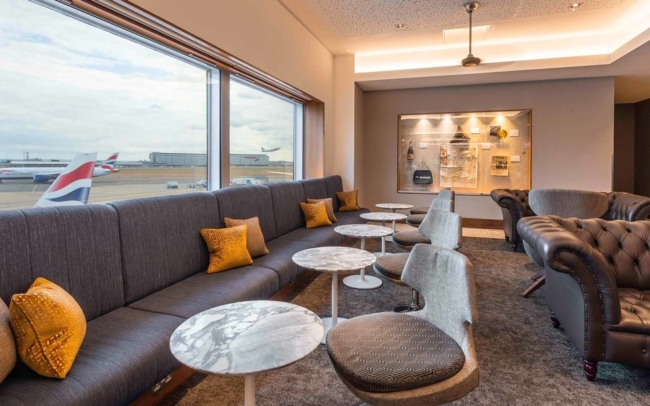 How to get FREE airport lounge access via UK credit cards (May 2023)
Here are the four options to get FREE airport lounge access via a UK credit card.
The Platinum Card from American Express comes with two free Priority Pass cards, one for you and one for a supplementary cardholder. Each card admits two so a family of four gets in free. You get access to all 1,300 lounges in the Priority Pass network – search it here.
You also get access to Plaza Premium, Delta Air Lines and Eurostar lounges. Our American Express Platinum review is here. You can apply here.
SPECIAL OFFER: Until 13th June, the sign-up bonus on The Platinum Card is doubled to 60,000 Membership Rewards points – and you get £200 to spend at Amex Travel too! Apply here.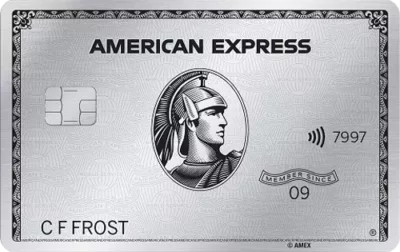 The Platinum Card from American Express
60,000 points AND a £200 Amex Travel voucher until 13th June! Read our full review
If you have a small business, consider American Express Business Platinum instead.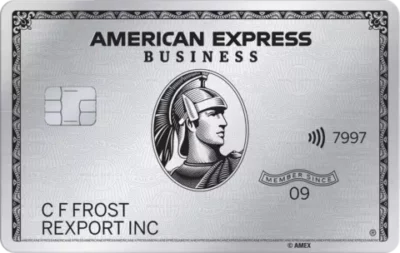 American Express Business Platinum
40,000 points bonus and a £200 Amex Travel credit every year Read our full review
American Express Preferred Rewards Gold is FREE for the first year. It comes with a Priority Pass card loaded with four free visits to any Priority Pass lounge – see the list here.
Additional lounge visits are charged at £20. You get four more free visits for every year you keep the card.
There is no annual fee for Amex Gold in Year 1 and you get a 20,000 points sign-up bonus. Full details are in our American Express Preferred Rewards Gold review here.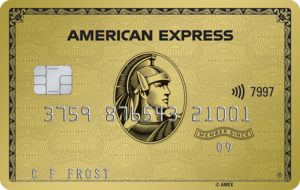 American Express Preferred Rewards Gold
Your best beginner's card – 20,000 points, FREE for a year & four airport lounge passes Read our full review
HSBC Premier World Elite Mastercard gets you get a free LoungeKey card, allowing you access to the LoungeKey network. Guests are charged at £20 although it may be cheaper to pay £60 for a supplementary credit card for your partner.
The card has a fee of £195 and there are strict financial requirements to become a HSBC Premier customer. Full details are in my HSBC Premier World Elite Mastercard review.
HSBC Premier World Elite Mastercard
A huge bonus, but only available to HSBC Premier clients Read our full review
PS. You can find all of HfP's UK airport lounge reviews – and we've been to most of them – indexed here.