We review LNER's new Azuma trains – how is the ride? (Part 2)
Links on Head for Points may pay us an affiliate commission. A list of partners is here.
This is Part 2 of our review of LNER's new Azuma East Coast trains.
Part 1 of our LNER Azuma review can be found here.  In this part, we look at loyalty schemes, First Class and the refreshements available.
Will LNER launch a new loyalty scheme?
LNER Managing Director David Horne came to chat with me during the outbound journey and I was able to ask him if there were plans for a new Azuma loyalty programme.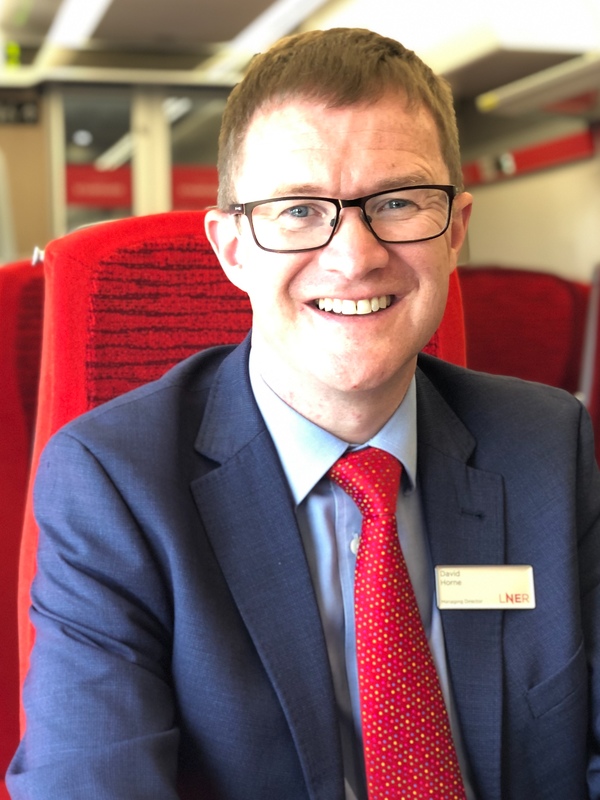 He told me that LNER was currently reviewing this subject but hadn't yet made any decisions about whether there would be a dedicated loyalty programme in future.  You may be stuck with Nectar for a while yet ….
He was keen to point out that the LNER crew is aware of regular customers on board their trains. Provided passengers book via www.lner.co.uk your details and where you are sitting appear on a handheld device that each crew member has.
Using this information, crew are able to reward customers on what they call a 'Surprise and Delight' basis. This can be anything from a free drink to an upgrade. Whilst crew are actively encouraged to seek out and reward regular customers, David did stress that the scheme is operated based on how much time is available to staff on any given day. Presumably on a very busy service you may be overlooked!
As I mentioned, one of the most striking features is the sheer size of the carriages when you get on, particularly when empty.  David was keen to point out that each carriage is three metres longer than a regular train and is also slightly wider.  Combined with slimline seating, each seat actually has a full 7 cm more leg room than Standard Class seats on the older trains.  It was certainly very noticeable compared to my last train journey.
Cleanliness was the order of the day with a lady passing through the cabin several times throughout the 135 minute journey, collecting any litter.  It was very impressive and will be wonderful if this continues. The turnaround in Leeds also saw a good clean of the loos which smelled fragrant and lovely throughout the journey – even when using the hand dryer!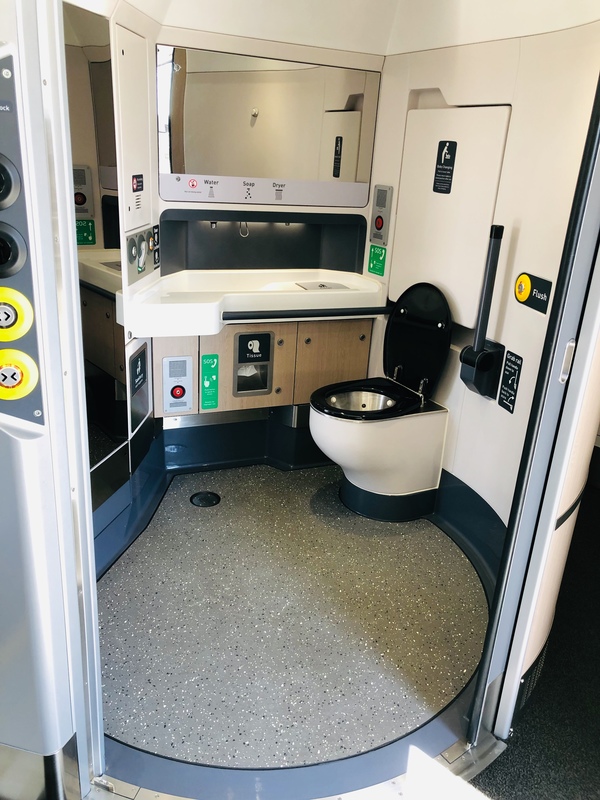 The journey passed in a flash and after calling at Peterborough, Doncaster and Wakefield, the train rolled into Leeds on time at 13.16 to another fanfare and much flag waving!
First Class on LNER's Azuma fleet
While in the station waiting for the return journey, I took the opportunity to have a good look at the First Class cabins.  I also found some bike stores which each hold two bikes securely. It looks as though you need to book in advance if you want to carry a bicycle.
The Azuma train has three First-Class Carriages (actually 2.5) with seating in a 1-2 arrangement. The third carriage is actually a mixture of First and Standard class, separated by a press-button door.
Here is an official PR picture, passenger-less: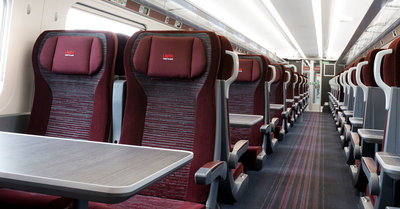 …. and here is how it really looks: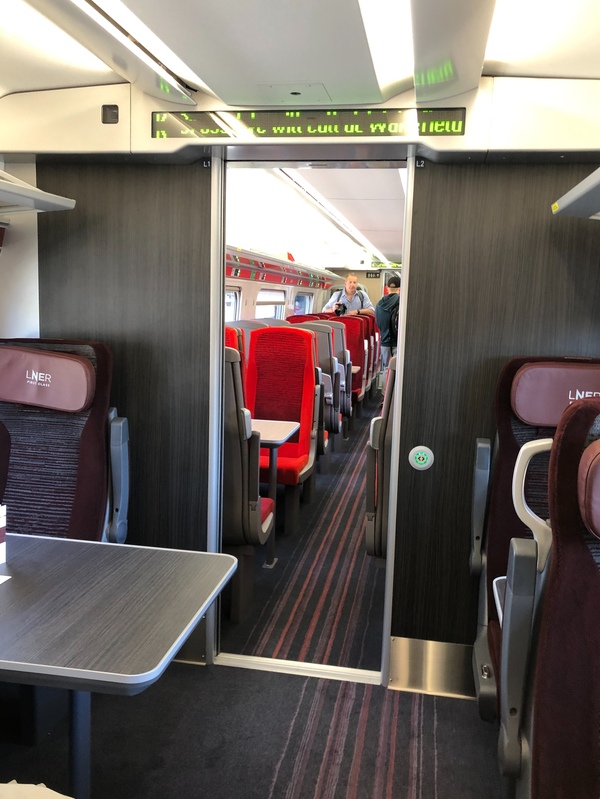 The First Class seats are significantly plusher with a recline feature as well as more easily accessible three pin charging points and USB points between each seat pair.  Each seat also sports a comfy, adjustable head rest.
The seats offer good choices for those seeking privacy if travelling alone.   As expected, you can choose to sit in groups of four, two or alone depending on your preference and your travelling companions.
Unlike the standard carriages, the First Class coaches feature warm brown tones which definitely feel more premium.  The tables are apparently larger than those on the old fleet.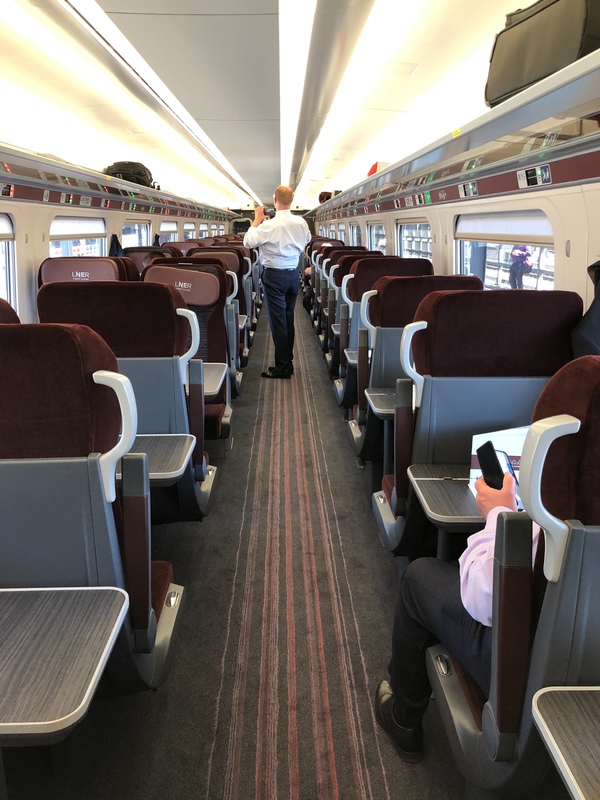 On the return journey, I managed to sneak back into a First Class carriage to have a look at the food on offer, which is included in the ticket price.  A tasty looking risotto dish was available and one of the on-board service managers waxed lyrical about the well received caramel and chocolate pot.  Alas, all I could do was look at a pot of the delicious pudding! You can see the First Class menu on the LNER website here.
In the cafe
Feeling pretty hungry by now, I decided to proceed back down the train in search of the on-board cafe/bar. I passed the trolley on the way, but as I fancied a hot snack I carried on. When I arrived, unlike the morning journey, the carriage was empty. Sadly, so was much of the kitchen – as if set upon by a swarm of hungry locusts who had devoured all of the toasted ham and cheese sandwiches that I had my eye on. They had also managed to reduce the G&T stock to nil!
Clearly there were some stocking issues.   I ended up having a Mozzarella and Pesto Toasty which I would not normally order but was surprisingly delicious.  The Sauvignon Blanc was also perfectly drinkable. There are also plenty of snacks including chocolate, cake and crisps as well as an array of hot and cold drinks to choose from.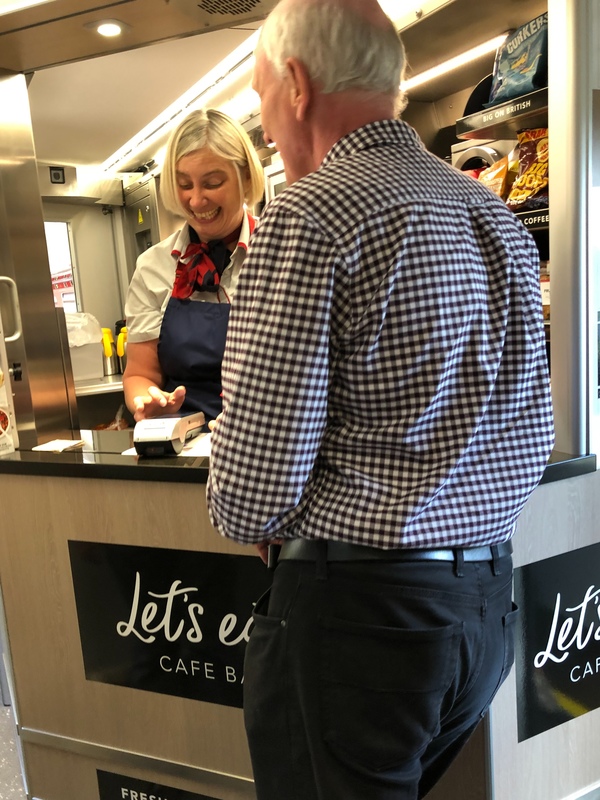 I managed to do a bit of work and, before I knew it, we were soon pulling back into Kings Cross.
Was Azuma worth the wait?
Overall, I would say that the Azuma trains are a genuine improvement for Standard Class passengers.  There is more legroom, a more general feeling of spaciousness and lots of light.  It is less clear cut with First Class where the seats appear far more streamlined than those they replaced.
It will take some time for the new trains to enter service.  The intention is to introduce one train each week until there are 65 in total.  It will be over a year before you'll find Azuma trains on all LNER services, although they should be widespread by Christmas.
If you want to virtually guarantee yourself an Azuma train in the next two weeks – here's what you need to do.
This first Azuma train will leave Hull each morning for the 7.00am service.  On arrival in Kings Cross, the train is then prepared for the 11.03 service to Leeds.  It returns to London Kings Cross at 13.15 arriving back in London at 16.10. The train's final journal of the day is to head back to Hull at 17.18.  For journeys from June, I would suggest you refer to the LNER website here.
Thank you to LNER for inviting us and to David Horne for the interview.