Review of the Gulf Air (Oman Air) lounge at London Heathrow Terminal 4
Links on Head for Points may pay us an affiliate commission. A list of partners is here.
This is our review of the Gulf Air lounge at London Heathrow Terminal 4.
This is one of our series of reviews of airport lounges across the UK. You see all of the reviews here.
Well, I've done it. After my visit to the Gulf Air lounge two weeks ago, I have now been in every departure lounge at Heathrow except the El Al one, which I'm unlikely to visit given my regular trips to the UAE. This wasn't a bad way to finish.
This review is part of our series on my trip to Oman as a guest of Oman Air and the Al Bustan Palace, A Ritz Carlton Hotel in Muscat. My flights and hotel were complimentary but HFP paid for its own incidental costs. If you are not familiar with Oman you can read our overview here to set the scene.
Oman Air does not have its own lounge in Heathrow Terminal 4. To be honest, the terminal is over-lounged anyway. The number of flights these days – around 50 per day – means that the current roster of El Al, Gulf Air, Malaysia Airlines (click for our review), SkyTeam (which is huge, click for our review), Qatar Airways (click for our review) and Etihad / The House is at least two too many.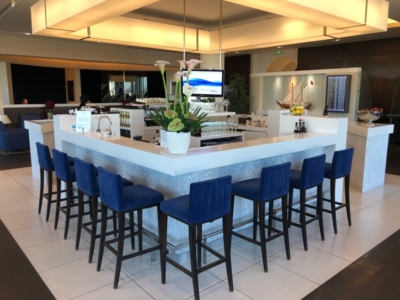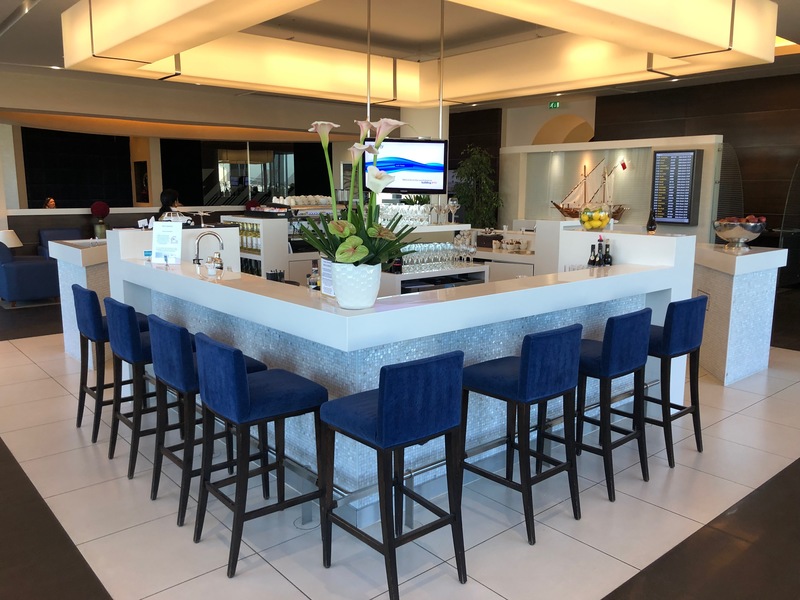 I enjoyed my 90 minutes in the Gulf Air lounge. Let's be clear – if you're looking for bells and whistles (Dom Perignon, a full spa etc) then this is not for you. What it DOES offer is fantastic views across the runways, peace and quiet, great staff and a fully adequate food selection. It does what it does very well and you can't say fairer than that.
Getting to the Gulf Air lounge
Terminal 4 signage is not great at the spot where you emerge from security. Having been in the Malaysia Airlines lounge a few weeks previously – which sits directly above the Gulf Air lounge – I knew I had to turn left and head towards Gate 6. My flight ended up being from Gate 2 so the walk was very short.
When you walk in, what strikes you immediately is – as with the Malaysia Airlines lounge – the huge amount of light. The back wall, which curves around the sides too, is entirely glass. You can see 3-4 aircraft parked to your right: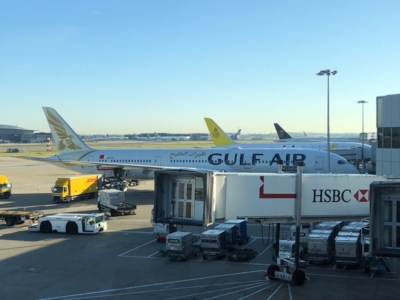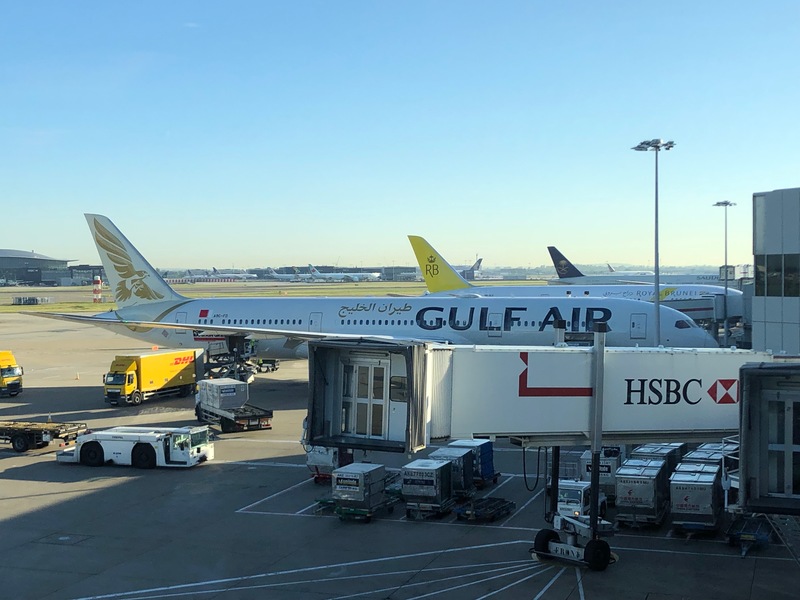 … although a jet bridge stops you seeing much to the left except for the tail of the parked Malaysia Airlines aircraft: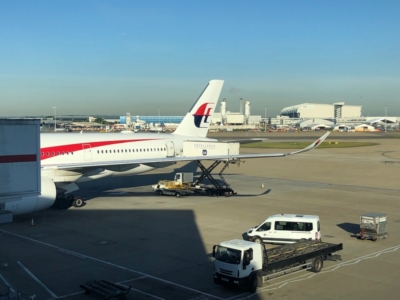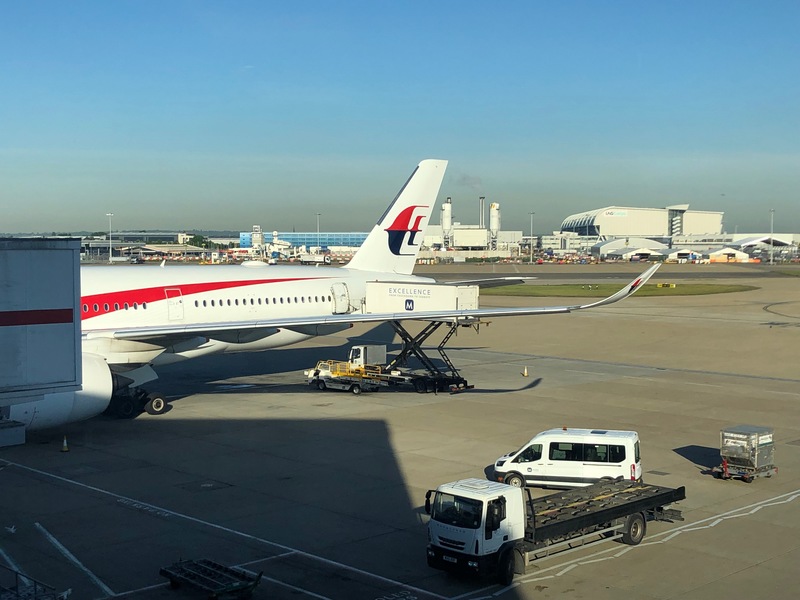 The layout is very simple. To your left is a large square bar which is the dominant feature of the lounge, with sofa-style seating scattered around it. The vast majority of this seating is next to a window – there are very few bad seats.
To the right is a dining area with around 10 tables.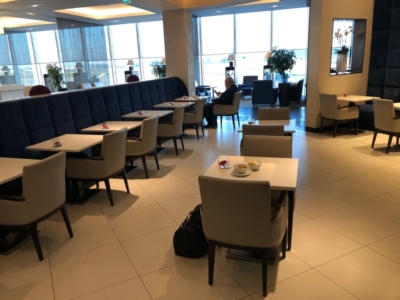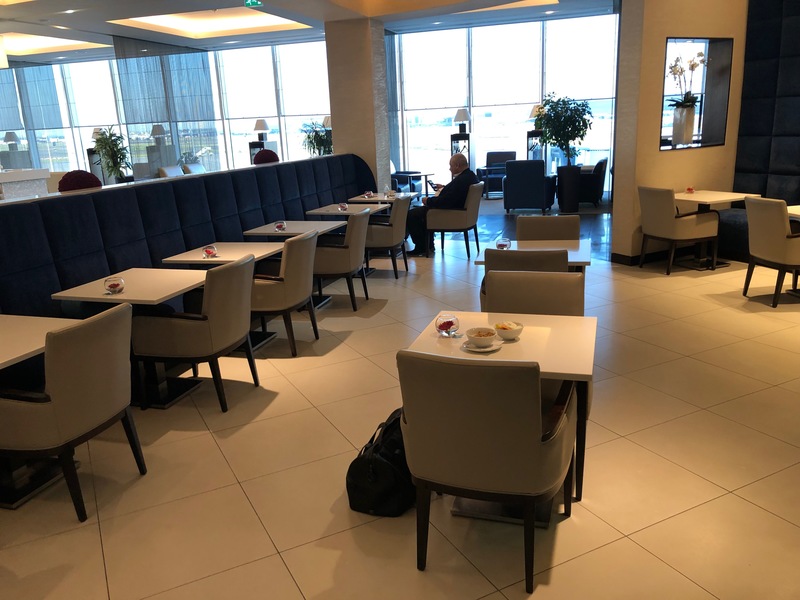 To the far right was the breakfast buffet (I arrived at 6.15am) which is based around an island.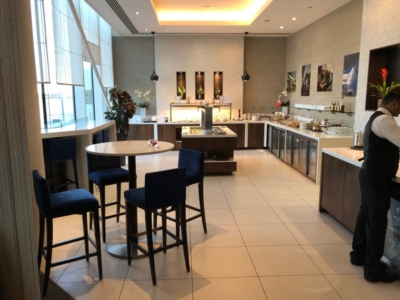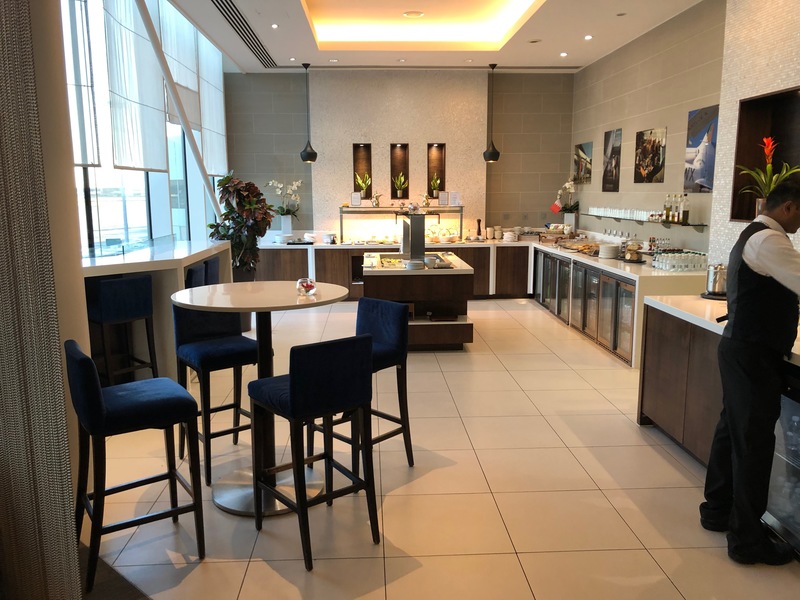 The only thing you miss at first glance is the small business area, which is tucked away at the back next to the loos. This may have had computers in it in the past but is now just a long shared desk with chairs. If you do plan to work then you may want to use this, as the sofa seating does not make it easy to use a mouse.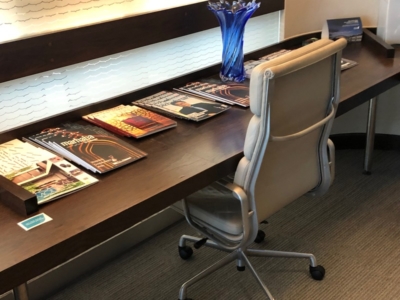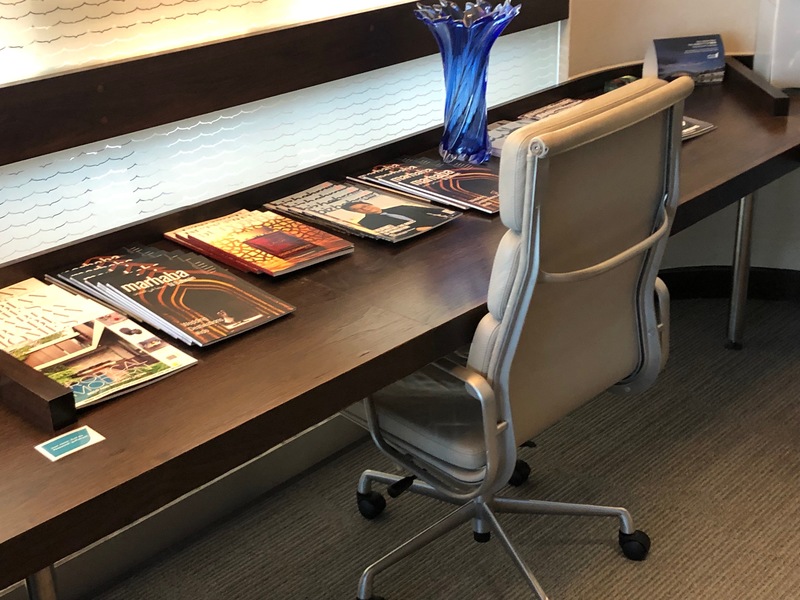 One one novel touch was these shelving units: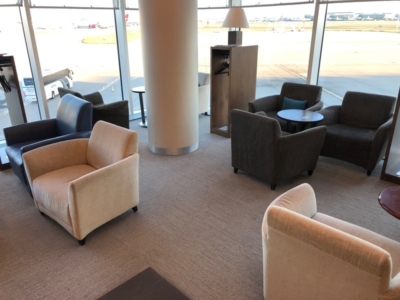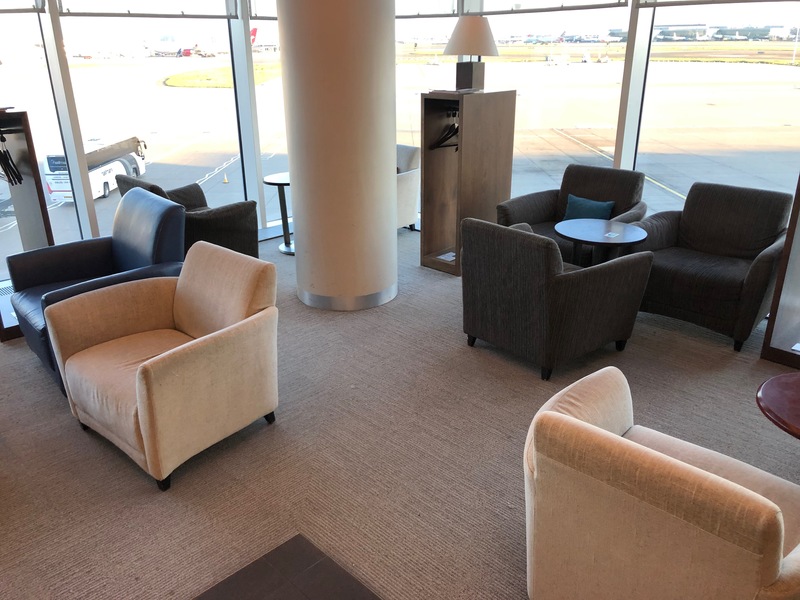 It is not a great photograph, but they have turned a lampstand into a wardrobe, allowing you to hang up your jacket or coat whilst keeping it in view. I thought this was quite clever.
Whilst I didn't take any pictures, the lounge features a number of framed vintage Gulf Air photographs which I found interesting. There is also a small but well chosen selection of Arabic antiques and furnishings.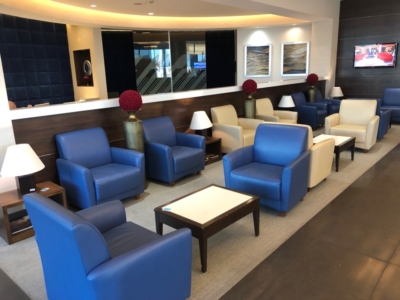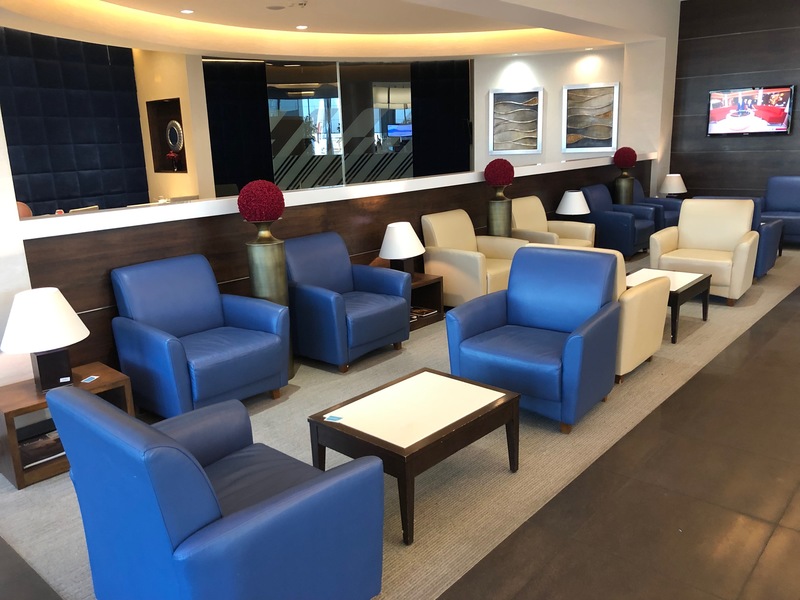 Wi-fi was good. The only slightly cheap element in the lounge was the laminated cards on each table showing the password.
Breakfast in the Gulf Air lounge
The Gulf Air lounge is not hugely busy. There were three other guests when I arrived, presumably also for the 8.25am Oman Air service. The first Gulf Air flight is GF2 at 10am and, when I left to board at around 7.55am, there were around 15 people there.
With that in mind, the breakfast spread was adequate. There is no cooked to order menu, but the buffet had a good selection of hot and cold items, with both British and Arabic dishes. In general, it has everything you want but not always as much choice – only cornflakes and Special K cereals for example, and only apple and orange juices. You'd be a bit churlish to find fault with this though.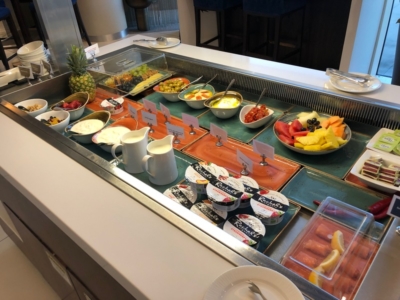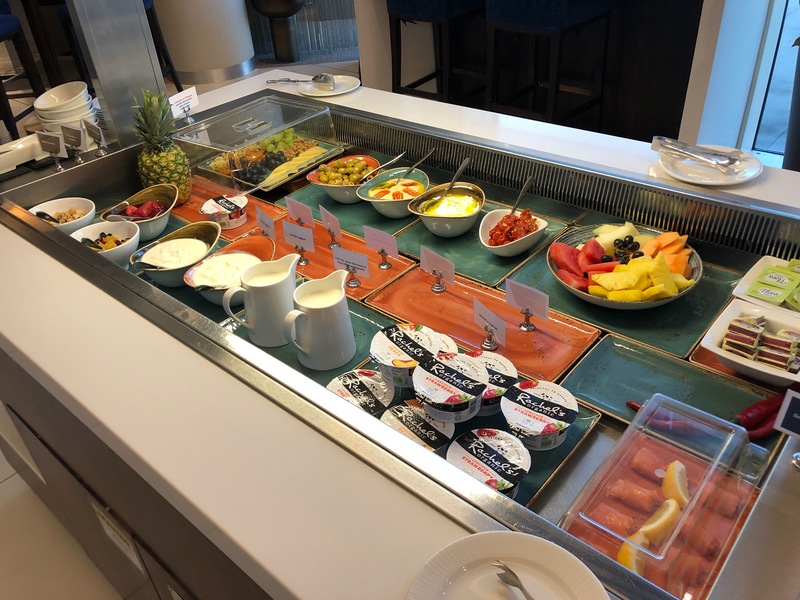 and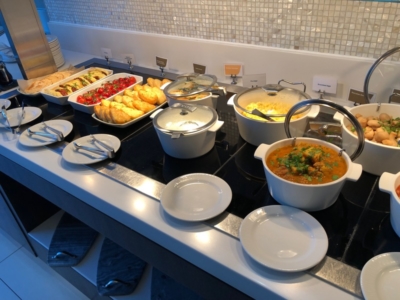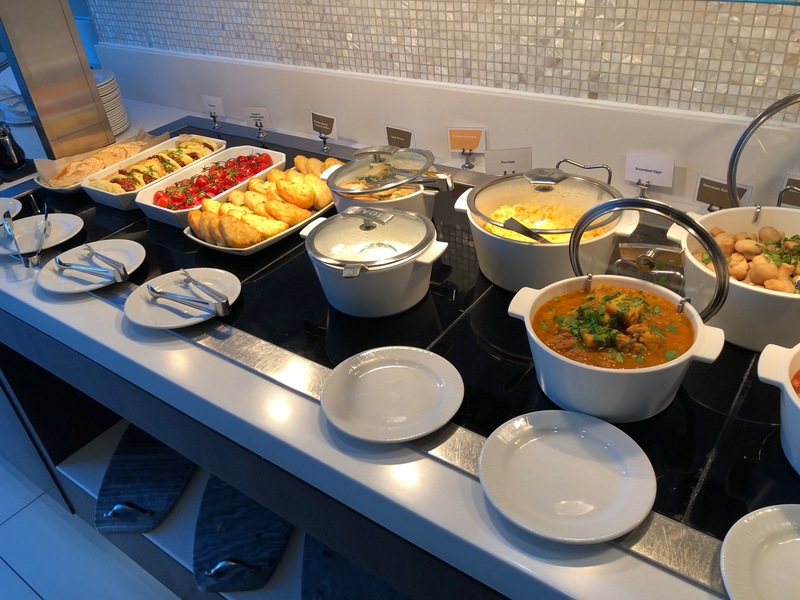 There are no coffee machines. I walked over to the bar to order one which the staff insisted on bringing over to my table. Staff would later proactively approach me in my sofa chair and offer to bring me additional drinks which was a nice touch.
There was a decent newspaper and magazine selection, with The Times, FT and New York Times as the main Western titles. The magazine selection had Bloomberg BusinessWeek, Wallpaper, Time etc plus a few free vanity titles. Again, I thought it was a well curated selection which had quite a lot of what I like and not a lot that I don't.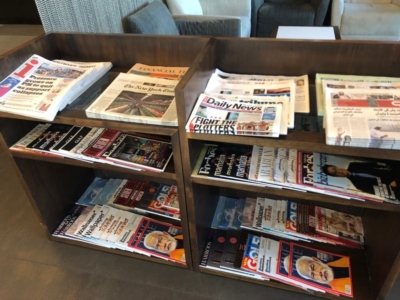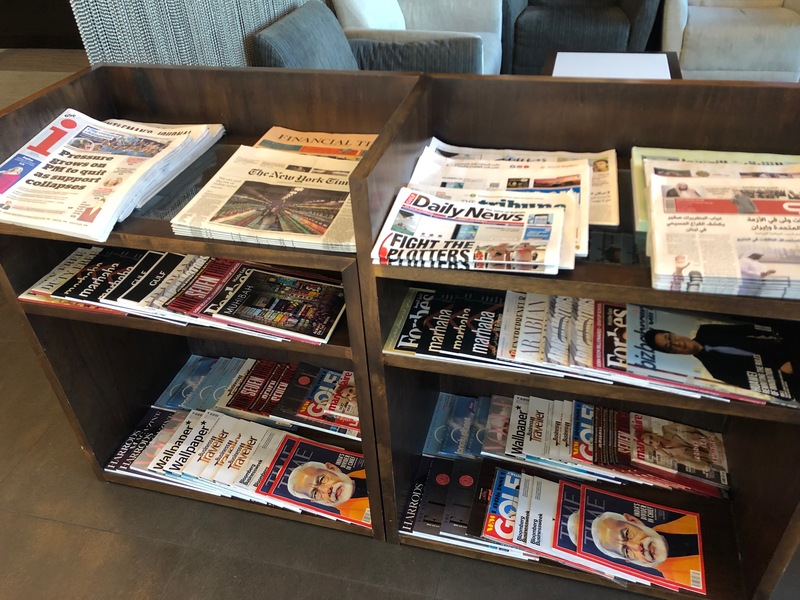 Whilst I was flying during Ramadan, the lounge still had the full range of alcoholic drinks on display. The selection was fairly mid-range, eg N.V. Rodier Pere et Fils Brut Reserve champagne, available online for around £23 per bottle. At 7am I wasn't drinking anyway.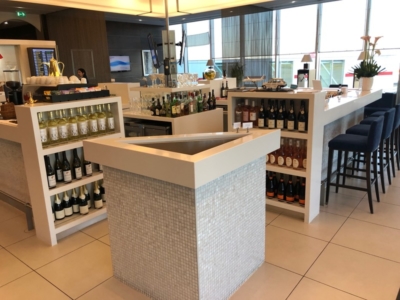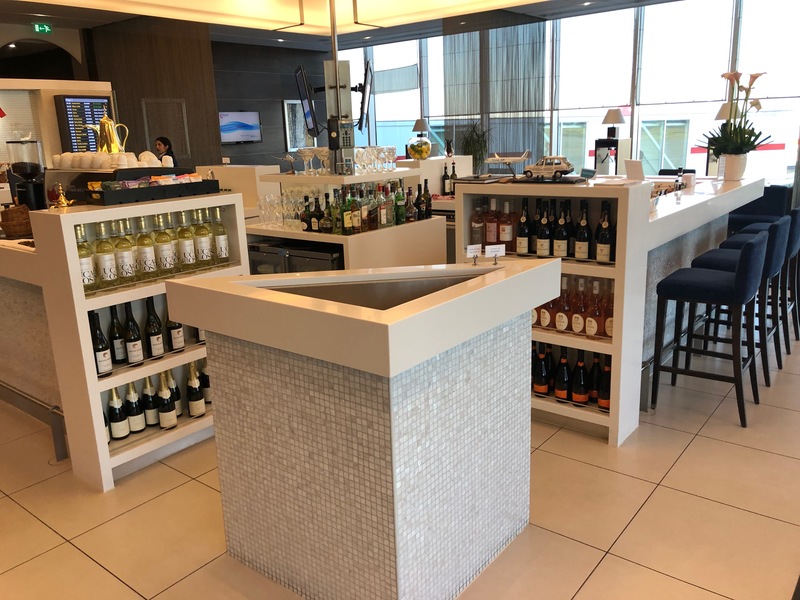 Conclusion
I had a very pleasant 90 minutes in the Gulf Air lounge. With few other guests I had all the space and quiet I needed at such an early hour. I had great views of the airport, masses of daylight from the huge windows and the breakfast buffet did the job.
I tried to leave at 7.45am but the woman at reception told me not to bother and that we would be collected. I went back to my seat and sure enough a boarding announcement was made 10 minutes later, together with an Oman Air rep walking through the lounge. I was never made to feel like a second class visitor because I was flying Oman Air whilst in the Gulf Air lounge.
When I got to the gate, my 10D business class boarding pass was taken off me and replaced by 1A in First Class. The next article in this series will look at the Oman Air First Class in-flight experience.