Review: the Malaysia Airlines Golden Lounge at London Heathrow Terminal 4
Links on Head for Points may pay us an affiliate commission. A list of partners is here.
This is our review of the Malaysia Airlines Golden Lounge at Heathrow Terminal 4.
This is part of our series of reviews of airport lounges across the UK. You see all of the reviews here.
EDIT: This lounge was permanently closed in 2021. It is possible it will reopen at some point under new management but you cannot use it at present. Malaysia Airlines customers are now using other lounges in Terminal 4.
This is the first review in our new series looking at Malaysia Airlines and Four Seasons Hotels & Resorts in Malaysia. Malaysia Airlines is, of course, a British Airways partner in the oneworld alliance and you can earn and spend Avios – and earn British Airways tier points – when you fly with Malaysia Airlines.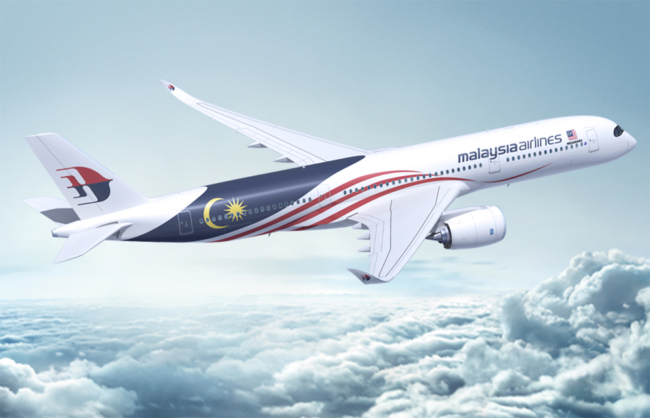 Malaysia Airlines offered us complimentary flights on their flagship A350 service from London Heathrow T4 to Kuala Lumpur. HfP paid for all of its incidental expenses on the trip, although our hotel bill was partially subsidised by Four Seasons.
This review focuses on the Golden Lounge that Malaysia Airlines operates at Heathrow and which you can see on their website here.
Back in March Rob visited this lounge on a press tour – his article on Heathrow's Golden Lounge is here. This was an 'out of hours' trip, however, and we wanted to look at it again when it was busy and when the food service was in full swing.
The Malaysia Airlines Golden Lounge at London Heathrow
The Golden Lounge at Heathrow is the only lounge that Malaysia Airlines operates outside of its home country. In other destinations it partners with local lounges. As long as you are travelling at the right time, you are also eligible to use this lounge if you are flying on Qatar Airways from Terminal 4 – although of course Qatar Airways has its own lounge just a few metres away.
The Golden Lounge is very easy to access. Once through security, turn left towards gates five and six. It is well sign-posted and a lift takes you one floor up directly into the lounge lobby: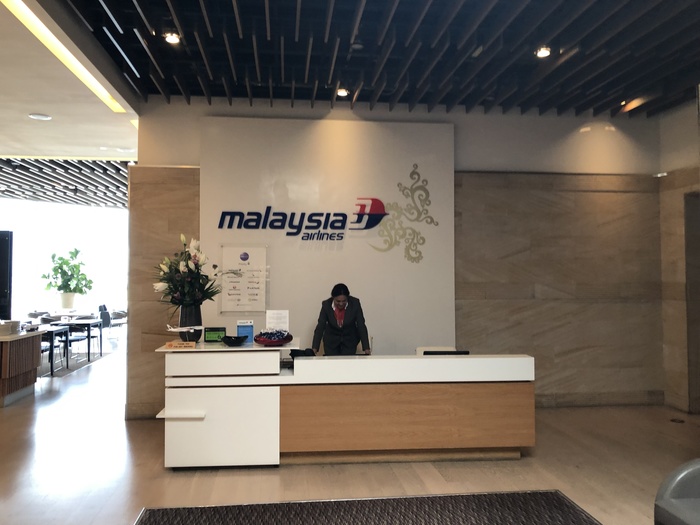 The lounge is open for fours hours prior to Malaysia Airlines' 11am and 9:35pm departures out of Heathrow.
It is divided into two parts: the Business Class area is on the left whilst the First Class area is on the right.
(Interestingly, it is still called the First Class lounge even though Malaysia Airlines has rebranded its First Class product as "Business Suites" – more of which in the next article in this series. Of course, the First Class lounge is open to British Airways Gold and oneworld Emerald status holders too.)
Both sides have floor to ceiling windows with excellent views of the stands as well as runway 27L.
Given that there are only four Business Suites on the A350 that Malaysia Airlines flies to London, the First Class lounge is generously sized. I was the only person in Business Suites on my flight and I arrived when the First Class area was empty, at around 9am. When I left there were a handful of people – presumably British Airways Gold status holders or other oneworld Emerald frequent flyers.
The main part of the First Class lounge is dedicated to a dining area, with several tables: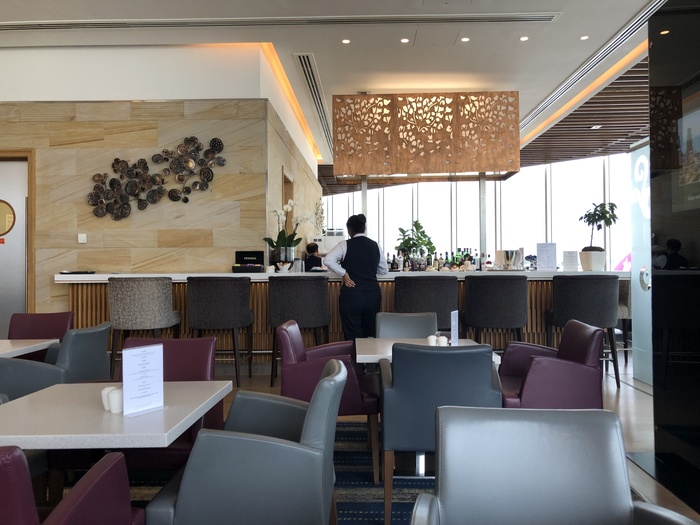 and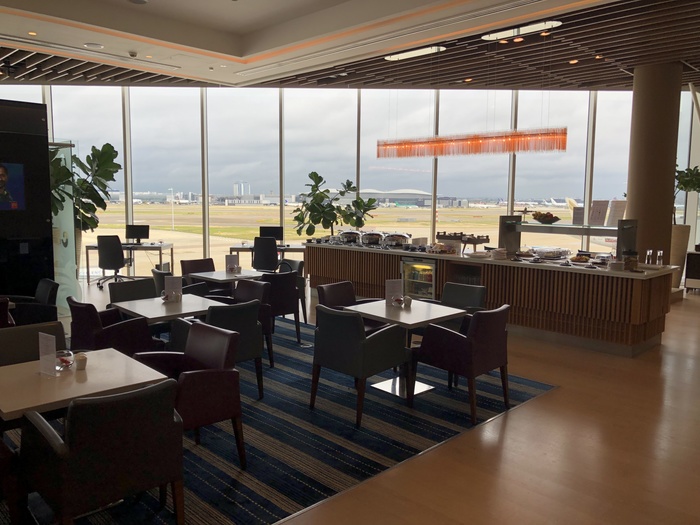 To the right of this dining area is the buffet which had both western and Malaysian breakfast items. This breakfast buffet appeared to be the same in both the First Class and Business Class sides of the lounge. What makes the First Class area stand out is an a la carte menu which is available for both breakfast and, for the evening flight, dinner.
The First Class area also has two business stations with PCs overlooking the tarmac as well as a row of more casual seats as well as a sofa/armchair area. This was screened off because the Malaysian Secretary of Defence had just arrived from Kuala Lumpur.
This was where a range of newspapers and magazines could be found, including FT Weekend, Sunday Times and i. The magazines were marked 'for lounge use only' which I found a bit strict given that, with such a small number of guests, it wouldn't have been a great hardship to offer copies to take on board.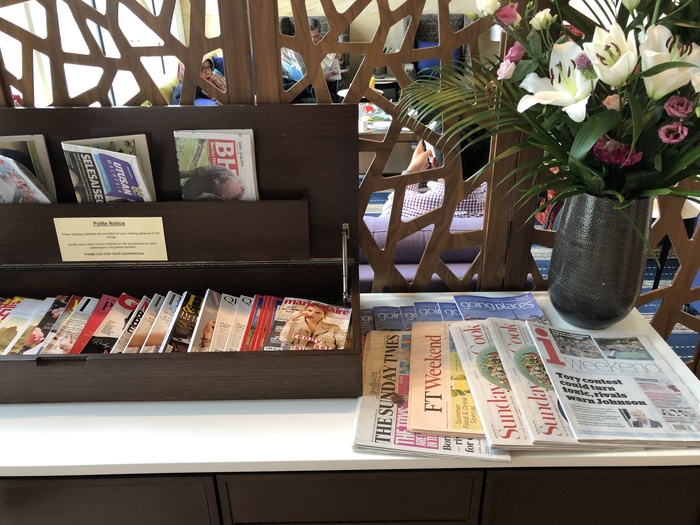 Both the First Class and Business Class areas of the lounge have their own bathrooms. On the First Class side the men's toilet had two cubicles, both with toilet and bidet and one with a nice looking shower: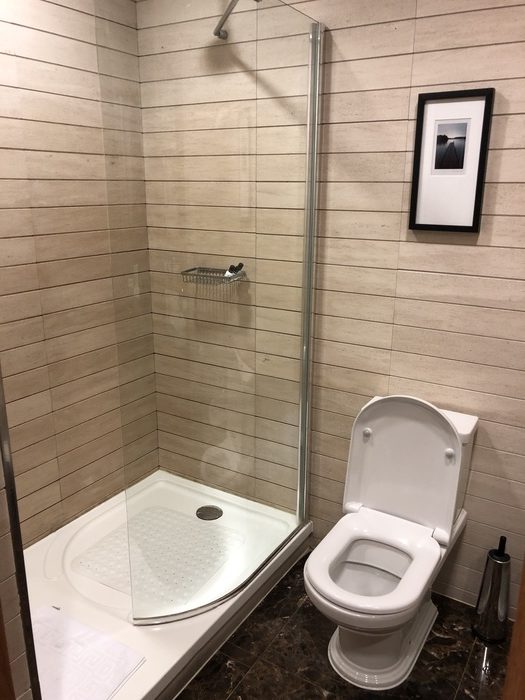 Toiletries were provided by Pecksniff. There was also a shaving kit, dental kit, comb and cotton buds available: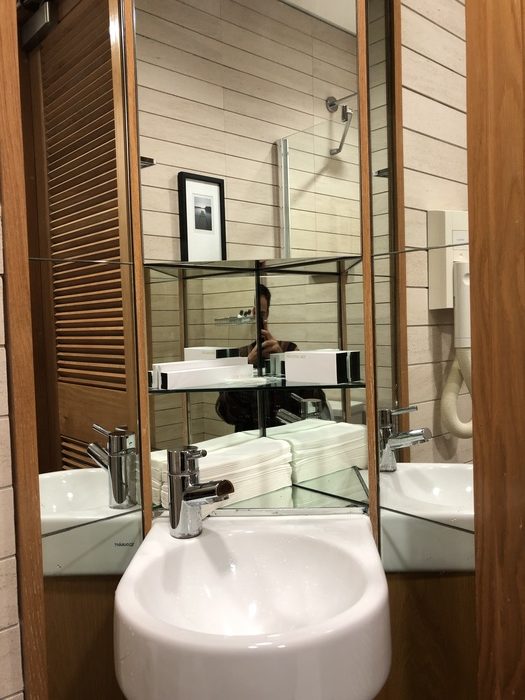 Breakfast
Since I was the first to arrive in the lounge, I chose the table with the best view of the runway. 'My' A350 was also directly outside the window, although I am told that it is normally parked at a different gate.
The buffet had a range of hot and cold options with a mix of western and Malaysian foods. The hot section included beef sausage, baked beans, scrambled egg (although you can order freshly cooked eggs from the a la carte menu), hash browns and grilled tomatoes. Mee Goreng, Nasi Lemak and Squid Sembal were the hot Malaysian offerings.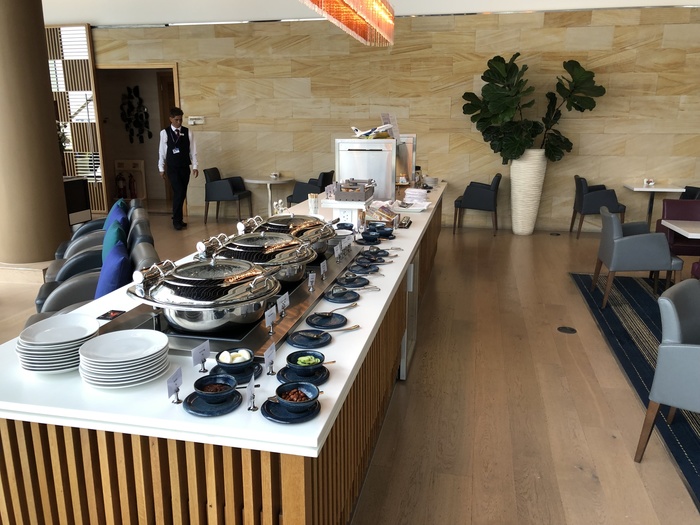 Cold foods included a range of sandwiches, a fish platter, a selection of cheese and crackers as well as a variety of fruit: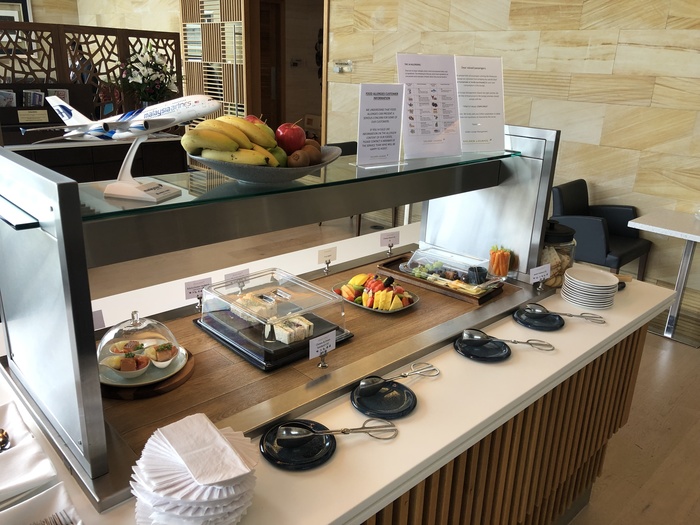 I decided to focus on the a la carte menu. Malaysia Airlines is extremely proud of the fact that all food is prepared and cooked directly on site. Last orders for breakfast are at 10am, since the flight departs at 11am. I ordered the Roti Jala which is a breakfast chicken curry that comes with these funky pancakes: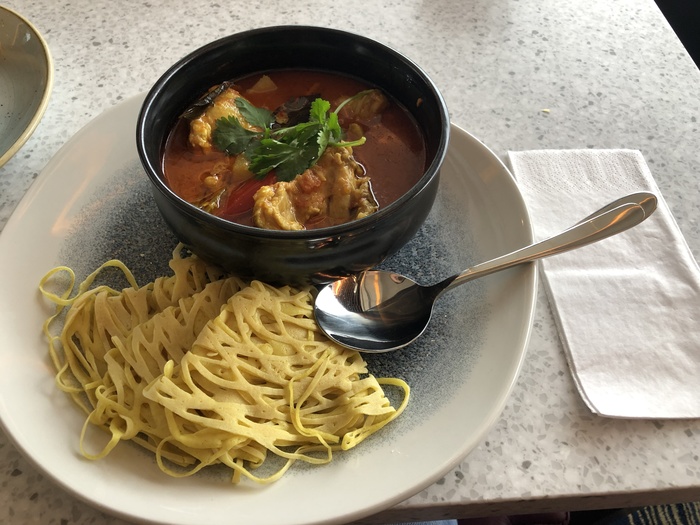 I was also treated to a selection of Malaysian pastries: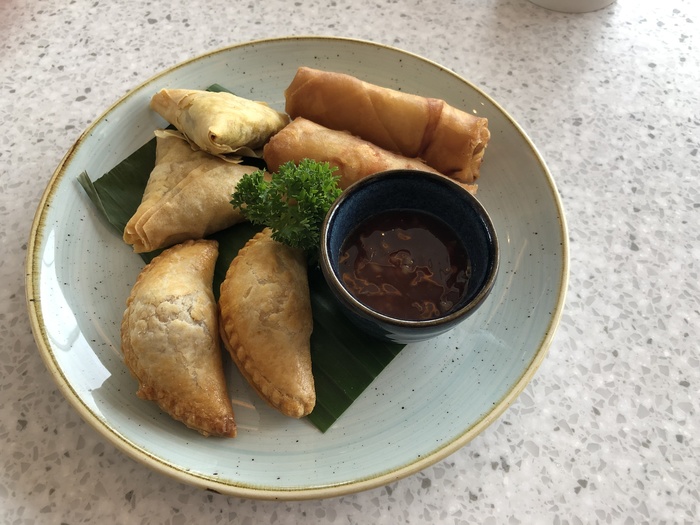 As well as a traditional Malaysian layer cake called Kuih Lapis, which has a very delicate flavour and reminded me of semolina (it is made from rice flour):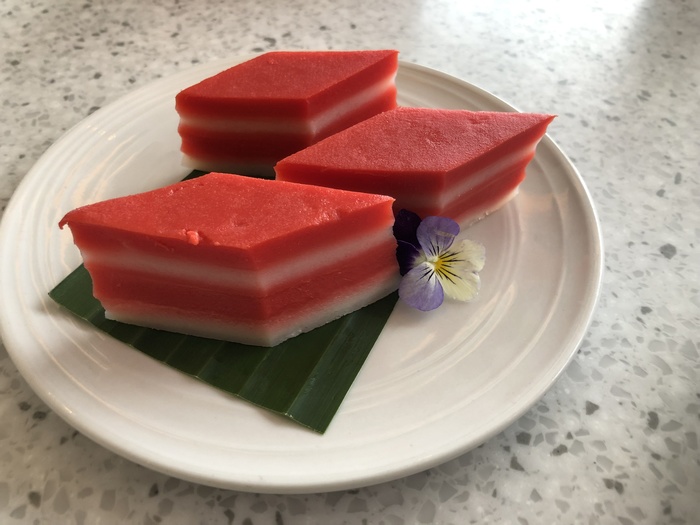 There were a lot of staff given the size of the lounge, which meant I had an extremely attentive service, although some of this may have been down to the Secretary of Defence's presence. The only thing that could have been improved is that I wasn't given anywhere to place the tea bag that came with my cup of tea.
Business Class Lounge
The Business Class lounge is slightly larger than the First Class side, but both feel bigger than they are thanks to the expansive floor-to-ceiling windows, the glass partition that separates them from each other and the open bar that serves both sides.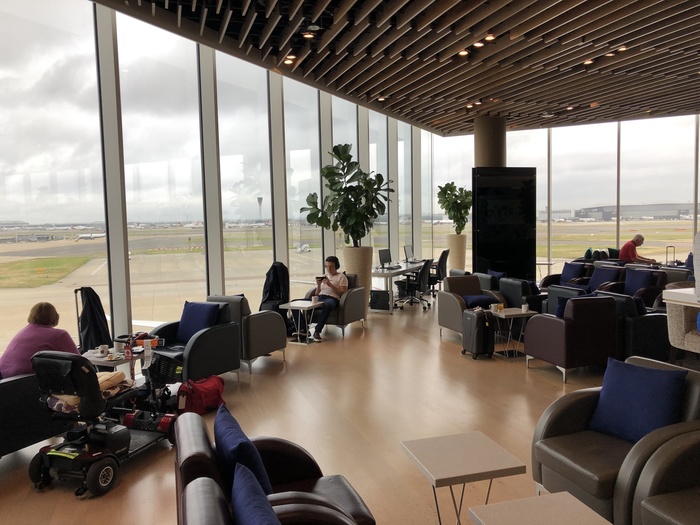 and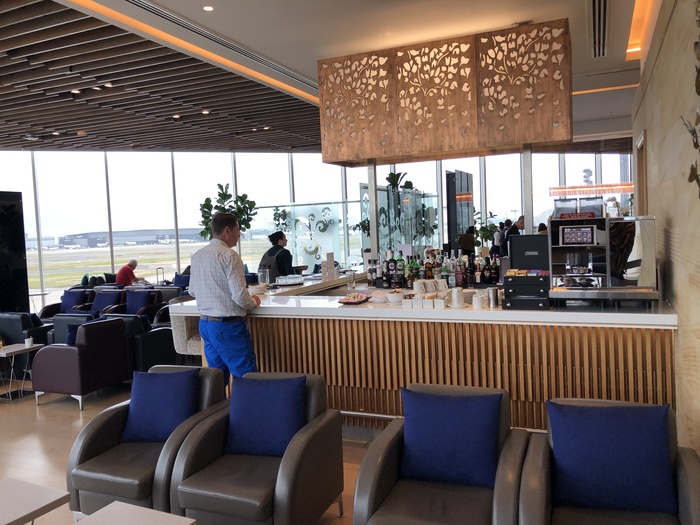 The Business Class lounge was slightly busier when I went to take a look. It has a few more amenities than the First Class lounge, including men's and women's prayer rooms, a breastfeeding room and a children's playroom. Of course, you also have access to these facilities if you are a First Class / Business Suites passenger.
Upon entering the lounge you are immediately greeted by the buffet, which is followed by a range of seating options: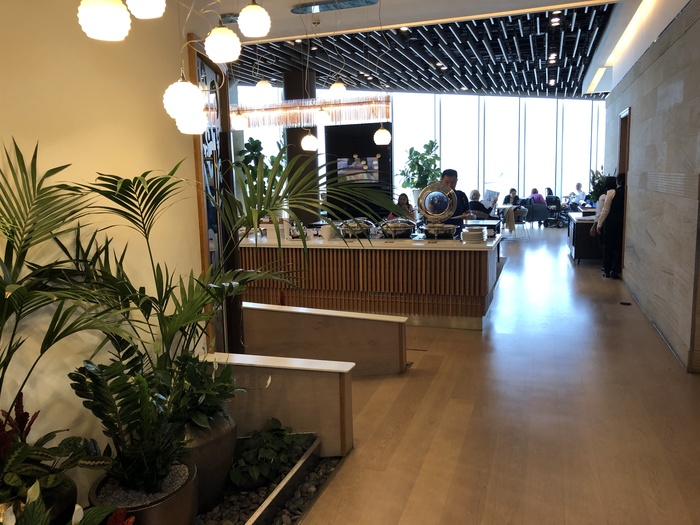 Conclusion
With only two flights per day, Malaysia Airlines caters for its premium passengers very well. The Business Class side, whilst busy, was less crowded than British Airways Galleries lounges in T5 on your average morning and you would definitely find a spot to sit down.
The First Class lounge was, even at its most busy, wonderfully spacious. With only a handful of guests you could still take your pick from any of the seating areas, and I expect it is even less busy when the Secretary of Defence isn't visiting!
It would be nice to see a bit more differentiation of the two lounges. Currently, the only real difference is the a la carte dining, whilst decor, soft furnishings and seating all appear to be the same. I also felt the a la carte breakfast menu was a little light on western options, since not everyone might be amenable to a breakfast curry! The curry, pastries and cake I had were, however, delicious.
Given that British Airways is moving away from full First Class lounges in favour of Concorde Bars at international destinations, it is impressive that Malaysia Airlines has invested so much in its Heathrow service given that it only operates two flights per day.
As 11am approached, I headed down to the gate to take a look at the newly rebranded 'Business Suites,' formerly First Class, that Malaysia Airlines operates from London and on selected other long haul routes. This review will follow in a day or so.