Review: Malaysia Airlines A350 Business Suite (ex First Class) (Part 1)
Links on Head for Points may pay us an affiliate commission. A list of partners is here.
This is our review of the Malaysia Airlines Business Suite on the Airbus A350-900, between London Heathrow and Kuala Lumpur.
This review is part of our series on Malaysia Airlines. You can read the first article, my review of the Malaysia Airlines Golden Lounge at Heathrow Terminal 4, here.
Malaysia Airlines is, of course, a British Airways partner in the oneworld alliance and you can earn and spend Avios – and earn British Airways tier points – when you fly with Malaysia Airlines.
Malaysia Airlines offered us complimentary flights on their flagship A350 service from London Heathrow T4 to Kuala Lumpur. HFP paid for all of its incidental expenses on the trip, although our hotel bill was partially subsidised by Four Seasons.
What is Business Suite?
The 'Business Suite' is an attempt to rebrand what was formerly Malaysia Airlines' first class product into something that straddles both first and business class, although it is definitely more 'first' than 'business'.
This has been reported as a move that catered to the Malaysian Government and major corporate customers, who did not want to be seen booking a first class product any more. Despite the name change and a slightly lower cost, both hard product and soft product appear to have remained the same. You can read more about the Business Suite on Malaysia Airlines' A350 website here.
It is worth flagging at this point that one casualty of the new hybrid seat is an inability to book with Avios because it is no longer treated as First Class in the booking system. You can, however, book a standard Business Class seat – which I review in a future article – and pay to upgrade at check in for around £500 each way.
Here is a PR photo which shows the middle pair of suites in all its glory: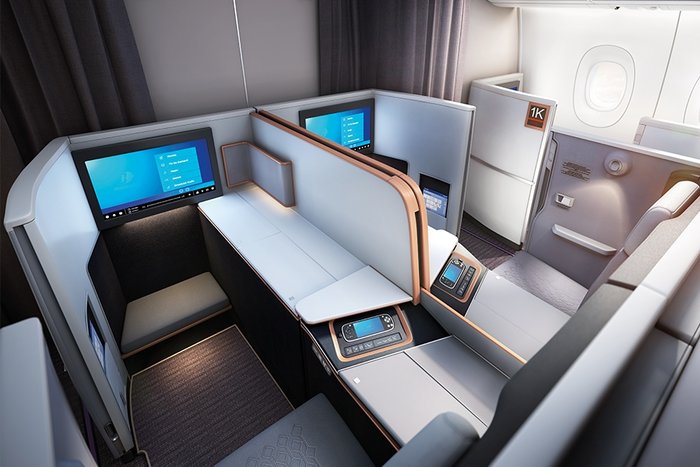 The Business Suite seat
The Business Suite cabin is incredibly small and intimate on the A350, taking up just one row. There are four suites in a 1-2-1 configuration.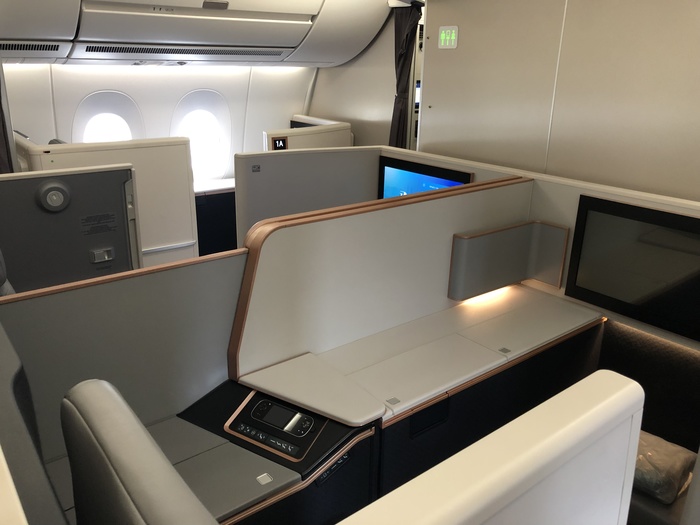 I was sat in 1K, the window seat on the right hand side.
Despite being just one row, it feels spacious, partly due to the removal of the the central overhead bins. You won't be lacking in storage space, however, since the window bins and the suites themselves have plenty of space. You can see the seat storage areas in the picture below.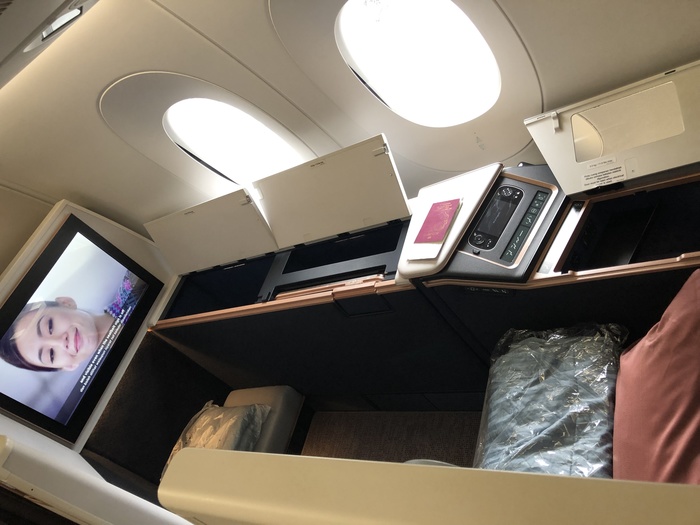 You will be surprised how much you can fit in although big items, such as roller bags, would need to be stored overhead. The downside is that the storage areas runs directly along the side of the suite and takes up considerable width.
The seat has good connectivity, with a USB and multi-function plug socket: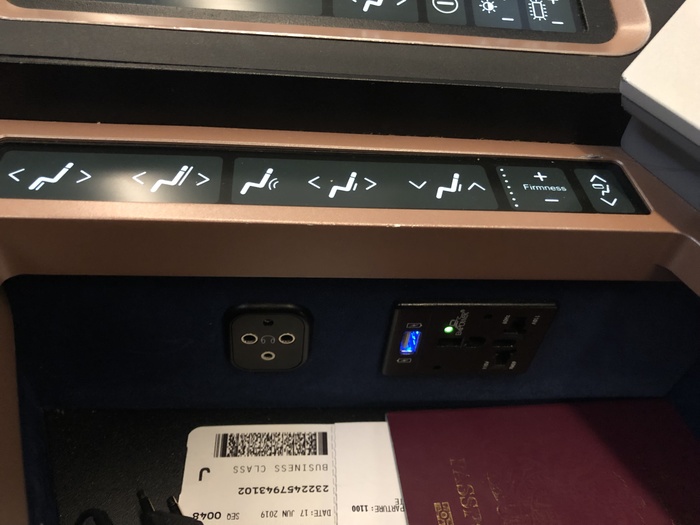 If you are sitting in one of the window seats you get air vents, although those sat in the middle pair do not, due to the lack of central overhead bins: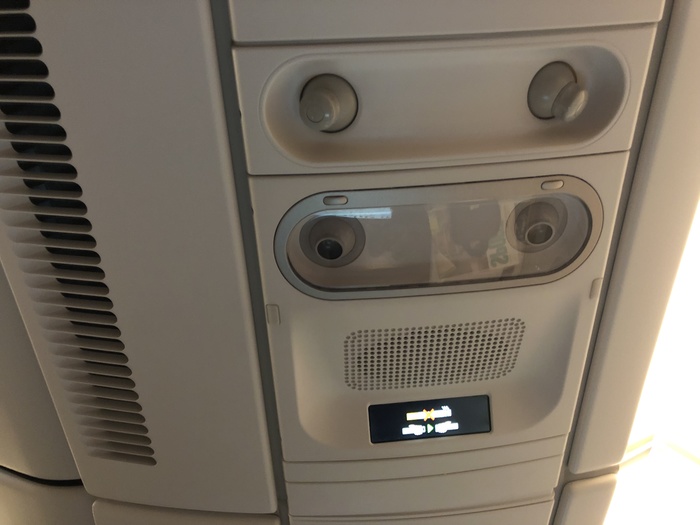 The seat itself is based on the VantageXL, which Delta also uses for its Delta One suites. It comes with a door which can be closed after take off, although clearly this is not a full height door like the new Emirates suite.
This was my first time sitting in a seat with a door and I must admit I am sold on the concept. It was particularly useful for sleeping when the extra privacy shields you from other passengers – not that there were any in the suites on my flight – and cabin crew passing through.
I was offered a welcome drink on boarding, as well as a small smoked salmon tart. I chose the Malaysian Airlines signature drink Wau Emas, which is a soft drink made of pineapple juice, pandan syrup, soda water and a hint of lime and mint. Pandan syrup is made from the leaves of the Pandan palm which looks a bit like a yucca. It had a rather unusual flavour that I struggle to describe and one that our westernised palettes are not used to, although I enjoyed the drink.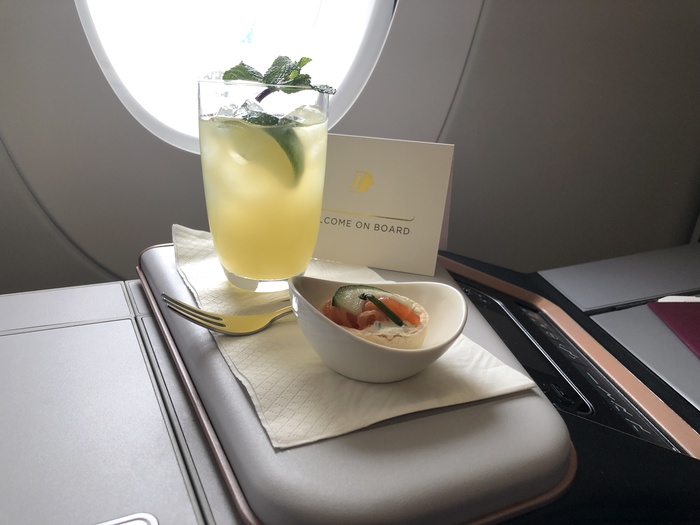 Once I sat down I was asked what size I was for pyjamas and offered an amenity kit, headphones and a selection of newspapers (The Sunday Times and Sunday Telegraph) as well as the in-flight menu.
Malaysia Airlines is currently switching to a new amenity kit provider which will cover both Business and Business Suite. Depending on availability you will either get the Payot Business Suite kit advertised on the Business Suite page here or the standard business class kit. I got the latter, produced by Aigner. It contains a pair of socks, a dental kit, a travel comb, lip balm, mouth wash and body lotion: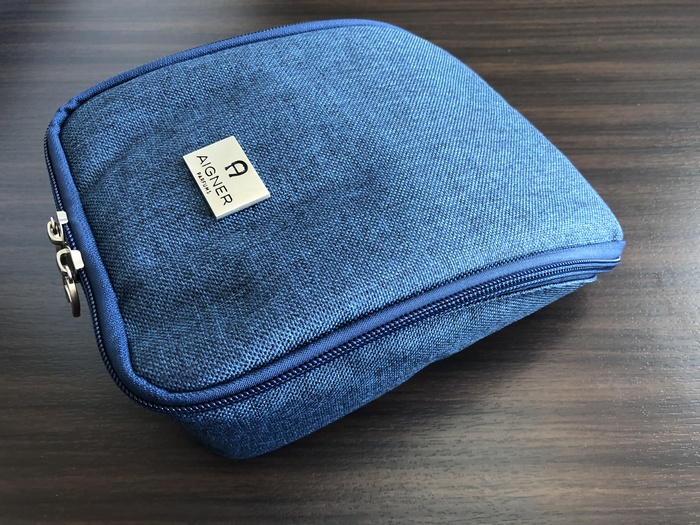 and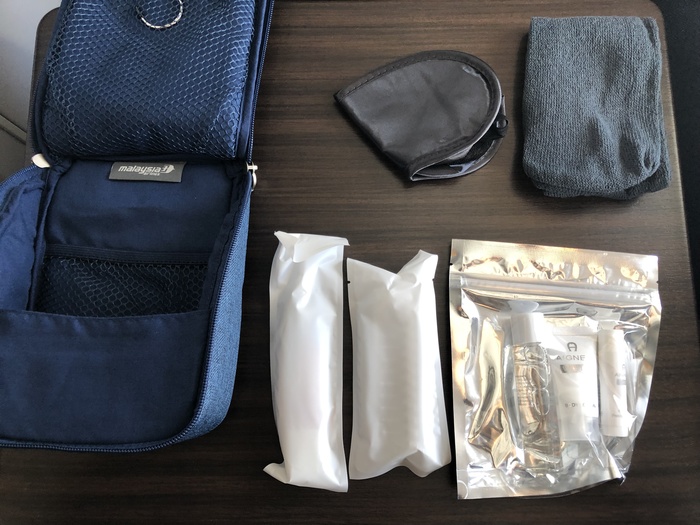 Due to an air traffic issue, our departure was delayed by approximately an hour. I was offered another drink and chose the Champagne Bruno Paillard Premiere Cuvee, which retails for around £35. Whilst there are other champagnes on board, regulations mean that only the Paillard is offered before take-off. It certainly made the delay more amenable!

Lunch
Malaysia Airlines offers a 'Chef on Call' service where you can pre-order up to two meals before your flight. The options available to pre-order are not the same options that are on the menu I was given on the aircraft, so if there is something specific on the pre-order menu that takes your fancy I recommend booking it – there is no guarantee it will be on the standard menu.
Once we were airborne, I was asked if I wanted to have lunch. Having just had a big breakfast in the lounge, I asked to have my lunch an hour later and the crew were more than happy to oblige.
Malaysia Airlines provides a satay starter as standard. In addition, you can order an additional appetiser from the menu:
Sarawak Umai
Pea Soup with smoked duck
Ossetra Caviar
I went for the Sarawak Umai, a halibut dish marinated in lime, ginger and chilli. I was very impressed with both the halibut and the satay, especially after sampling satay in various restaurants and food trucks in Malaysia. I thought it held up – and even topped – offerings on the ground.
I had my starter with the Bruno Paillard Rosé Premiere Cuvee Nv, which I wanted to try and retails for just under £50 a bottle. Taittinger Comtes de Champagne 2007 was also available, which is £175 on the Selfridges website – a surprisingly impressive bottle even for a First Class menu.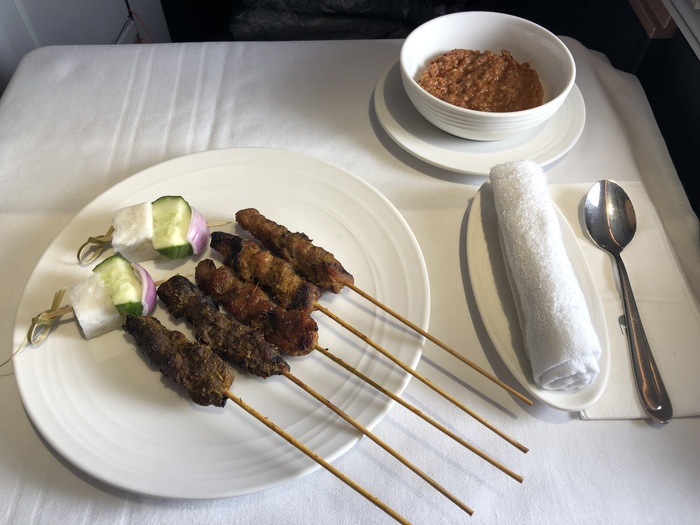 and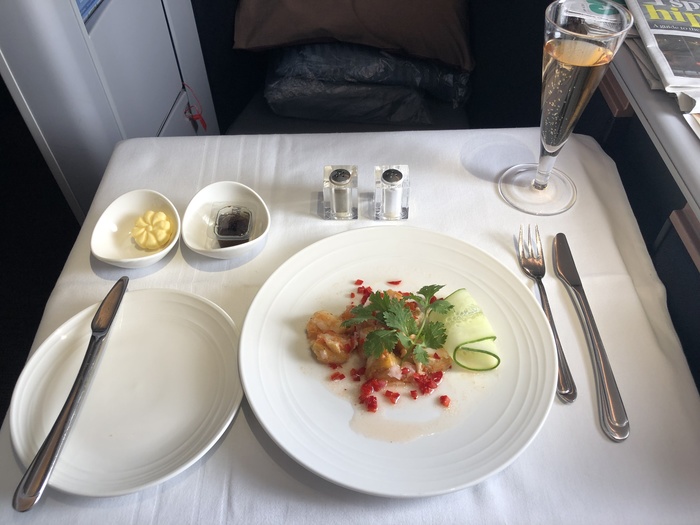 The presentation, as you can see, was excellent. The china was plain but classy with stylish cutlery and was laid out very smartly.
I could choose from four options for my main course:
Grilled Fillet of Beef
Opor Ayam (slow-cooked chicken in a coconut gravy)
Salmon and Prawn Brochette
Spinach Ricotta Tortellini
Alternatively you could have a pre-ordered 'Chef on Call' main which I had done, opting for a Rib Eye steak.
Steaks are probably the hardest to get right in the air, as it difficult to prepare them to the preferences of the passenger given the limited cooking facilities. The steak was well done but neither the steak or the gravy blew me away. Lesson learned. I had it with a decent glass of Chateau Quinault l'Enclos 2014 which you can get for just over £30 per bottle in stores.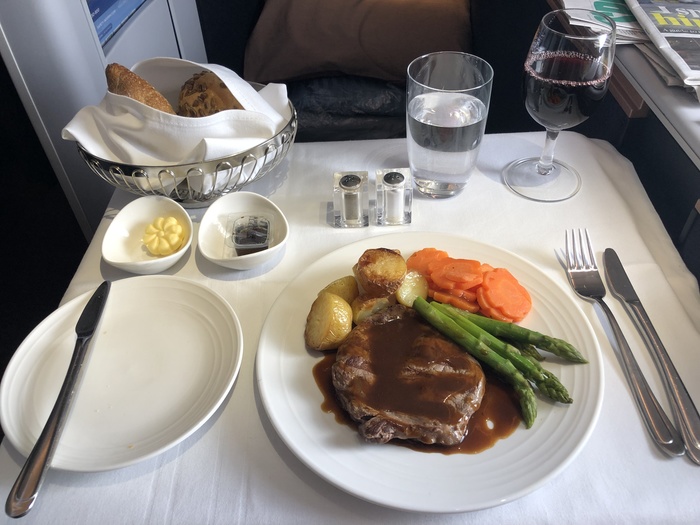 The dessert menu was smaller, with only three options:
Passion fruit Meringue
Selection of ice cream by Marshfield
Seasonal fruit
For dessert I had the passion fruit meringue and went back to the rosé champagne. This was a style of passion fruit cheesecake topped in a soft meringue with a passion fruit coulis: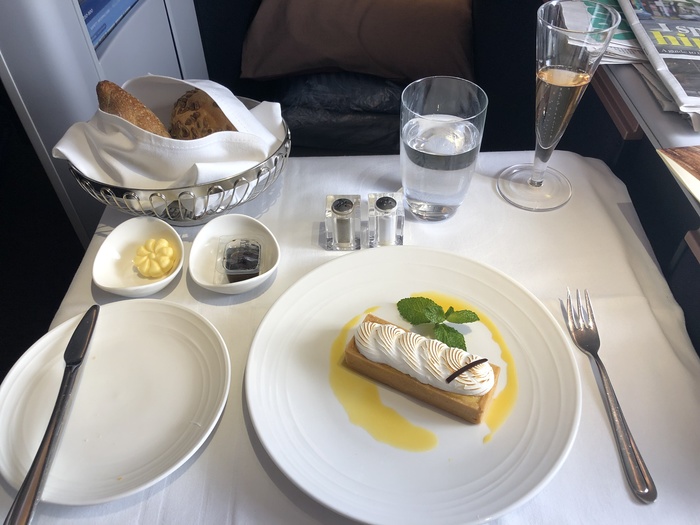 To finish, I had a selection of British cheeses, which rounded the meal off nicely: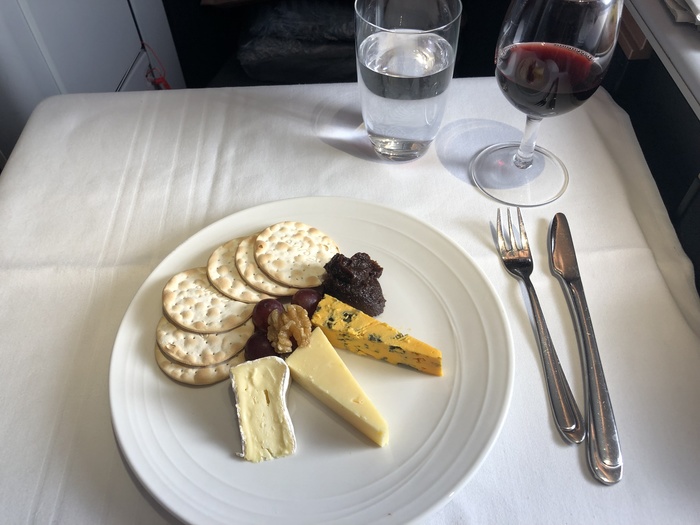 It was an impressive meal, although I should probably have taken something other than the steak (I think Rob generally sticks with chicken or fish for a good reason).
This is the end of Part 1. Part 2 of our Malaysia Airlines Business Suites review, which focuses mainly on the IFE, second meal service and turn down service, is also published today and can be found here.
You can learn more about the Airbus A350-900 Business Suite product on the Malaysia Airlines website here.