Review: Malaysia Airlines A350 Business Suite (ex First Class) (Part 2)
Links on Head for Points may pay us an affiliate commission. A list of partners is here.
This is Part 2 of our Malaysia Airlines Business Suite review, flying from London to Kuala Lumpur on an Airbus A350-900.

Part 1 of our Malaysia Airlines Business Suites review can be found here, which focuses mainly on the cabin, seat and lunch first meal service. In this part we look at the IFE, turn down service and second meal service.
As a reminder, Business Suite is the new name for the Malaysia Airlines First Class product, rebranded to appeal to corporate and state buyers. It is separate to Business Class which I will review in a future article.
You can read about the A350 on the Malaysia Airlines site here.
In flight entertainment
Malaysia Airlines has chosen to install electronic window shades in its Business Suites. At first I tried to close the shade with a button on the main seat console, but this didn't appear to work so I used the up/down arrows under the windows themselves. This seemed to do the trick.
The windows have a white shade as well as a full blackout shade, which was a nice touch – sometimes a bit of natural light is pleasant even if being blinded by the sun isn't!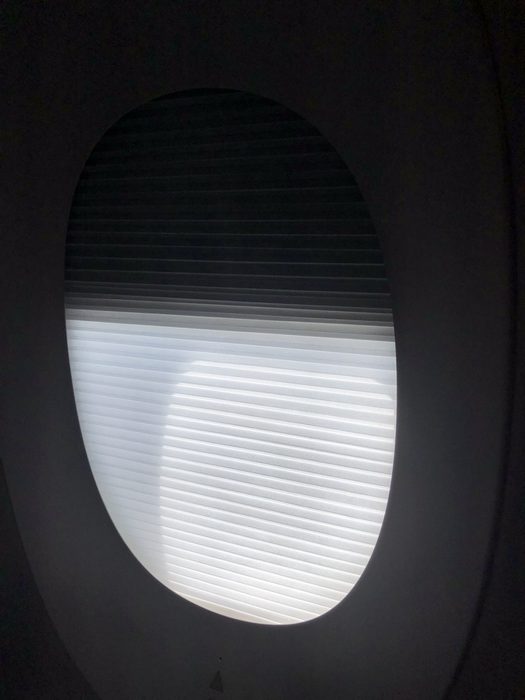 In flight entertainment is delivered by a large 24″ screen in the Business Suites as well as an additional remote with its own built-in screen: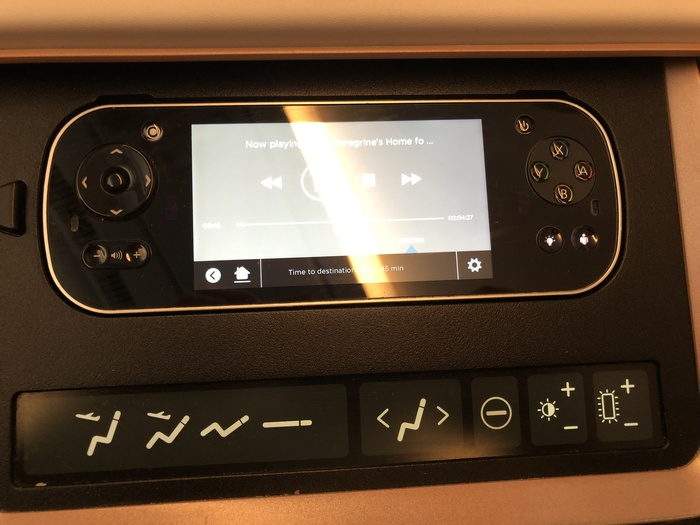 The screen is permanently mounted and offers gate-to-gate entertainment. The interface is very intuitive to use and the screen looks like it supports high definition content, although when I started watching the content doesn't appear to be loaded in high-definition. See the photo below.
I thought the selection was acceptable, if a little weak. Recent releases were fairly limited, although there appeared to be a slightly larger catalogue of recent Asian releases. Some films such as A Star is Born were loaded on my flight with Air New Zealand back in February, so it doesn't look like the content gets refreshed very regularly.
The Hollywood classics catalogue is slightly larger, and includes the Harry Potter franchise as well as some random additions. These included the Fantastic Four films from a decade ago and all three Big Momma's House films, which I wouldn't exactly call a 'Hollywood classic'.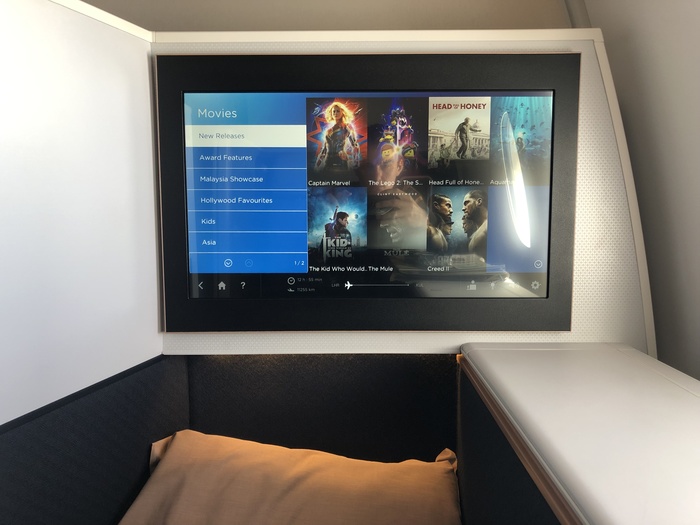 I struggled to find something that interested me, and eventually settled on the harrowing The Birth of a Nation and Jersey Boys, which was surprisingly good.
It also appears that some English language films have hard burned subtitles. I tried turning these off in the interface but it didn't appear possible. Adult language had been overdubbed with replacement words, which was an entertaining novelty at first but soon wore off.
The headphones supplied are a Malaysian Airlines branded pair of noise-cancelling headphones. This is my second time on an A350 and if I am honest I am still shocked to find how quiet the aircraft is, especially on take off! Still, it's always nice to have nice cancelling headphones and this pair seemed to do an even better job of cancelling the noise than my £250 Sennheisers!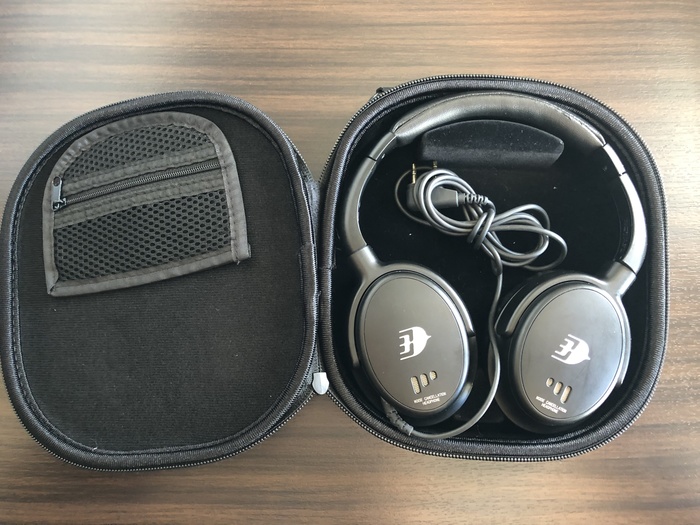 Wifi on Malaysia Airlines
Malaysia Airlines' A350 aircraft are all outfitted with WiFi and roaming capabilities. Unfortunately, but not surprisingly, there is no complimentary plan for Business Suite guests. This is an issue across the entire airline industry, and even when you do get some level of free access – as Rob did in Oman Air First Class recently – the data cap is too low to make much use of it.
Malayisa Airlines lets you purchase 10mb for $2, 50mb for $10 and 200mb for $25. 200mb would have allowed me to do some HFP work or browse social media for a few hourse, but even this upper level is not particularly appropriate for streaming. Given the restricted bandwidth with airline wifi, which has to be shared across all passengers, this is not necessarily a bad thing.
Trying out Business Suite as a bed
After lunch and a film I decided to try and get some rest. I asked the cabin crew for the turn-down service and headed to the bathroom to get changed into the supplied pyjamas and brush my teeth. The pyjamas are supplied in a convenient bag and include a pair of slippers: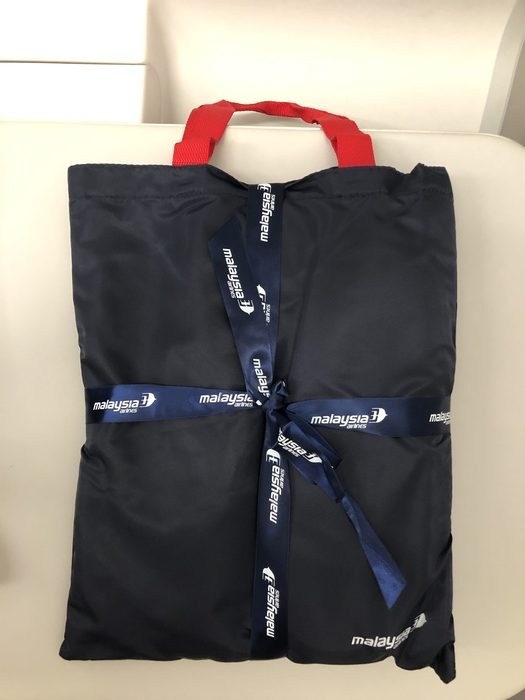 When I came back the bed was made up with a blanket, seat protector and and lovely, down filled pillow: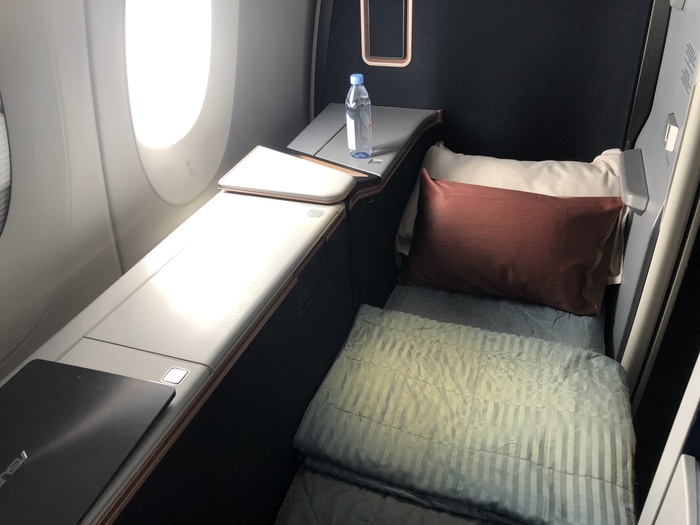 and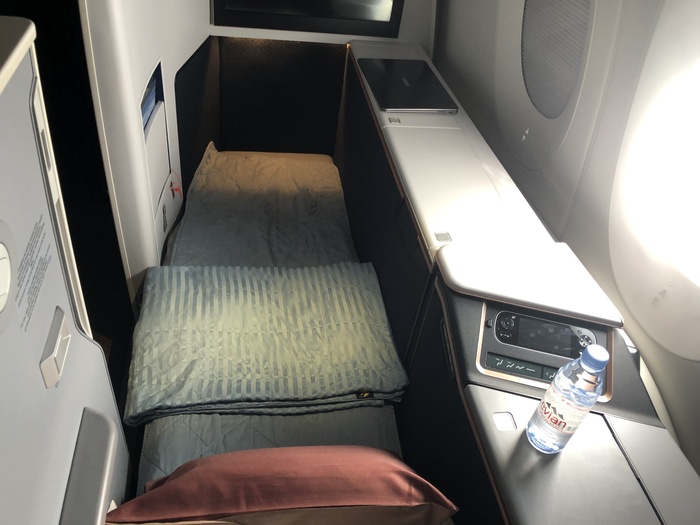 Malaysia Airlines does not supply a mattress topper, which means that in some positions you can feel the different seat elements. However, I did not find this to be a problem and managed to get about three hours of sleep despite it only being early afternoon UK time.
For most of the rest of the flight it was dark outside and the cabin remained dark too, although the lights were brought up 2-3 hours before landing for a breakfast service.
Bathroom
The four Business Suites share a private bathroom at the front of the cabin although some sneaky business class passengers did use it too.
It is more spacious than a standard aircraft toilet, and comes with a fold-down bench that is useful when you want to change clothes. Toiletries are provided by Acca Kappa and include a green mandarin scented Eau de Toilette. It is larger than the photos make it seem: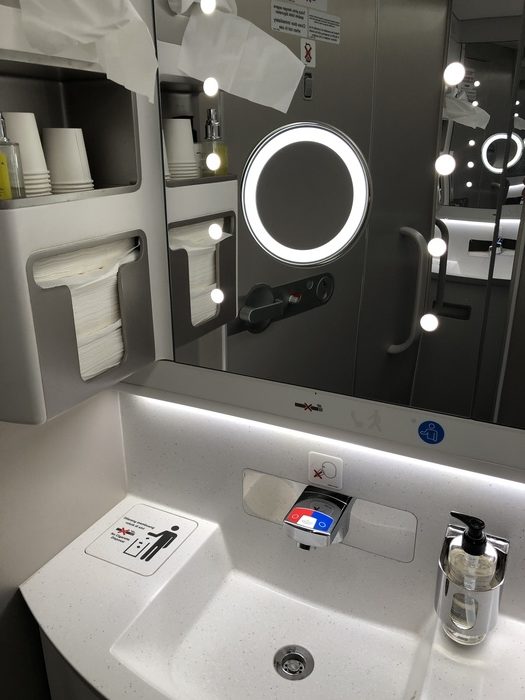 and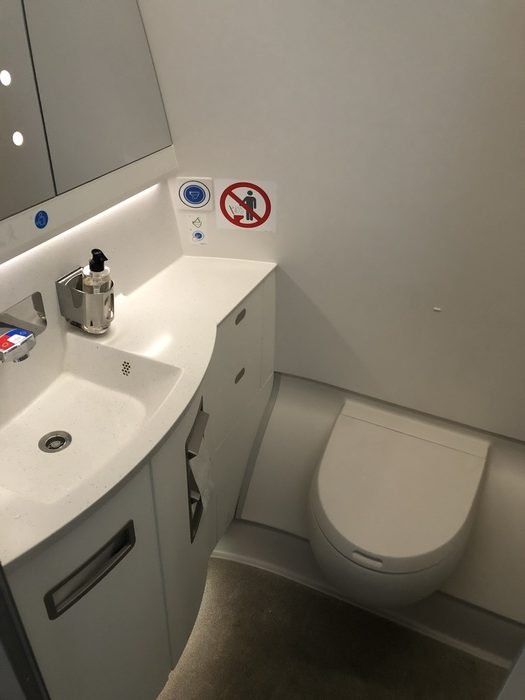 Dinner, breakfast and snacks
Although the morning flight from Heathrow is a day flight, it flies into the sunset and lands in Kuala Lumpur the next morning. This means that, depending on your body clock, you may want either a dinner item or breakfast item for your second meal.
The second food option is offered as a 'dine anytime' menu up to two hours before landing. This includes sweet and savoury snacks as well as breakfast options.
I was also offered the chance to reserve an additional item from the lunch menu as my second meal as well as my second 'Chef on Call' choice. I thought this was a good idea, and it left me wondering why other airlines don't allow passengers to have a more substantial second meal from the left over main meal.
I got a little peckish during the flight so I opted to have my pre-ordered lamb shank early and then a lighter breakfast just before landing. Here is the huge portion of lamb: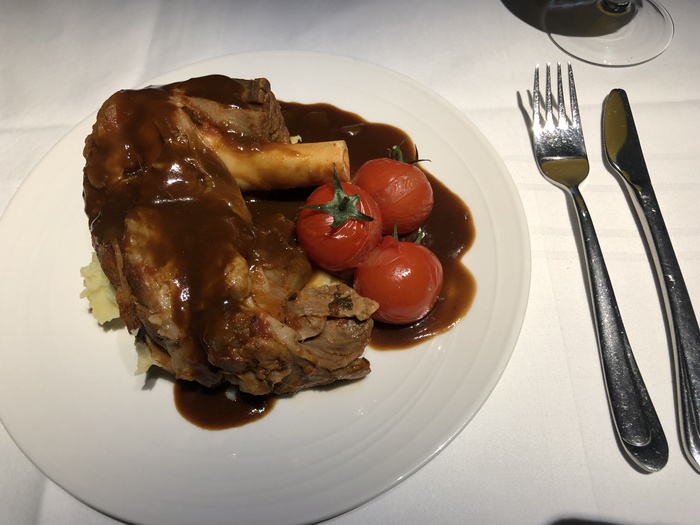 This was a much better meal than the steak: the meat was beautifully tender and tasted great.
A few hours later I had a light breakfast, with a selection of fruit to start: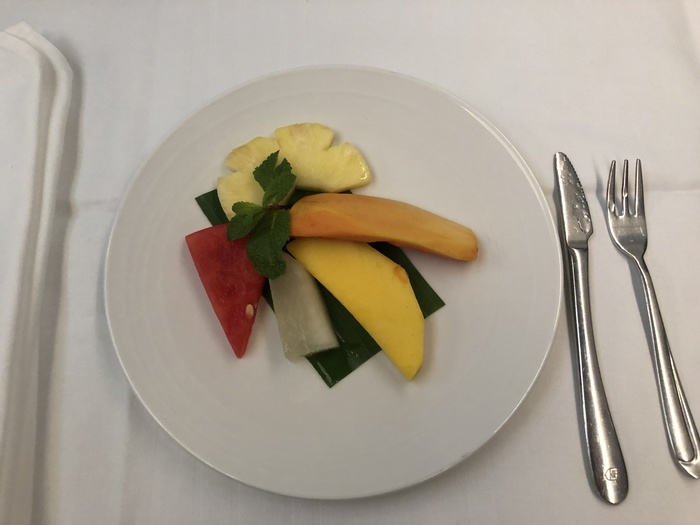 …. which was great, although the mango was a little crunchy! I then had some caviar (a lunch starter) as my 'main', which was excellent …. it may been technically breakfast but who cares?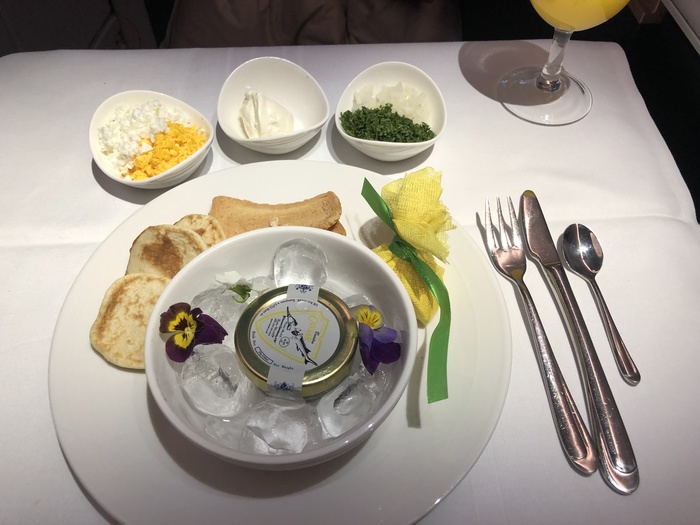 Conclusion
I was very impressed with the Business Suite experience. It is not a truly decadent First Class experience if you compare it with the new Emirates and Singapore Airlines suites, but it is substantially better than the 'half way house' positioning between Business and First Class may make you think.
(And, of course, it is still First Class in all but name but at a lower price point. It is the same seat and I assume the same menu that was previously available, and you are still using the First Class of the lounges. The only obvious change so far is the move towards a common amenity kit for Business and Business Suite.)
I haven't the cabin crew so far – HfP reviews tend to focus less on intangible items such as crew attitude because it can vary so much from flight to flight. I do feel, however, that I must highlight the quality of the service. The cabin crew were excellent and made my time extremely pleasant.
Thank you to the team at Malaysia Airlines for arranging my flight. You can learn more about Business Suites on the Malaysia Airlines website here.
The next two articles in this series will focus on the Four Seasons Kuala Lumpur and Four Seasons Langkawi hotels I stayed in whilst in Malaysia. Keep an eye out on HfP for those reviews.