The beach resort of Four Seasons Langkawi reviewed (Part 2)
Links on Head for Points may pay us an affiliate commission. A list of partners is here.
This is Part 2 of our review of the Four Seasons Langkawi beach resort in Malaysia.
Part 1 of our Four Seasons Langkawi review, which primarily looks at my villa and gives an overview of the facilities, can be found here.
In part two I want to look at the spa, the restaurants and explain the best way to book.
The Spa at Four Seasons Langkawi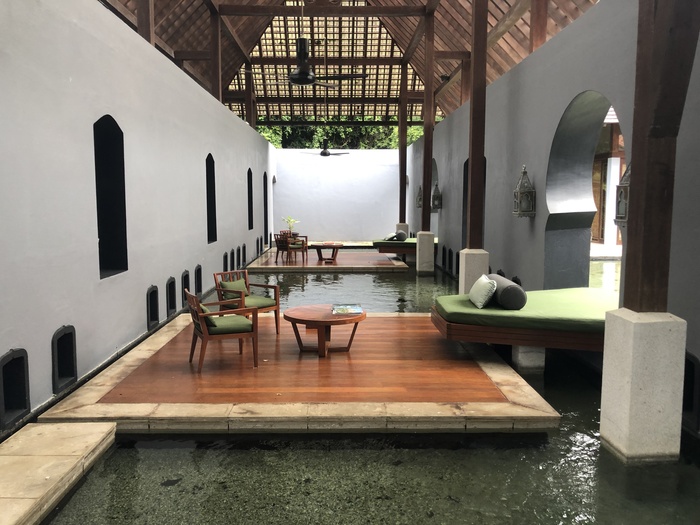 Situated on the north side is the Geo Spa, which features a series of low ponds sheltered by high walls. Treatments are given in (again, frankly palatial) individual pavilions, which come with a steam room, two-person shower, changing room and treatment rooms and relaxation spaces: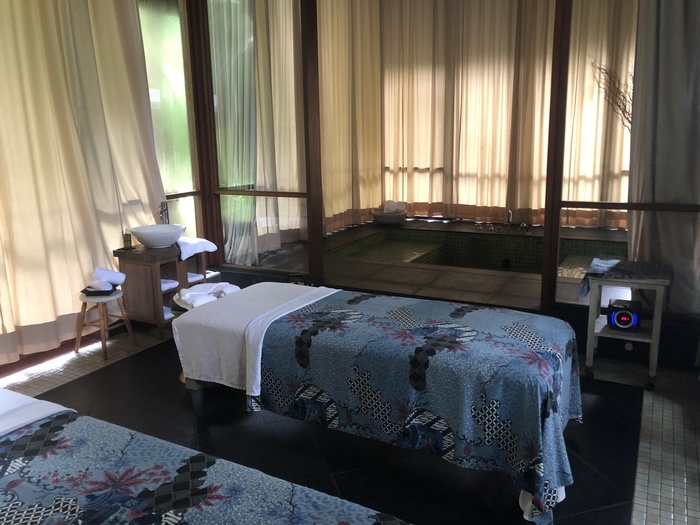 and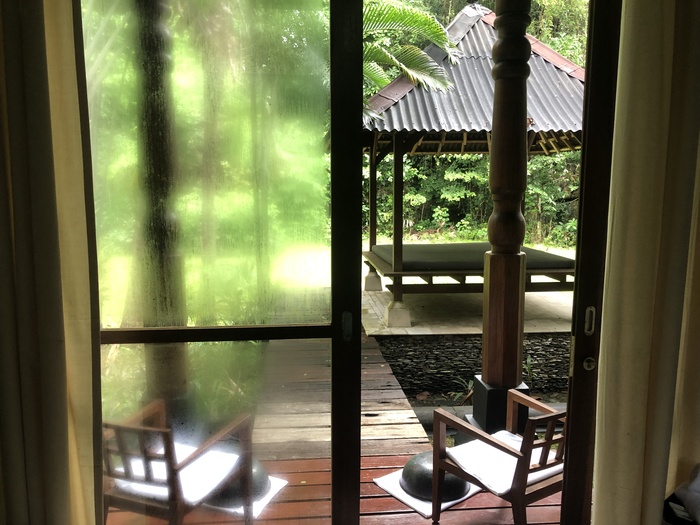 Treatments vary from 60 to 90 minutes, which does not include use of the amenities such as steam room and relaxation spaces. The treatments are not exactly a bargain (this is, after all, a luxury property) but you do get a whole lot for your money. I had an excellent massage on the morning of my departure, and it must have been one of the most relaxing things I have ever experienced.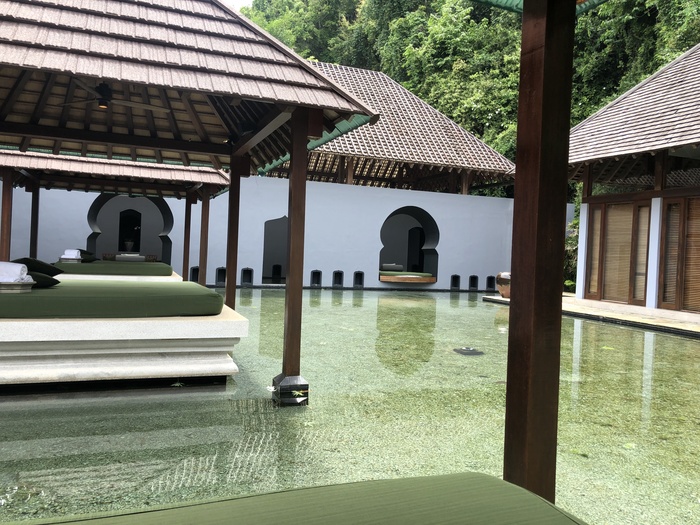 Adjacent to the Geo Spa is a large fitness centre complete with an indoor gym and outdoor tennis court.
The resort also has its own water sports facilities. In addition to the complimentary unpowered offerings (kayak, paddle board etc) you can book a range of motor water sports, including jet ski.
WiFi is available throughout the resort and when in range you can get decent speeds (20mbps+), but I had some trouble connecting. Everytime I locked my phone it would disconnect and I would have to wait several seconds to reconnect. Frequently I would get connection errors. It's good when it works, but it's a struggle to get it working!
The service
Perhaps the most important thing about a Four Seasons property, which I have neglected to mention so far, is the service. This was my first time staying at a Four Seasons, and although Rob has told me about his experiences, I was still surprised at how exceptional the service is. This seems to be especially true for a resort the size of Langkawi, which has a relatively modest number of rooms and can therefore offer an exceptionally personalised service.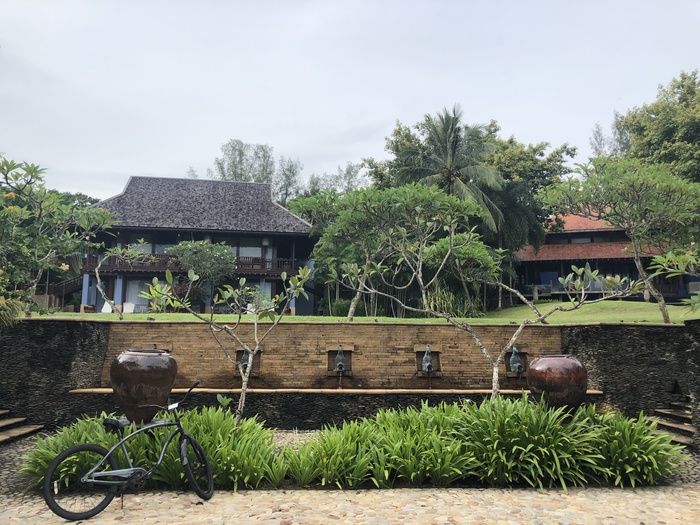 From arrival to departure, everyone addresses you by name. Even when I turned up at a restaurant unannounced on the second night I was immediately recognised and greeted. The entire staff seemed attune to my itinerary and activities, with housekeeping and turn-down timed with when I was enjoying the amenities of the resort.
It is also worth mentioning the Four Seasons app, which allows you to communicate directly with the concierge via chat. Alternatively you could use the designated Whatsapp number to make reservations, book buggies and ask questions. Responsiveness is excellent and it meant that I could contact the hotel staff without having to make a call and disturb other guests whilst at the adult pool or whilst dining, for example.
Although the service is formal, it is also incredibly personal and I had some lovely conversations with staff of all levels, from buggy drivers, waiters and waitresses, spa therapists and even upper management who appear to make a real effort to chat. This is, no doubt, one of the biggest pleasures of staying at Four Seasons Langkawi, and I am told that many guests return year on year.
The restaurants
There are three restaurants at the resort, all centrally located between the north and south portions. The Serai features Mediterranean-Italian inspired cuisine and is also the location of the breakfast buffet. Adjacent to the Serai is the Rhu bar, situated on the beach, with serves evening cocktails and small bites. Ikan Ikan specialises in local Malaysian dishes whilst the Kelapa Grill is a slightly more casual grill restaurant: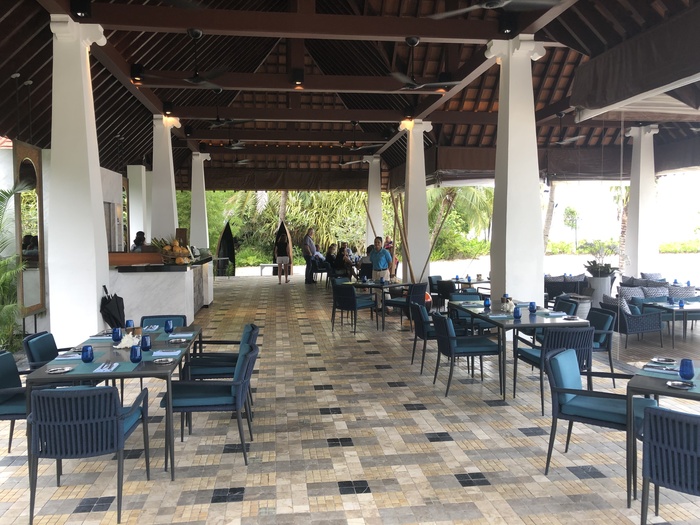 All three have beachside views. Of course, you also have the option of in-villa dining.
It is not every day you find yourself in Malaysia and, having enjoyed the Malaysian cuisine I had already had, I spent both nights at the Ikan Ikan. I was told they have just updated their menu although some favourites remain. Here is the exterior: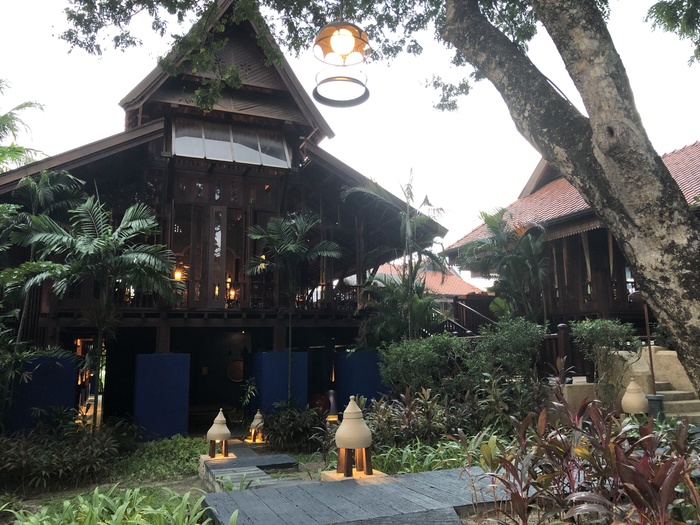 …. and this was the view: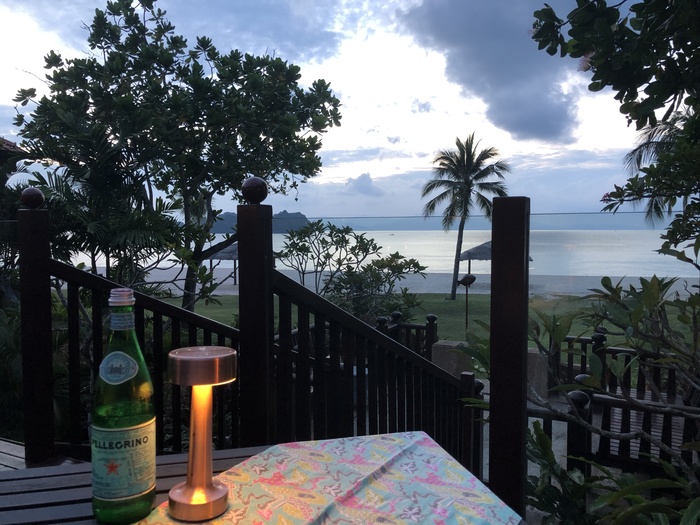 and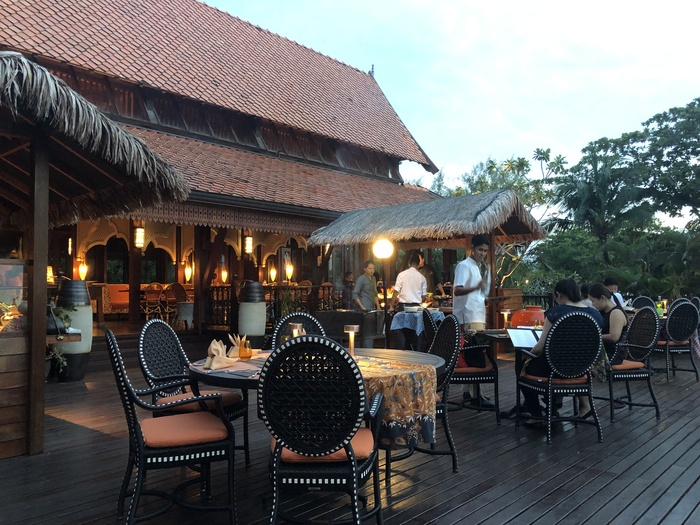 On my first night they had a range of fresh fish you could pick from: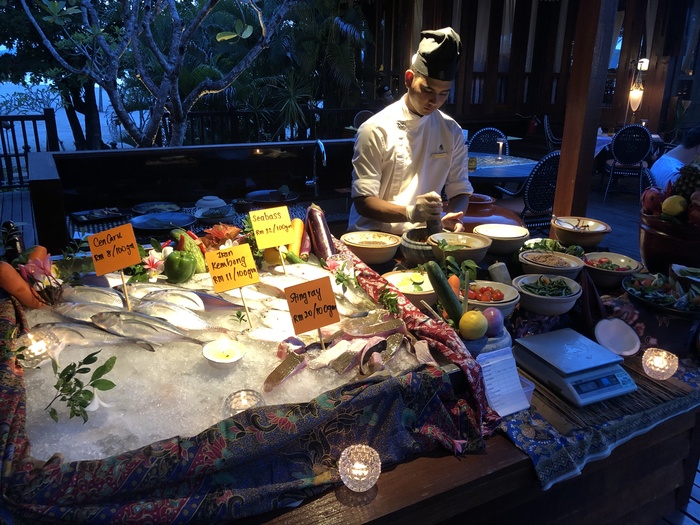 I had a range of dishes on both nights, but these were my favourites. A beef and chicken satay, grilled prawn and vegetable spring roll starter: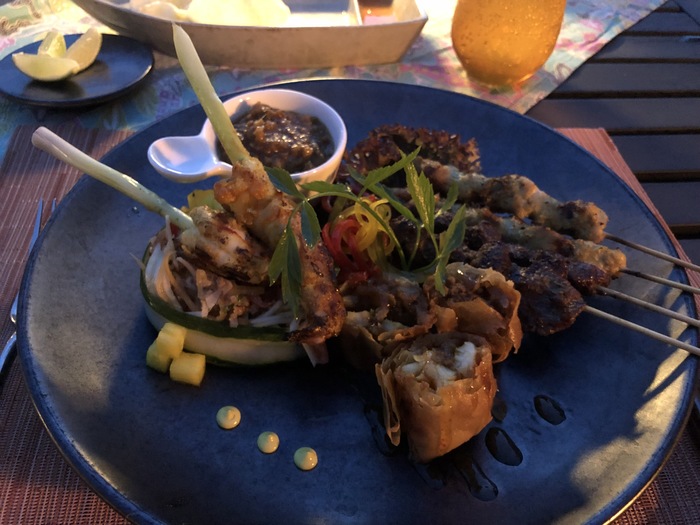 A wok fried 'Karipole' Tiger Prawn curry: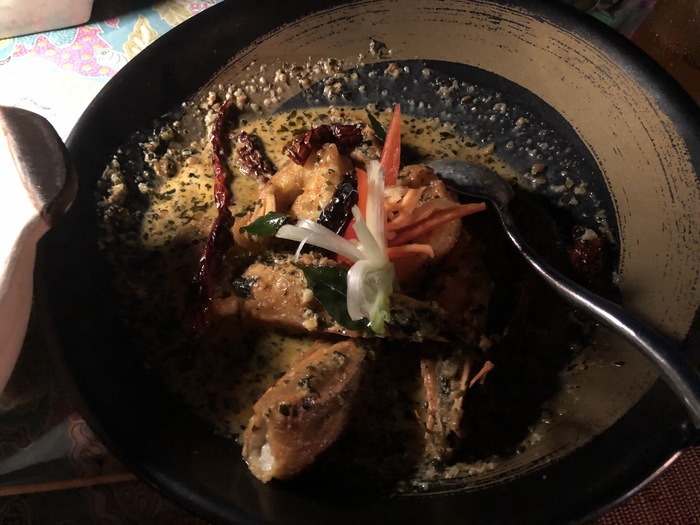 …. and my grilled fish, including stingray: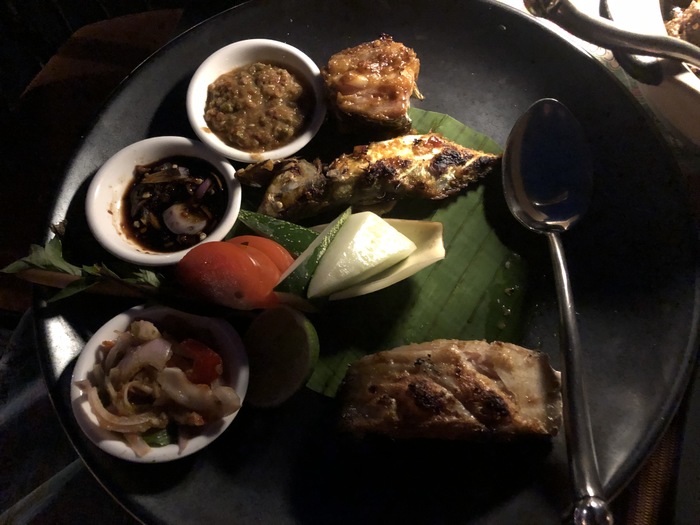 On the second night I had some slow roasted short ribs of beef: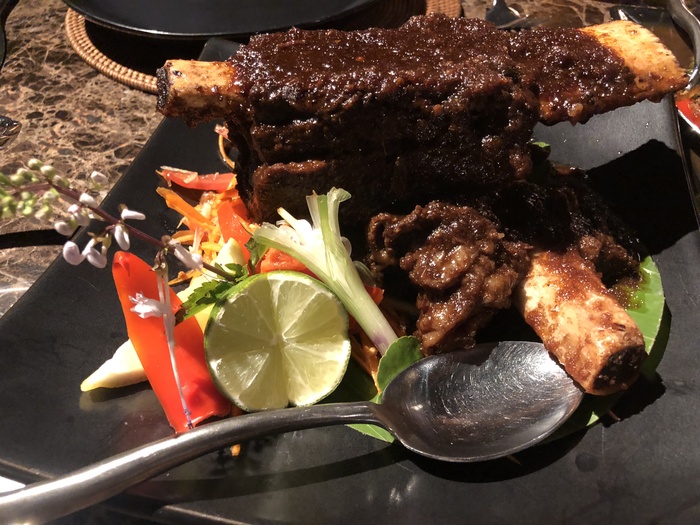 …. and crispy fried whole red snapper fillet with a tamarind honey sauce, which I am told is a guest favourite and was unbelievably delicious. The fish is filleted from the bone which makes for easy eating, and the carcass is decoratively presented: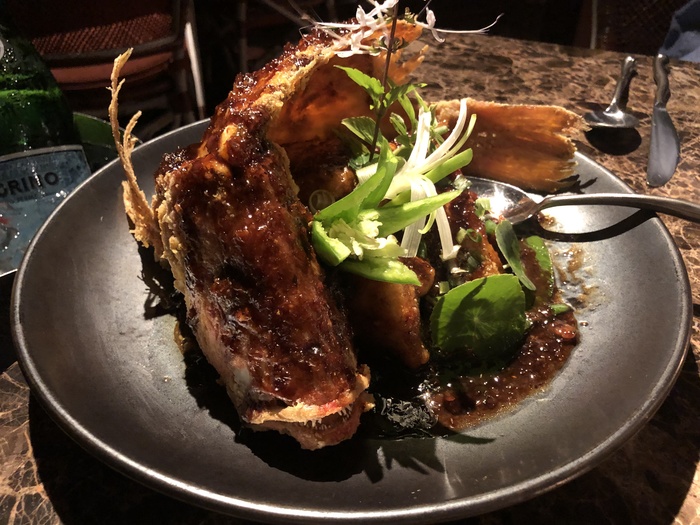 Whilst I did have beef a couple of times, Ikan Ikan does some exceptional sea food so I would definitely recommend ordering fish dishes. Not pictured is the durian ice cream dessert, my first taste (and smell!) of the infamous durian fruit …. which wasn't too bad!
Breakfast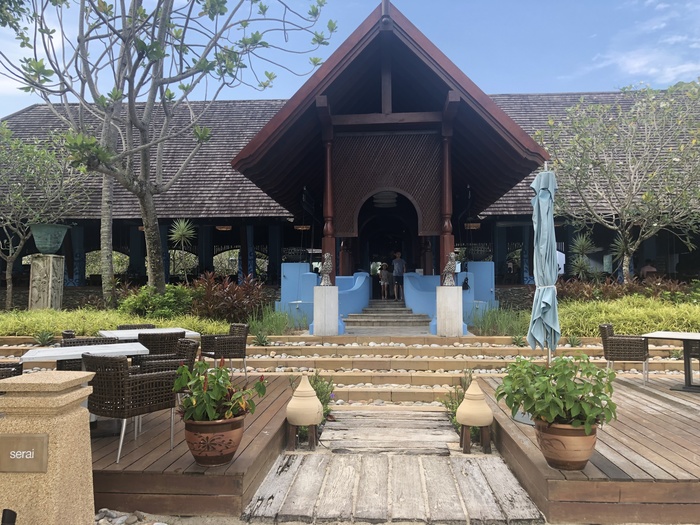 The breakfast buffet is served in the Serai, one of the beachside restaurants. It features a buffet as well as an a la carte menu, which is included. It is set in a lovely open space: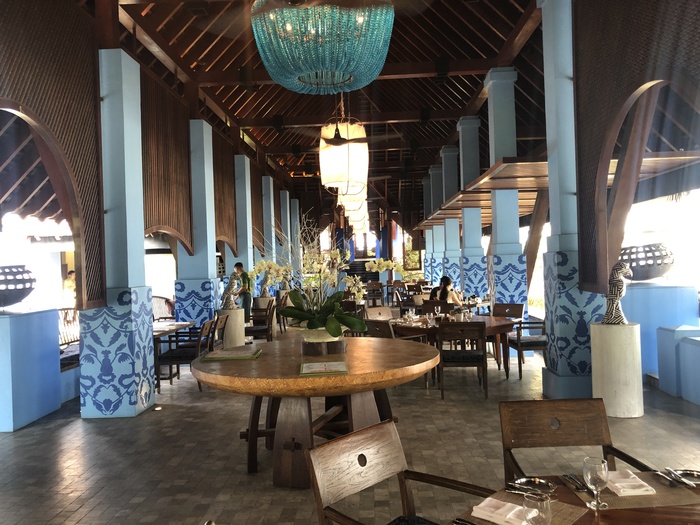 The buffet itself is in an air conditioned adjoining room. It is fairly extensive and features a range of Malaysian, Asian and Western options. This included a range of breads and pastries, cheeses, cold meats and fish, including smoked salmon: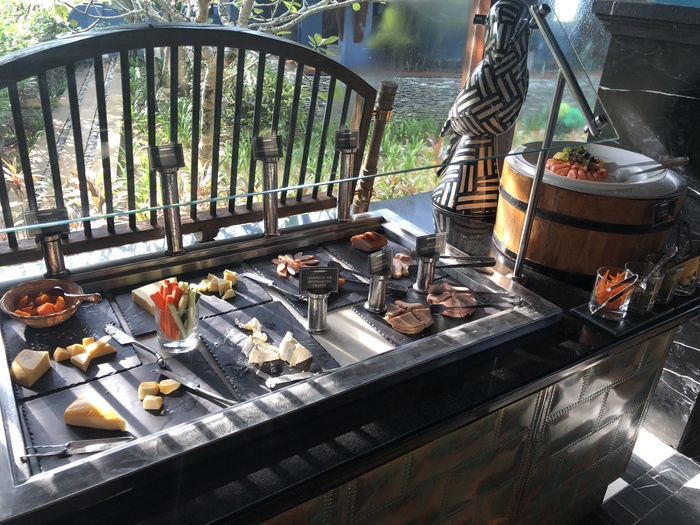 Fresh fruit, yoghurts and refrigerated items: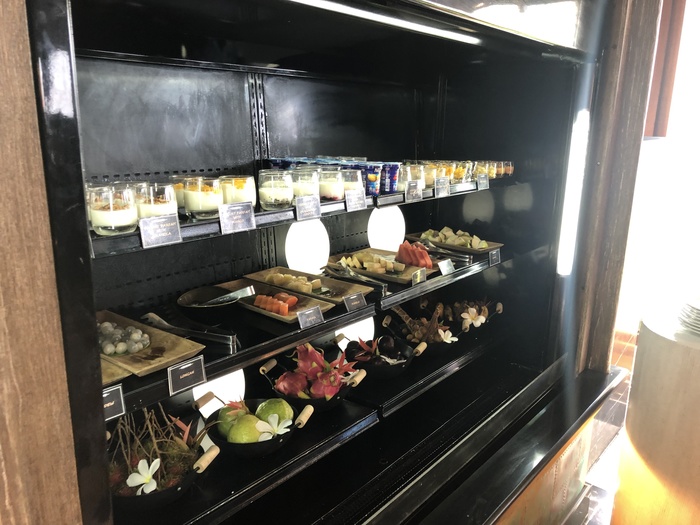 Hot items …
And a range of juices as well as JP Chenet sparkling wine: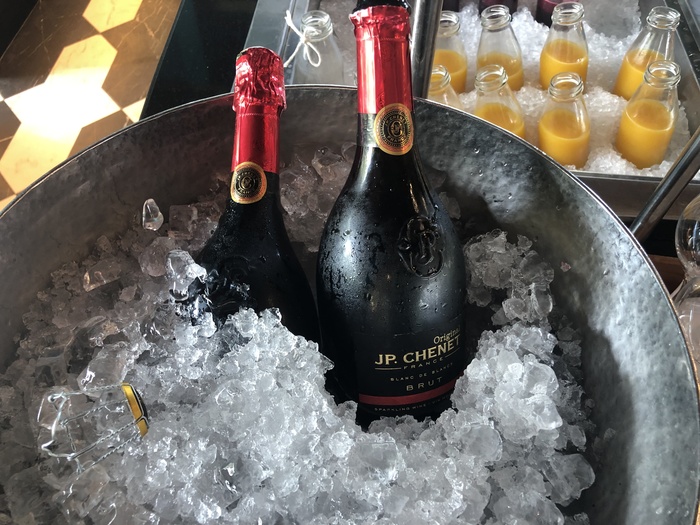 Fresh eggs could be ordered any way directly from the chefs.
Conclusion
Four Seasons Langkawi is regarded as one of best beach resorts in Asia and it is not difficult to see why.
Despite the impressively grand entrance, service here is exceptionally personal. This was my first stay in a Four Seasons and, frankly, it blew my socks off. Even compared to the new Kuala Lumpur hotel (review to follow), Langkawi seems to be exceptional.
Of course, the amenities are great here too, with brilliant pools depending on whether you have kids or want to relax, a huge beach and watersports activities as well as the local flora and fauna in the mangrove forests.
I strongly recommend you give it serious consideration if you are thinking about a beach resort in Asia. Thank you to Four Seasons for helping to arrange my stay.
How to book Four Seasons Langkawi
Four Seasons does not run a loyalty scheme so there is no option to redeem free nights.
Since 2017 we have partnered with Emyr Thomas who runs Bon Vivant, a London-based luxury travel agent. He works with Four Seasons (amongst others) as a Preferred Partner and is able to guarantee a range of additional benefits when you book with him, including:
Daily full American breakfast for two people per bedroom, served through in-room dining or in the hotel restaurant (including buffets)
Spa credit of US$100 once during stay (not applicable to products)
Upgrade of one category, based on availability at time of check-in
Complimentary basic internet in all guest rooms; complimentary premium internet in all suites
Emyr can usually match any rate offered via the Four Seasons website and get you the above benefits added on. You can contact Emyr via our online form here.
Our partnership with Emyr has been going for over two years now and you will regularly see readers praising his service in the comments, so it is well worth booking with him. He will also be at the HfP Summer party on Monday if you are coming along.