Review: the Four Seasons Langkawi beach resort, Malaysia
Links on Head for Points may pay us an affiliate commission. A list of partners is here.
This is my review of the Four Seasons Langkawi beach resort in Malaysia.
It is not often that we write about Four Seasons here at Head for Points. This is because Four Seasons Hotels and Resorts does not run a loyalty scheme and our focus is on properties where you are rewarded for your loyalty.
However, many of our readers do stay with Four Seasons – we know this from your use of our luxury hotel booking service. My recent trip to Malaysia seemed like the perfect opportunity to see why Four Seasons is generally regarded as the best hotel chain in the world.
Malaysia Airlines works closely with Four Seasons and helped arrange a substantially reduced (but not free!) rate for my stay. When I landed in Kuala Lumpur, I immediately connected to a Malaysia Airlines domestic flight for the short hop to Langkawi. I did not have time to use the lounge and the flight itself was unremarkable so there will not be a review of that segment.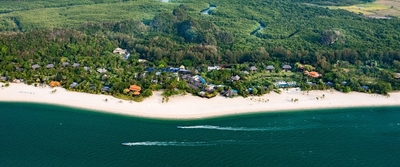 Langkawi
We pick up my story in Langkawi, a small tropical archipelago with 99 islands off the west coast of Malaysia, of which four are inhabited. It is a 50 minute flight from Kuala Lumpur to the international airport on the main island, Pulau Langkawi. As a travel destination, Langkawi is primarily known for its beaches, luxury hotels, mangrove forests and tropical rain forests.
For many years The Datai was the sole luxury hotel on the island. Four Seasons arrived almost 15 years ago and, in the last couple of years, a surge of activity has seen various launches including – for anyone with Marriott Bonvoy points or status – a St Regis (website here).
In 2007, the entire archipelago of Langkawi became the first UNESCO Geopark in Southeast Asia thanks to its ancient geological diversity and significance.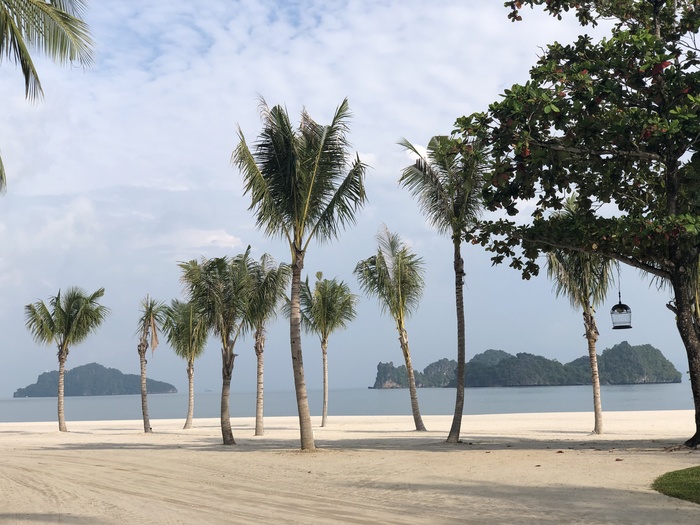 The Resort
Four Seasons Langkawi has been established on the main island since 2005. It is situated on the north western cape of the island, approximately 20 minutes from the airport by taxi. Given the small size of the airport, you can step off the aircraft with hand baggage and arrive at the hotel within thirty minutes or so.
The resort itself is spread across a large site with a private beach over 1km long. The property is divided into two sections, north and south, with the shared amenities such as reception, concierge and several bars and restaurants situated centrally. The north side is more family friendly and includes a family pool. The south side is oriented towards couples and adults, with a quiet adult pool (more on this later).
The 91 rooms at Four Seasons Langkawi are spread across various groups of villas and pavilions, with ground floor and first floor suites, as well as a number of villas with direct beach access. There is no 'big main building' full of rooms, which is a definite plus point.
Arrival
I took a 20 minute ride via Grab (the Asian equivalent of Uber) from the airport which cost £4. Upon arrival I was greeted by name and, having dropped off my bag, was escorted via a series of astonishing open-air atria inspired by Moroccan and local Malaysian styles, to the check-in lounge, which overlooks a beautifully landscaped pond: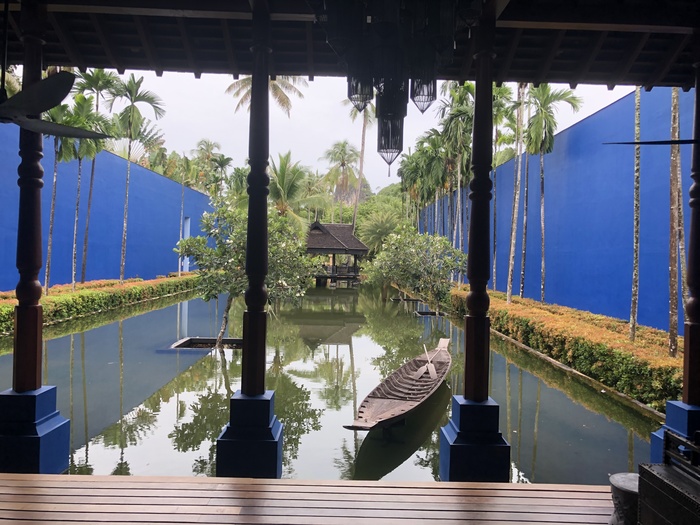 It is difficult not to be impressed by such an entrance. I was offered a cold towel as well as a signature mixed (soft) drink whilst I completed the check-in paperwork. This was quickly done and I was whisked away in a golf buggy to my suite and my bag delivered.
Although the entrance amenities are presented in this grand style, the rest of the resort is more naturally styled, with lawns, terraces, water features and an abundance of tropical landscaping.
My suite
I was given a ground-floor suite with a garden view, on the south side of the resort opposite the adult pool: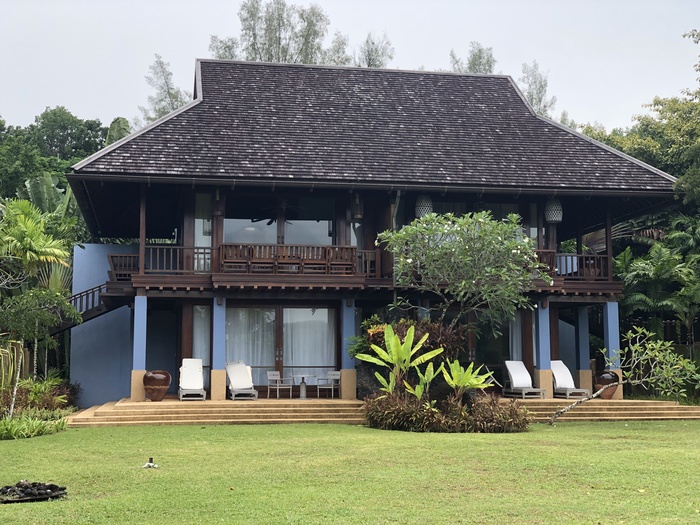 You enter via the bedroom, which faces the landscaped gardens on two sides with floor-to-ceiling french doors. Upon entering I was immediately greeted by a bottle of champagne on ice, a selection of fruit and some savoury canapés, which I believe is standard for guests celebrating special occasions (anniversaries etc):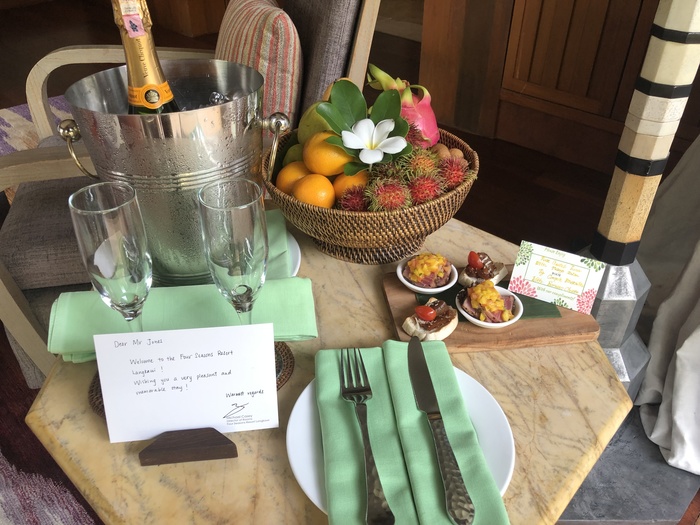 The suite itself is, frankly, palatial. A large king bed greets you: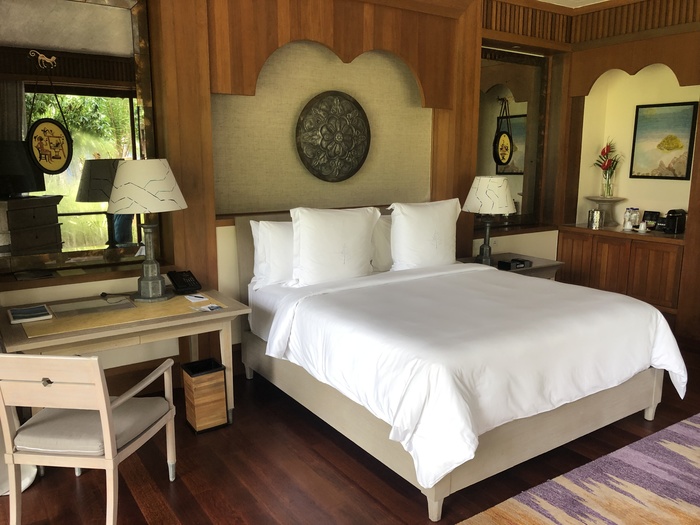 ….. with a huge TV in the corner opposite.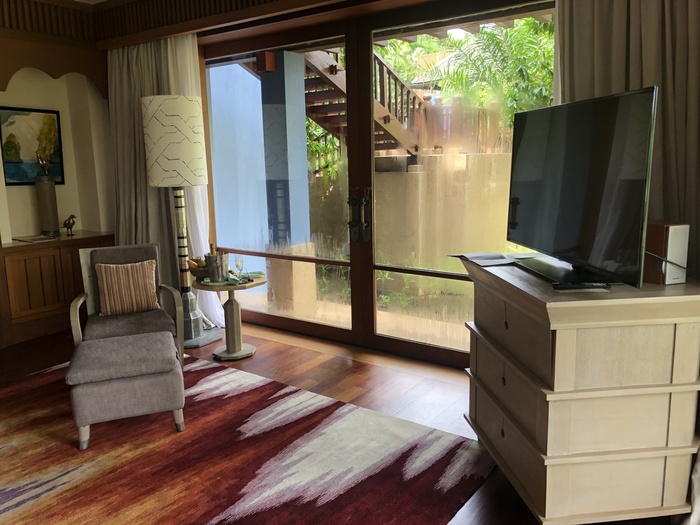 To the left of the bed is a writing desk/bedside table combo whilst on the right is a bedside table. Both sides have multiple plug sockets (with British 3 pin plugs) so connectivity is not a problem.
In one alcove are complimentary amenities: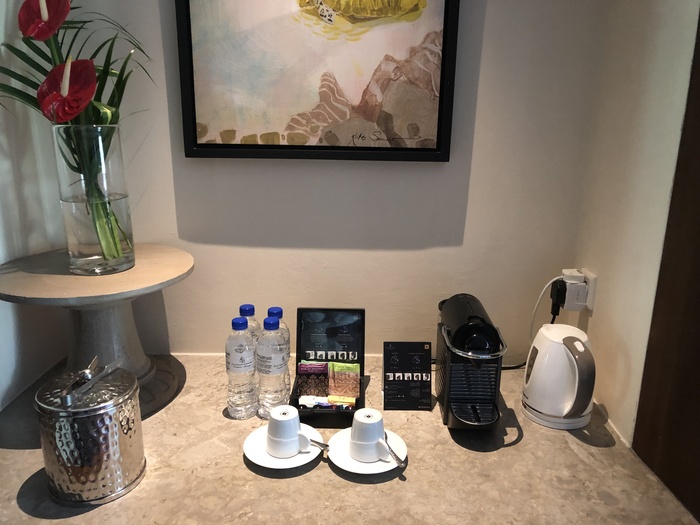 With a chargeable mini-fridge beneath: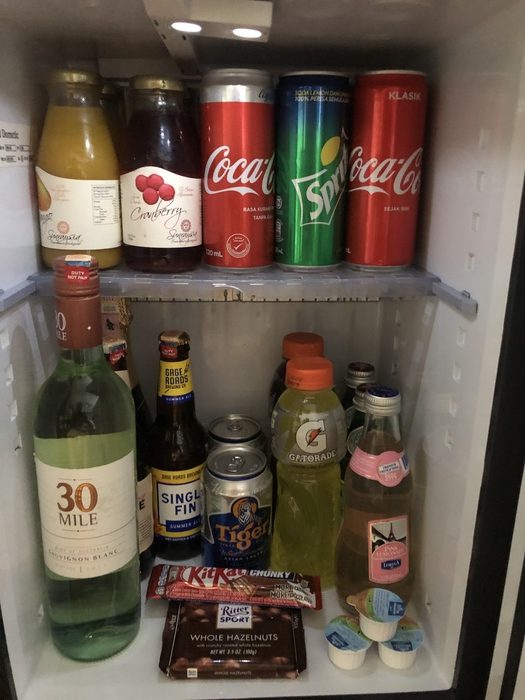 To the right of the bed is the bathroom, which is clad in this beautiful marble: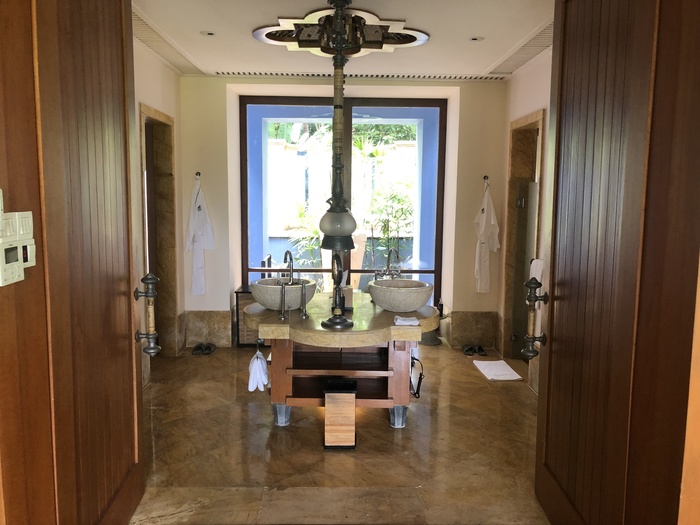 Two basins are separated by a large mirror. To the right of the vanity is a separate toilet and shower, and to the left is luggage storage, a wardrobe and safe, iron/ironing board and more amenities including mosquito repellent coils and spray. I did not suffer any problems with mosquitoes and only got bitten once or twice, since I prefer not to use repellent.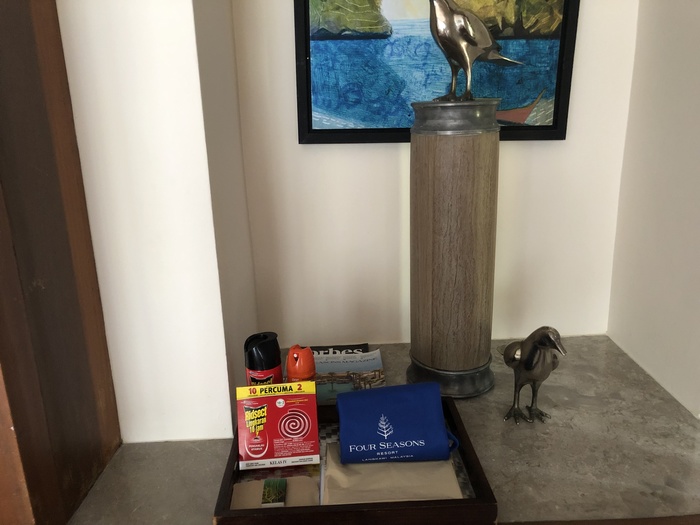 It was excellent to see Four Seasons Langkawi provide eco-friendly branded shower gel, shampoo and conditioner dispensers rather than single-use products. They came in a range of scents. Other bathroom amenities included hand soap and lotion, mini cotton bud kits, aloe vera aftersun gel, exfoliating bath salts, an exfoliating pad and a bar of soap.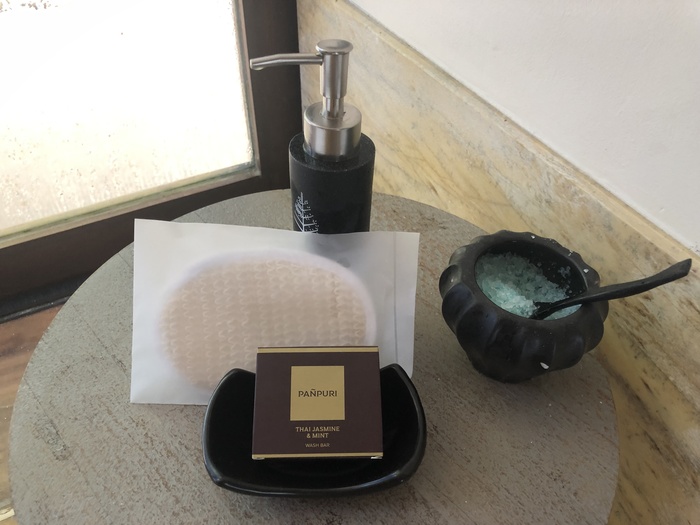 You are also provided with two dressing gowns and a plenitude of towels, as well as a hairdryer.
But there is more …..
From the bathroom, two sliding French doors open onto a private walled garden with an outdoor shower. It is completely private and cannot be overlooked, even from the suite above. After my two flights from London I was glad to enjoy a shower to cool off and was surprised by a stunning butterfly as I did so!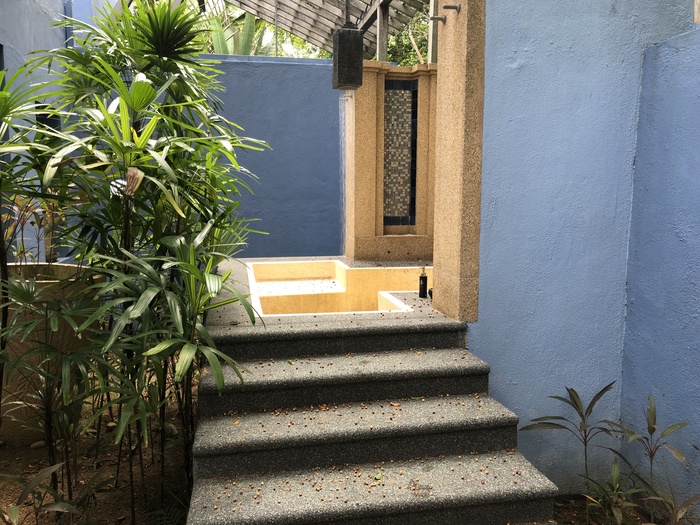 The resort
After my shower and a brief nap to recover from the jet lag, I made my way to the quiet adult pool which was directly opposite my suite: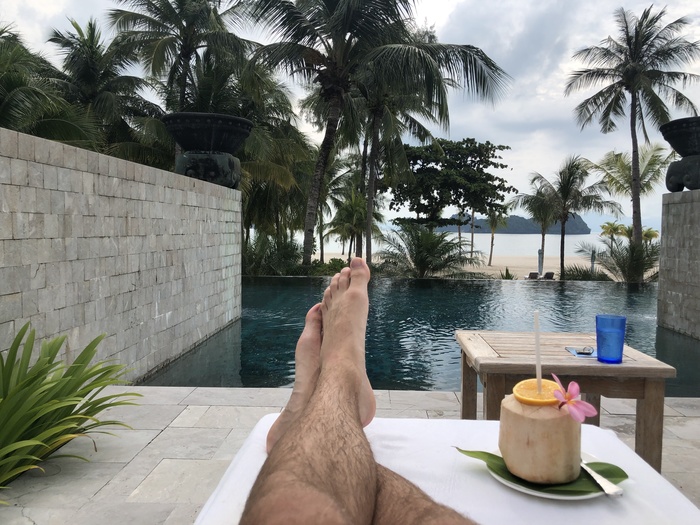 It is a large infinity pool with beach views. There is a central section with a bar, or you can choose to use one of the cabanas which straddle either side of the main entrance. The cabanas are separated by low stone-clad walls and each feature their own steps into the pool: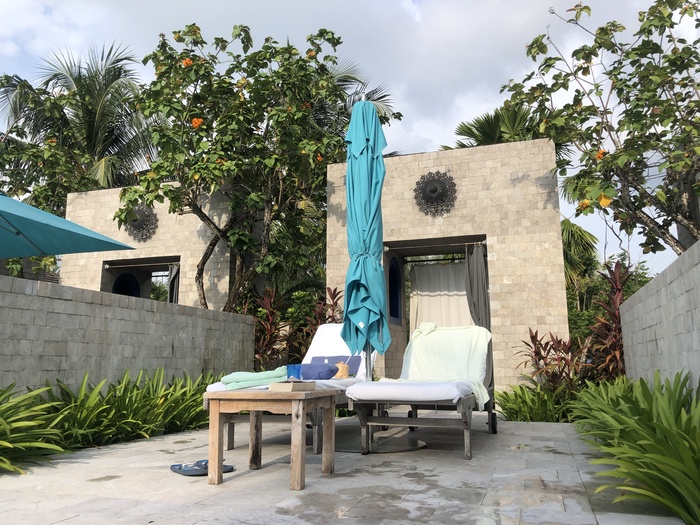 and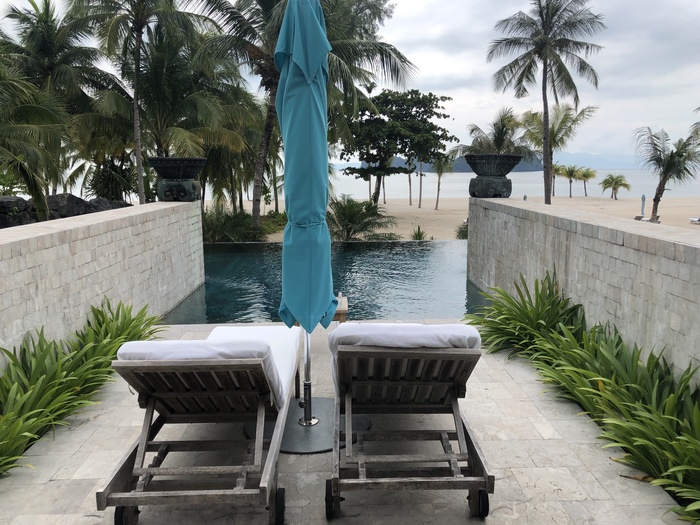 You are immediately brought a glass of ice-water and are offered a variety of complimentary poolside snacks every hour during the day. I had a divine coconut ice cream which I am told is a Malaysian favourite, and is now a favourite of mine too! There is also a pool side menu with all sorts of large and small dishes.
The beach recliners are extended the same amenities as those poolside.
If you have children, there is a child-friendly pool on the north side, which is also where you are likely to be staying as this is the unofficial family side. Again with beach-side views, this pool is spread across a range of terraces and and individual and connected pools zoned into area that children and adults are more likely to congregate in: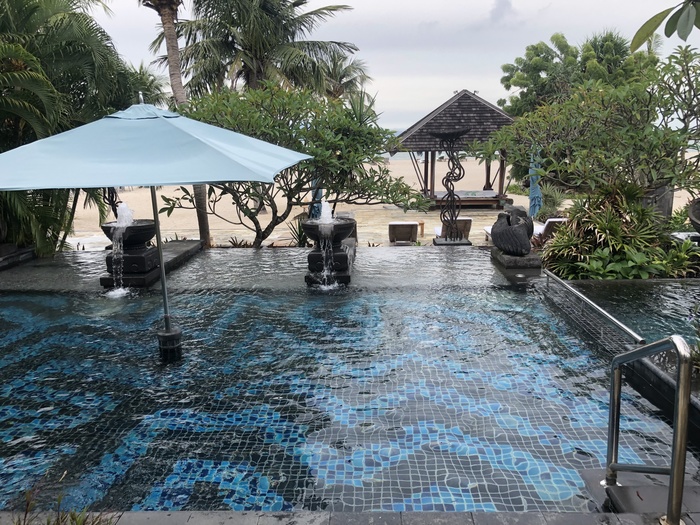 and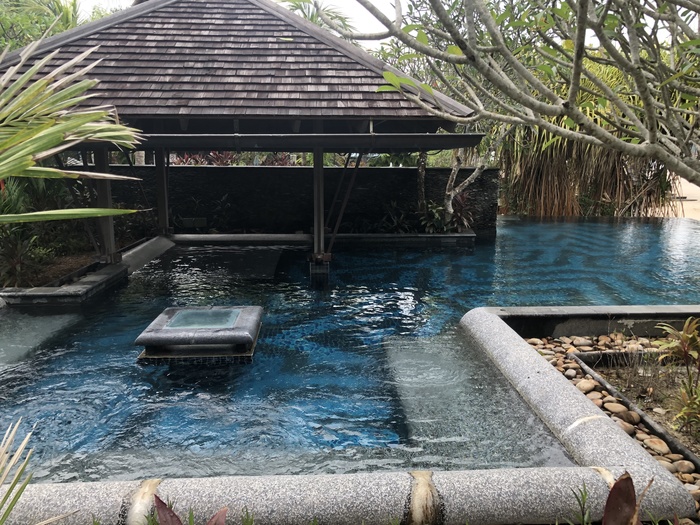 Directly behind the family pool is the children's activity centre, which I didn't see.
This is end of Part 1. Part 2 of our Four Seasons Langkawi review, which looks at the spa, restaurants and the best ways to book the resort, can be found here.
The official hotel website is here.