Did you know that 'kids eat for free' at Heathrow?
Links on Head for Points may pay us an affiliate commission. A list of partners is here.
Heathrow has two schemes – 'kids travel for free' and 'kids eat for free' – which can substantially reduce the cost of getting to, and eating in, the airport.
Heathrow asked me to try out its family-friendly services and offered me a free set of Heathrow Express tickets and a free meal in Gordon Ramsay Plane Food.
Over the August Bank Holiday we had a well-timed mid-afternoon family flight to Hamburg which gave us a chance to take them up on their offer.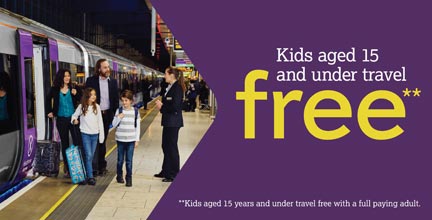 Kids travel free on Heathrow Express
Heathrow Express began to offer free travel to children under 15 a few years ago, but a lot of people still don't know this offer exists.
I have used it before – it is even valid in First Class – and it works well.
One-way Heathrow Express tickets can cost as little as £5.50 per person on weekends and Bank Holidays if you book well in advance – admittedly you need to book 90 days in advance to get it this cheaply – which means as little as £11 for a family of four.
First Class can be as cheap as £7.50 (weekends and holidays, 90 day advance purchase) which means £15 for a family of four one-way.  You will pay substantially more at peak times of course – a 'walk up' fare is £25 during peak hours Monday to Friday, one way.
The kids found it a pleasant change to being belted into an Uber.  Heathrow Express has free wi-fi too, and takes you directly to Terminals 2/3 and Terminal 5.  Terminal 4 still requires a change of train at Terminals 2/3.
Remember that you can earn Avios or Heathrow Rewards points when booking Heathrow Express tickets – click here to read our overview.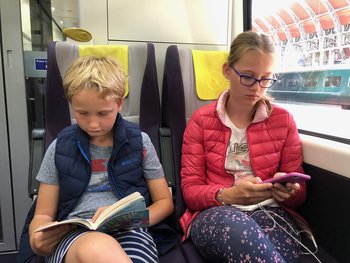 Kids eat free at Heathrow
Heathrow runs special promotions during the main school holiday periods.  At these times, many restaurants in the airport offer free meals for children when an adult eats too.
Here are the upcoming 'kids eat free' dates:
24 October – 3 November 2019
5 December – 5 January 2020
3 February – 23 February 2020
You can see a list of participating restaurants on this page of the Heathrow Airport website.  You get one free child main course for every adult main course purchased.  Make sure you check the age restriction at each restaurant as it varies from 10 years to 12 years.

However, Gordon Ramsay Plane Food in Terminal 5 and Perfectionists' Café in Terminal 2 run this offer every day.  The age cut-off is 12 years at Plane Food and 10 years at Perfectionists' Café.
I had never been to Plane Food before, despite having eaten at most other restaurants in the Gordon Ramsay stable (our nearest walkable restaurant at home is a branch of Maze Grill).  Having had BA status for many years, paying for a meal in Terminal 5 pre-flight always seemed like an odd thing to do!
Here is a PR picture of the room which, by coincidence, has our table in the foreground:
Plane Food has a surprisingly large menu.  If you are in a hurry, or are simply nervous about not making it to your plane, there is a 25-minute two-course Express Menu.  You can extend this to 'three courses in 35 minutes' if you have a little more time.
If you have more time to kill, you can take your pick from the full menu.  Plane Food is open from 5am and serves a full breakfast menu, including a 'Veggie Breakfast', until noon.  The lunch and dinner menu then kicks in until 9.30pm.
For the adults there is a broad mix – a 'Raw Bar' selection of uncooked fish and meat dishes, 'Small Plates' (chicken wings, soups, salmon teriyaki etc, around £10), salads, noodle dishes (udon, ramen) and a standard selection of mains – fish, pasta, burgers, curry etc – at £15-£20.
The free kids meal comes from the 'Tilly's Treats' menu, which is now standard across most Gordon Ramsay restaurants (click to enlarge):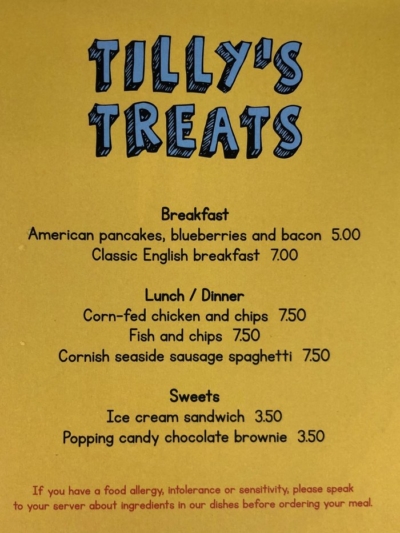 The menu comes inside an activity box to keep the kids occupied: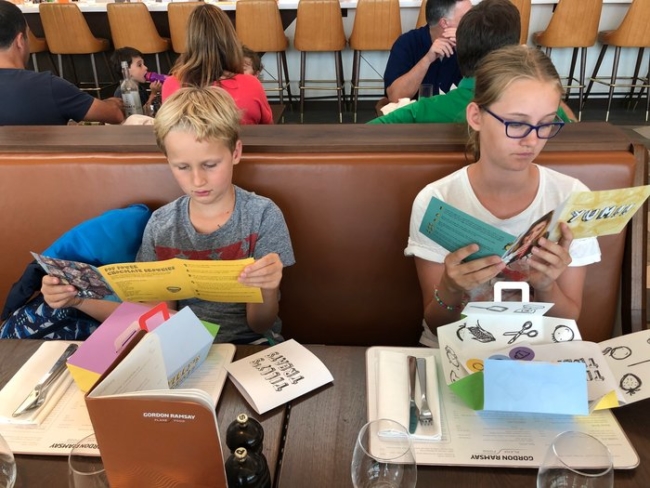 I went for the roasted cod, served with tartar mash, Chardonnay wine sauce and a poached free-range egg: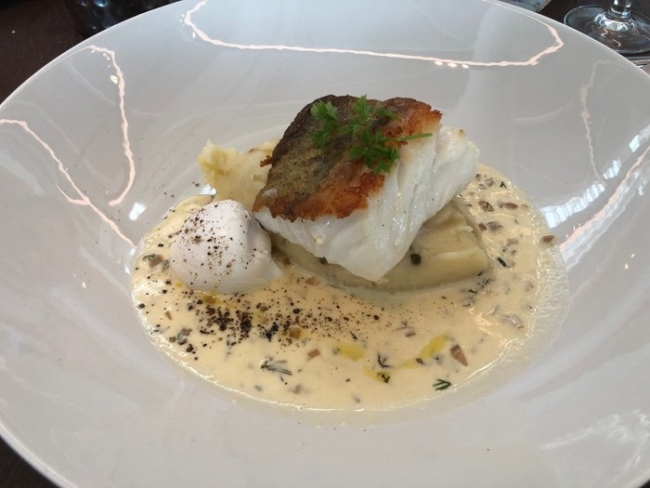 ….. which, frankly, was better than anything you'll find in BA's Galleries Club lounge over lunch.
This was the fish and chips childrens meal: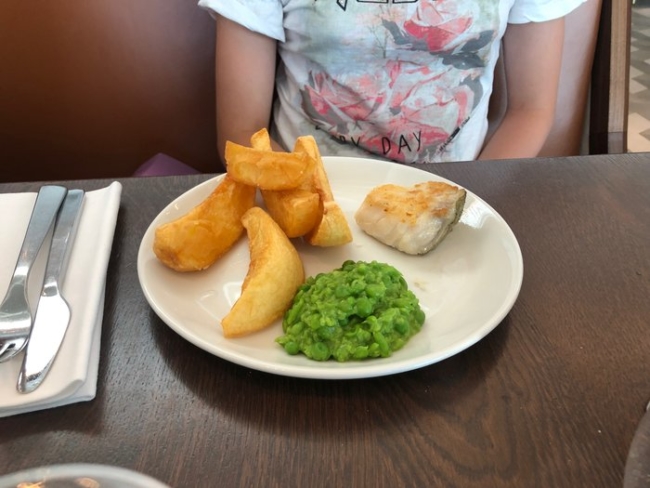 …. whilst my son went for the Cornish seaside sausage spaghetti.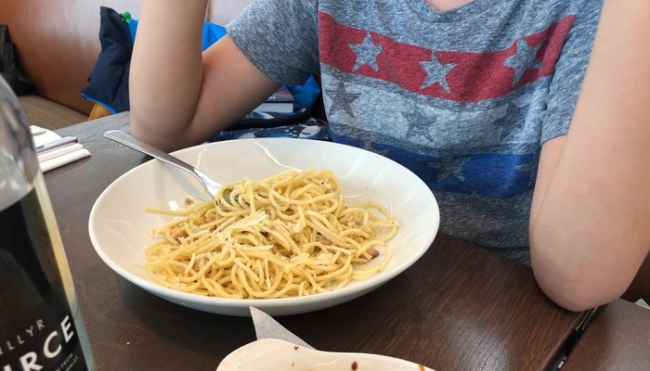 Service was excellent, and it was actually a pleasant change to have a waiter-served airport meal rather than running up and down to a lounge buffet.
You can find out more about Gordon Ramsay Plane Food here.
If you are travelling through Heathrow with children, I do recommend bearing 'kids eat free' in mind.  As I said, it is available 365 days a year in Plane Food in Terminal 5 and Perfectionists' Café in Terminal 2, with a lot more restaurants joining in during the key school holiday periods.
Don't forget to claim your Heathrow Rewards points too, which convert 1:1 into Avios, Virgin Flying Club miles and various other schemes.
Thank you to Heathrow for our train tickets and our lunch.