Our review of Qatar Airways Qsuite business class on the A350-900 (Part 2)
Links on Head for Points may pay us an affiliate commission. A list of partners is here.
This is Part 2 of my review of the Qatar Airways Qsuite business class seat, on the A350-900.
Part 1 of my Qsuite A350 review, which was also published today, can be found here.
On we go!
Let's talk about the door. It is locked open for take off and landing. Once the crew have released it, you are free to have it open or closed. I didn't feel the need to close it for a day flight in a lightly loaded cabin, but if you do it looks like this from your seated position: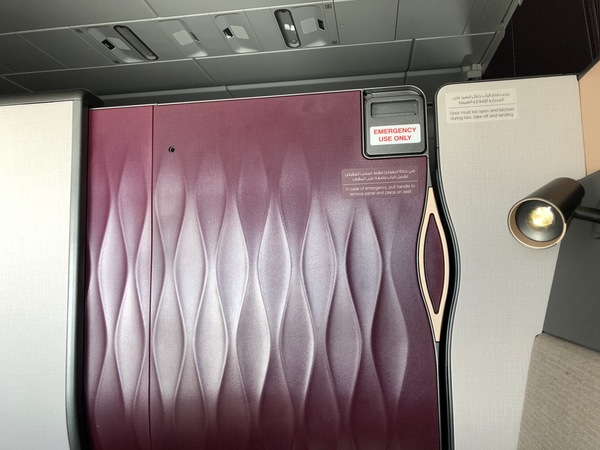 I didn't take any close-up pictures of the leather or fabric on the seat and its surround. You will need to trust me that it looks very classy and a lot of thought clearly went into it.
Cabin environment
Being an A350, you get the standard benefits of this new composite-based aircraft (a Boeing 787 has the same upsides) – larger windows and improved pressurisation, allowing you to feel fitter on arrival.
Even cooler, of course, is mood lighting.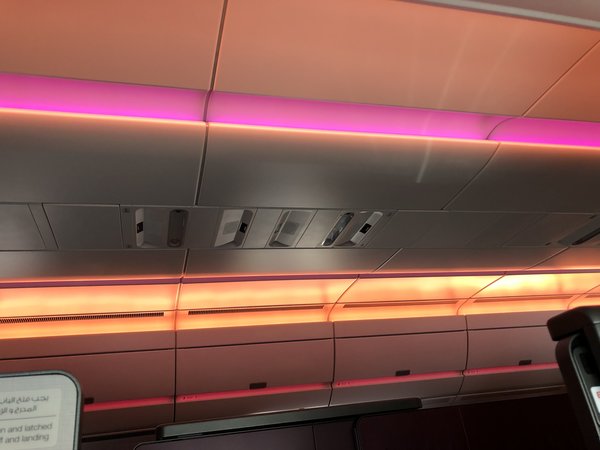 This only appeared on landing – you don't have to put up with it for the entire flight if you don't like it.
As you can see from the photo above, there are no central luggage bins. This definitely makes the cabin feel more spacious and, at least on my flights, did not create any issues in terms of passenger storage space.
I am presuming, however, that the middle pair of seats will not have personal air vents. You DO get a personal air vent if you sit by the windows.
Whilst I didn't take a photograph, there is a coat hook inside the suite to hang a jacket.
The Qatar Airways Brics amenity kit
Qatar Airways is currently using Brics-branded bags, which appear expensively made and could have a long future life in your house.
Whether it is a cost saving or environmental reason, you need to pick up a shaving kit or a toothbrush / toothpaste kit from the loo. The standard bag as left on your chair only contains a few items (background material courtesy of my bed throw at the Kempinski Doha!):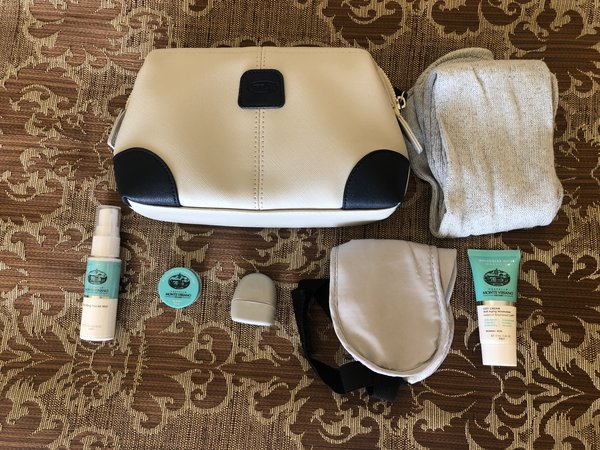 You get:
eye mask
socks
earplugs
Castello Monte Vibiano lip balm
Castello Monte Vibiano anti aging moisturiser (15 ml)
Castello Monte Vibiano facial mist
Irrespective of the quality of the products, which I didn't try (the moisturiser is in my bag for a future trip), I was surprised that Qatar Airways had not teamed up with a bigger brand.
Being able to help yourself to other items is a positive, however, and I think the future for all airline toiletry kits will be empty bags with a trolley service allowing you to take as much or as little as you need.
In-flight entertainment
The outbound flight, leaving London at 8am, had the expected tray of newspapers available, which a crew member popped by my suite to offer.
The return flight, leaving Doha at noon, is clearly trickier for the airline in terms of its British passengers. I was therefore impressed to see that Qatar Airways had arranged for computer-printed copies of The Guardian to be offered on-board.
Interestingly, the lounge in Doha (more on that in a future article) had a woeful selection of newspapers and magazines. WH Smith at Hamad International was no better. It is very rare that an airline can trump what is on offer in the terminal itself but Qatar Airways managed it.
Moving on to the 'proper' IFE ……
You can find out more about the Qatar Airways Oryx IFE system on this page of the airline website.
As well as the excellent main screen, the Qatar Airways system is one of a growing number to also have a small screen built into the remote control. You can make your selection by flicking through the options on this screen, and even watch your film on it if you want. (I have never seen the appeal of watching a small screen when there is a big screen directly in front of you, but clearly it appeals to some!)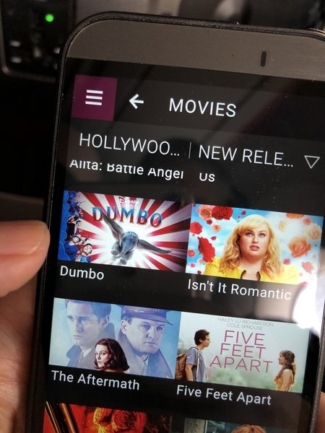 Recent releases in the 'Hollywood' category included Dumbo, Captain Marvel, The LEGO Movie 2 and Avengers: Endgame. It is a very impressive selection. What was a little odd, overall, was the lack of major US TV dramas and comedies.
The Qatar Airways branded headphones were noise cancelling.
Wi-fi
Your power needs are well met on an A350-900 Qsuite, with a USB socket, HDMI socket (if you want to put your own media on the screen) and a multi-functional plug socket. You can use UK plugs without an adaptor, as the UK standard is also used in Qatar.
All of the sockets and controls are easily accessible. When you are sat down, they are in front of you, built into the small storage area. The plugs are nearest, with the remote control to the right and the speaker socket to the left: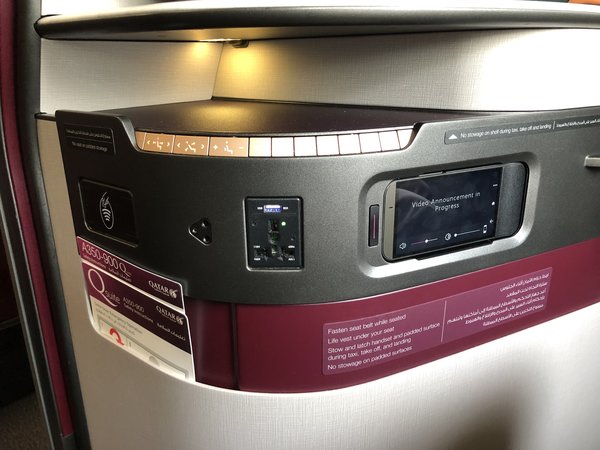 There was also an NFC unit which, being the least techy person you will ever meet who actually runs a website, has a use which escaped me …..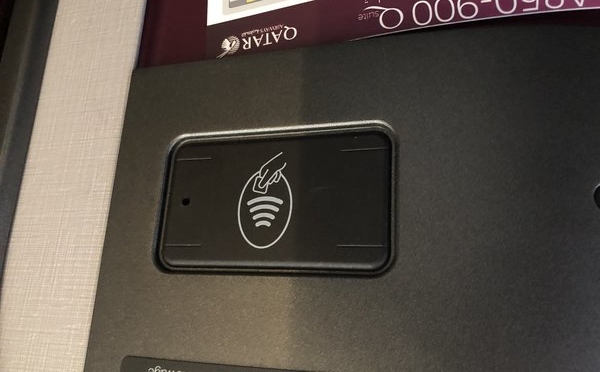 The seat controls were relatively standard (a number of pre-set positions for the seat, plus the option to tweak them additionally if necessary), with the exception of a novel 'Do Not Disturb' button. Rather like a hotel room, activating this turns on a light to tell the crew to leave you alone unless absolutely necessary.
Let's talk about wi-fi.
'Super Wi-Fi' is Qatar's branding for Inmarsat's GX Aviation high-speed broadband technology. This is being rolled out on the Boeing 777 and Airbus A350 fleet, and it was available on both of my flights.
In theory.
All passengers, in all cabins, get one hour of free 'Super Wi-Fi' if your aircraft has it. (I'm not sure of the deal if your plane only has standard wi-fi.) The capacity is so big that it can still function efficiently whilst offering this.
More importantly, 'Super Wi-Fi' for the full flight to Doha was just $10. This is fantastic value compared to other carriers, especially as there is no data cap. (I usually find, if I buy a timed package with a data cap, I easily hit the data cap well before my time has run out, even if just working on HFP articles.)
I used it on the outbound and it was great. So great, that I deliberatedly left a few hours work undone in Doha because I knew I would be able to do it on the flight home. Except, despite having a new A350-900 again, it was broken. The pilot tried to reset it numerous times but it never worked.
This ended up causing me a minor crisis, since my return flight was an hour late leaving Doha and I did not get home until 8.30pm. My family were not exactly happy that I immediately had to do the 3-4 hours of work that I had planned for the flight, in order to get the next days articles out.
Sleeping in Qsuite
On the return Qatar Airways flight I decided – in the absence of wi-fi – to try to doze for a couple of hours.
The cubby hole under the seat is more than big enough, which is not always the case. Take a look below. I have size 11 / 45 feet but, even when pointing upwards, there is loads of clearance. This remained the case even when I was laying on my side.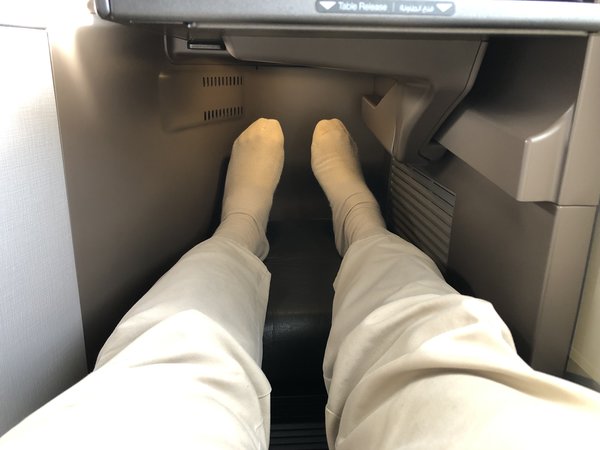 In terms of length, at 6 foot 2 inches I could just about – if I pointed my toes downwards – touch the back of the cubby hole when in sleep mode. Anyone shorter than me would have lots of space.
Another good touch, which you only notice when in bed mode, is that the curvature of the side unit (the area where the plug and remote control sits) gives you more space if you roll over to sleep on your side. Because Qsuite is so wide, I never felt in any way confined whilst sleeping. It is a million miles away from the Virgin Atlantic 'coffin' bed used in Upper Class on all aircraft except the A330-200 and A350.
The only small issue is that spectacles need to go into the ottoman, which is a little fiddly. I couldn't see anywhere else to put them which would be totally secure.
The top part of the seat is cotton, not leather, so it is more breathable during sleep and you don't find yourself excessively sweaty or sticking to the seat!
This is the end of the 'practical' part of my Qatar Airways Qsuite review. In the next part, later this week, I will look at the food and drink I had across both flights and give my overall thoughts on the product.
If you want to find out more about Qatar Airways Qsuite business class, you can find out more on the airline website here.