Review: Qatar Airways Qsuite business class on the A350-900 (Part 1)
Links on Head for Points may pay us an affiliate commission. A list of partners is here.
This is my review of Qatar Airways Qsuite business class, on the A350-900.
The introductory article in this series, which reviewed the Qatar Airways Premium Lounge at London Heathrow Terminal 4, is here. Our later article on Qatar Airways business class food and drink is here. Our look at the Al Maha VIP arrivals and departures service is here. Our review of the Al Mourjan business class lounge in Doha is here.
As a reminder, Qatar Airways gave me a return Business Class flight from London Heathrow to Doha. Head for Points paid for all of its other expenses, including hotel, transfers and meals.
You can learn more about Qsuite on the Qatar Airways website here.
Background
Qsuite has won many awards for the best business class airline seat in the world since it was launched in 2017. It was the first with a fully closing door.
For many HfP readers, it is an irresistable combination. You get some amazing business class prices if you are willing to start your flights in Europe (£1000-ish to Asia is not uncommon), you earn DOUBLE the BA tier points you would get flying on BA on Asia routes (560 tier points for a return trip, due to the plane change in Doha) and you earn Avios. But is it really any good?
(Obviously it is. Yesterday, Qatar Airways won Best Airline, Best Long-Haul Airline, Best Business Class and Best Middle Eastern Airline in the 2019 Business Traveller Awards. But let's look at why.)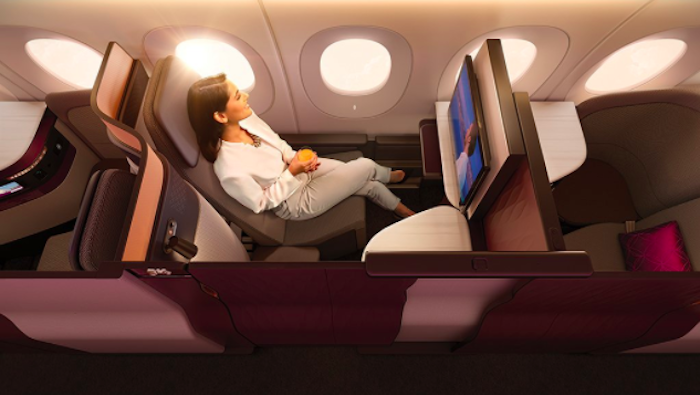 This review is structured slightly differently than usual, because I took a day flight both ways. This means that I got to have two full meal services. I have decided to dedicate Part 3 – which will run later this week – entirely to food and drink and to focus on the seat here.
On what aircraft can I find Qsuite?
You need to remember that Qsuite is not on all Qatar Airways flights. The A380 and Boeing 787 fleet have a (still very good) herringbone layout which we reviewed here. The Boeing 777 fleet is being refurbished with Qsuite but, if you don't get it, you have the oldest 2x2x2 seating which is not great for solo travellers – see our review here.
The A350-1000 fleet definitely has Qsuite. The A350-900 fleet, which I flew, is a mix of Qsuite and the herringbone seat depending on aircraft. The A330 fleet has older 2x2x2 seating.
This blog post from Travelling For Miles is, AFAIK, the definitive guide to which cities currently have Qsuite.
What is so good about Qsuite?
With more and more airlines now introducing business class seats 'with a door' – of which obviously the new British Airways Club Suite, reviewed here, is a prime example – it is becoming difficult to remember what a revelation this was when it was unveiled in 2017.
Qatar Airways had decided to rip out a product which was already one of the best in the market and replace it with something even better. (You need to remember that the BA Club Suite is, at the end of the day, the old abandoned Qatar Airways seat with a door added. It is not Qsuite.)
As well as the door, what is genuinely radical is the way that the internal partitions can be opened up to create private spaces. A family of four, for example, can have their own little area: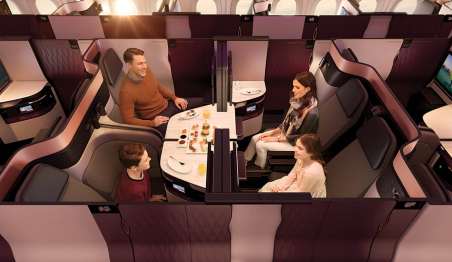 If you are a couple, you can keep the partition by the screens closed but have the divider between your seats down. You can either have a pseudo-double bed (via the seats on the right above) or ones where you are further apart from each other (the seats to the left). It is very flexible. You end up like this: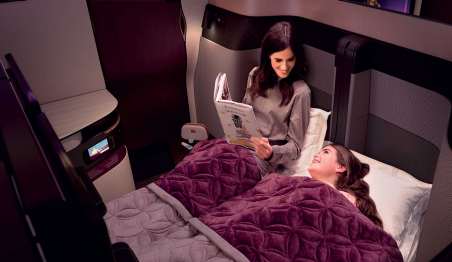 For solo travellers, you will want the solo seats by the windows as pictured in the first image above. It is a BA-style 'forwards and backwards' layout. Seats are NOT herringbone, so you are facing directly forwards or backwards with your feet disappearing into a cubby hole under the IFE screen.
In order to keep seats open for couples or groups of four, you will find the central seats are not bookable by solo travellers until nearer departure. This is one aircraft where a solo traveller is actually encouraged to take a solo window seat!
Obviously the pictures above are all PR images, because it is the only way to properly show the layout. From now on I will run my own images.
Inside the cabin
I was on the 8am flight to Doha, which lands at 4.45pm (this becomes 5.45pm when the clock moves). It is usually a Boeing 777 service with Qsuite but on the day I flew had been switched close to departure to a new A350-900.
This flight is very convenient in terms of getting to your hotel at a sensible time, but has the downside of being a breakfast flight with no 'main' meal service. We will cover that in a later article looking at the food and drink. Regular readers may remember that I had a similar issue with Oman Air First Class earlier in the year where I missed out on a 'proper' meal. Luckily I flew back on a lunchtime service so I could experience the full dining offer.
Here are some shots from the cabin. This photo shows a middle pair with the divider fully raised: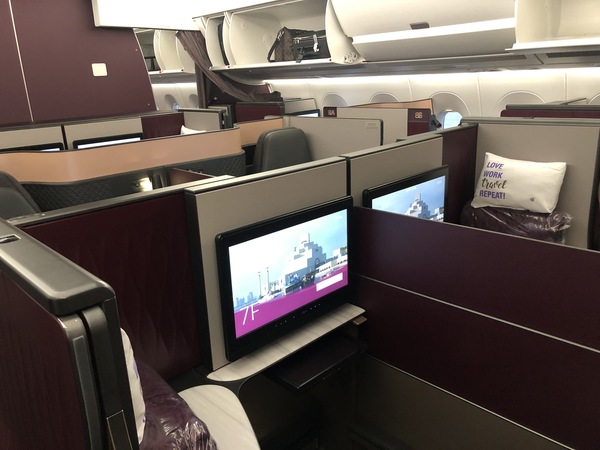 …. and here is a pair with the divider down: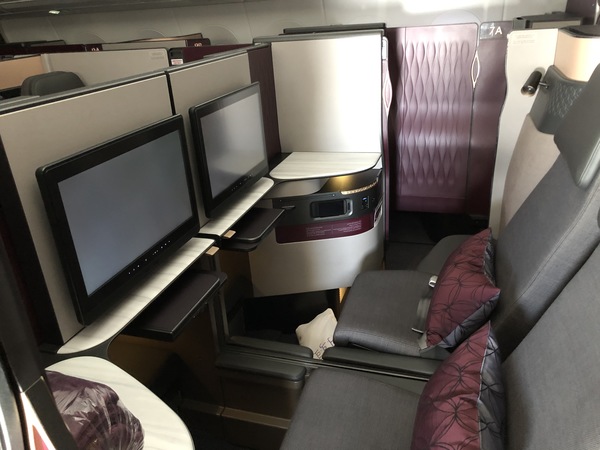 If you were travelling solo and can only choose from a middle seat, I would recommend the pairs facing forwards which, as the family PR image above shows, puts your head further from your neighbour.
This picture gives a good impression of the size of the door, which is higher than you may imagine: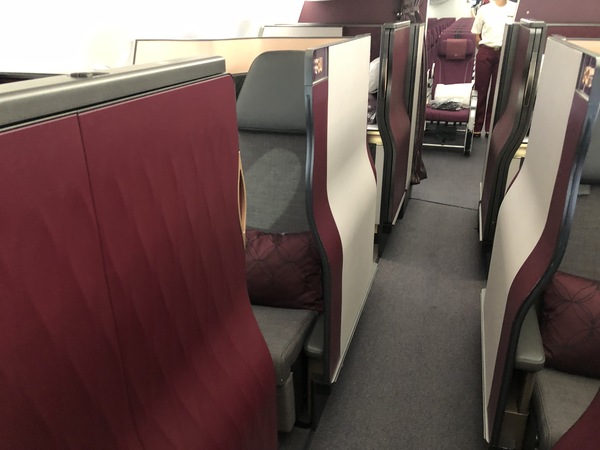 This was my seat on the outbound, 7K: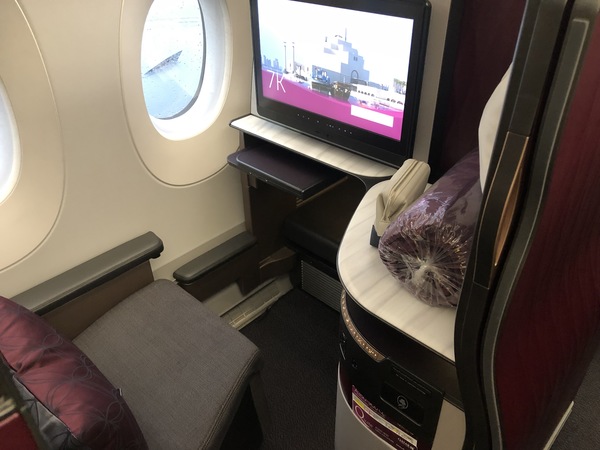 Forward facing seats come with a shoulder seat belt, as does the British Airways Club Suite. I had a rear-facing seat on both flights and so did not have a shoulder belt.
It comes with a Brics amenity kit (more on this later), a burgundy blanket and a small pillow. I had a debate with a friend later about whether these were something you were meant to take home – it never crossed my mind to take mine, and I'm not sure what use I would have for it, but apparently they are covetable.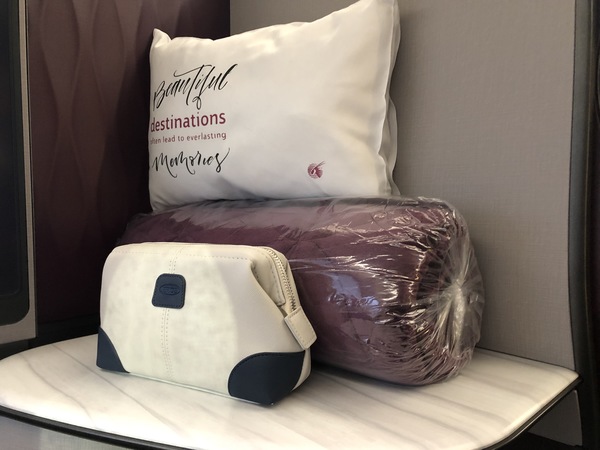 Let me add something here which may seem a little random, but is a sign of how Qatar Airways approaches things. You see the white surface above where the amenity kit sits? It has a non-slip coating. You can put a glass on there without worrying about it sliding down onto your lap at the first sign of turbulence. It's clearly not a massive deal, but just one of the many little things that add up a good big thing …..
Here is the cubby hole for your feet. I found this a good size, and surprisingly high. The tray slides out from above ….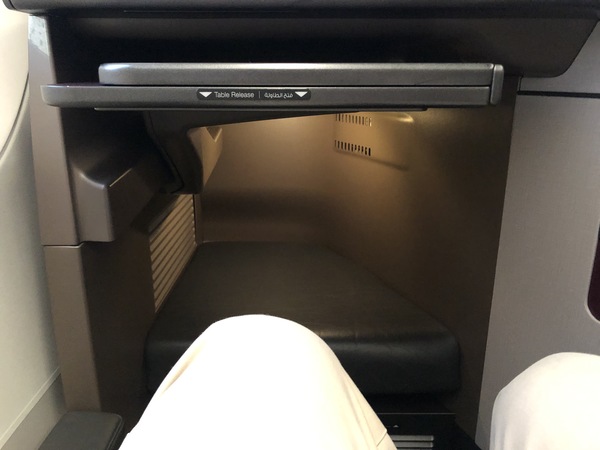 …. which itself sits underneath the HD IFE screen: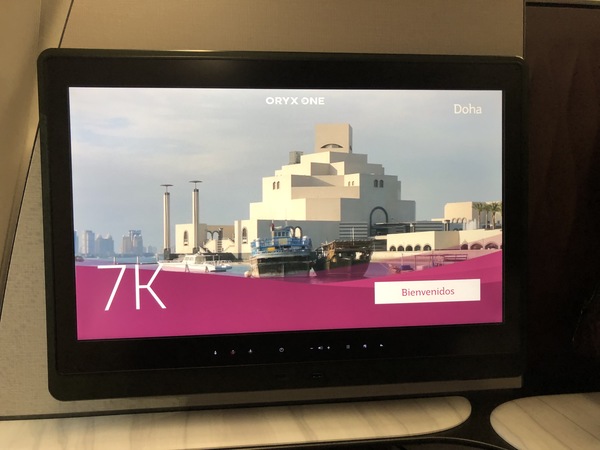 If you look to your neighbour across the aisle, this is what you see: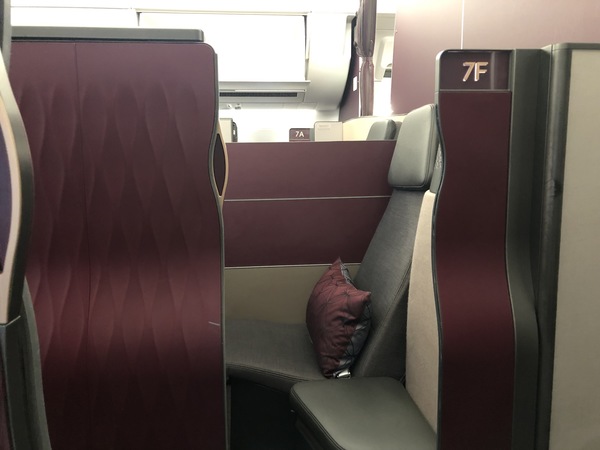 Next to the seat is an ottoman with a leather top. This has two positions, either lowered (level with the seat) or high (so it creates an arm rest). This is the 'high' position: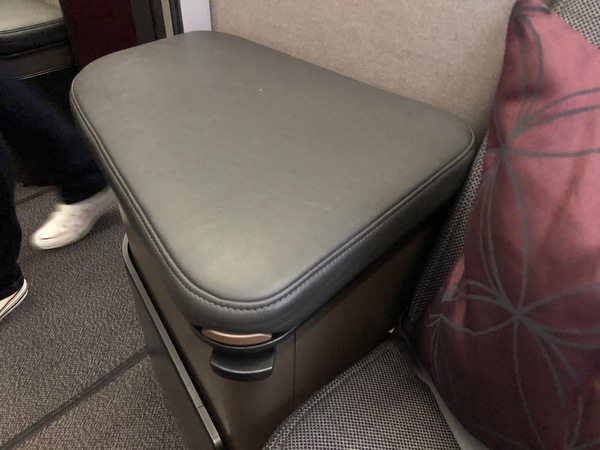 Flip open the lid and you find headphones, a bottle of water, magazines and plenty of space for a laptop and a pile of newspapers: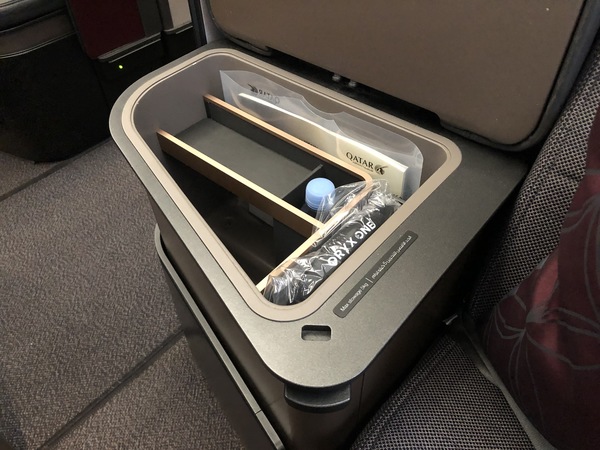 Here is a shot from the return flight which shows how the ottoman is placed next to the seat: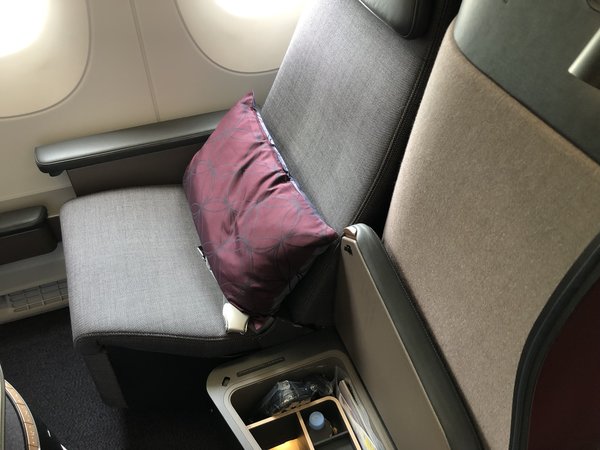 This is the end of Part 1 of my Qatar Airways Qsuite review. Part 2 can be found here.