Is the Al Maha VIP arrival and departure service at Hamad Airport, Doha worth booking?
Links on Head for Points may pay us an affiliate commission. A list of partners is here.
This is my review of the Al Maha VIP arrival and departure service at Hamad International Airport in Doha.
It is part of our current Qatar Airways series. Our previous article reviewing the Qatar Airways Premium Lounge at London Heathrow Terminal 4, is here.  Our two articles reviewing the Qsuite business class seat start here.  Our article on Qatar Airways business class food and drink is here.  Our review of the Al Mourjan business class lounge in Doha is here.
As a reminder, Qatar Airways gave me a return Business Class flight from London Heathrow to Doha.  Head for Points paid for all of its other expenses including hotel, transfers and meals.
What is Al Maha Service?
I obviously didn't ask for a VIP escort around Hamad International Airport, which is one I know fairly well by now.  It had already been booked by the time I found out about it, and I thought it would be interesting to take a look at how it works.
This is how Qatar Airways describes it:
"Welcome to carefree travel, with Al Maha Services. Designed with your time and comfort in mind, our personalised meet-and-greet service aims to ensure a comfortable and speedy experience when arriving, departing or transferring through Hamad International Airport.
We take care of the formalities of travel, while you relax in one of our exclusive lounges, which have dedicated immigration clearance facilities. Our services are available to all customers."
This page of the Qatar Airways website covers the service in detail.
Al Maha Services on arrival
I had been booked on the Platinum service:
Al Maha Services hostess meets you at the aircraft/aerobridge with a personalised name board
Expedited immigration clearance at the Al Maha Arrival Lounge
Assistance through customs clearance
Porter assistance for your luggage
Assistance until the arrival hall
A cheaper Gold service is also available, with the only difference being that you need to make your own way to the Al Maha Arrival Lounge.
I was met at the door of the aircraft as promised, and we walked together through the airport to the Al Maha Arrival lounge.  It is important to note that this is not a standard arrivals lounge.  It is a combined arrivals lounge and private immigration channel.
It looks like an arrivals lounge: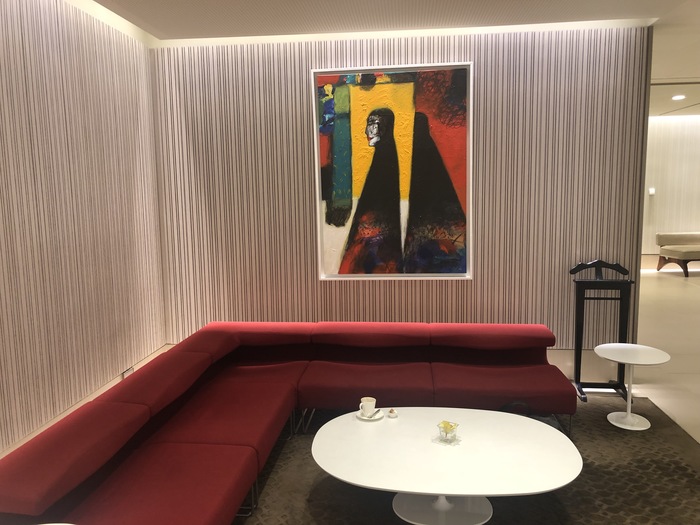 and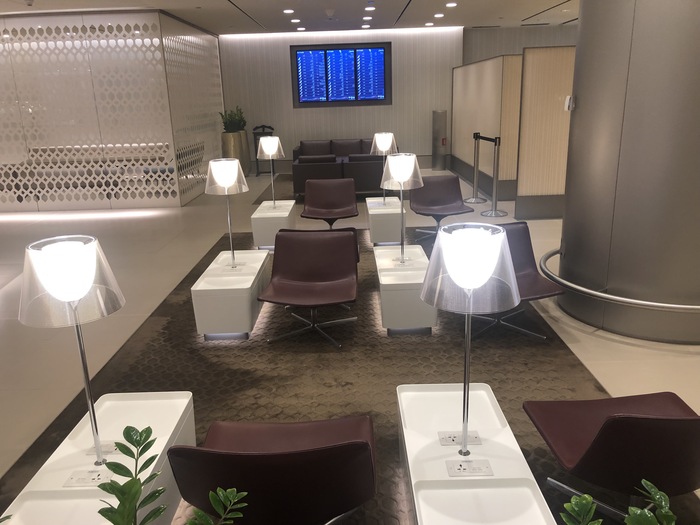 …. with a light buffet and some local newspapers and magazines: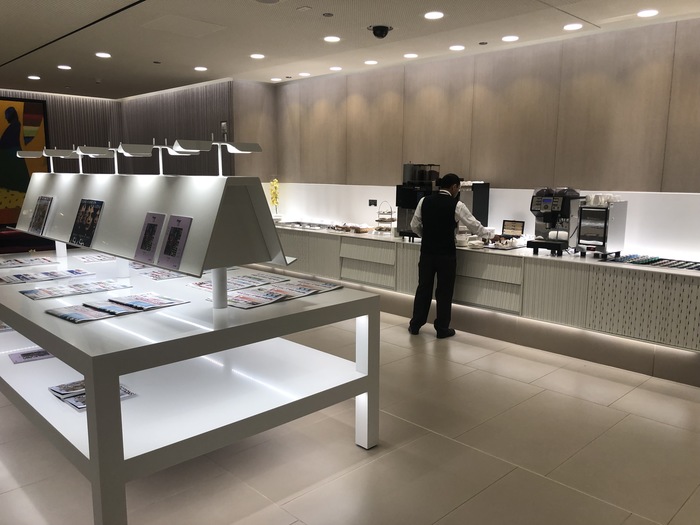 …. but the key part is this: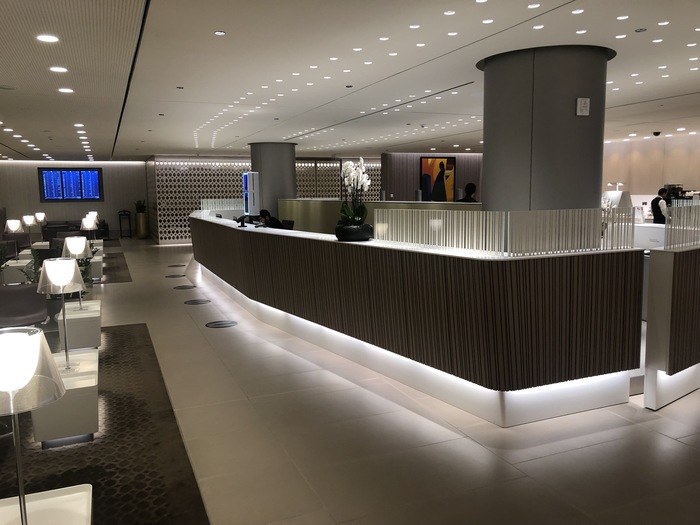 Whilst the counter above doesn't look like an immigration desk, it is.  You can sit in the lounge and have a coffee whilst you answer a couple of emails, as I did, and then show your passport to the person at that desk.
Your host then walks you through the gates opposite: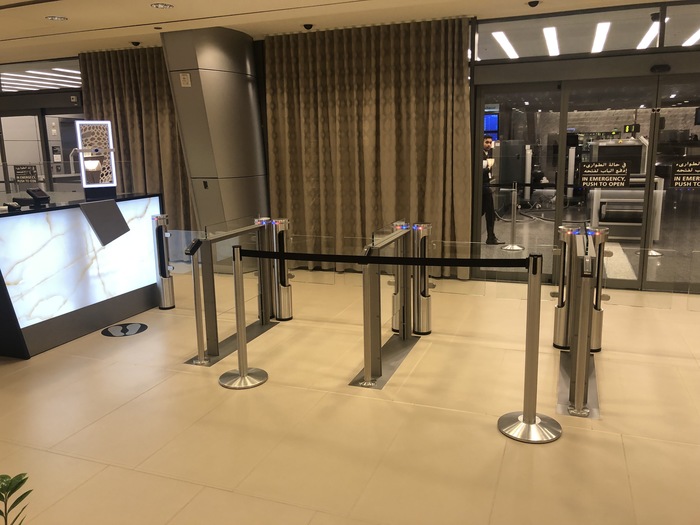 ….. and you are in the baggage hall.  I only had hand baggage so I didn't need the porter who was offered.  I did need some local currency however, and I was walked over to Travelex before being escorted out to the taxi rank.
It is also very friendly and very efficient.  It was a little unnecessary for me of course – although I don't know if there would have been a queue at immigration had I gone through the normal channel.  However, for anyone who is a little nervous about travelling, or who is not as good on their feet as they once were, this is an excellent service and worth considering.
Al Maha also works with transit passengers – they will meet you at your first aircraft, escort you to their lounge and then escort you to your ongoing aircraft with priority boarding.  This could be of real value if you had elderly or frail friends or relatives heading off to Australia to visit family, for example.
Al Maha Services on departure
I was also booked into the Al Maha service on my departure.  The Platinum service covers:
Al Maha Services hostess meets you at the departure hall
Porter assistance for your luggage
Check-in at Al Maha Services Counter
Expedited immigration clearance at Al Maha Services Departure Lounge
Access to Al Maha Services Transit Lounge (six hours)
Priority boarding and assistance to the aircraft/aerobridge upon departure
The Gold service is identical except that you do not get access to the transit lounge – but if you are in Business Class, you won't need it anyway.
Not only did I have access to the Business Class lounge, but I had to visit it in order to review it so I did not see the transit lounge.
I was told to call Al Maha up to 30 minutes before arrival with my ETA at the airport, which I did.  When I arrived at the designated gate (you are dropped off at the main terminal, not a VIP area) I was immediately welcomed by a hostess with a name board.
She took me on the – very short – walk through the terminal to the Al Maha Departure Lounge.  This was almost totally empty, as it was early Friday (weekend) morning.  See: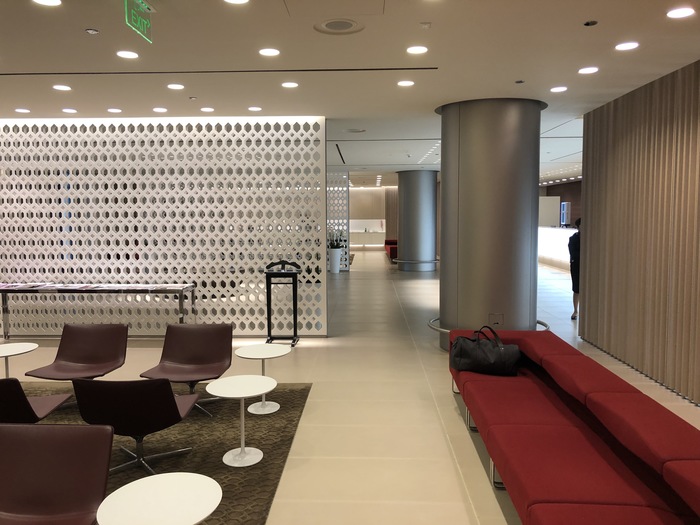 and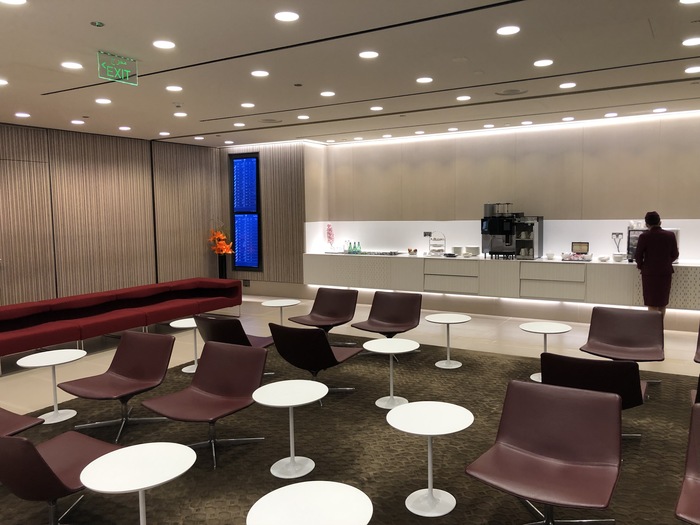 and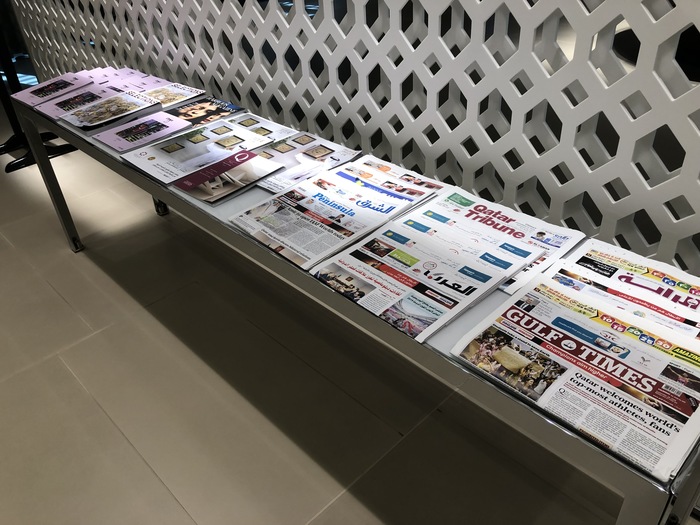 Whilst it looks there is a buffet in the photo above, in reality it is more of a coffee bar.  You won't find any substantial food there.
It is all very relaxed and could not be less stressful.  When you are ready to move on – in my case, to the Al Mourjan business class lounge, which I am reviewing next – you walk to the counter and quickly complete the passport formalities.  I was then escorted to the Al Mourjan lounge.
Again, whilst this wasn't a service I personally needed, it was good to experience it.  It is good to know it exists, especially for anyone who is nervous about transiting or taking a short stopover through Doha on their way elsewhere.
Pricing varies based on how many people are in your party, whether you want 'Meet & Assist' or also Al Maha lounge access and whether you want the Gold or Platinum packages.  As an example, the 'Platinum' arrivals package I had costs 375 QAR per person which is around £80.
You can get a quote for your particular itinerary via the Qatar Airways website here.