Review: the flagship Qatar Airways Al Mourjan business class lounge, Doha
Links on Head for Points may pay us an affiliate commission. A list of partners is here.
This is my review of the Al Mourjan business class lounge at Hamad International airport in Doha.
It is the final part of our current Qatar Airways series. Our previous article reviewing the Qatar Airways Premium Lounge at London Heathrow Terminal 4, is here. Our two articles reviewing the Qsuite business class seat start here. Our article on Qatar Airways business class food and drink is here. Our look at the Al Maha VIP arrivals and departures service is here.
As a reminder, Qatar Airways gave me a return Business Class flight from London Heathrow to Doha. Head for Points paid for all of its other expenses including hotel, transfers and meals.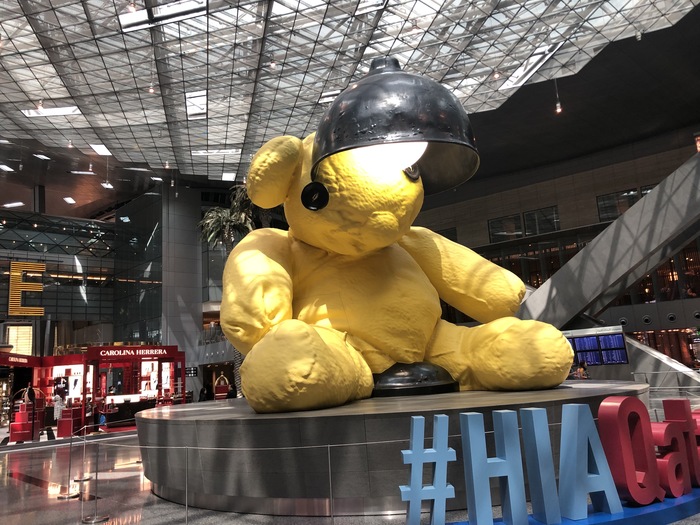 I love this bear. It takes a certain genius / madness to commit to buying this and making it the central marker point of the longest building on earth.
Inside the Al Mourjan lounge at Doha Airport
This page of the Qatar Airways website describes the Al Mourjan lounge in more detail. This is one of the official publicity photographs of the stairs to the upper level of the Al Mourjan lounge, which stretches over two floors and covers 10,000 square metres: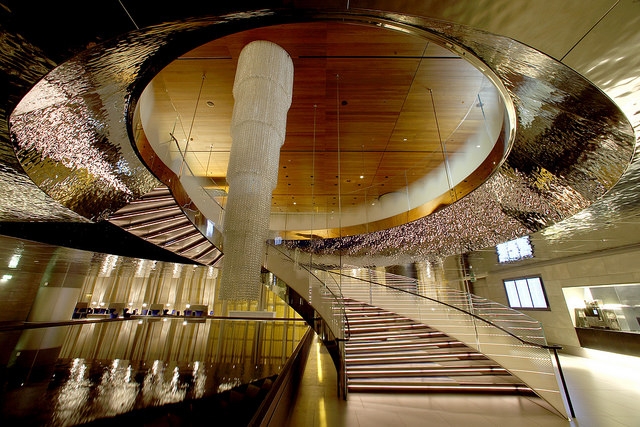 The reality, of course, is never as glamorous. Especially when you arrive early in the morning.
It is five years since I last reviewed this lounge. Whilst it remains impressive to look at, commercial realities have clearly started to bite and there are noticeable reductions in various areas. Don't be too concerned about this, however, as it remains an impressive space.
The lounge is broken down into a number of zones. The key thing to know is that the main dining area is upstairs – this is not very clear from the ground level.
Let's start downstairs though. At the far end is the second smaller restaurant, which focusses more on casual snacks.
I did not arrive at a great time. It was around 10am when I entered and all traces of breakfast had been removed, to be replaced by lunch.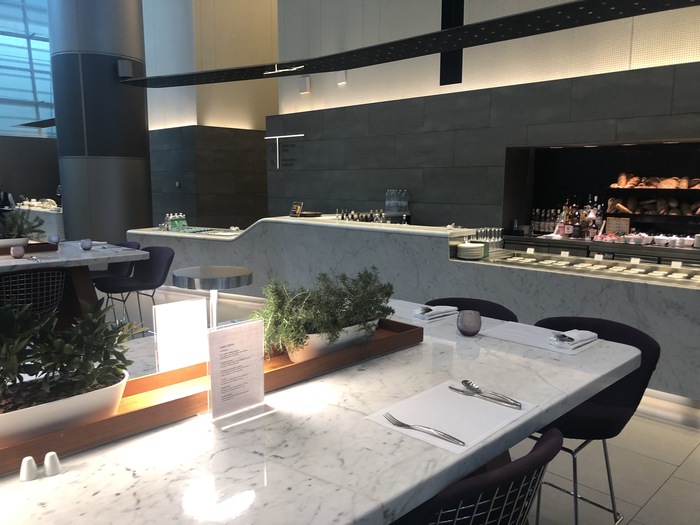 There is nothing especially flash about this, especially as you are sat on stools. You do get to order food off a small menu, however, whilst the main restaurant is just a buffet.
Just off from this area are two rooms. One is a rather neglected childrens playroom: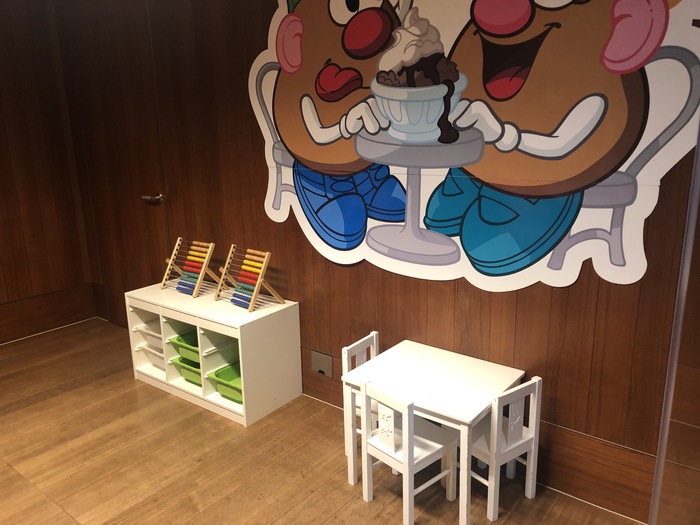 Directly opposite the childrens playroom is the grown-up playroom! Unfortunately, this was substantially emptier of equipment than it was five years ago – gone was the table football, gone were the pinball machines. The couple of video games remaining looked a bit sad in what is a large room.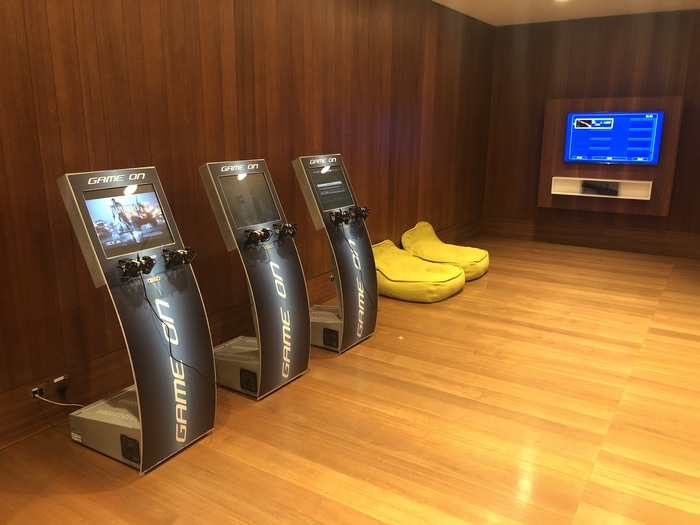 Moving out of the dining area, you come to the h-u-g-e central zone which is made up of small groups of seating. There are numerous coffee and snack stations scattered around. Here is an official PR photo which is far better than anything I could manage: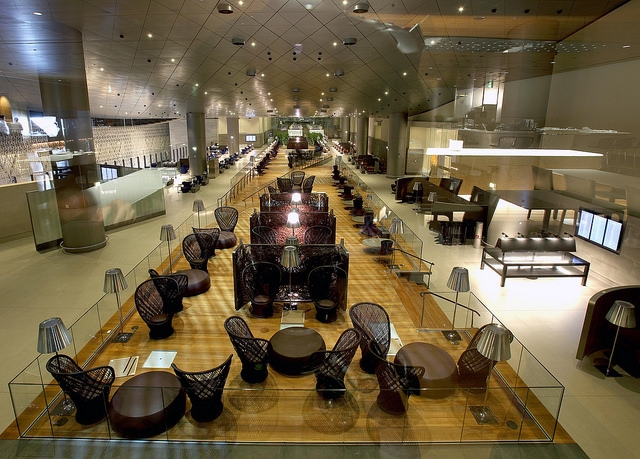 Last time I was here, I was impressed to see that (at 6.30am local time, 4.30am London time) the lounge was offering computer-printed copies of the UK newspapers. In 2019 (at 10am local time, 8am London time) there was nothing except local newspapers.
As I wrote in my Qatar Airways Qsuite review, you could get same-day UK newspapers on the aircraft – so why not in the lounge?
To the left of this area is another separate mini-lounge with another bar. The seats here are totally different, each with an in-built iPad.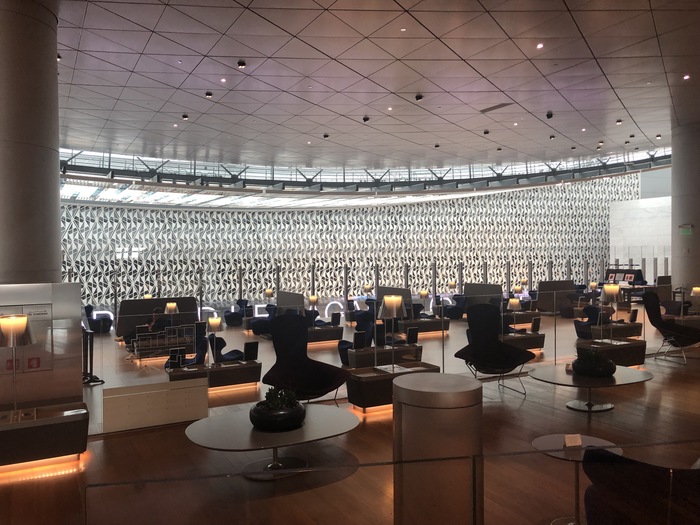 and
The same area also comprises a business centre. This is genuinely huge. You could run a decent sized company from this space without any difficulty. This photo shows less than half the space: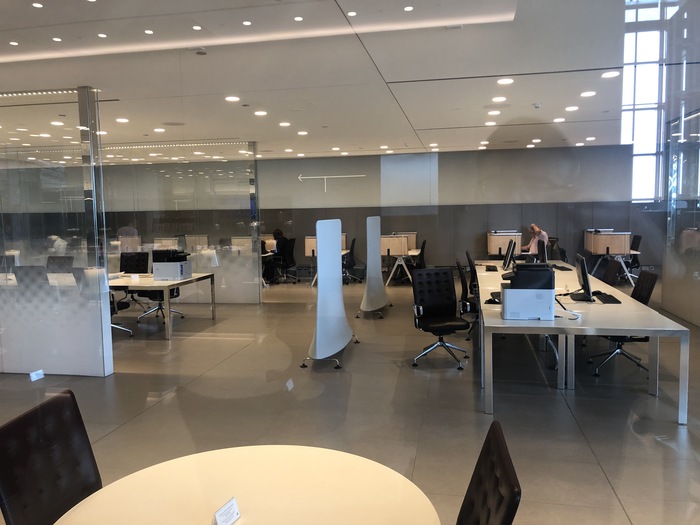 If you want a rest, there are also a few of these (showers are also available):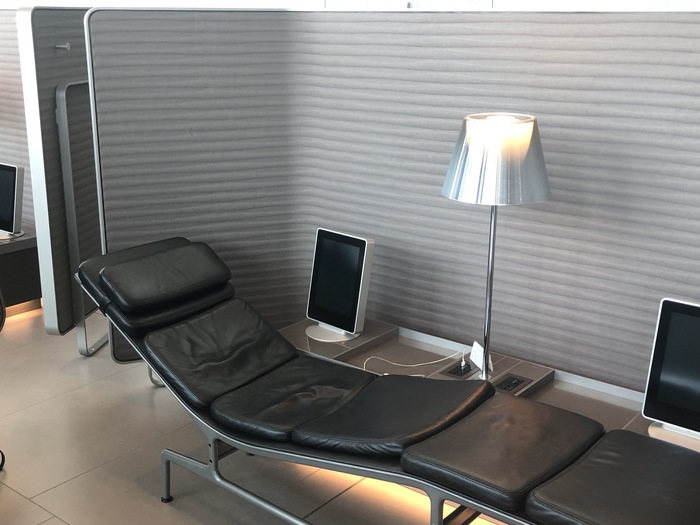 By this point I was ready for some hot food and a proper drink, so I ascended the spiral staircase which straddles a huge 'lake':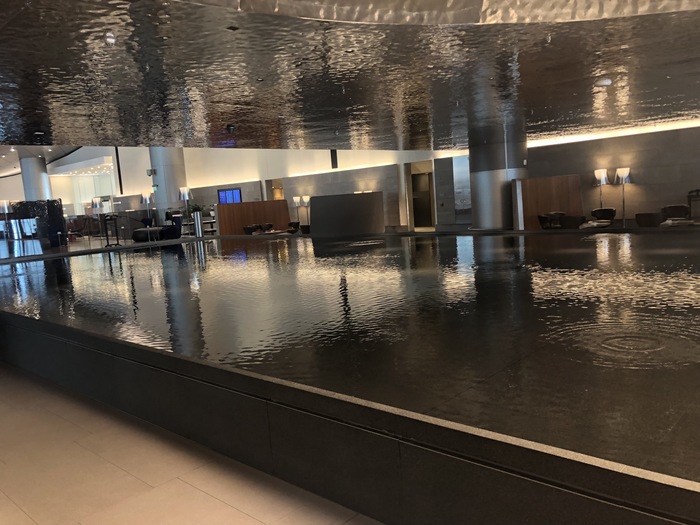 The days when you could get a glass of Krug with your breakfast – and this was from a business class lounge, remember – are long gone. Champagne is still available, of course, but one that costs the airline 80% less. I ended up having curry off the buffet for breakfast, as the lounge was already in lunch mode: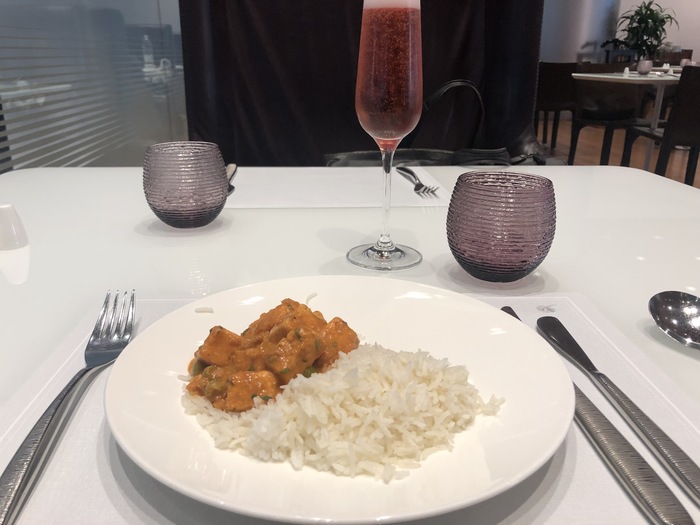 There is another full bar up here: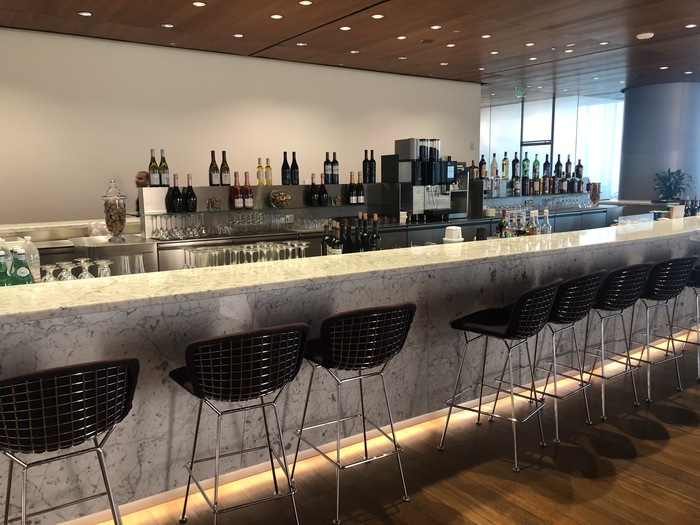 …. along with two different food stations: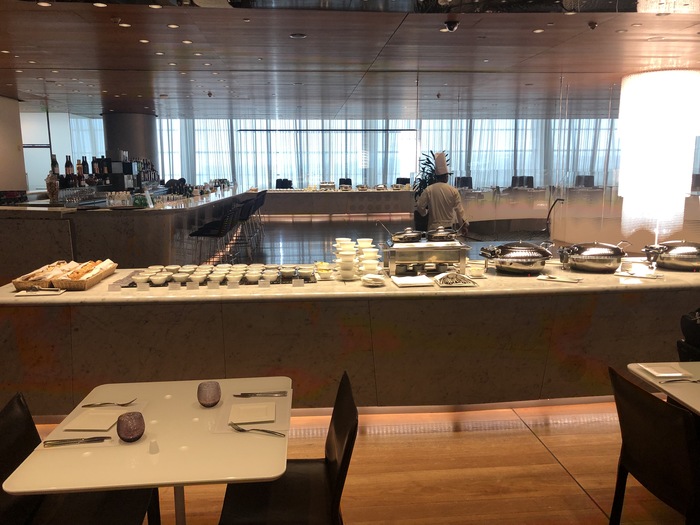 Behind the upstairs dining area is a special family zone. This is impressive – you basically get a cubicle area for your group, with plenty of space for changing or playing: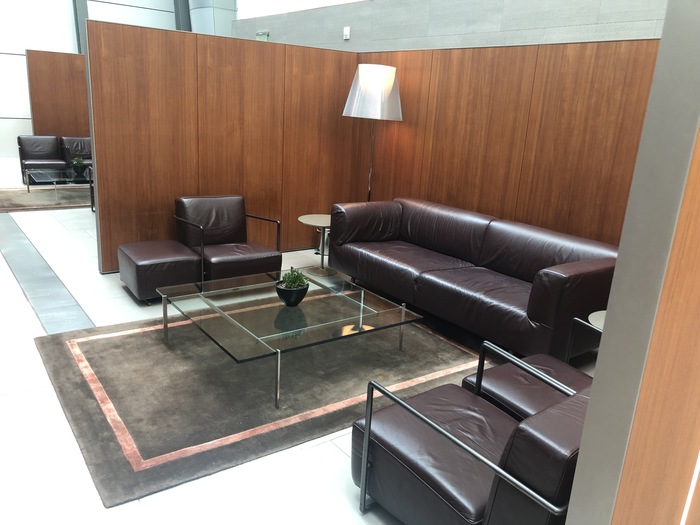 Conclusion
Whilst it isn't as impressive at is used to be, I still enjoyed my visit to the Al Mourjan lounge. Architecturally it is very outstanding, with a good mix of eating, drinking, working and relaxing areas. Some inspiration has clearly been taken from a Virgin Atlantic Clubhouse.
If it lacks anything, it is a 'cosy corner' – you are constantly aware of the scale of the lounge, and indeed the airport. It remains well worth a visit if you are passing through Doha Airport, however.
This the final part of my Qatar Airways review series, since my initial flight review last week was a mix of both the outbound and inbound trip. If I needed to sum up the entire trip, from the London lounge to departing the aircraft back at Heathrow, I would say 'quality'. Qatar Airways sets the bar very high at every stage.
Some of the 'flash' has gone from the operation in recent years, but make no mistake that what is left is, in almost every regard, exceptionally well done. The icing on the cake is the fact that:
Qatar Airways tickets can often be had at exceptionally good prices in Business Class (£1,200-ish to Asia if you are prepared to start your trip outside the UK) and
You earn British Airways Avios and tier points on every trip, with one return to Asia getting you 90% of what you need for a BA Executive Club Silver card (4 x 140 tier points = 560 tier points)
It's difficult to ask for more, especially if spending your own money on a Business Class ticket. Try to give Qsuite a try if you can.
Thanks to the Qatar Airways team in London for arranging my trip, and to the loyalty and press team in Doha who hosted me for an afternoon.