How is the food and drink when you fly Qatar Airways Qsuite business class?
Links on Head for Points may pay us an affiliate commission. A list of partners is here.
This is my review of the food and drink available in Qatar Airways Qsuite business class, based on a recent flight on the A350-900.
The introductory article in this series, which reviewed the Qatar Airways Premium Lounge at London Heathrow Terminal 4, is here.  Our two articles reviewing the Qsuite business class seat start here.  Our look at the Al Maha VIP arrivals and departures service is here.  Our review of the Al Mourjan business class lounge in Doha is here.
As a reminder, Qatar Airways gave me a return Business Class flight from London Heathrow to Doha.  Head for Points paid for all of its other expenses including hotel, transfers and meals.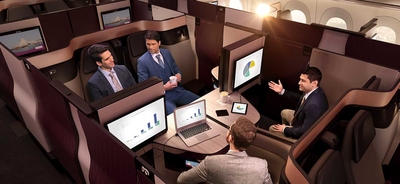 Qatar Airways business class food and drink
I decided to write a separate article covering the food and drink options on my flight because I got to experience breakfast on the outbound and lunch on the inbound.
In general I don't like reviewing aircraft breakfasts because there is very little you can do to liven them up.  A lunch or dinner gives an airline a far better chance to show what it can do.  Luckily I got to try both.
Qatar Airways business class breakfast
I should mention first that, of course, you receive the usual pre-take off champagne if you want it.  Qatar Airways is currently serving Pommery alongside a Canard-Duchene Charles VII rose.  Both retail for around £35-£40.
Qatar Airways offers genuine 'dine when you want' and there is absolutely no pressure to order at any particular time.  As it happened, with a breakfast flight and a lunchtime flight, I chose to eat immediately after take-off on both occasions as did the majority of passengers.  It's worth noting that the airline is happy to serve you another lunch or even another breakfast later in the flight if you don't want anything from the snack menu!
The breakfast menu was:
Fresh orange juice or carrot juice
Starters:
Seasonal fresh fruits
Greek yoghurt, strawberry compote and toasted granola with nuts
Choice of breakfast cereals
Assiette of cold cuts (smoked salmon, cheddar and rocket leaves)
Mains:
Traditional Arabic breakfast
Cheese and tomato omelette with beef medallion, potato cake and bearnaise sauce
Steel-cut oats served with berries and cream
Bread selection
There is also a 'light options' menu. In theory this can be substituted for breakfast but is better enjoyed later in the day – mixed garden salad, gnocchi with spinach and mild blue cheese sauce, afternoon tea, mini sliders (beef and chicken) or a cheese plate.
There was also a separate 'snack platter' inserted into my menu as an extra page.  This was promoting a 'one tray' snack, available at any time, containing smoked salmon with dill mayo, a feta and watermelon skewer, chicken with apricot and pistachio brochette, pastilla lamb, mixed pepper with turmeric crostini and Battenberg cake.
Before I come to the food, let's talk about presentation.  Like Etihad, Qatar Airways nails this.  Everything just looks 'right'. 
This is part of the breakfast setting.  Note the little battery powered candle at the top right which is a signature feature.  Note the smart bread basket with inlay, the cutlery, the butter plate.  None of this is expensive – certainly not setting it up correctly for the customer, which costs nothing except training – but so few airlines get this right.
I took the Greek yoghurt: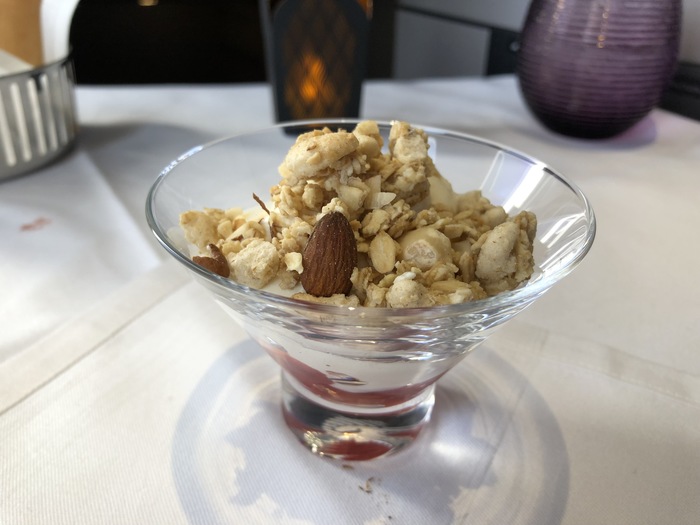 ….. and the omelette: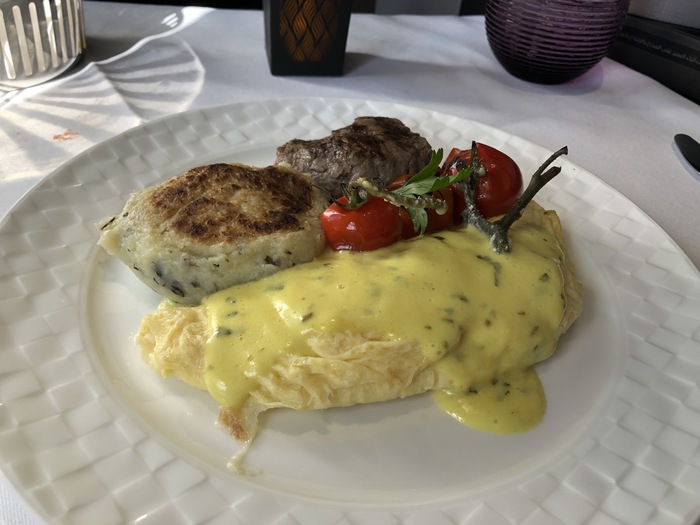 I'll be honest.  I didn't read the small print on the omelette, which explained that it came with a chunk of beef.  I don't have anything against beef, but not at 9am.
Is 'omelette with beef' a Middle Eastern thing?  It was a new one on me.  There was nothing wrong with the beef – cooked enough, tender enough – but it wasn't what I was expecting for my breakfast.
There really isn't much else to say, which is why I don't like reviewing breakfasts!  On the other hand, omelettes are not easy to prepare on an aircraft so the fact that this one tasted fine is a positive.
Nearer to landing into Doha I had the afternoon tea.  Again this is a relatively simple thing, but take a look at the photo below and compare it to a British Airways effort.  It is worth noting that catering from London is done by DO&CO who are the British Airways catering company.  BA could serve a literally identical product if it chose to spend enough.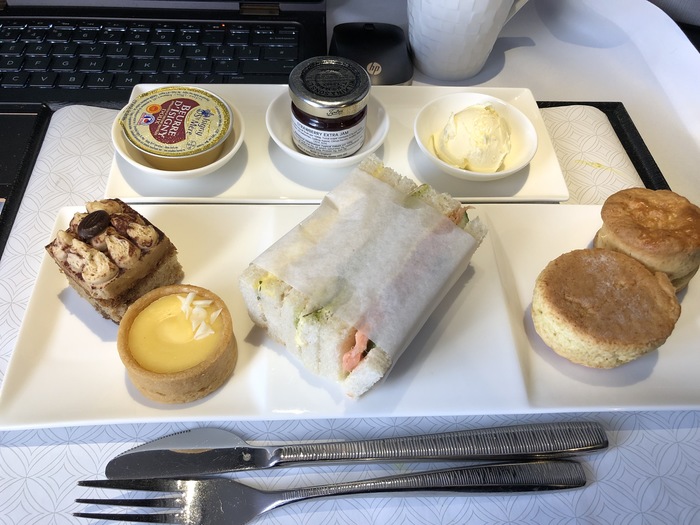 Qatar Airways business class lunch service
The lunch menu for my return flight gave the airline a better chance to shine.
We started off with an amuse bouche: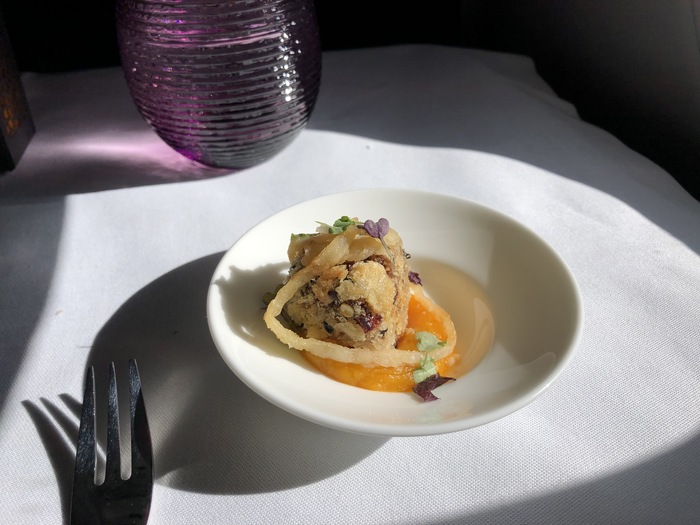 I chose to pass on the soup course and went straight for the appetisers.  The options were:
Signature Arabic mezze
Prawn and scallop with olive oil and lemon, with black quinoa and pickled red onion
I took the latter which was impressive – a surprisingly complex dish: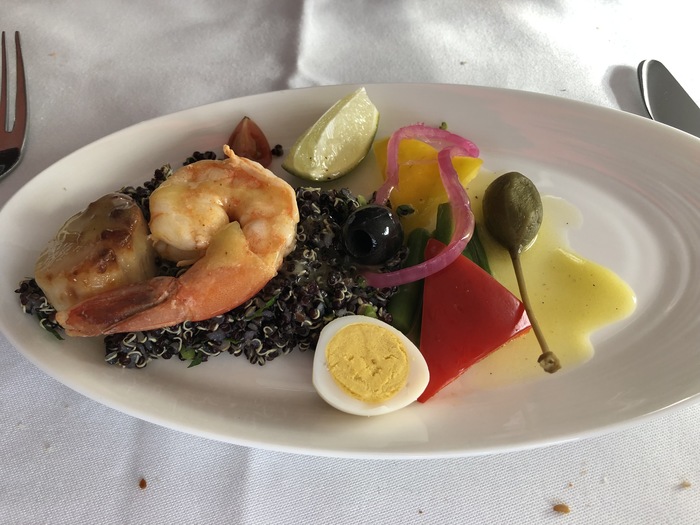 There were three choices of mains, which came with 'a selection of artisan breads':
Grilled veal fillet, with morel mushrooms, asparagus, garlic confit and saffron mashed potatoes
Seafood tagine with raisin and parsley couscous, mixed vegatables and smoked paprika
Smoked cheese tortellini with roasted cherry tomatoes, Parmesan tuilee and smoked cheese sauce
Here is the tagine (note the smart plate):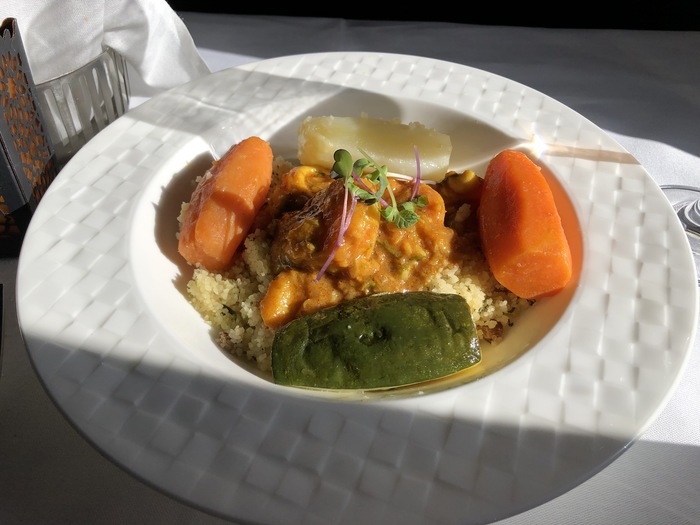 I rarely have dessert wine on the ground, so this flight was a good excuse to crack open a Tokaji Aszu 2008 5 Puttonyos, which retails at around £35 for a half bottle.  A 20 year old Tawny Port from Taylor's is also available.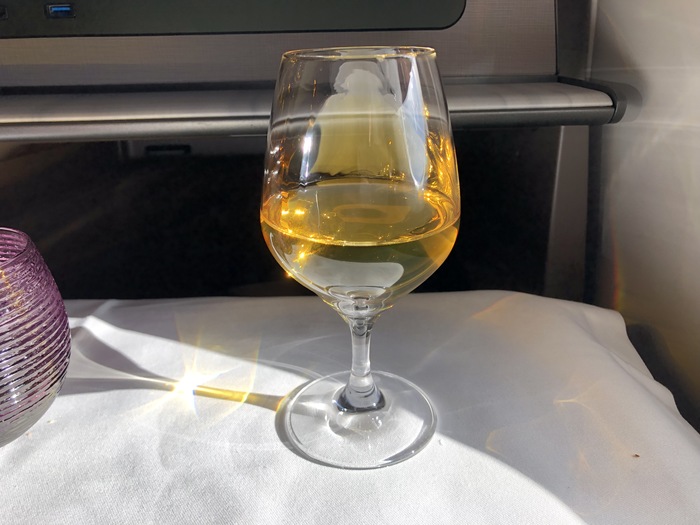 Dessert choices were:
Date and walnut pudding
Fresh berries with rose water syrup
Gourmet ice cream selection
I went with the ice cream, which was substantially classier than you would have the right to expect.   You can probably see a theme emerging here – in general, what you get is a classier and more complex dish than the menu would have you believe.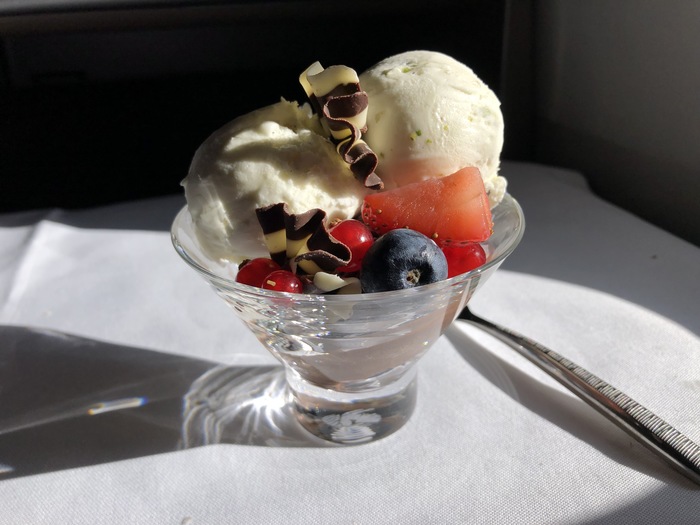 I gave the cheese plate a miss (Oxford, Manchego and goat chive cheese) but was happy to take a couple of Godiva chocolates to have with my coffee.
Whilst I didn't need a second meal, I could have chosen from two light bites (the afternoon tea again, or mini sliders).  There was also the daily snack platter menu.
The wine selection
We covered the champagne options above.  I didn't drink any standard white or red wine during either flight.
The white selection included a Truchard Napa Valley chardonnay (2017) and a Chilean Duette Indomita sauvignon blanc (2017).  The Truchard sells for around £30 which is very high end for a Business Class wine list, although the Duette is around the £15 level.
The three reds included a Chateau Larrivet Haut-Brion (2012), another £30 bottle, and a Stump Jump Shiraz (2016) from Australia which is a lot cheaper at around £11.
Conclusion – how did I find Qatar Airways business class food and drink?
Some people find the food to be the weakest part of the Qatar Airways business class proposition.  I don't agree.
Presentation is excellent.  The genuine 'dine on demand' service is excellent.  The drinks list contains some gems alongside some averagely priced products.  The food, in itself, was very well put together and perfectly cooked.
The only thing which didn't hit the mark, for me, were the menu choices themselves.  Serving beef with an omelette was odd.  Similarly, a lunch selection of veal fillet, seafood tagine or tortellini is going to leave some people cold.  In terms of taste, style and presentation, however, I was a happy man.
If you missed the first two parts of my Qsuite flight review, published earlier in the week, click here.
The Qatar Airways Qsuite website is here.
Coming up, I will take a look at the Al Maha VIP arrivals and departure service at Hamad International Airport in Doha, and the Al Mourjan business class lounge.