Qatar Airways – my review of their Boeing 777 business class (Part 1)
Links on Head for Points may pay us an affiliate commission. A list of partners is here.
Today I am reviewing my Boeing 777 Qatar Airways flight from Heathrow to Doha last week.
Here are the other articles in this series:
The Qatar Premium Lounge at Heathrow
Qatar Business Class on the Boeing 777 Part 2
The Al Mourjan lounge at Hamad International, Doha
Qatar Business Class on the Boeing 787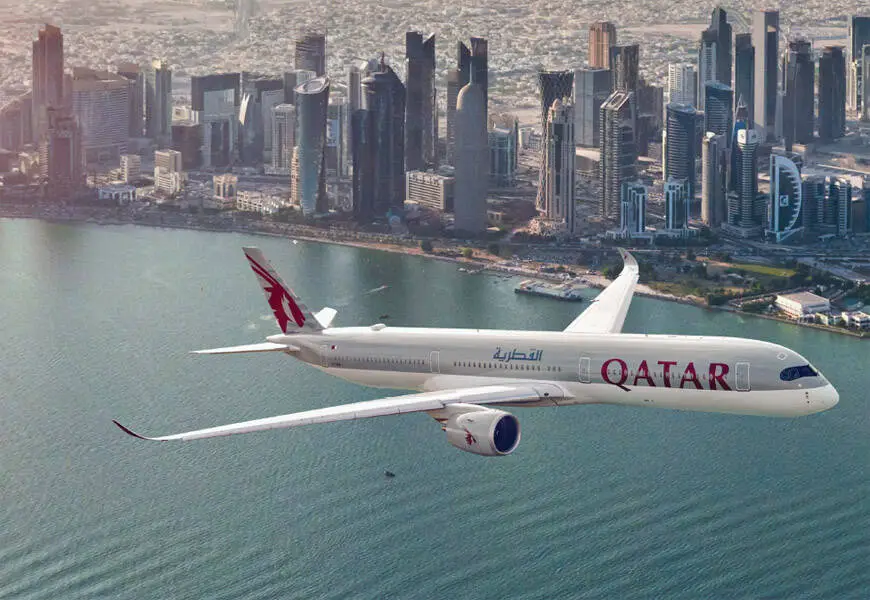 Like the other two big Middle Eastern airlines, Qatar Airways has grown at a huge rate in recent years.  The upside of this is that they have a modern fleet – there are plenty of Boeing 777, Boeing 787-8 and, from this month, Airbus A380 aircraft in there.
It is also the launch customer for the Airbus A350 with a whopping 80 on order.  You can see the current fleet list here.
The downside is that they also have a number of older Airbus A330 and A340 aircraft flying long-haul, some of which have earlier generations of seats.  To add to the confusion, Qatar also runs an A319 'all business class' service from Heathrow to Doha in the late evenings.  I wrote more about that here.
Tomorrows Heathrow schedule is due to see 1 x A340, 2 x A330, 1 x A380, 1 x A319 and 1 x Boeing 777.  This will change again in December when a 2nd A380 comes on stream and will also be used to Heathrow.
Boarding
For reasons I am not entirely clear about, Qatar began to board the plane very early.  When I was asked to leave the lounge there was still 50 minutes to the scheduled departure time.  Despite that I was one of the last to get on.
The plane was exceptionally hot at this point but it did cool as the air conditioning kicked in.  Not surprisingly, we were closed up and ready to go by the official departure time.
Business class was almost entirely full with, I think, 22 of the 24 seats taken.  I had booked a window seat.  It turned out my seat mate was an elderly gentleman whose wife was sat across the aisle from him as they had failed to secure adjacent seats.  I offered to swap and moved into one of the middle pair.  They were heading down to Perth without any stopover in Doha.
Seating
If you are flying in business class, the key thing to know is that some A330 and all A340 departures do NOT have fully flat beds – they slope at 165 degrees.  Arguably, as they are used on day flights from Heathrow, it is not a major problem.  However, if you want to guarantee yourself a fully flat business class seat then stick with the Boeing 777, Boeing 787-8, Airbus A319 and Airbus A380 departures.
On this trip, I flew a Boeing 777-3 down to Doha.  This has the first generation of Qatar flat beds.  On the return, which I will review next week, I took a Boeing 787 which has their latest seat and which is effectively the same as the version used on the A380.
To complicate things further, Qatar operates two different versions of the Boeing 777-3 as well as also running 777-2.  On my aircraft business class occupied rows 1-4 in a 2 x 2 x 2 configuration.  There is no First Class on the 777's.  The other versions of this aircraft have 7 rows of business class seating.
This is what the Boeing 777 seating looks like when the photo is taken by a professional photographer on an empty plane: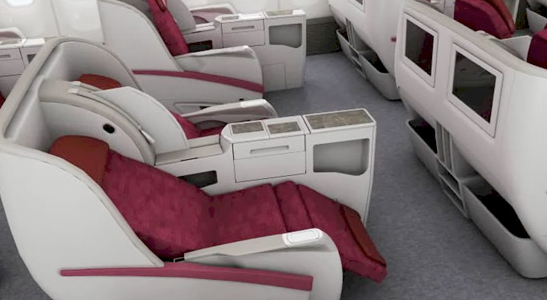 ….. and this is what it looks like when I do it on my iPhone in natural light with real people and real luggage scattered around: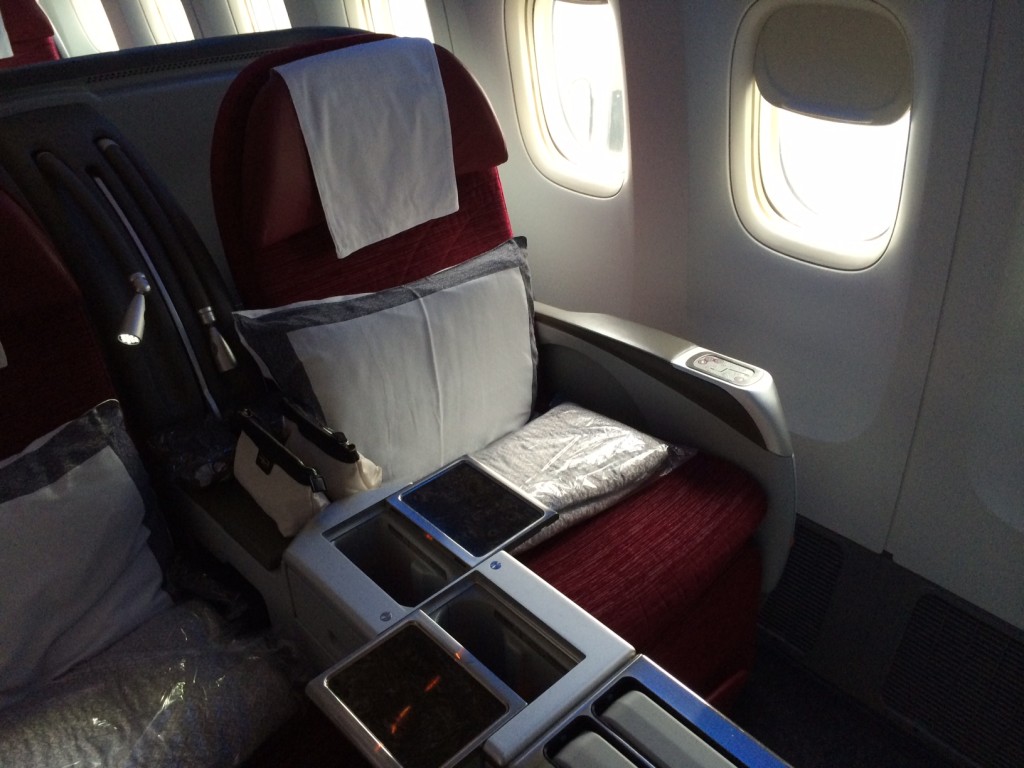 and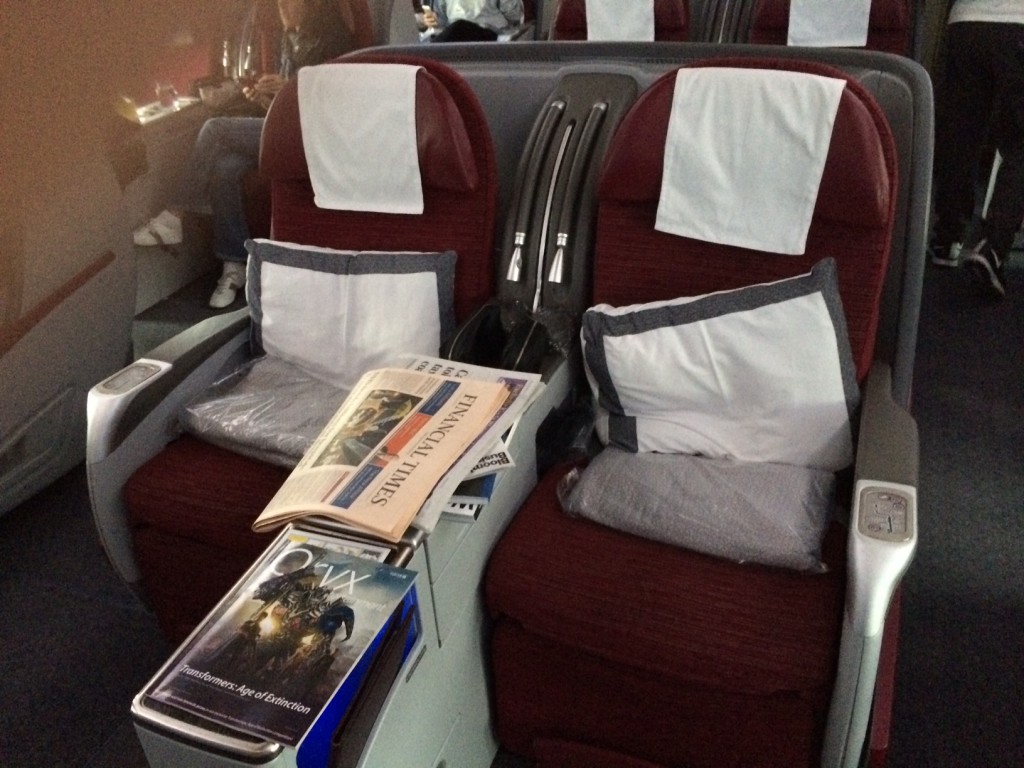 and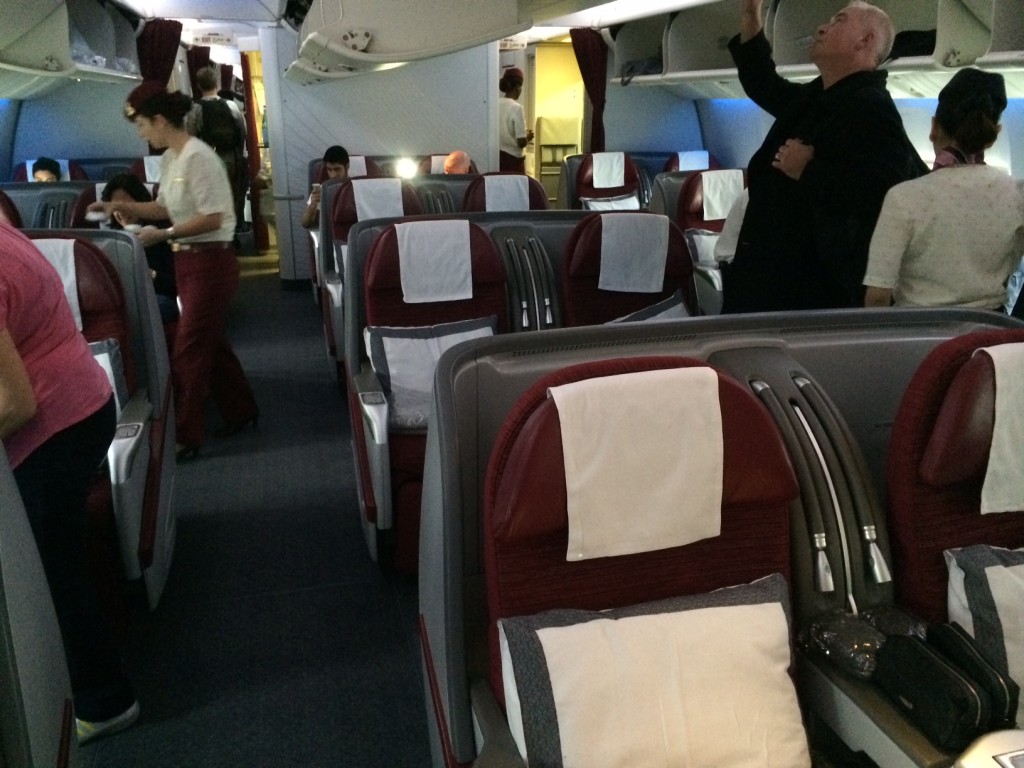 …. with the TV built into the back of the seat in front: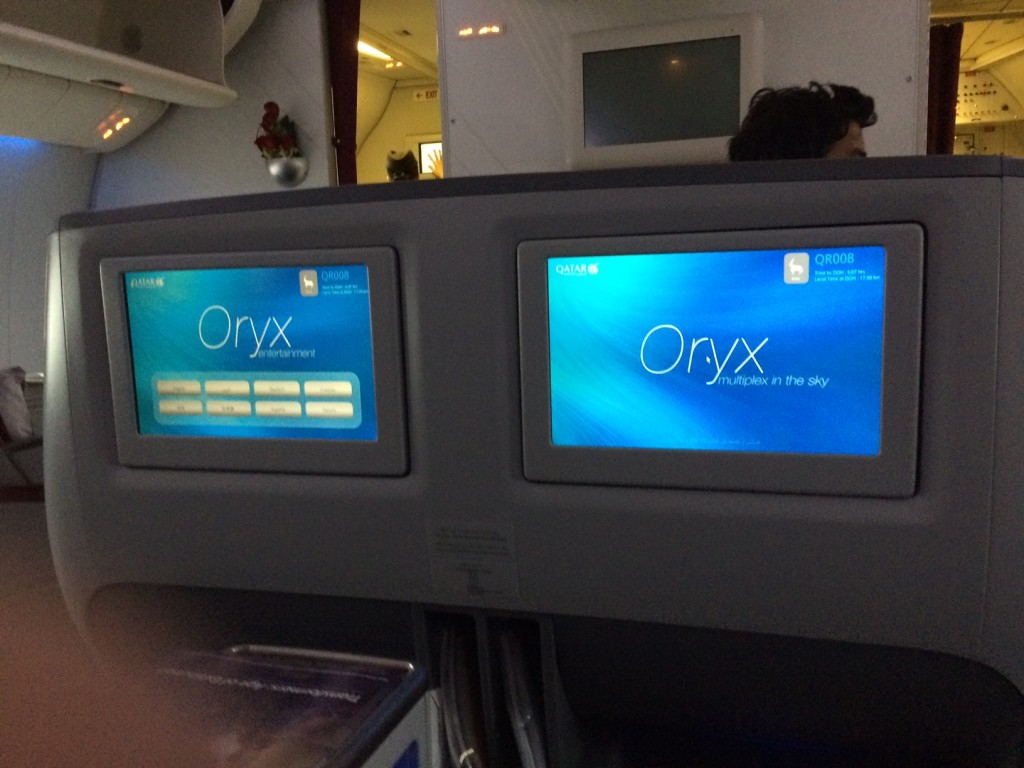 You can't disguise the fact that, for a solo traveller, this is not perfect.  On the other, for a couple, it is great.  This is how me and my seatmate had to share our drinks and amuse bouche of Indian spiced lobster:
The seats were perfectly comfortable, however, and accommodated my 6′ 2′ frame with no major problems.  When the seat is in bed mode, your feet slot into the gap in the back of the seat in front.
If you compare the 777 layout to the BA Club World layout, there are two key differences.  The first, of course, is that Club World has solo seats, albeit you are actually sitting with someone, just in a yin/yang layout facing them.  However, the seats are narrower.  Remember that BA runs 2 x 4 x 2 on a Boeing 777 whereas Qatar runs 2 x 2 x 2.
For a couple, the 2 x 2 x 2 layout here is a substantial improvement on Club World.  A couple can sit side-by-side by a window, which is not possible on BA – the only 'side by side' pairs are in the middle blocks of Club World which require jumping over a strangers feet to reach the aisle.  You also have direct aisle access from 2/3rd of the seats.
Click here to move on to Part 2 which covers the Qatar Airways food, toiletries, IFE and my arrival into the new Hamad International Airport.