Links on Head for Points may pay us an affiliate commission. A list of partners is here.
This is my review of the new business class lounge at Hamad International airport in Doha.
Back in August I covered the launch of the Qatar Airways lounge complex at the new Hamad International Airport.  All 10,000 square metres of it.  I was there two weeks ago and can now review the Hamad International Al Mourjan lounge, used by Qatar Airways business class passengers, in full.
Here are the other articles in this series on Qatar Airways:
The Qatar Premium Lounge at Heathrow
Qatar Business Class on the Boeing 777 Part 1 and Part 2
Qatar Business Class on the Boeing 787
This page of the Qatar Airways website describes the Al Mourjan lounge in more detail.  The amazing thing is that this is NOT the official Qatar Airways First Class lounge. That facility, to be called the Al Safwa First Class Lounge, is still under development.  This is one of the official publicity photographs of the stairs to the upper level of the Al Mourjan lounge, which stretches over two floors: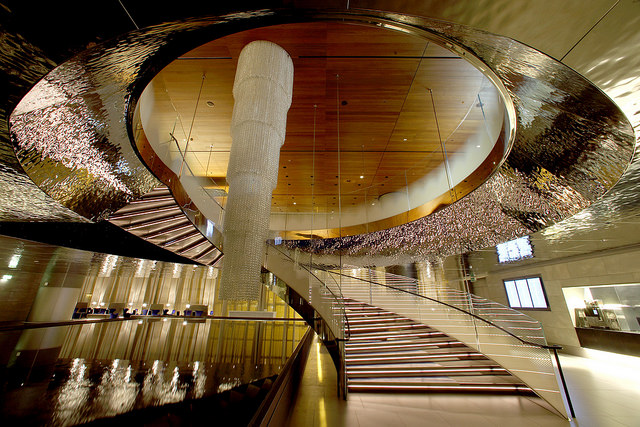 The reality, of course, is never as glamorous.  Especially when you arrive at 5.30am in the morning and your brain is still operating on UK time, where it is 3.30am!
The lounge is broken down into a number of zones.  The key thing to know is that the main dining area is upstairs – this was not clear to me until I walked up there.
Let's start downstairs though.  At the far end is the second restaurant, which focusses more on casual snacks.  I initially stopped here for a coffee and a croissant.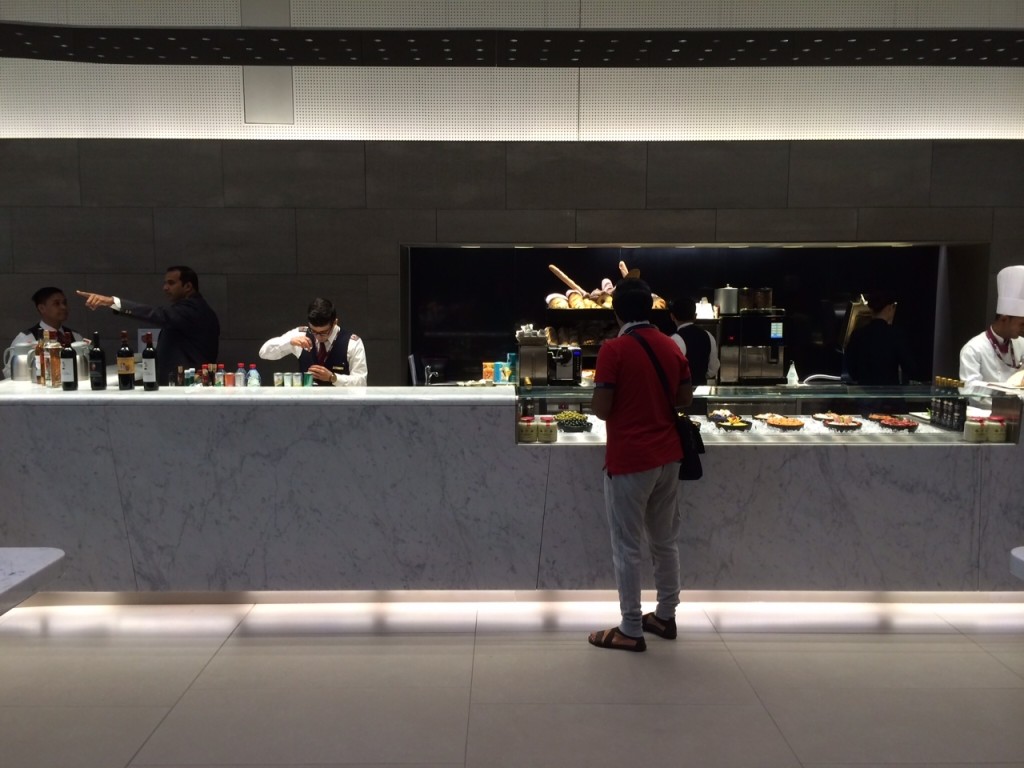 and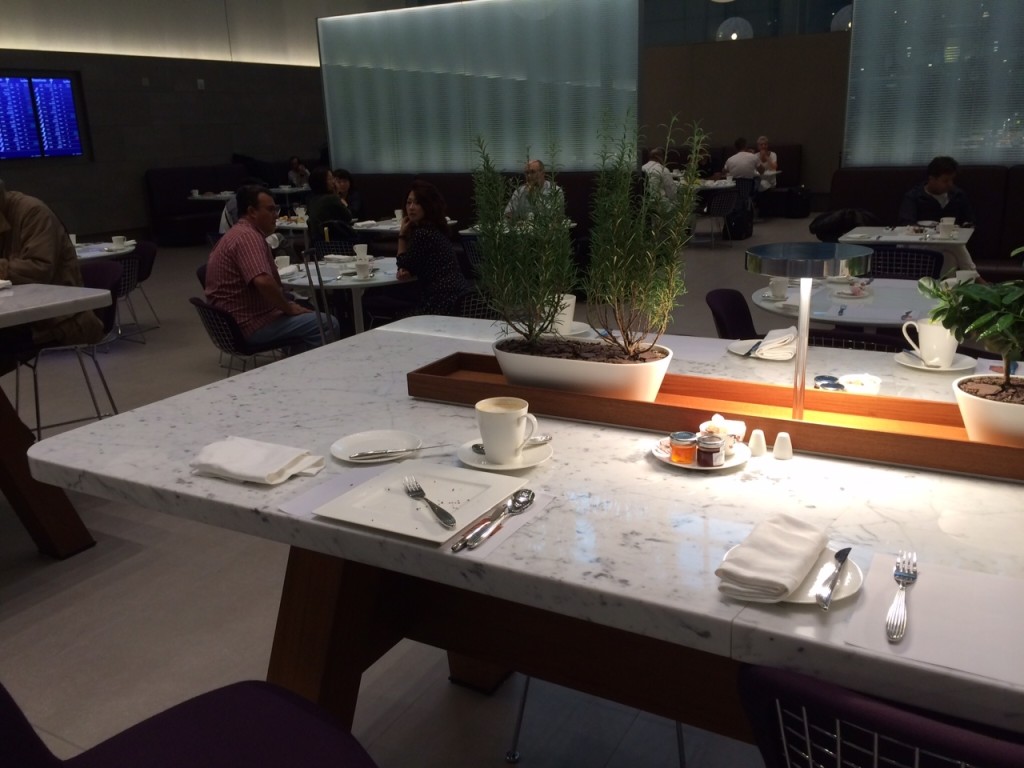 There is nothing especially flash about this, although it is worth noting that you still get waitress service for your drinks.  Just off from this area are two rooms.  One is a childrens playroom which, to be honest, could be bigger and more inviting – although it is bigger than the facilities in the BA lounges in Terminal 5.
Directly opposite the childrens playroom is the grown-up playroom!  When did you last have a go on one of these?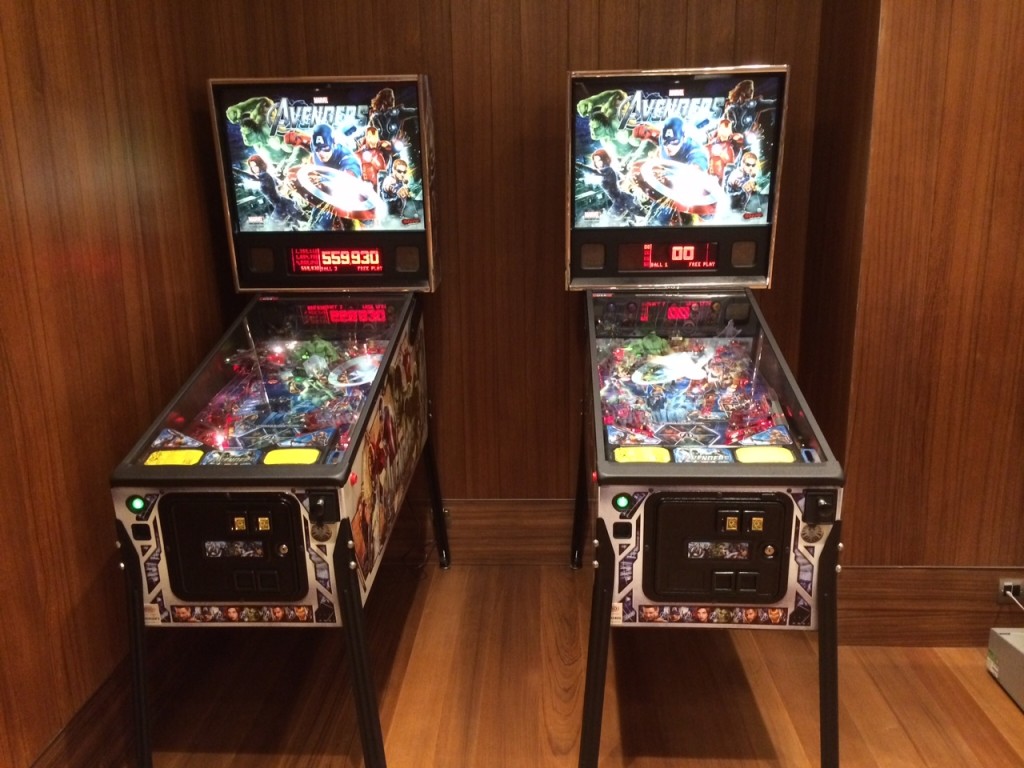 (set to free play of course!) or one of these: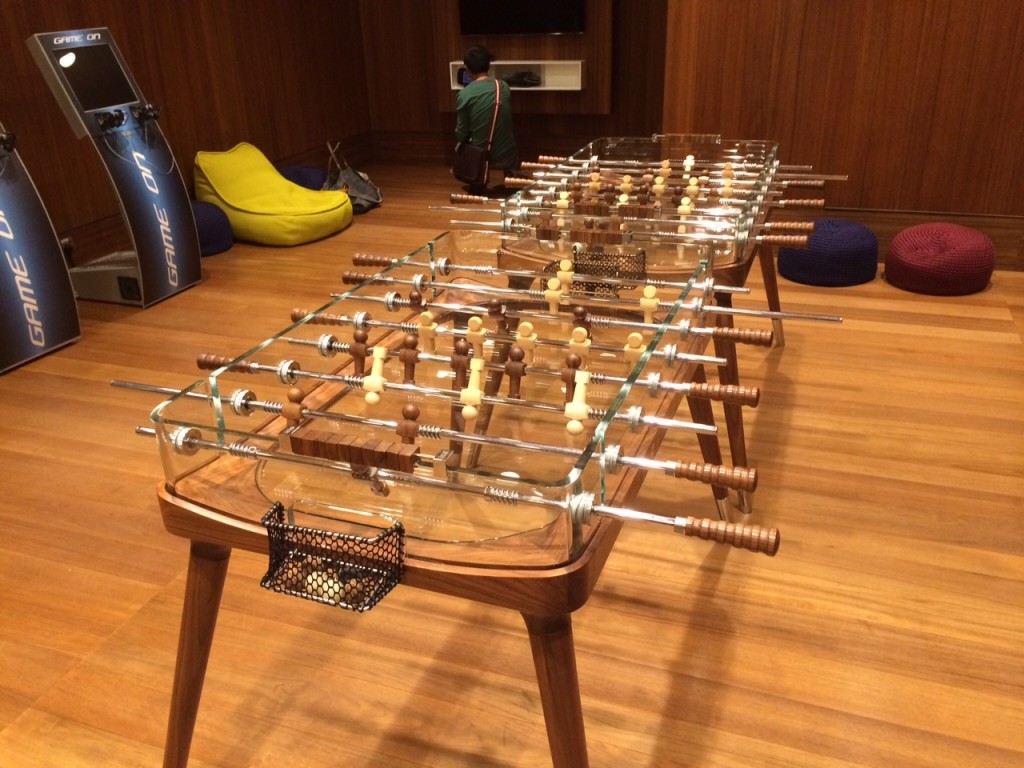 Moving out of the dining area, you come to the h-u-g-e central zone which is made up of small groups of seating.  There are numerous coffee and snack stations scattered around.  Here is an official PR photo which is far better than anything I could manage: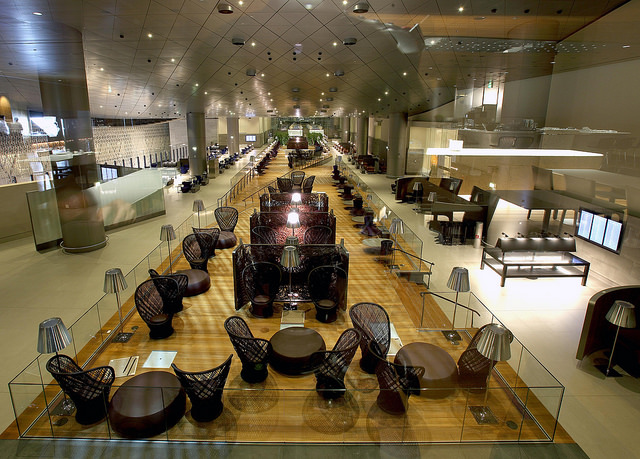 I was impressed to see this on a table: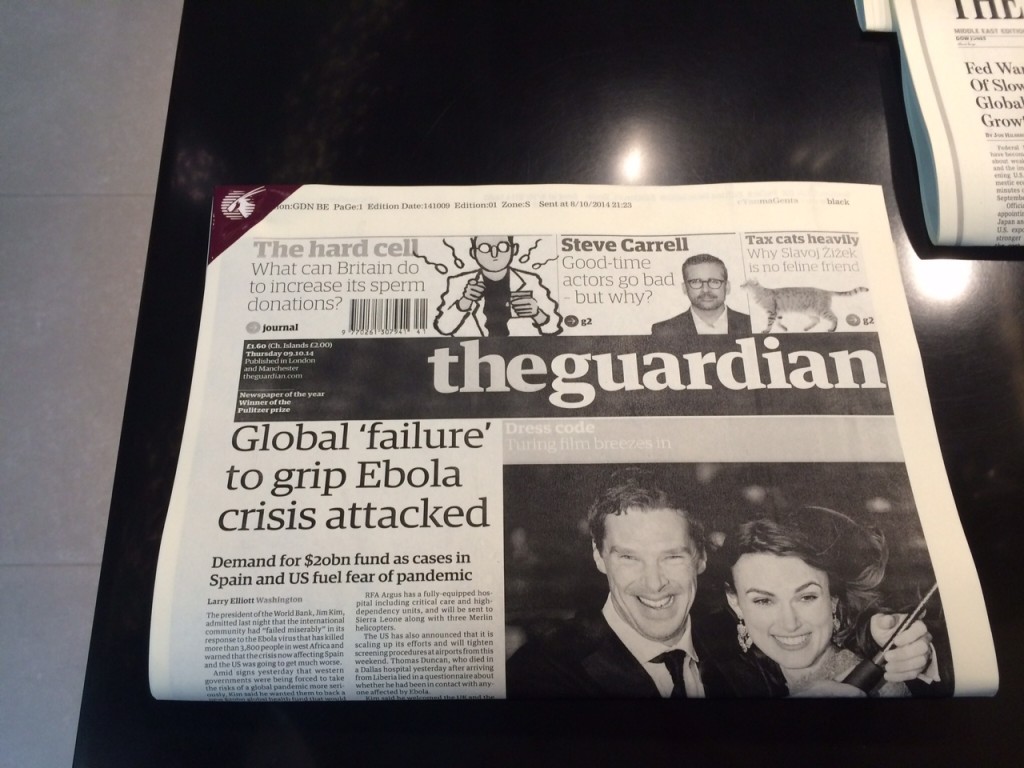 Remember that it was about 6.30am Qatar time so 4.30am London time – yet they already had the UK newspapers downloaded, printed, bound and ready for you to freely take away.
To the left of this area is another separate mini-lounge with another bar.  The seats here are totally different, each with an in-built iPad!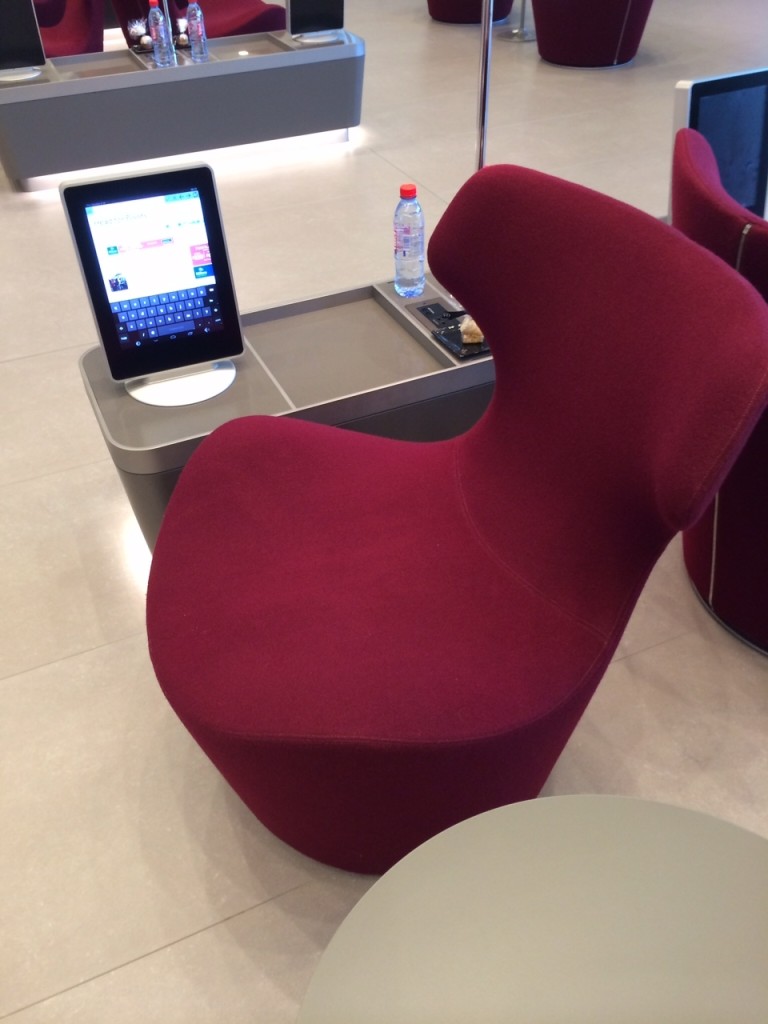 The same area also comprises a business centre.  This is genuinely huge.  You could run a decent sized company from this space without any difficulty!  This photo shows less than half the space: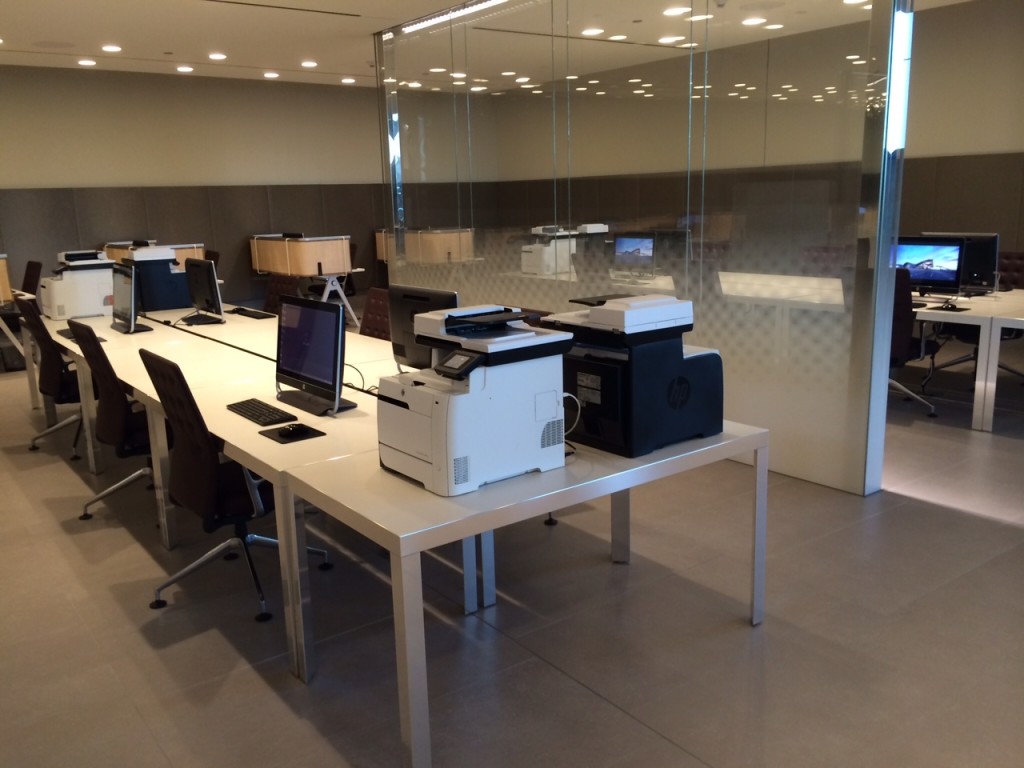 By this point I was ready for some hot food and a proper drink, so I ascended the spiral staircase which straddles a huge 'lake'.  This lake is effectively the size of the Servisair lounge in Heathrow T1!
I settled down with a glass of Krug (£125 per bottle at UK retail prices) and some waffles.  It is fair to say it is the first time I have had Krug for breakfast, or indeed anywhere outside a formal wine tasting.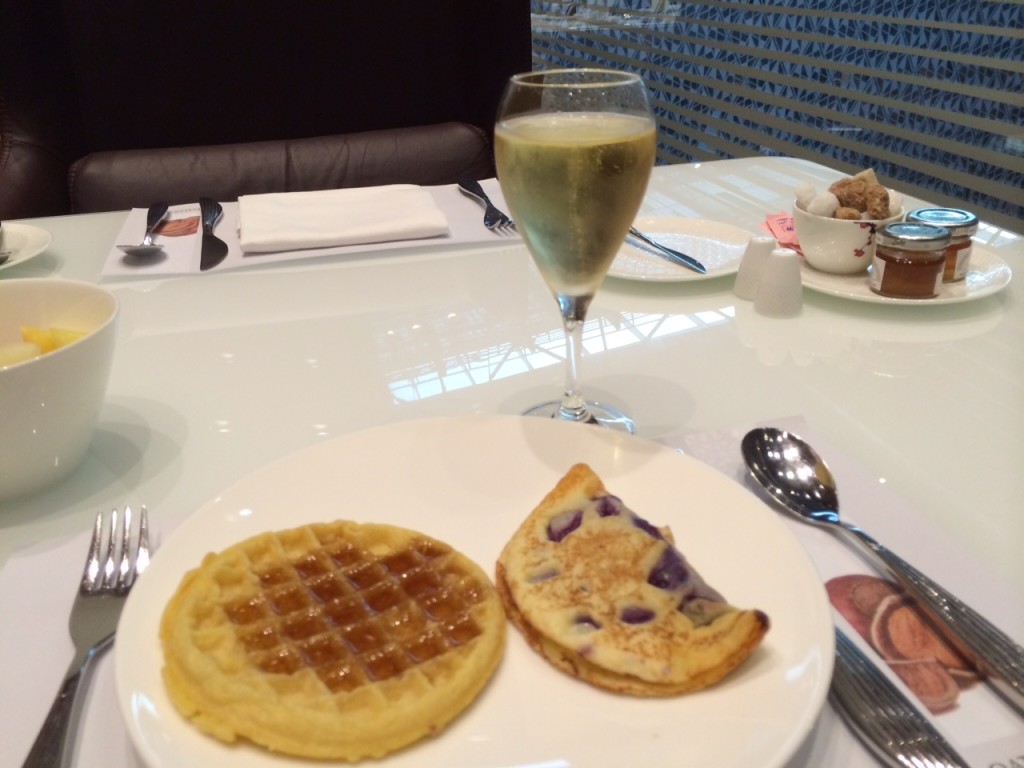 There is another full bar up here along with two different food stations: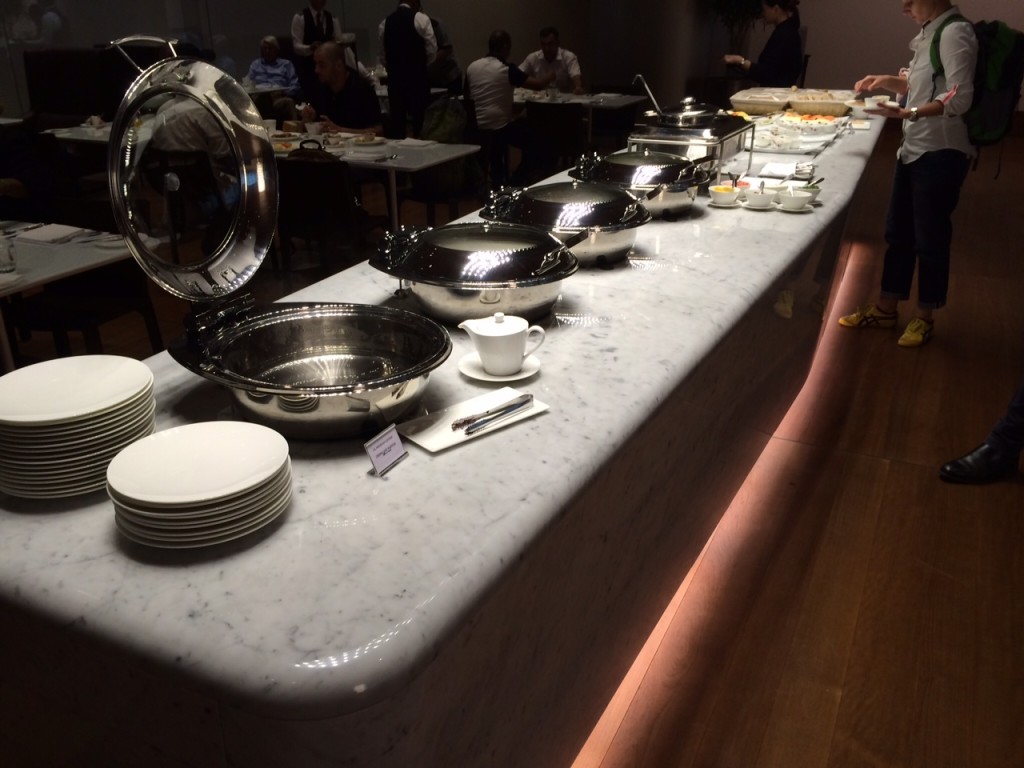 Finally, there was something I haven't seen before in an airport lounge.  There is a separate dining room just for families.  You can sit at a proper table with your food whilst your kids run around and create as much noise as they want, without disturbing the rest of the lounge.
Conclusion
Despite the embarrassingly early hour, I thoroughly enjoyed my visit to the Al Mourjan lounge.  It is an interesting mix of a serious eating and drinking facility with some of the silly games and technological quirks like the iPad chairs you would expect in a Virgin Atlantic Clubhouse.
It is lacks anything, it is a 'cosy corner' – you are constantly aware of the scale of the lounge, and indeed the airport.  It is a substantial improvement on the Emirates facilities in Terminal 3 in Dubai, although I have not yet made it to the new satellite terminal there.
After a couple of hours and a quick visit to the toyshop downstairs, it was time to board my Boeing 787-8 back to Europe.  My original plan was to fly to London but a change in Qatar Airways scheduling meant that the 787s had been deployed elsewhere.  Rather than fly another 777, I decided to fly to Zurich instead and then pick up a connecting flight home on BA.  More on that in the final part of this series which will appear early next week.
Click here to join the 14,000 people on our email list and receive the latest Avios, miles and points news by 6am.