We try the private jet departure experience at Gatwick – our review of Signature Elite Class
Links on Head for Points may pay us an affiliate commission. A list of partners is here.
This is our review of the Signature Elite Class private jet terminal transfer at Gatwick Airport.
It may surprise you to know that you can enjoy private jet-style experiences at many UK airports, even if you are taking a normal commercial flight.
Many of the private jet terminals located at major airports also cater for commercial passengers, letting you check in, drop your bags and enjoy the quiet comforts of an exclusive lounge before using a private security channel and being driven to your aircraft.  Manchester Airport is about to launch its own VIP terminal for commercial passengers, PremiAir, as we covered here.
What we didn't know, until recently, was that you could do all this at London Gatwick, courtesy of Signature Flight Support.  We thought it was worth taking a look at Signature Elite Class, the ground service it operates for VIPs, celebrities or simply those with deep pockets.  Signature kindly offered us a free visit to see what you get for your money.
Trying Signature Elite Class at Gatwick Airport
The Signature terminal at Gatwick is a small, single-story stand-alone building around the corner from the main South terminal: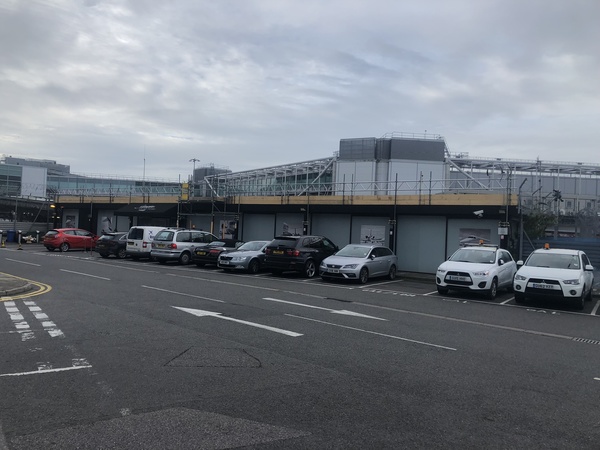 Although most passengers arrive by car, you can also be escorted through the airport from the train station, which is how I arrived. It is a very short walk through a maze of corridors as well as a brief jaunt outside via mostly covered walkways. This is what you see when you arrive: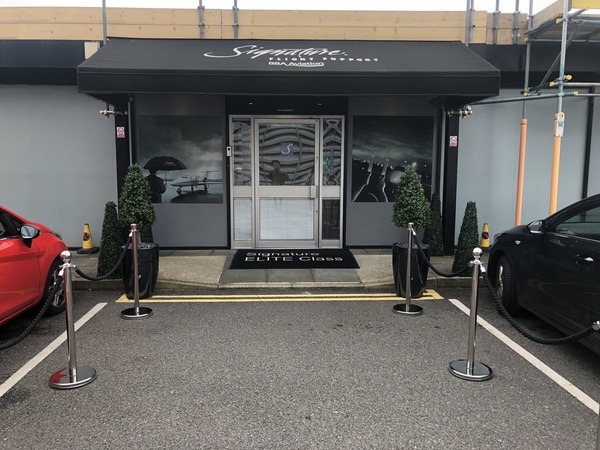 The terminal is currently undergoing refurbishment and recently had a new roof, which is why the scaffolding is still up.
Inside, you are greeted by this lovely wood-panelled entrance: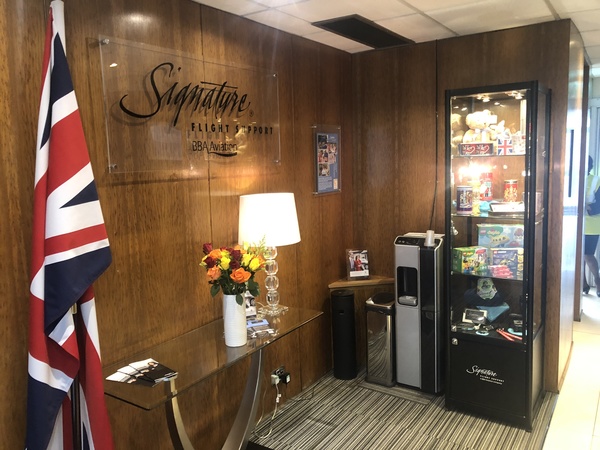 … as well as the lovely terminal staff.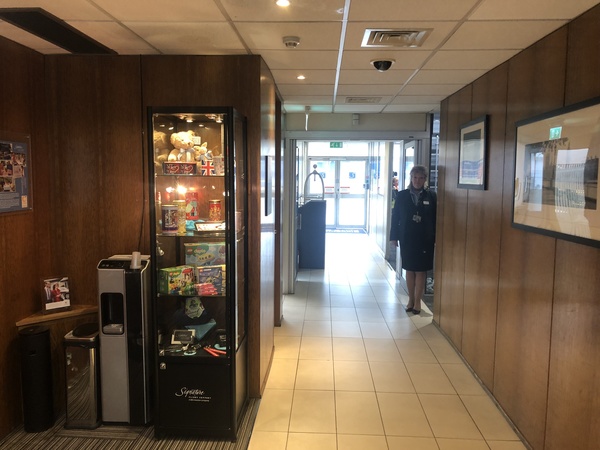 The terminal itself is made up of three exclusive, private lounges. You do not need to share with anyone else. I was shown to one of the three rooms: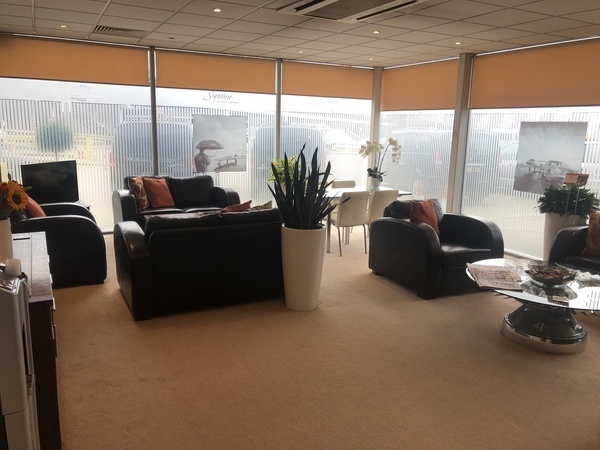 and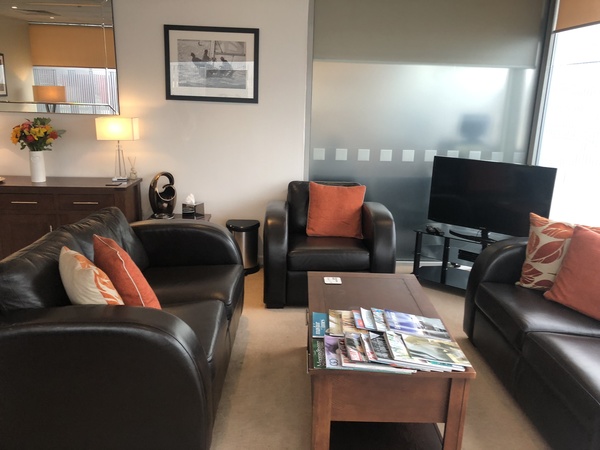 and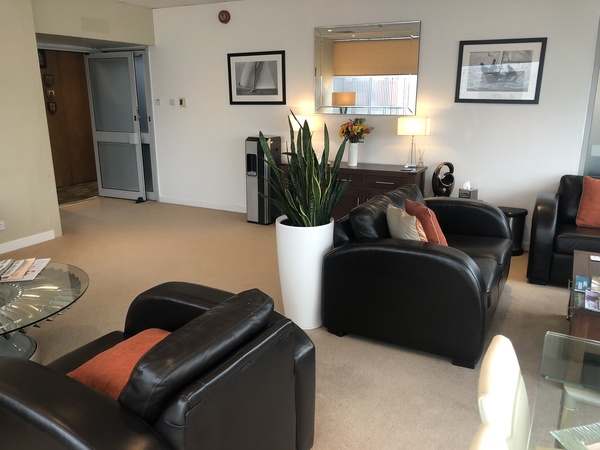 'My' room came with a dining table, sofa seating area around a TV as well as another sofa area centred around a feature coffee table made from a Harrier jump jet turbofan.
You can see the coffee table had The Telegraph, Financial Times, Times and Daily Mail. There were also a range of magazines, including Hello, OK, Vogue, Tatler, The Economist and more.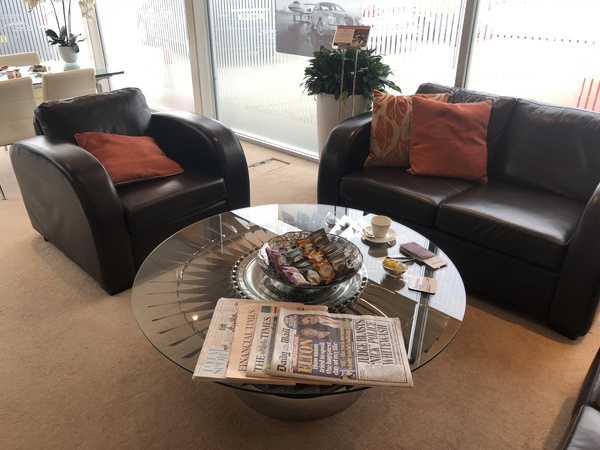 It was beautifully light with two sides having floor-to-ceiling glass windows, which I was told were extra-strong bombproof panes.
On sitting down I was offered a choice of teas, coffees and waters as well as champagne. I went for a cup of tea as well as a glass of champagne (all in the interest of the review, of course):
The champagne is Moet & Chandon Imperial Brut. Since I was travelling alone I had a small bottle, although they also stock full size bottles.
When you arrive the Signature staff will take your passport to issue your boarding pass as well as any baggage you want to check. It is all done for you whilst you relax in the lounge – you literally do not have to think of anything at all.
What is especially good is that, in the event of any delays or cancellations, you are still landside. You only go through security at the very last moment before being driven to your airplane. This means that if your flight is delayed for several hours you can leave the terminal at any point without the hassle of going back and forth through security.
The food selection
As I arrived at 9am I was offered a breakfast spread, which comprised of a selection of fruits, some very tasty yoghurts, pastries and a small plate of soft cheese and ham: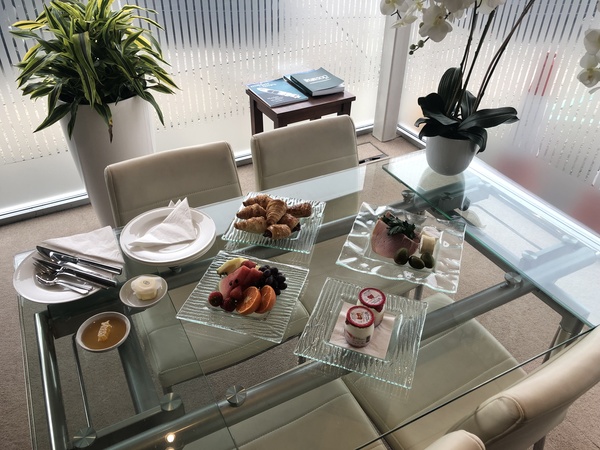 The lounge does not cater for hot food, although as it is landside you could probably get yourself a takeaway! For large groups and special occasions they can and do bring in external caterers.
Bathrooms
Toilets are shared between the three lounges. The male toilets had two cubicles and looked very nice: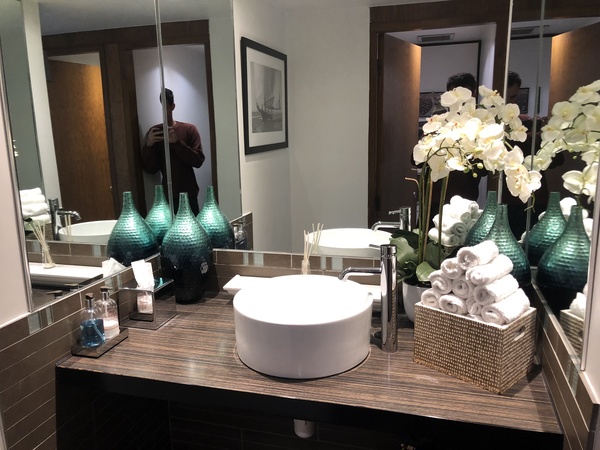 Boarding your aircraft in style ….
There are no departure boards within the lounges, since the staff come round to get you when it is time to make your way to your aircraft.
I was heading up to Glasgow on British Airways, the reason for which will become clear in a couple of days.
I was asked whether I wanted to board first or last.  Being sat in an aisle seat with very little luggage, I thought it would be nice to be boarded at the very last moment.  I could enjoy the peace and quiet of Signature Elite Class a little longer!
This was duly arranged by the lounge in liaison with British Airways, who sent a member of staff down to the terminal to sort out all the paperwork for my departure.
About 15 minutes before my flight's departure I went through the private security channel in the Signature terminal, which was manned by some very lovely staff.  I then got into the transfer car to be taken to my gate: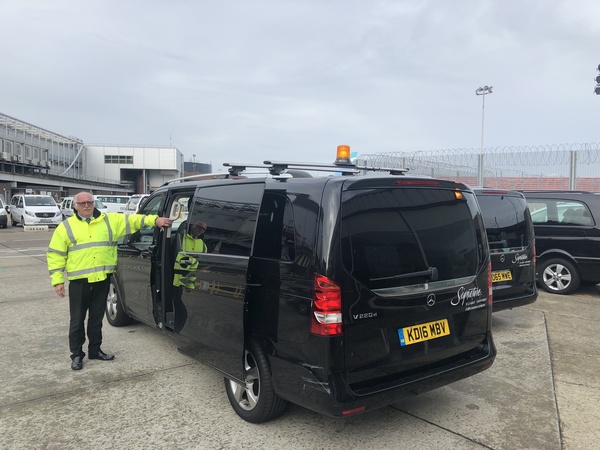 It took a minute or two to get to my aircraft: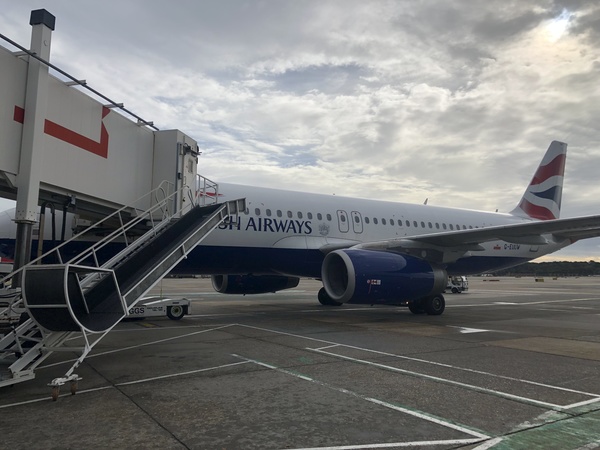 …. where I was taken up the stairs to board via the jet bridge.
Conclusion
The Signature Elite Class experience at Gatwick Airport is – as you would expect – a very exclusive one.
Unlike similar services at other private jet terminals – you can see Rob's review of the Luton Signature experience here and Anika's flight from the First Class lounge at the London City private jet terminal here – it is entirely private, with your own lounge.
That does mean that it comes with one of the highest price tags of any private terminal departure experience, although it is far cheaper than the £2,750 + VAT for 1-3 people you can pay at the Windsor Suite at Heathrow.
For Signature Elite Class at Gatwick, you are looking at £660 for the first passenger and £310 for add-on passengers.  This is clearly not cheap, but if the money is not a problem then it is great to have the option to travel like this.
Whilst the Signature terminal at Gatwick is one of the oldest surviving buildings at the airport – it is from the 1960s, and some elements such as the beautiful wooden panelling definitely evoke that era – it has been updated many times since.
Signature is currently in the process of figuring out the future of the terminal. Whether that means building an entirely new facility – their Luton terminal is amazing as Rob found out – or extending the current one to fit the new body scanners that are becoming mandatory at UK airports is yet to be decided.
What IS certain, however, is that the entire interior will be getting a complete refurbishment in the near future. This means that I will have to check it out again when it is all complete.  This is, of course, in the altruistic pursuit of making sure you, dear reader, are up to date with all premium and luxury offerings that are available from your local airports.
Thank you to the team at Signature Flight Support for arranging my visit.