Review: the new Club Aspire airport lounge at London Gatwick's South Terminal
Links on Head for Points may pay us an affiliate commission. A list of partners is here.
This is my review of the brand new Club Aspire lounge at London Gatwick's South Terminal (the British Airways terminal).
This is part of our collection of UK airport lounge reviews, which is nearing completion!  You can find all of our UK airport lounge reviews here.
If you think we've been talking about this lounge for pretty much ever, despite it just opening, you're right.  Club Aspire at Gatwick South has suffered from excessive delays due to problems with the contractors – it was due in early 2019 and announced in 2018.
It took over part of the old Virgin Atlantic lounge – the rest became MyLounge, which has been open for months and which we reviewed here.
Club Aspire is a much needed lounge at Gatwick South.  If you can access the British Airways lounges then you're fine (see my review here of the EXCELLENT new BA Gatwick lounge complex).  If you are relying on Priority Pass etc, your only option has been the No1 Lounge (reviewed here).  The problem is that No1 Lounge runs to 100% capacity most of the time and you are unlikely to get in unless you pay £5 to reserve a slot.
Last week I went down to London Gatwick's South Terminal to take a look.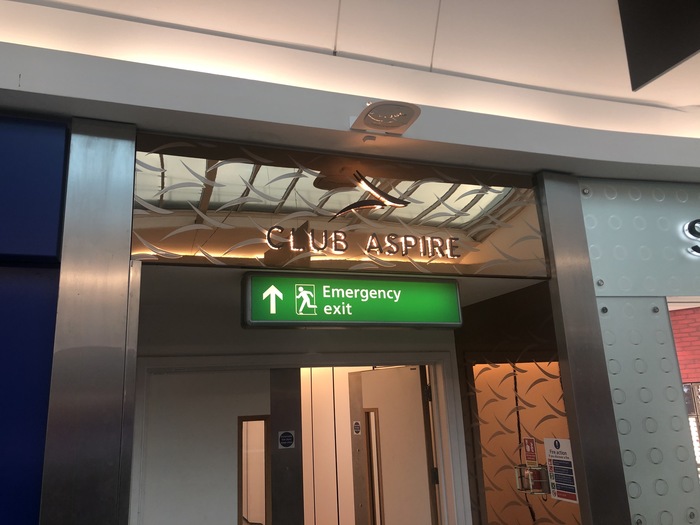 Inside the Club Aspire lounge at Gatwick South
The lounge is easy to find, as long as you stay upstairs.  Once you have cleared security at Gatwick South, you head towards an escalator which takes you down to the lower level.  Don't go down this.  All of the airport lounges – BA, My Lounge, No1, Club Aspire, Clubrooms – are on the upper level.  You will see a corridor to your left just before the escalator.  This is where you should go.
Once you pop out in the terminal, the entrance to the Club Aspire lounge – see above – is on your right.  Be careful not to confuse it with the My Lounge entrance which is the first one you come to.
The good news is that I had no trouble getting in to Club Aspire at 6.30am using my Priority Pass card.  There is no option to pay £5 to reserve a slot with Aspire lounges if you are using a lounge club card – if it is at capacity, you're stuck.
Even when I left at 8.15am it was still far from capacity.  Word does not seem to have got around yet, although I don't expect that to last for long.
The woman on the reception desk, and indeed all the other staff I interacted with, were exceptionally friendly.  Aspire has found some good people.
To be honest, when I walked in I was surprised.  The lounge simply is not very big.
I know that the old Virgin Atlantic space has been separated, but in my head – knowing how big My Lounge is – I thought that there was more space left for Club Aspire than there actually is.  It may even be smaller than My Lounge.
This is not quite the entire lounge, but it is most of it.  Behind me, not shown, is a large communal work table but nothing else.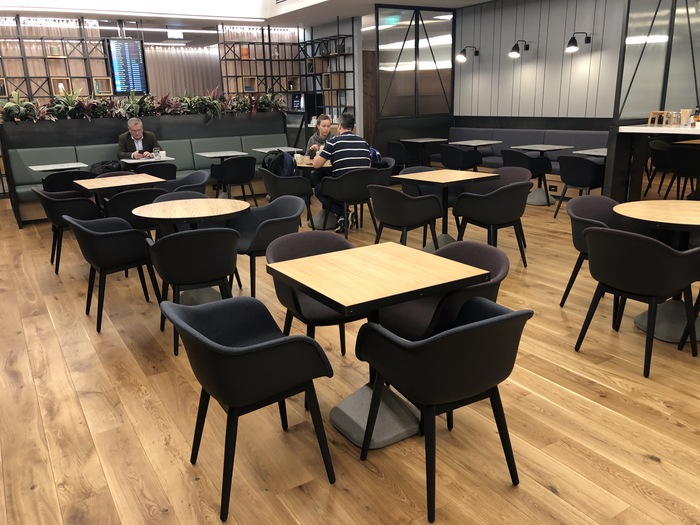 This is looking in the other direction.  I am not quite at the back of the lounge here, but I am nearly there: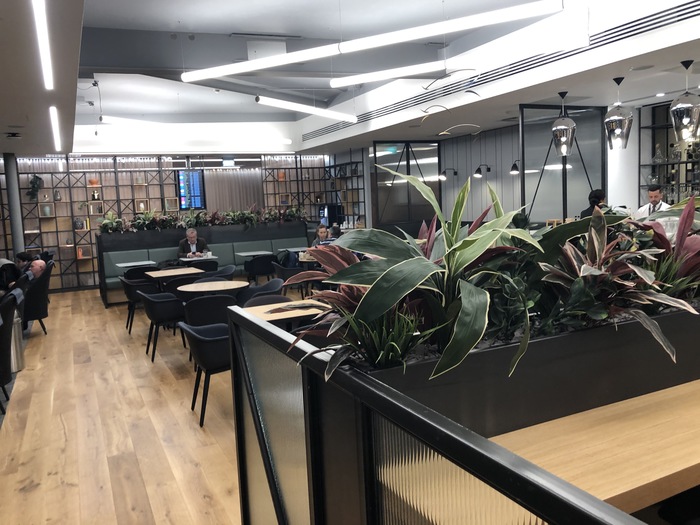 If I turn around from where I took the photograph above, there is this small sofa area.  Don't ask why that net curtain is there ….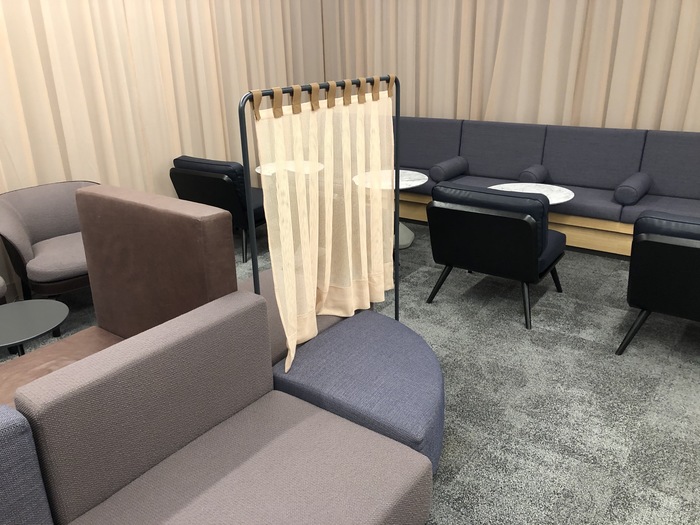 In terms of standard seating, that's it.
Let me just talk about wi-fi at this point.  It isn't working yet.  We were told to log on the My Lounge network – I hope No 1 Lounges knows this!  The problem is that, unsurprisingly, the signal strength coming through the wall from My Lounge on the other side is not too great.
Here is the bar which is off to the side – not surprisingly it was unmanned at 6.30am although the staff would have got you something if required: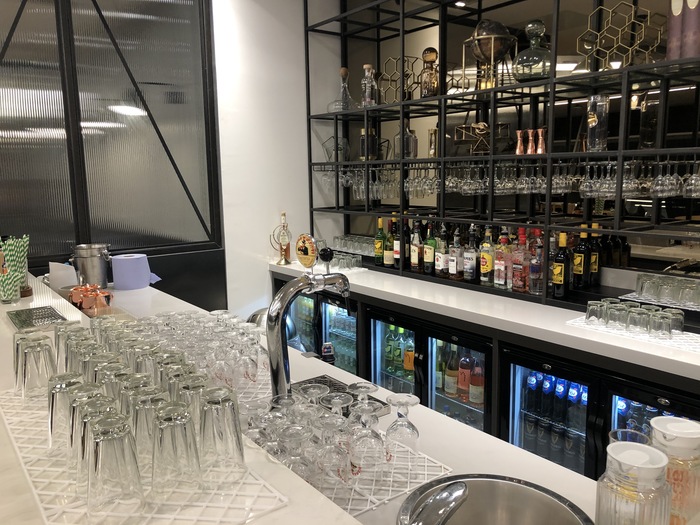 One wall of the lounge is glass, giving views out towards the parked British Airways aircraft: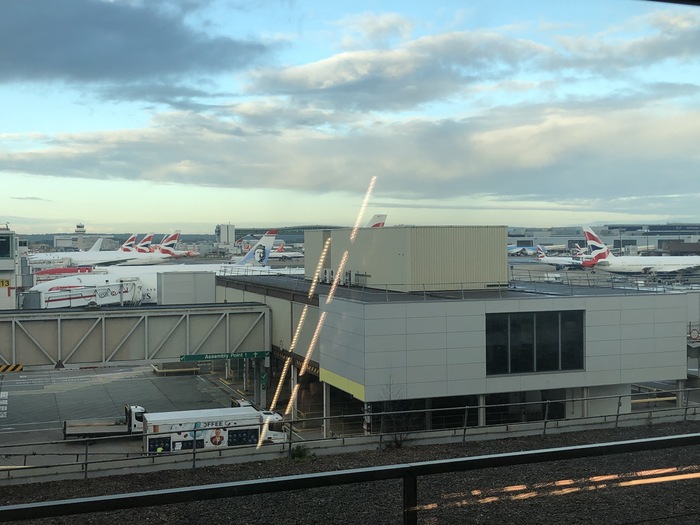 Now we come to the weird bit.  Off to your right, at the top of the lounge, is a small opening.  When you walk through it, you find this: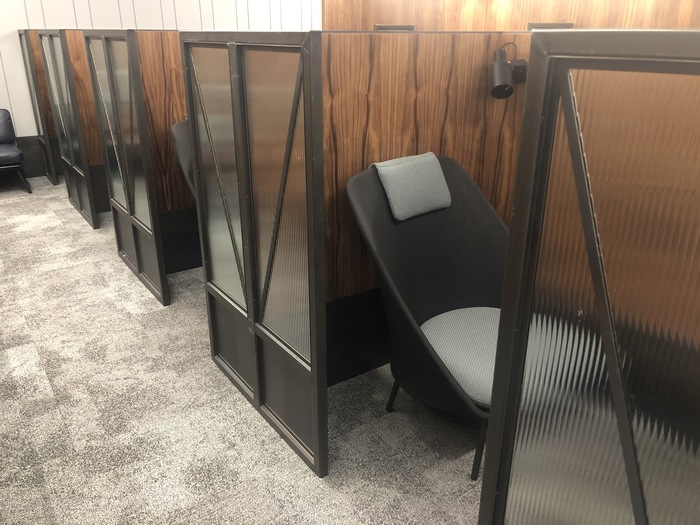 There are eight … well, I'm not sure what to call them.  They are not sleeping pods.  They are not work pods.  It is a semi-comfy chair in an open cubicle with some frosted glass.
Very, very odd.  And totally unused.  I took the photo above just before leaving, at 8.15am, by which point the main room was getting busy.  Not a single person was in this area.
There are also these odd seating areas to the sides: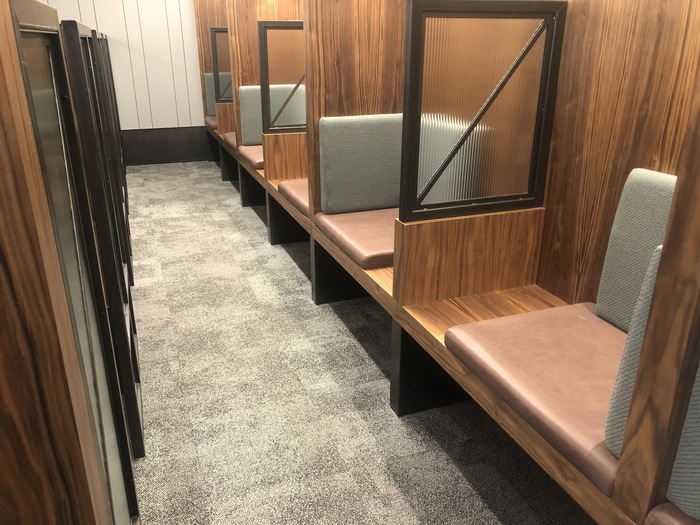 Whatever the original plan was, it doesn't work.  This area needs to be replaced ASAP with something that people will actually use.
The lounge has its own loos and one shower room.  It is an accessible shower and is in the same area as the accessible loo.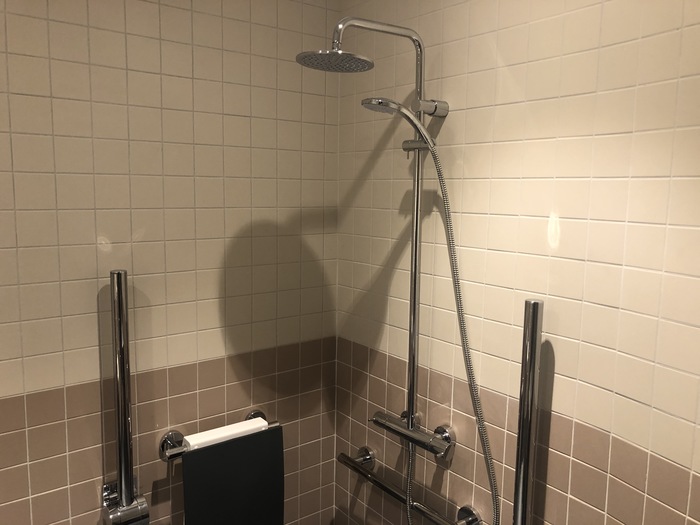 There was a decent breakfast spread, with a buffet which looks like it took its design from a Hampton by Hilton or Holiday Inn Express hotel.  In the foreground below you have fruit, yoghurts, juices etc: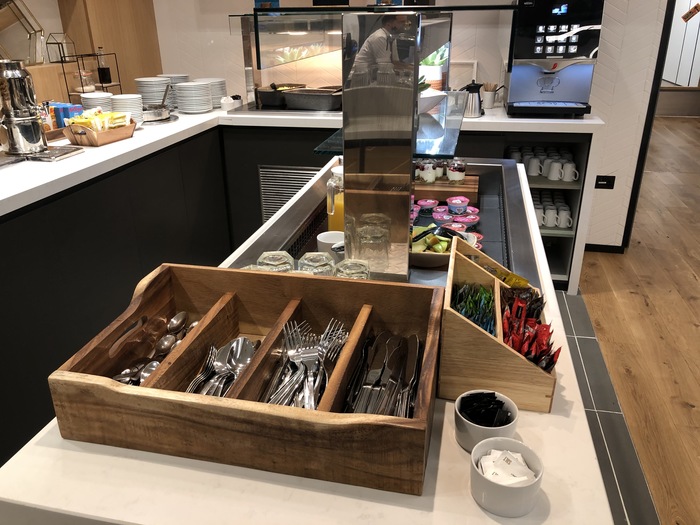 …. whilst to the side you have fruit and cereals …..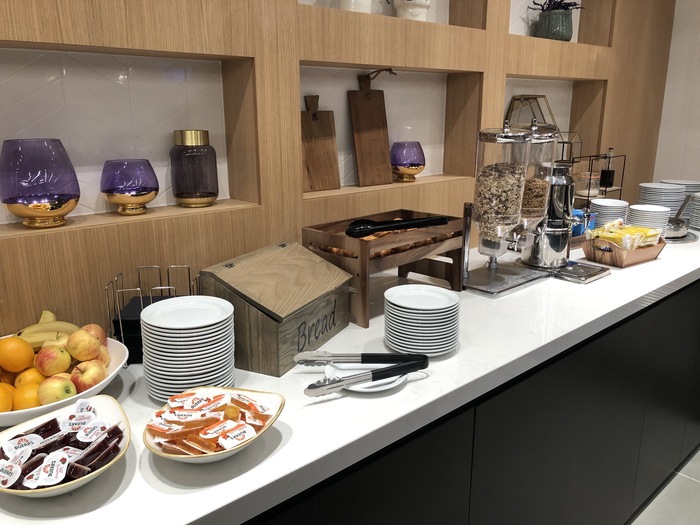 …. and at the back you have a decent supply of hot food.  There is nothing radical here but it does for job.  For clarity, there are no 'cooked to order' options at all.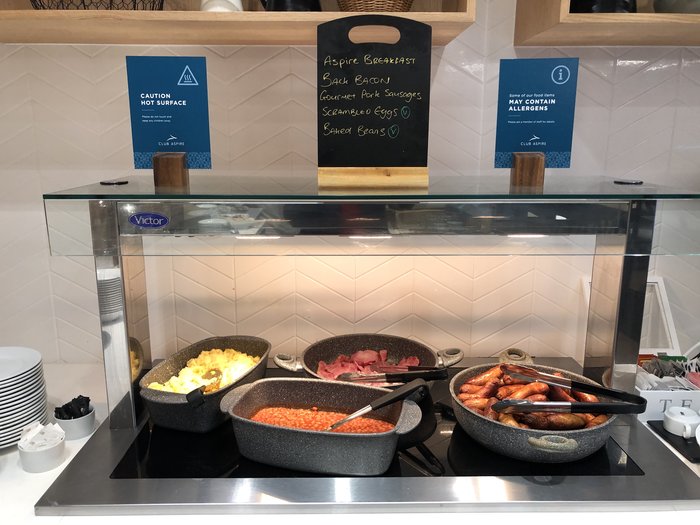 There is one more thing I should mention.  The lounge has decided that newspapers are yesterdays news and does not stock them.  Well, to be precise, it stocks exactly one copy of three different newspapers.  That's it.  If you like to stock up for your trip in the lounge, you are in trouble here.
Is the Club Aspire lounge at Gatwick South worth a visit?
I'm in two minds about this.  Club Aspire has done at excellent job with the decoration and design.  The quality of the food on offer is also good.  On the downsides, however:
you have wi-fi issues, hopefully only temporary
no newspapers
it is a surprisingly small space to spend time in and
the weird area off to the side which tries to be a cross between a sleeping pod and a working pod and fails dismally at both
Whilst My Lounge next door is theoretically aimed at the youngsters and Club Aspire at an older clientele, in truth I think I prefer the former – especially as My Lounge has now metal cutlery and proper plates instead of the old wooden cutlery.  If you're appealing to a slightly older base, newspapers are also a key requirement in my view.
My Lounge does not accept Priority Pass or Lounge Club (it does accept DragonPass).  For lounge card holders, your choice is between No1 Lounge – where you will struggle to get in without paying the £5 reservation fee – and Club Aspire.  Purely on the grounds that it is quieter, I would take Club Aspire.  You also have the option to get a £15 credit off your bill at the Grain Store Cafe in the main terminal by flashing your Priority Pass.
You can book for cash via the Lounge Pass website here.
---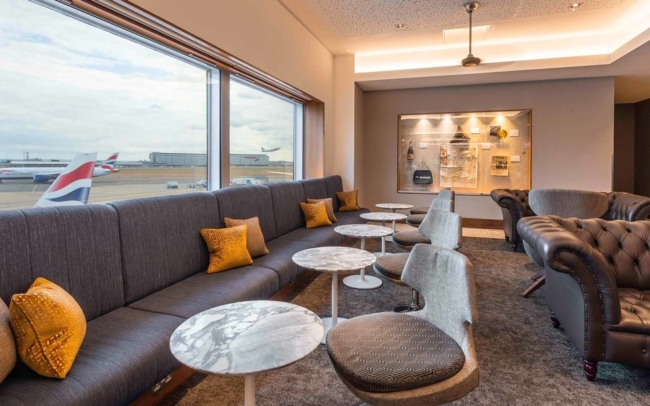 How to get FREE airport lounge access via UK credit cards (May 2023)
Here are the four options to get FREE airport lounge access via a UK credit card.
The Platinum Card from American Express comes with two free Priority Pass cards, one for you and one for a supplementary cardholder. Each card admits two so a family of four gets in free. You get access to all 1,300 lounges in the Priority Pass network – search it here.
You also get access to Plaza Premium, Delta Air Lines and Eurostar lounges. Our American Express Platinum review is here. You can apply here.
SPECIAL OFFER: Until 13th June, the sign-up bonus on The Platinum Card is doubled to 60,000 Membership Rewards points – and you get £200 to spend at Amex Travel too! Apply here.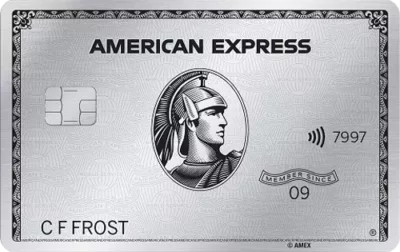 The Platinum Card from American Express
60,000 points AND a £200 Amex Travel voucher until 13th June! Read our full review
If you have a small business, consider American Express Business Platinum instead.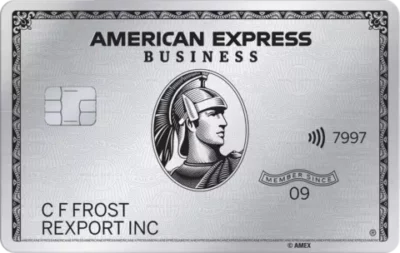 American Express Business Platinum
40,000 points bonus and a £200 Amex Travel credit every year Read our full review
American Express Preferred Rewards Gold is FREE for the first year. It comes with a Priority Pass card loaded with four free visits to any Priority Pass lounge – see the list here.
Additional lounge visits are charged at £20. You get four more free visits for every year you keep the card.
There is no annual fee for Amex Gold in Year 1 and you get a 20,000 points sign-up bonus. Full details are in our American Express Preferred Rewards Gold review here.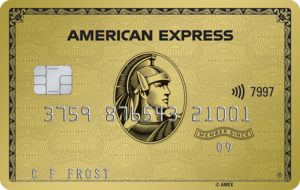 American Express Preferred Rewards Gold
Your best beginner's card – 20,000 points, FREE for a year & four airport lounge passes Read our full review
HSBC Premier World Elite Mastercard gets you get a free LoungeKey card, allowing you access to the LoungeKey network. Guests are charged at £20 although it may be cheaper to pay £60 for a supplementary credit card for your partner.
The card has a fee of £195 and there are strict financial requirements to become a HSBC Premier customer. Full details are in my HSBC Premier World Elite Mastercard review.
HSBC Premier World Elite Mastercard
A huge bonus, but only available to HSBC Premier clients Read our full review
PS. You can find all of HfP's UK airport lounge reviews – and we've been to most of them – indexed here.